RV Owners
Last updated on May 9th, 2023. Originally published on July 14th, 2015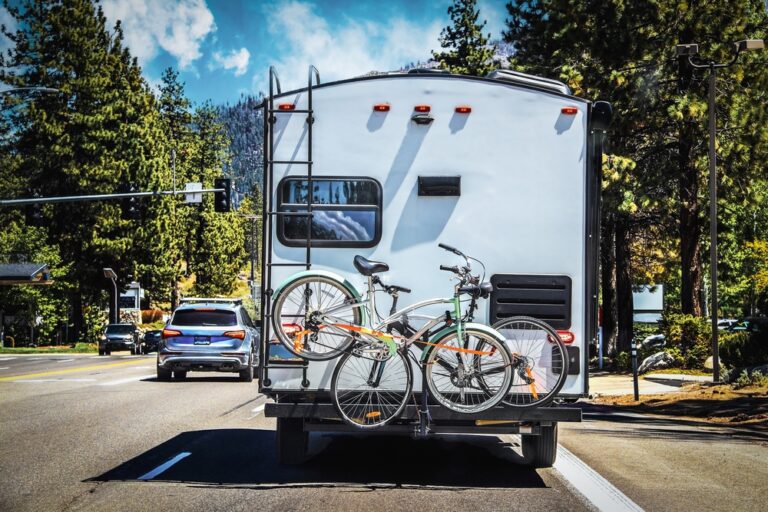 A bike rack might seem like a simple purchase — keeps your bikes secure while you travel, and that's good enough, right? But if you want both the bike and the rack to last for as long as possible without damage, you'll have a few basic decisions to make when making a purchase.
The right RV bike rack must be within your price range, be rated highly by other buyers, and be compatible with your vehicle and the bikes you transport. And that's just the beginning. So let's get started.
What's The Best Bike Rack For You?
So which RV bike rack should you buy for your particular rig? You may want to ask yourself a few questions to determine exactly which rack to choose.
1. How many bikes do you plan to carry with you?
The average RV bike carrier will hold two to four bicycles. However, there are single bike mounts for RVs, as well as mounts that will hold a total of six bikes. Knowing how many bikes you will carry, immediately narrows your choices (and make choosing a whole lot easier!).
2. Do you have a roof ladder on the back of your rig?
Ladders are often used for attaching bicycles. This is the easiest way to quickly mount and unmount your bike.
3. Do you have a square bumper?
A square, one-piece bumper is the most popular place to mount a bike for your RV. Bumper mounts are supported by two arms with cross bars. Bicycles sit between the cross bars and are easy to remove.
4. Do you have room to add a hitch mount?
A hitch mount is a unique RV bike carrier that holds up to three bikes. Hitch mounts are very easy to connect and can be transferred from your RV onto the back of a vehicle.
5. Do you have a spare tire on the back of the RV?
Spare tires can be used for an RV bicycle carrier. This is a popular choice for campers, pop-up trailers, fifth wheels, and trailers. The rack fits over or around the spare tire and connects to the bumper or frame. The biggest problem with this type of RV bike rack is the added length. If you already have a 39-foot fifth wheel, you may not want an additional three feet of length.
6. Will you be accessing your bicycles often or just once in a while?
If you use your bikes often, you will want easy access. If you rarely use your bikes, you can choose a higher mount that keeps them out of the way. Bumper, hitch, or spare tire mounts make it simple to get your bike on and off the rack. Ladder and roof mounts are higher and harder to access.
7. Are your bikes the same size and style?
Some bike racks are adjustable, and others are permanently fixed. Be sure to know what size and style of bicycles you plan to carry.
8. Who will mount and remove the bikes?
Size matters when it comes to RV bike racks! Ladder racks work great if you are tall, but are frustrating for shorter people. Bumper mounts are easy to unhook but may provide less security. Determine which feature is most important to you and plan ahead.
9. Wheel mount or frame mount?
Do you want your bike held by the wheel or by its frame?  Knowing which style you want to use will help you choose the correct rack.  A bumper hitch will allow you to choose a frame mount or a wheel mount.  Ladder racks usually connect to the wheels.  Spend some time looking at online photos, to see which style would work best on your motorhome, camper, or fifth wheel.
Types of RV Bike Racks
Now that you've considered what you're looking for in a bike rack, let's take a look at the four main kinds.
1. Bumper Bike Rack
You'll need several U-bolts to secure this rack to the bumper. The bumper also needs to be well-attached to the RV so the bike's weight won't cause too much strain. Generally, these are very easy to install so long as you pick a model that fits your size bumper. Strong bumpers are most commonly found on fifth-wheel trailers, travel trailers, and pop-up campers.
The only major considerations for this model are weight distribution and added length. Extra weight from the bikes could shift the RV's balance toward the back end, and make it more difficult to maneuver and park.
Popular models include the Quick Products RV bumper rack.
2. Hitch Bike Rack
As the most popular bike rack option, the hitch rack offers the most variety. You can easily attach one of these to the front or back of an RV or to the rear of a trailer. It's easy to transfer this rack from one vehicle to another as it's compatible with different vehicles. The only requirement is that the vehicle has a pre-installed trailer hitch with a square port for the rack to attach. If you don't have one, you'll need to purchase and install one.
Depending on which rack you choose, these will hold as few as two or as many as six bikes per rack. Like the bumper bike rack, the only major drawbacks here are offset weight balance and added vehicle length. If these aren't a concern for you, this may likely be your best option.
There are lots of models of this type, including the Allen Sports Deluxe Hitch Mount Racks and the Yakima RidgeBack Bike Rack.
3. Ladder Bike Rack
Typically, most ladder bike racks will be compatible with any RV or trailer that has a ladder. Check for compatibility information on the box or in the item description just to be sure. Depending on the style of your RV ladder bike rack, your bikes will hang either vertically or horizontally. RV ladder bike racks are made of lightweight aluminum and are usually rustproof, making them a safe, durable, and long-lasting addition to your RV.
These racks hook or strap onto the ladder's steps without any tools. They're easy to install and take up very little space. You will need straps to keep the bikes securely in place, particularly when on the road. You can find straps made from durable materials such as rubber, vinyl, and webbing in many RV or camping stores or even online.
The number of bikes you can carry with a bike ladder rack is generally limited to two. The bikes may also be hard to access unless your ladder is low to the ground, or you are tall enough to reach them.
Ladder rack models to consider include the Surco ladder-mounted bike rack and the Camco RV Ladder Mount Bike Rack.
4. Trailer Tongue Rack
This uncommon setup allows you to store a bike in front of your trailer or camper via a mount attached to the tongue, near where the trailer attaches to a vehicle hitch. Often you'll have to rely on your own know-how and familiarity with metal-working to create a custom rack if you choose to go with this method. Trailer tongues come in many shapes and sizes, so it might be hard or simply expensive to find or make one that provides for your exact needs. Despite the difficulties of installation and purchase, people with these setups tend to "rave about its convenience and peace of mind in comparison to the other options," according to DoItYourselfRV.
There are only a few options if you want to buy a trailer tongue rack, including the Camping World bike bunk.
In all four of these categories, some models secure bikes by their wheels with rails and tie-downs or by their frames. It's more popular to carry a bike by its frame, and those racks often fold easily out of the way. However, attaching a bike to the rack by the wheel makes loading and unloading bikes easier.
How Does a Pop-Up Camper Bike Rack Work?
Rather than carrying your bikes on a ladder bike rack, a pop-up camper bike rack works by attaching them to another, more convenient place on your towing vehicle or pop-up camper. Just some of these include a hitch-mounted bike rack, a front-mount hitch bike rack, a tow vehicle roof bike rack, towing bike rack, or a camper roof bike rack.
Pop Up Camper Bike Rack Hitch
Of all the types of pop-up camper bike racks, the hitch-mounted version is the most popular. The hitch receiver can either be mounted to the trailer bumper or installed on the trailer frame, depending on the size, strength, and model. The biggest benefit to using a pop-up camper bike rack hitch is that it can then also be used on your tow vehicle when the trailer isn't attached, allowing you to take your bikes anywhere!
Choosing the Right Bike Racks For Pop Up Campers
Before you purchase a pop-up camper bike rack, you'll want to determine which type is best for you. We recommend you consider the following:
What types of bikes do you want to bring and how many?
What accessibility do you need?
What is your preferred method of mounting your bikes to your camper?
What models would be compatible with your type of pop-up camper?
How to Install Your Bike Rack on Pop-Up Camper
Installation of the bike rack on your pop-up camper will largely depend on the type of rack, as well as the model of your vehicle or camper, and where it will be placed. Many pop-up camper bike racks should come with instructions from the manufacturer, but you can also consult an RV or roof rack specialist.
Just because you don't have a conventional RV, doesn't mean you have to miss out. Next time you head out in your pop-up camper, take your bike along with you!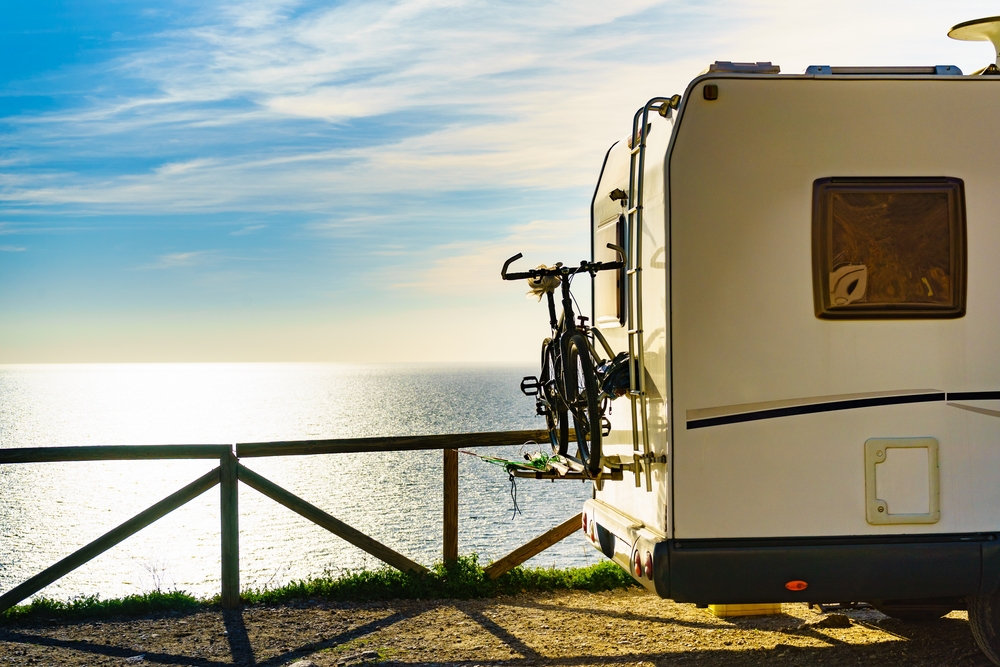 Accessories for your RV Bike Rack
While an outside bike rack is convenient, keep in mind that your bike will be subjected to the weather. Rain, mud, and snow can cling to your bicycle just like they cling to your RV. Purchasing a bike cover is the easiest way to avoid the hassle of a dirty bike. Many bike covers will accommodate 2 or more bicycles, keeping your ride clean and dry.
Velcro straps, bungee cords, duct tape, and neoprene are all popular ways to secure your bicycle to the rack. If you are concerned about bike security, you may also want to invest in a lock and chain for each bicycle.
Another option to consider is a folding bicycle. Folding bikes have been available for many years, yet many people have never heard of them. A folding bike is affordable and relatively light (weighing less than 35 pounds). Stowabike is a popular folding bike that has rave reviews. Folding bikes require some basic tools and a bit of know-how to assemble. Once you learn to fold them, it's easy to repeat the process again and again.
RVers who travel with folding bikes do not always need an RV bike rack. Folding bikes can be placed on the roof, in the basement storage, or even inside. There are even backpacks designed to carry folding bicycles while you're hiking. Folding bicycles come in both 20-inch and 26-inch heights, and you can find old-fashioned, one-gear styles or mountain bikes. You can purchase a folding bicycle from Camping World or Amazon, in a variety of styles and colors.
This post contains affiliate links. RVshare may receive compensation if you make a purchase after clicking on a product link.