How Tos & Tips
Last updated on April 22nd, 2023. Originally published on June 12th, 2020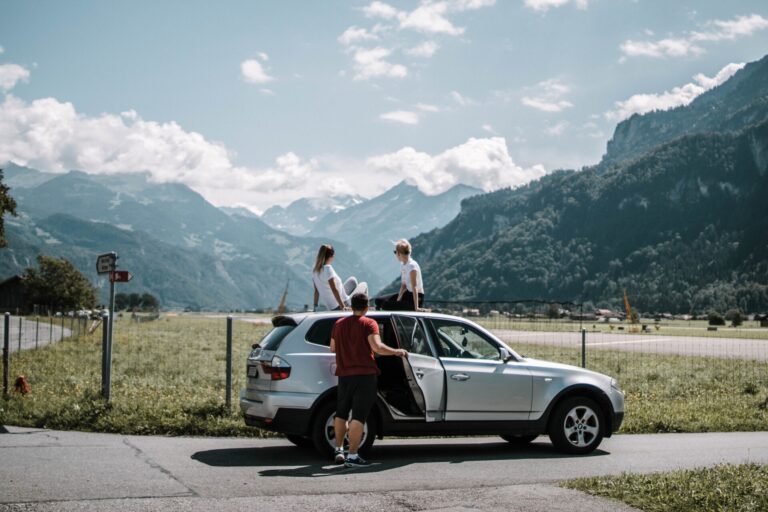 Best SUVs for Towing Travel Trailer
Camping is fun in a tent. However, it becomes even more fun when you can pack the comforts of home into a trailer and finish your fun day of hiking and s'mores in a comfy bed. This leads many people to look into purchasing some sort of travel trailer. Of course, in order to take a travel trailer camping, you need to have a way to tow said trailer. Because not everyone wants to drive a gigantic truck around town on a daily basis, and because most trailers simply cannot be pulled by cars, an SUV is often the best answer. The question is, what are the best SUVs for towing a travel trailer?
Best SUVs for Towing an RV? How to Choose the Best SUV to Tow
Before we tell you what we believe to be the best SUV for towing trailer campers, let's discuss what one might look for in an SUV that they intend to pull something with. By knowing what kinds of specs to look out for, you'll be better equipped to head out into the world and do some shopping before you decide what works best for you.
Towing Capacity
The first thing you'll want to look at is towing capacity. Your towing capacity is the amount your vehicle can safely tow. Therefore, it must be more than the loaded weight of your trailer plus the weight of any luggage and even the people you intend to carry in the SUV.
For this reason, SUVs that can tow a camper well are the ones with the highest towing capacities.
Keep in mind that the fact that an SUV can tow a certain trailer doesn't mean that it should. Some vehicles might be capable of getting a certain load going, but this doesn't mean the driver isn't doing damage to the vehicle. Additionally, it doesn't mean the vehicle will be able to stop in a reasonable amount of time.
Engine Type
Engine type can also play a role.
Generally speaking, a diesel engine will tow better than a gas engine. This is because the diesel engine has more torque—the type of power that is most important when it comes to moving heavy loads, especially on inclines. However, this is not to say that a gas engine is unable to tow. In many cases, a gas engine is perfectly fine.
Drivetrain
Most SUVs come standard with front-wheel drive. Unfortunately, this isn't the best option when it comes to towing. Instead, the best SUV for towing RV trailers will likely have rear-wheel drive or even all-wheel drive.
What is the Best Full-Size SUV for Towing a Travel Trailer?
Want the very best SUV for camping? Our recommendation is to go big, especially if you plan to pull a decent sized travel trailer.
The SUVs below are ideal for those who wish to tow a family camper. They have decent towing capacities and can comfortably fit plenty of passengers and gear. Due to their gas mileage, they may not be the best daily drivers out there, but they aren't the worst either.
2021 Lincoln Navigator — Towing Capacity: 6,200- 8,300 lbs
2021 Chevrolet Tahoe — Towing Capacity: 7,600-7,900 lbs
2021 Ford Expedition Max — Towing Capacity: 6,000-6,300 lbs
What is the Best Midsize SUV for Towing a Travel Trailer?
Those wanting something smaller than the big vehicle listed above, but with more power than the small SUVs below, need a midsize vehicle. These are a great middle ground, offering the best of both worlds.
For 2020, the best midsize SUV for towing a travel trailer has to be one of the following:
2021 Dodge Durango — Towing Capacity: 6,200-8,700 lbs
2021 Land Rover Discovery — Towing Capacity: 6,613-8,200 lbs
2021 Land Rover Range Rover Sport — Towing Capacity: 5,511-7,716 lb
What is the Best Size SUV for Towing a Travel Trailer?
No matter how big and strong your SUV is, it will still have a limit in terms of how much it can tow, and that limit will be lower than the weight of a large number of trailers out there.
For this reason, it's incredibly important that you check and double-check the gross vehicle weight rating (GVWR) of any trailer you purchase to be sure that number is lower than your vehicle's towing capacity.
On top of checking that GVWR, you will also want to keep tabs on the actual weight of your trailer to ensure you don't overload it. The easiest way to do this is by paying a visit to a nearby truck stop and following these instructions.
How to Calculate Tongue Weight
In order to tow safely, you will also want to know the tongue weight of your trailer. Your tongue weight should always fall between 9 and 14 percent of your total trailer weight. Adjusting this weight is super simple, and maintaining it is important because it helps prevent sway, something many people have problems with when towing a travel trailer, especially in a smaller vehicle.
To find the tongue weight of your trailer, follow the instructions on this page.
As you can see, there's not a one-size-fits-all approach, nor is there a single best SUV for towing travel trailer campers. However, there are SUVs that won't work at all, along with SUVs that are better than others. Therefore, we recommend doing your homework and shopping smart to ensure you purchase the best vehicle for your situation.