Towing
September 11th, 2019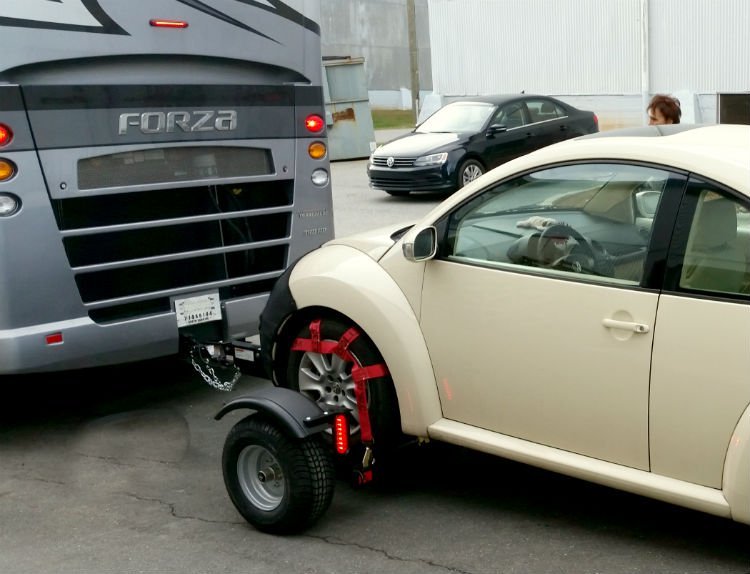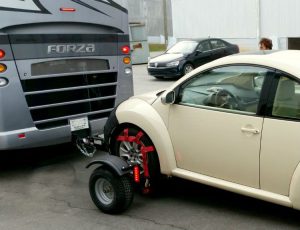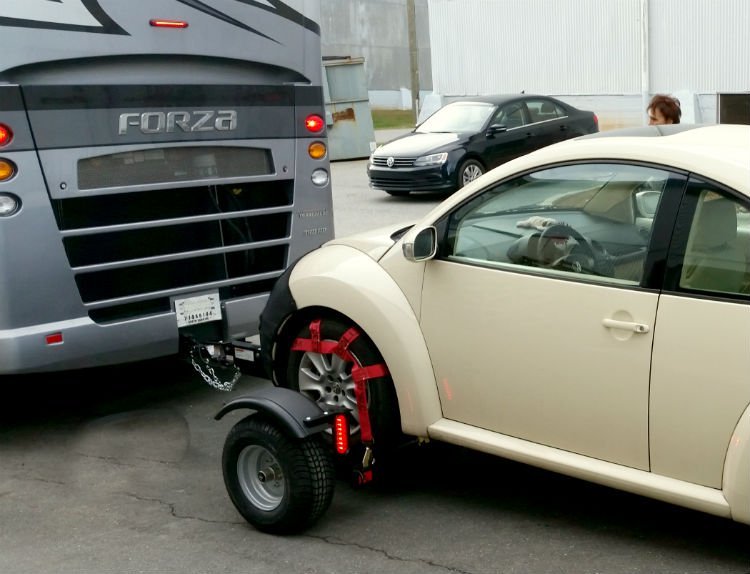 Having a "toad" (tow-behind vehicle) handy while traveling in a motorhome is always super handy. This smaller car will likely save you gas in the long run, and it makes running errands a breeze. That said, in order to have this smaller car, you have to get set up to tow it.
While some people decide to flat-tow their vehicles for the ease of use once the system is set up, getting set up to do this is expensive, and it isn't exactly easy. For these reasons, many people prefer to stick to towing with an RV car dolly, especially if they only travel with their RV once in a while. 
Of course, while tow dollies are cheaper than a flat-tow setup, they aren't really all that cheap. Therefore, you're going to want to purchase one that will serve you well. Not sure how to get started finding the ideal RV trailer dolly for your needs? Read on!
What to Look For in an RV Dolly
In order to do effective searching, you have to know what you're searching for. The following are the top things to look for in a dolly, so you can ensure you're getting the very best equipment for your needs:
Weight Rating
Clearly, one of the most important things to keep in mind when shopping for a tow dolly is weight. The weight rating of your dolly must be greater than the weight of your vehicle. As you might guess, this criteria becomes easier to meet the smaller your car is, so this is also something to keep in mind when shopping for a vehicle to tow. 
Foldability
One of the biggest drawbacks of tow dollies is the fact that they must be stored when not in use. This is especially difficult in crowded campgrounds. Luckily, there are a few tow dollies out there that fold up, making them much easier to store. 
Brakes
Some dollies come equipped with a braking system, meaning you won't have to invest in and install an auxiliary braking system. Obviously, this is a huge bonus, and one many people might consider a make-or-break feature. 
Adjustable Tread Width
If you'll be switching up the vehicle you tow, a dolly with adjustable tread width is something you'll want to look into. This will allow you to accommodate a wide range of vehicles, meaning you can hold onto the same dolly even if you change cars or need to tow somebody else's vehicle. 
The Best RV Tow Dolly
Many people prefer to avoid the work of shopping around and just want us to tell them which dolly to buy. While we can't pick one dolly that will perfectly suit every user's needs, we can tell you which dolly might come close to being a one-size-fits-all ideal solution for everybody: the Demco Kar Kaddy SS.
This dolly has received countless rave reviews, and we've never heard a negative word uttered about it. It includes all of the important features mentioned above and more. Best of all, it's super simple to use even if you're a lone traveler.
The biggest drawback of this dolly is that it can only tow 4,800 lbs, meaning you can only use it with small to mid-sized vehicles. Additionally, the dolly itself is quite heavy, weighing in at about 615 lbs. This makes the dolly quite hard to move around during the hitching and unhitching process.  
With this info, you should be able to make an informed purchase that you will love for years to come. Go ahead and start shopping so you can hit the road and start making memories!
This post may contain affiliate links.