Travel Inspiration
January 24th, 2021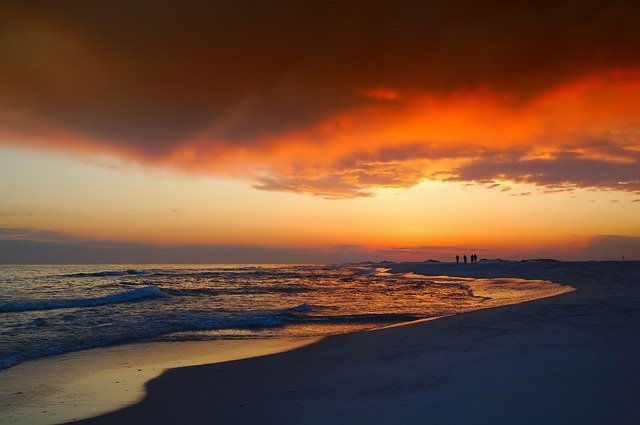 RV vacations are a great option for Spring Break! Whether you're dreaming of warmer weather, exciting amusements, or just seeing some new sights, we have you covered with suggestions for wonderful Spring Break RV trips to take with your family.
*Keep in mind that some places may have coronavirus restrictions in place. Be sure to check with any parks or attractions to see if they are open and if you need reservations.*
Top 10 Family Spring Break RV Vacations
This national park is the most popular in the country, and a great spot for a Spring Break vacation. The mild weather means you can do plenty of hiking and exploring throughout the park. Also, in spring, the Smoky Mountains are carpeted in gorgeous wildflowers. There are more than 1,500 types of flowering plants just within the borders of the national park, so you're sure to be treated to a sea of color!
Galveston Island has mild weather and beaches that make it the perfect place to warm up and enjoy some fun in the sun. Galveston Island State Park has swimming, boating, fishing, hiking, and many more outdoor activities. There is also a pier with a Ferris wheel and some fun rides for the kids. You're also only an hour or so from Houston, so you can take the kids to the Space Center or explore the city for a day during your stay.
Yes, Disney World is open! They do have some COVID-19 restrictions and requirements, which you can read here.
With plenty of exciting rides, exhibits, and things to explore, and with the balmy weather Florida is known for, Disney World makes an excellent Spring Break option. You can even camp inside the park at the Fort Wilderness Resort. Due to the park's popularity, you'll want to make reservations early. Also, if you're coming from a frigid and snowy state, you may want to add some extra days to your vacation to warm up at a Florida beach as well.
Spring is the perfect time to visit a California desert park like Death Valley or Joshua Tree. The weather is pleasant and hasn't reached the blistering heat of summer. The desert flowers are blooming and beautiful (if you haven't seen a cactus in bloom, it's quite a sight!). And desert sunsets just can't be beat. Stretch your legs hiking at Mosaic Canyon or one of the many places in Death Valley with colorful rocks and fanciful formations, visit Calico Ghost Town, and try hiking Ubehebe Crater where it feels like for every step forward you slide two back.
There's a lot to see in San Diego! Spend a day at the beach, browse the shops in the Gaslamp Quarter, or head to Sea World to see the animals. San Diego's year-round mild weather means you're sure to have some great days to spend outdoors in this coastal city.
You can't go wrong camping on any of the islands in the Florida Keys. You'll be near two national parks – Biscayne National Park and Dry Tortugas. At your home base in Bahia Honda, go snorkeling, swimming, hiking, boating and bird-watching. Keep an eye out for large rays, tropical fish, crabs, sea turtles, and dolphins. The park is also the darkest location for stargazing in the Florida Keys and sometimes there are stargazing programs guests can attend.
This gorgeous barrier island is about one hundred miles south of New Orleans, along the Gulf. Go deep-sea fishing, look for local birds, and have some fresh seafood plucked straight from the water. You can also surround yourself with thousands of butterflies at the Butterfly Dome, or learn about area history at Fort Livingston.
White Sands is home to the largest field of gypsum sand dunes in the world, and a fun place to explore on Spring Break! Hike, sled, tumble, or jump down the dunes or try a horseback ride at the park. White Sands was recently designated a national park after being a national monument for years and years. Along with the stark beauty of the dunes, the park has a storied history that includes testing defensive technologies like missiles.
Spring is the perfect time to visit White Sands because the hot summer sun can make the later months extremely uncomfortable.
9.) Tybee Island, Georgia
Tybee Island is not far from Savannah, and is a warm Spring Break getaway! Check out the Tybee Island Light Station, built in 1736, or spend the day on the beach relaxing and enjoy the southern charm of this Georgia island! Also make sure to sample some of the fresh seafood that's abundant on the island … or catch some of your own!
10.) Isla Blanca State Park, Texas
Isla Blanca on South Padre Island is about as far south as you can get in Texas before hitting the border of Mexico. Spend a day on the sandy beach, stroll along the walking trail, or do some surf fishing. The park also has a boat ramp, and plenty of concessions and beach rentals. For extra entertainment, spend the day at the water park, or go snorkeling, diving, parasailing, or trying just about any other water sport you can think of!
If you do plan a family Spring Break vacation in an RV, be sure to also check out our helpful guide on what to pack for your trip!