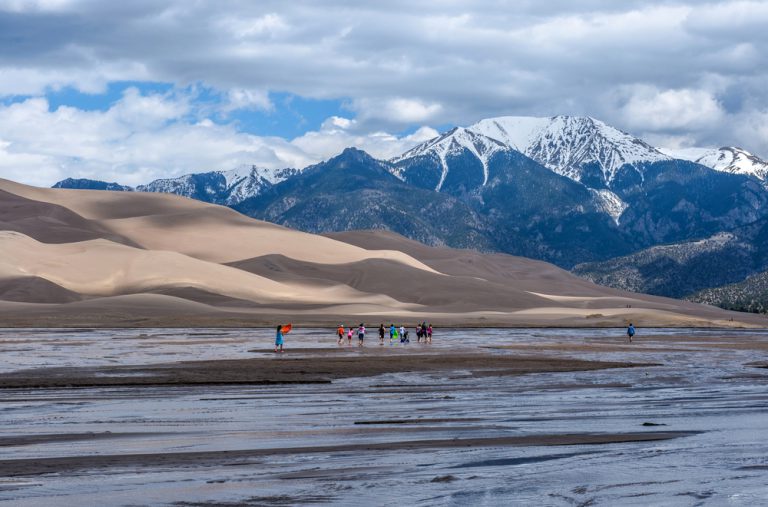 What are the Most Popular Beaches in Colorado?
As high as the Colorado Rocky Mountains are said to make visitors, the state is speckled with an array of shimmering, swimmable beaches that are just as enticing — particularly on a hot summer's day. Whether you need a place to cool off after a long and arduous hike or you just want to pretend you've taken a more tropical getaway, here are the most popular beaches in Colorado.
Top Beaches in Colorado
1. Steamboat Lake State Park
2. Grand Lake
3. Boulder Reservoir
4. Aurora Reservoir
5. Chatfield Reservoir
6. Jackson Lake State Park
7. Blue Mesa Reservoir
8. Rock Canyon Swim Beach
9. Medano Creek
10. Ridgway State Park Beach
Colorado Beaches
Here are the best beaches Colorful Colorado has to offer!
1. Steamboat Lake State Park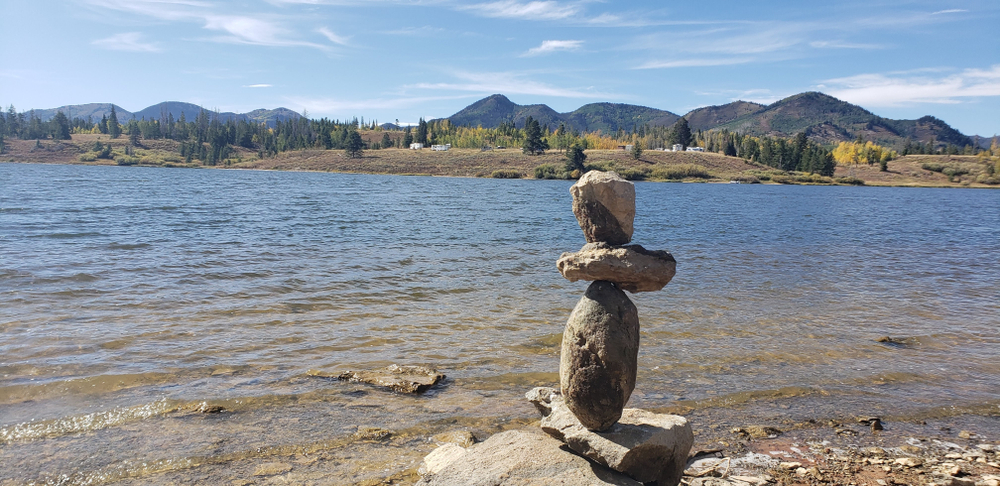 The northernmost beach on our list, tucked into the beautiful boundaries of Steamboat Lake State Park just outside of Steamboat Springs, this beach certainly won't make you feel like you've been transported to the ocean… but given its epic view of Hahn's Peak and the lush surrounding greenery, you might like it even better. A marina and boat ramp make it easy to take to the waves on a jet ski, kayak, canoe, raft, or motorboat, which are often seen towing brave waterskiers or serene fisherfolk. Landside, the park is well-known for its hiking trails, built to satisfy folks of a variety of fitness levels, as well as the stunning colors that bedeck the area come fall. Backcountry camping is also popular here, as is cross-country skiing in the winter time.
Things to do near Steamboat Lake State Park: Only half an hour north of the popular mountain resort town, Steamboat Springs, this state park is close to other worthy wildernesses like the vast Medicine Bow-Routt National Forests. Here are some nearby RVshare rentals to consider for your journey, as well as some great campgrounds in the high Rockies.
2. Grand Lake
Bearing the distinction of being the largest and deepest lake in the state of Colorado, Grand Lake certainly lives up to its name — and makes for a grand beach day, to boot. A soft stretch of sand offers access to cerulean waters, all on a backdrop of rolling green hills and surrounding mountains. What's more, Grand Lake Beach offers an active marina, so it's easy to launch your sailboat, kayak, raft, or other watercraft if you're interested in taking to the waves without getting your feet wet. There's even an ice cream stand closeby — talk about the perfect summer destination!
Things to do near Grand Lake: Located not far at all from Denver as the crow flies (though the winding mountain roadways mean it'll take a couple of hours to get to town), Grand Lake makes for an excellent weekend getaway for city-dwellers — and, of course, is immediately adjacent to Rocky Mountain National Park, which you could easily spend a lifetime exploring. If you're looking to take your time, check out these cozy RVshare rentals and nearby campgrounds to call home base!
3. Boulder Reservoir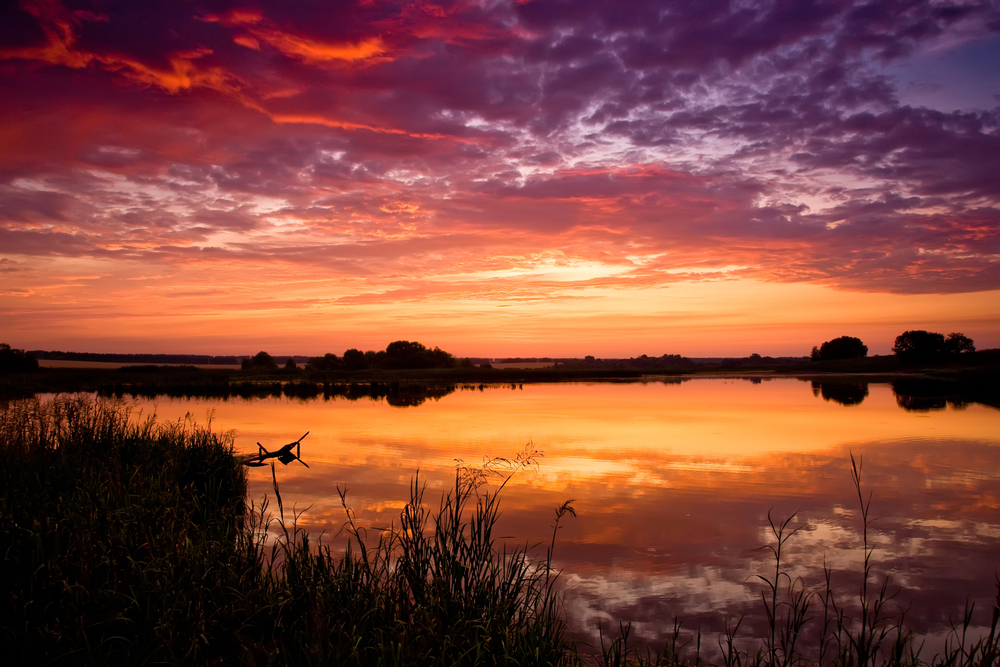 Boulder is known for its delightful mix of outdoorsy and urban adventure opportunities, and the Boulder Reservoir is no exception. Simultaneously one of the most beautiful and pristine stretches of natural space in the state and also a well-developed, convenient destination, the beach along this 700-acre manmade lake is populated by lifeguard stands, making it an excellent choice for families hoping to be extra safe on their vacation. While you while away your afternoon along the sand or cool off with a quick dip, you'll be surrounded by the stunning Boulder foothills the whole time. There are also occasionally organized activities, including stand-up paddleboard yoga classes. Hope you've got good balance!
Things to do near Boulder Reservoir: Less than 15 minutes from the heart of Boulder, this beach is a standout for its ease of access — not only for Boulderites, but also from Coloradans in Denver, Golden, Aurora and other metro areas. Other area wildernesses like St. Vrain State Park and Eldorado Canyon State Park offer more outdoor recreation opportunities; here are some local RVshare rentals and campgrounds.
4. Aurora Reservoir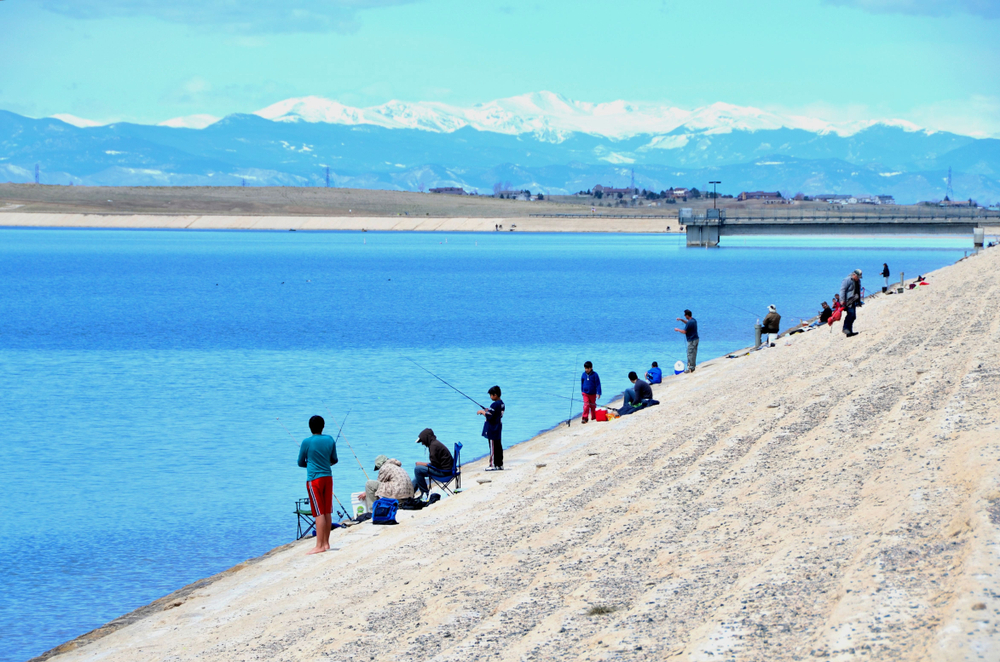 Another beach day option close to the beating heart of Colorado's biggest metropole, the Aurora Reservoir is only 45 minutes or so southeast of Denver, which is probably why it's such a popular beach. Well, that and the stunning white sands that line the shore of the reservoir, which measures a stunning 31,650 acres and is home to turtles, crabs, and other friendly critters. Along with the lake itself, which is popular amongst SCUBA divers and snorkelers as well as more casual swimming fans, this area offers a great 8-mile paved bike path and educational, entertaining nature center landside. There truly is something for everyone in the family!
Things to do near Aurora Reservoir: As its name suggests, this beautiful lake is just outside of the city of Aurora — which is, in turn, a stone's throw from other urban communities like Golden, Littleton, Thornton, and Denver itself. Good news: there are plenty of great RVshare rentals available here, as well as some excellent campgrounds to stay in!
5. Chatfield Reservoir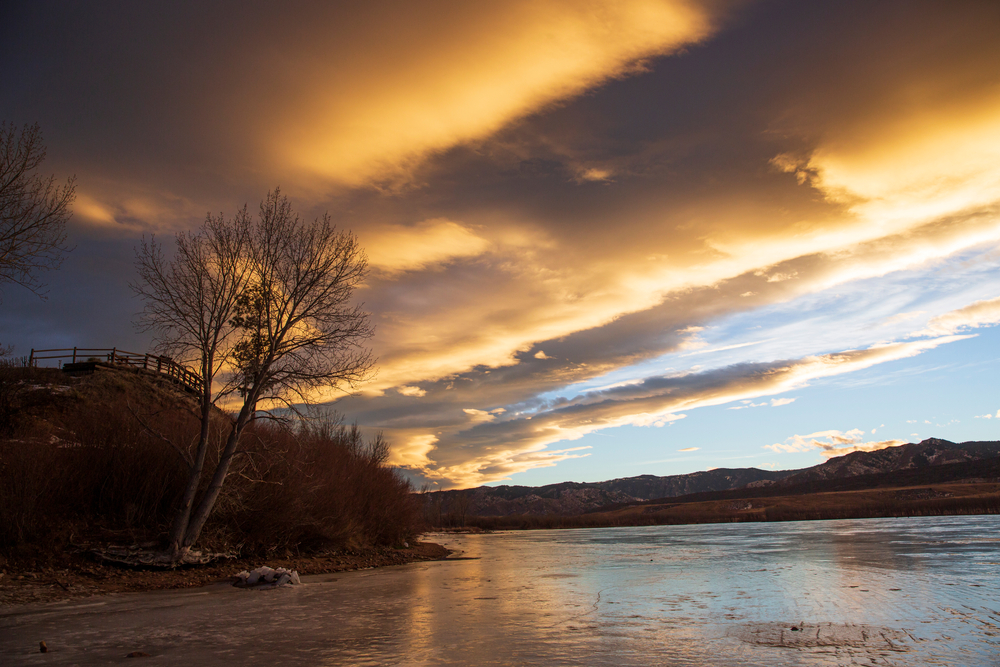 Chatfield State Park is easily one of the most popular such parks in all of Colorado — and although the Chatfield Reservoir isn't the only reason, it's a big one. (Literally. This manmade lake is comprised of approximately 1,500 surface acres.) Its long shoreline and stunning view of the surrounding Rockies make this a common getaway for Denverites looking to escape the city's hustle-bustle, and its waters are used by many different water sports enthusiasts, from kayakers and fisherfolk to stand-up paddleboarders and jet skiers. What's more, this state park boasts a well-appointed campground… and all of its nearly 200 campsites are within walking distance of the shore. You can't beat that kind of location!
Things to do near Chatfield Reservoir: Tucked on the south end of the Denver metropolitan area, Chatfield State Park is also within an easy drive of other preserved wildernesses such as Staunton State Park, Roxborough State Park, and Castlewood Canyon State Park. An RV trip is the perfect way to string them all together — here are some nearby RV rentals to consider!
6. Jackson Lake State Park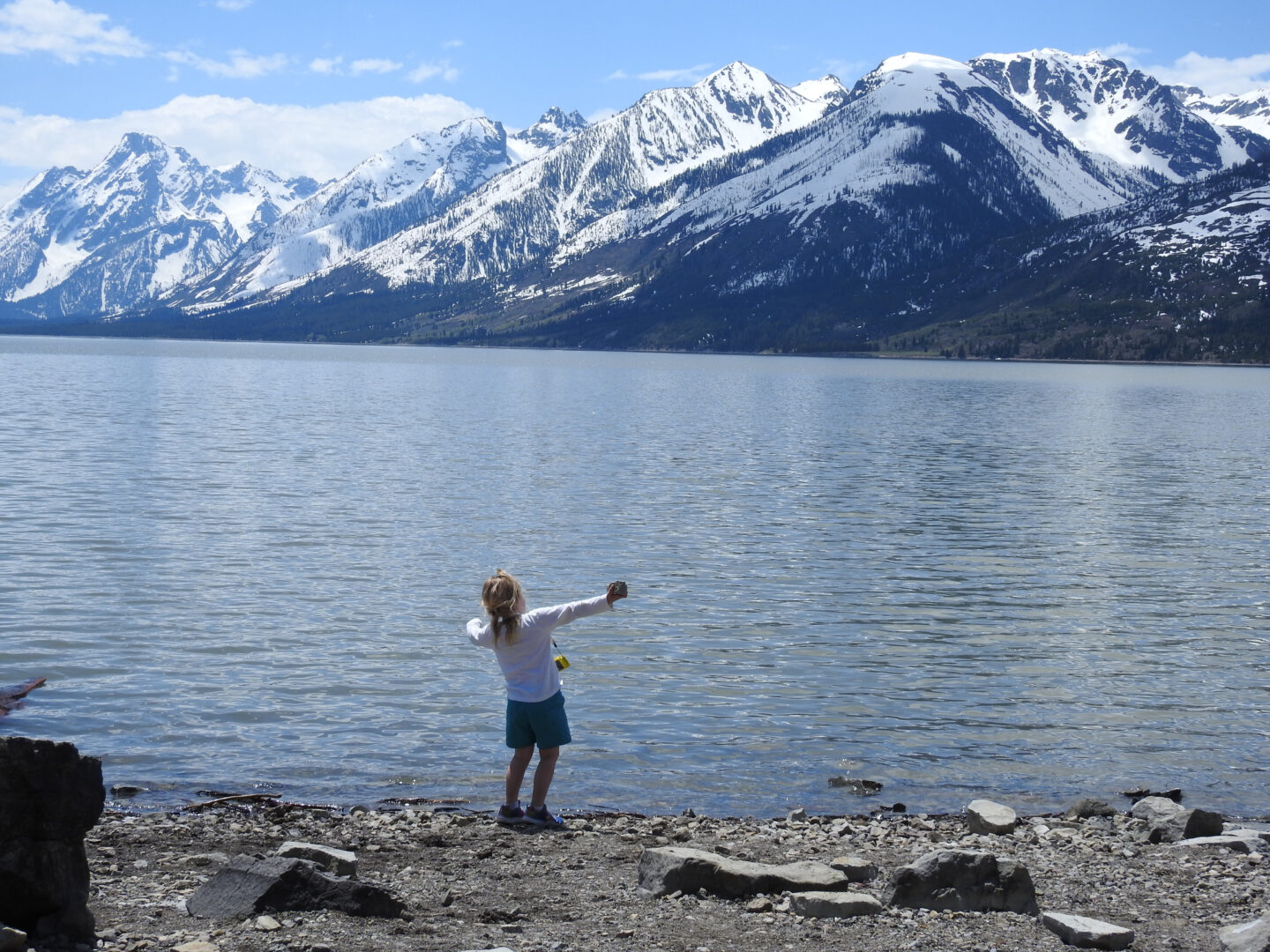 You may have also heard this one referred to as "the oasis of the plains," and for good reason. Jackson Lake State Park offers the perfect family-friendly beach getaway, thanks in no small part to its powdery soft sands that are gentle on eager little feet. The park also offers showers and restrooms closeby to the beachfront, and bonfire pits so you can extend your beach day into the evening hours. The waters are shallow and, at least in the summertime, warm enough for even the smallest swimmers, and landside, the park also offers camping accommodations, hiking trails, wildlife spotting opportunities and more.
Things to do near Jackson Lake State Park: Located northeast of Denver, in the area where Colorado starts to look less mountainous and more like the Great Plains, Jackson Lake State Park is only about an hour and a half from Fort Collins, though it sometimes feels way further out there. The good news? An RVshare rental means you'll feel at home (away from home), no matter where you go!
7. Blue Mesa Reservoir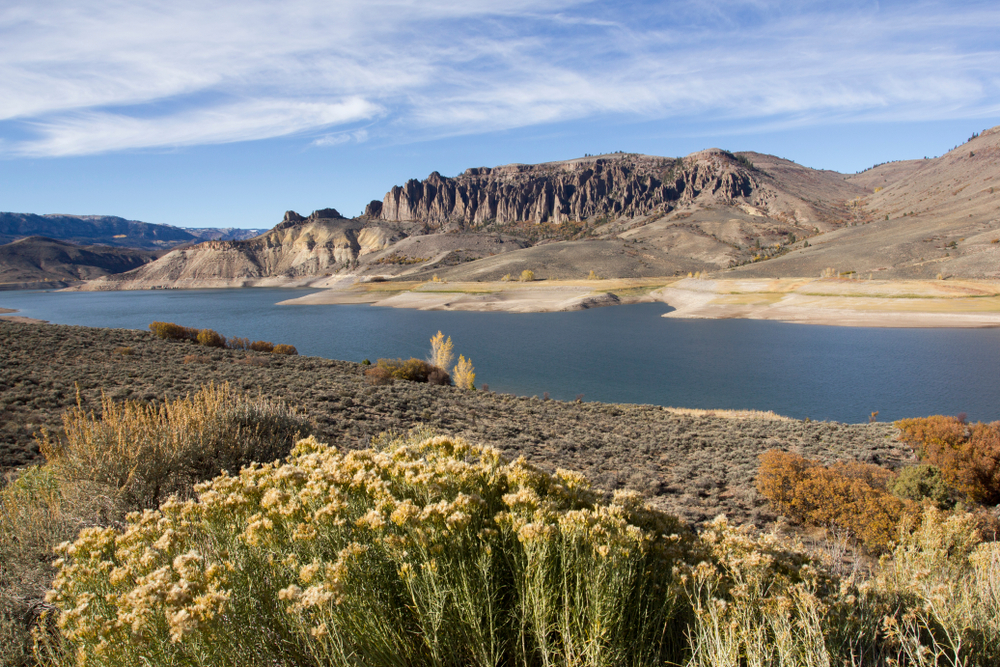 Grand Lake may be the largest naturally occurring lake in Colorado, but if you include manmade bodies of water, the Blue Mesa Reservoir takes the cake. Almost 20 miles in length and nearly 15 square miles in area, Blue Mesa is one of three reservoirs linked by the Curecanti National Recreation Area, and is known for its miles of sandy shoreline situated in a stunning high desert environment. The waters, perpetually cool thanks to the elevation and surroundings, make for an excellent place to cool off from the shining Colorado desert sun — and while much of the long shoreline is rocky, there are some softer, more inviting swimming holes at the Bay of Chickens, Dry Creek, and Old Highway 50 beaches.
Things to do near Blue Mesa Reservoir: Located in the stunning wilderness of west-central Colorado, Blue Mesa Reservoir isn't very close to any major cities, but it is only an hour or so from the hidden gem that is Black Canyon of the Gunnison National Park. Other area preserves worth checking out include Crawford State Park and Ridgway State Park, which we'll be coming back to in just a minute. Here are some local RVshare rentals in the area to peruse.
8. Rock Canyon Swim Beach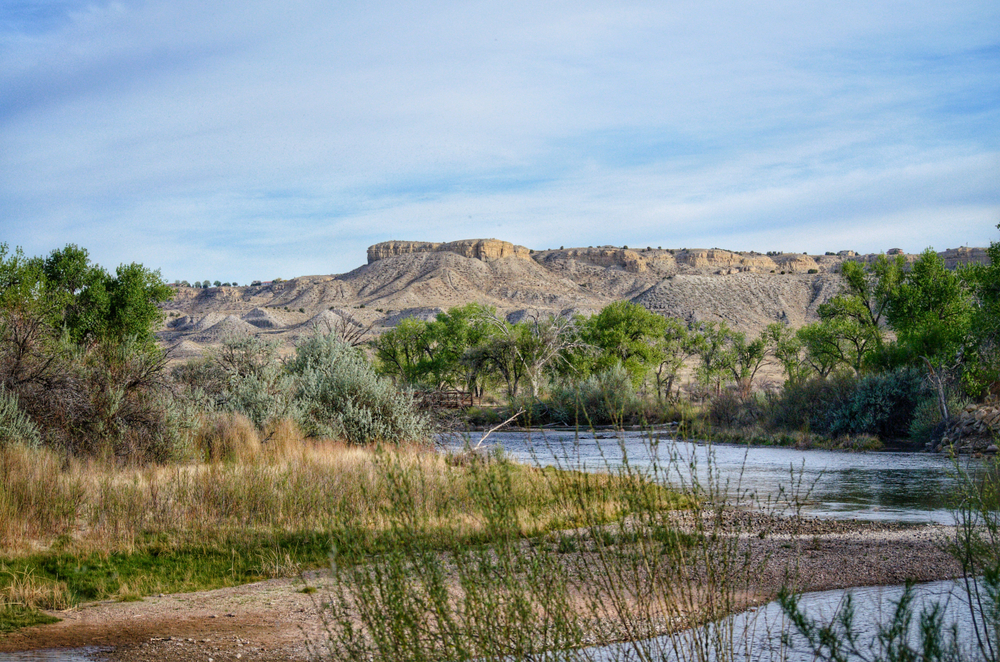 Lake Pueblo State Park is well known as one of the premier getaway destinations in Colorado — after all, not every preserved wilderness boasts 4,600 acres of water surrounded by 10,000 acres of land. Given how much water this park calls its own, it's no surprise that it's got some excellent beachsides, perhaps the most popular and inviting of which is Rock Canyon Swim Beach. The soft sands make this beach the perfect place to sunbathe or swim, and amenities like picnic pavilions, grills, restrooms, and more make this an easy place to get away from it all with the whole family. Watersports like rafting, tubing, canoeing, and waterskiing are all popular here as well, and it's also considered one of the best fishing destinations in the state.
Things to do near Rock Canyon Swim Beach: Just west of the city of Pueblo, this state park is tucked into the stunning desert area of south-central Colorado, a beautiful and unique change of pace from the alpine mountains up north. An RV is the perfect way to get around in comfort and style; here are some local RVshare rentals to consider, as well as some nearby campgrounds.
9. Medano Creek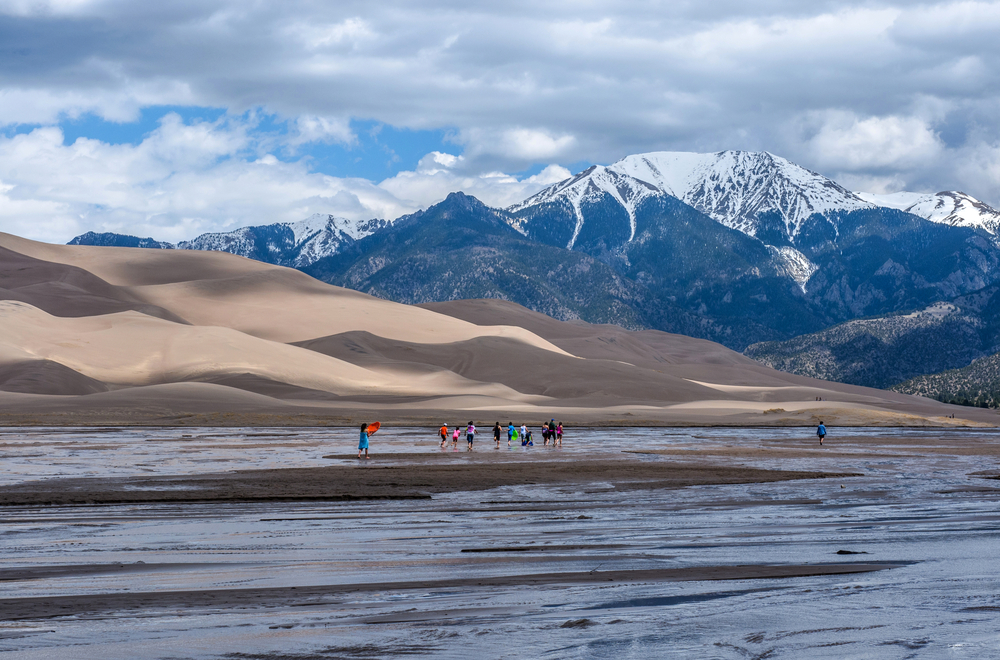 This one's a special opportunity — because it's temporary! Medano Creek is a natural beach that forms only in the warmest weather circumstances, which causes the snow in the nearby Sangre de Cristo Mountains to melt into the riverbed at the base of Great Sand Dunes National Park. This generally happens in late May or early June, and offers visitors with excellent timing the opportunity to go surfing, skimboarding, and floating… but it only lasts for a short while. The good news is, even after this unique phenomenon dries up, the national park itself is full of plenty of other incredible and worthy attractions. If you're the achievement unlocked type, though, this one should definitely be on your bucket list.
Things to do near Medano Creek: The south-central Coloradan desert may be dry, but it's teeming with adventure opportunities. Medano Creek — and the national park it's a part of — are closest to the cities of Alamosa, Trinidad, and Pueblo, as well as other nearby wildernesses like the San Luis State Wildlife Area and Lathrop State Park. Here are some local RVshare rentals to choose from.
10. Ridgway State Park Beach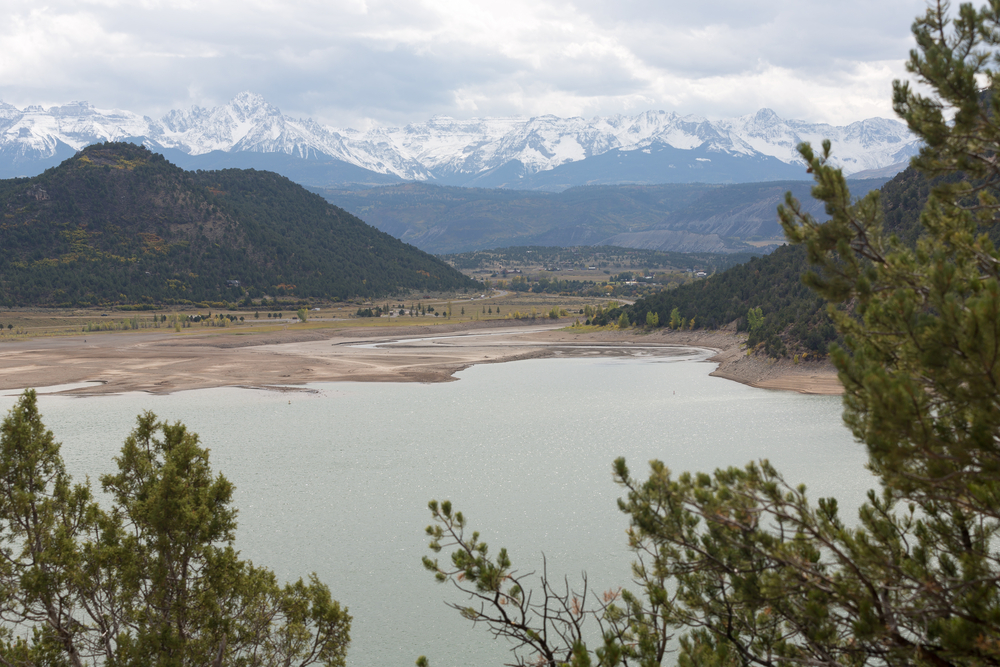 The westernmost state park in Colorado, Ridgeway State Park offers a scenic swimming beach that's surrounded on all sides by incredible mountain views, and which is accompanied by a park offering more than 14 miles of hiking trails. Furthermore, the park is open year-round for outdoor adventure opportunities like biking, camping, swimming, fishing, and more, and the soft sands found here are friendly for little feet and also great for building sand castles out of.
Things to do near Ridgway State Park Beach: About equidistant from Grand Junction and Durango, this state park is in the scenic southwestern portion of Colorado, known for its unique combination of desert and mountain landscapes — as well as must-visit destinations like Mesa Verde National Park. Here are some local RVshare rentals to help you make the trip!
Planning an RV Trip to Colorado
Planning an RV trip is the perfect way to see all the beaches (and everything else) Colorado has to offer — and we've got the deets you need to do it the easy way. For starters, here are the best RV rentals in the state, as well as the best state parks and campgrounds to bring them to. We've also written guides to many of Colorado's biggest and most popular cities, as well as the national parks that call this state home:
Enjoy your trip!