Mesa Verde National Park
WIDE-RANGING INVENTORY
From affordable pop-ups to luxury motorhomes
LARGEST RV RENTAL MARKETPLACE
Thousands of 5 star reviews from happy customers
SECURE AND MOST TRUSTED
24/7 Emergency roadside assistance on every booking
Colorado's got way more to offer than scenic mountain vistas. A few hours southwest of Denver, Mesa Verde National Park holds some of the most well-preserved Ancestral Puebloan ruins in the nation -- ancient secrets on display for anybody willing to make the journey. At over 52,000 acres in size, the park preserves more than 4,300 archeological sites and over 600 cliff dwellings, perhaps the best-known (and most-photographed) of which is Cliff Palace, thought to be the largest such dwelling on the continent. Designated a national park by Theodore Roosevelt in 1906, the park also holds UNESCO World Heritage Site status, and has been the site of human inhabitation since approximately 7500 BC.
Nestled in the southwestern corner of Colorado, Mesa Verde National Park displays characteristic high desert weather patterns: a dry, relatively temperate climate, punctuated by violent thunderstorms during the summer monsoon season. Although average high temperatures hover in the 40-degree range in winter, snow storms can occur -- and often do as late as May and as early as October. Always check the park's official weather page as well as the local forecast before you head out on your adventure.
Although it's in quite a remote location, Mesa Verde National Park is in proximity to a number of small southwestern Colorado towns that offer basic facilities as well as fun cultural events and exhibits. Cortez, a community of about 8,500 inhabitants, lies 10 miles from the park entrance and offers a wide array of sights, services, and restaurants. The smaller village of Mancos is also nearby, and the relatively large city of Durango is 36 miles east, an easy drive that can be done in less than an hour.
Mesa Verde's chief attraction is its unparalleled collection of archeological sites, which visitors can explore from its well-maintained network of hiking trails. However, for those seeking a deeper understanding of the location's history and significance, the Park Service hosts a range of guided tours as well as ranger-led events, including a vibrant Four Corners Lecture Series. For the latest details on what's going on at Mesa Verde, check the park's official calendar page.
Read more
Weather
Spring 26-67 F
Summer 49-84 F
Fall 46-74 F
Winter 16-37 F
Park Info
Mesa Verde National Park Private Vehicle: $20
Mesa Verde National Park Motorcycle: $15
Mesa Verde National Park Per Person: $10
RV Rentals Near Mesa Verde National Park
Nearby RV Rentals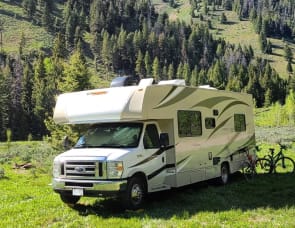 Coachmen RV Leprechaun 270QB Ford 450
2018 / Class C Motor Home Starcraft Super Lite Maxx 19MBH
2023 / Travel Trailer
Mesa Verde National Park Hiking Trails
Mesa Verde National Park features both traditional, self-guided hiking trails as well as ranger-guided tours of its best-known archeological sites. For the best experience of the park, try a couple of both!
Please keep in mind that tour tickets for the guided hikes come at an additional cost (beyond the price of park entry), and that they are very popular -- and thus routinely sell out. For best results, make your reservations early.
No matter which hike you take on at Mesa Verde (or in any natural landscape, for that matter), it's important to be prepared! Summertime temperatures can reach 90 F in southwestern Colorado, and shade is often minimal. Be sure each hiker is equipped with enough water, sun protection, and snacks to make for a safe and enjoyable hiking experience.
Mesa Verde National Park Trails
Things to do Outside Mesa Verde National Park
With over 4,000 archeological sites to explore, there's no getting around it: your Mesa Verde adventure is going to work up an appetite!
Along with great eats, there's also lots of other stuff to see and do in this vibrant corner of Colorado. Here are just a few suggestions to get you started.
Discover Nearby Towns and Cities
RV Resorts & Campsites in Mesa Verde National Park
Mesa Verde National Park offers visitors the chances to stay on-site at its Campground, which is open seasonally and offers a range of camper conveniences and services.
Those traveling by RV can also choose from a variety of other campgrounds in the vicinity, including both low-cost public camping options and private, resort-style RV parks.
Campgrounds Near Mesa Verde National Park
Find the Best Dumpstations Near Mesa Verde National Park
An unglamorous but necessary aspect of RVing? Dump stations. Knowing where the best dump stations are near you will allow for more ease and less stress in your travels. Dump stations are an easy and convenient way to clear waste from your RV. Use our guides to find dump stations on your route, so you can get back to the good stuff – exploring, relaxing, and making memories on the road.
Dumpstations Near Mesa Verde National Park
How to get to Mesa Verde National Park
Located in southwestern Colorado, Mesa Verde is quite remote, but is easily accessible by motor vehicle. From either Cortez or Durango, you need only to head toward the park on Highway 160 and follow well-posted signage. For full directions from a variety of other orientations, click here.
Whether you fly in and rent on-site or drive from your hometown, taking a rental RV is a great way to experience Mesa Verde -- or any national park. You'll get front-row access to all the fun by camping within (or very near to) the park's boundaries, and you can easily string together multiple parks to create an epic family vacation… without having to worry about packing and unpacking in a string of so-so hotel rooms.
If you're flying to the desert southwest, the nearest airports to Mesa Verde are in Cortez, Durango, or Farmington, New Mexico. Larger airfields are available in Las Vegas, Denver, Salt Lake City, and Albuquerque.
Frequently Asked Questions
Is Mesa Verde National Park accessible for disabled visitors?

Yes, Mesa Verde National Park is accessible for disabled visitors. The park has an accessible visitor and research center, the Morefield Campground is wheelchair accessible with assistance, and there are many overlooks and short paths to sites. The Mesa Top Loop Road is the most accessible and is highly recommended.

Are pets allowed at Mesa Verde National Park?

Yes, pets are allowed at Mesa Verde National Park. However, activities with pets are very limited. Pets are not allowed on trails, archeological sites, or in buildings. Pets are allowed on paved roads, in parking lots, and at the campground. Pets are also allowed on some of the trails at Wetherill Mesa in spring, summer, and fall. Pets must be leashed.

What are the top things to do in Mesa Verde National Park?

Top things to do at Mesa Verde National Park include touring the Cliff Palace, checking out the visitor center and museum, and driving the Mesa Top Loop Road to see a variety of cliff dwellings.

Are there designated camping spots in Mesa Verde National Park?

Yes, there are designated camping spots at Mesa Verde National Park. The park has one campground - Morefield Campground - which has tent and full-hookup RV spots. The campground is rarely full, so chances of finding a spot are good.

What is the best time of year to visit Mesa Verde National Park?

Summer is the best time to visit Mesa Verde National Park. Although there are more crowds in summer, there are also more services such as cliff dwelling tours and ranger talks. For the best of both worlds, visit during the beginning of June or the end of August - crowds are not as high as mid-summer but summer services are still available.