Beaches
August 16th, 2021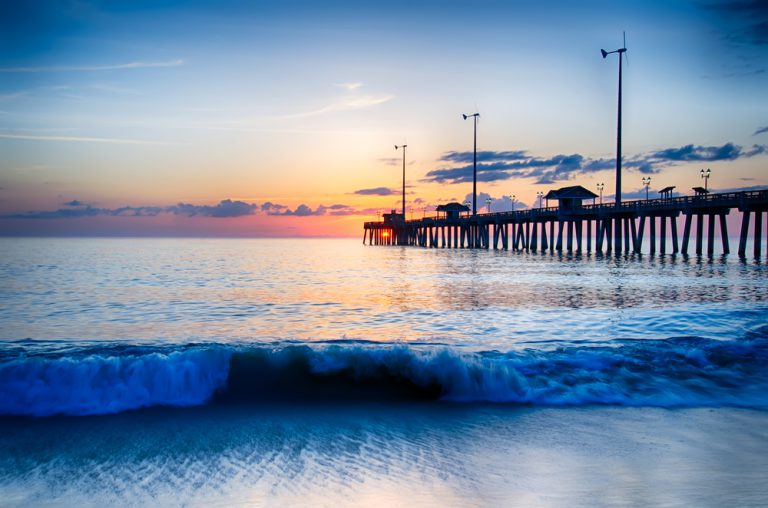 What are the Most Popular Beaches in North Carolina?
In case you haven't already heard, North Carolina's got it going on — and by "it," we mean just about everything. Known for its stunning mountain west and many of the east coast's biggest southern cities, the Tar Heel State also offers access to some incredible beaches, both along its storied Atlantic coastline and inland along lakes and rivers.
Top Beaches in North Carolina
1. Donnaha Park River Access
2. Lake James State Park Beach
3. Lake Lure Beach and Water Park
4. Seaforth Beach
5. Carova Beach
6. Kitty Hawk Beach
7. Nags Head Beach
8. Avon Beach
9. Topsail Island Beaches
10. Carolina Beach
North Carolina Beaches
Here are 10 utterly breathtaking North Carolina beaches you definitely don't want to miss on your next southerly road trip!
1. Donnaha Park River Access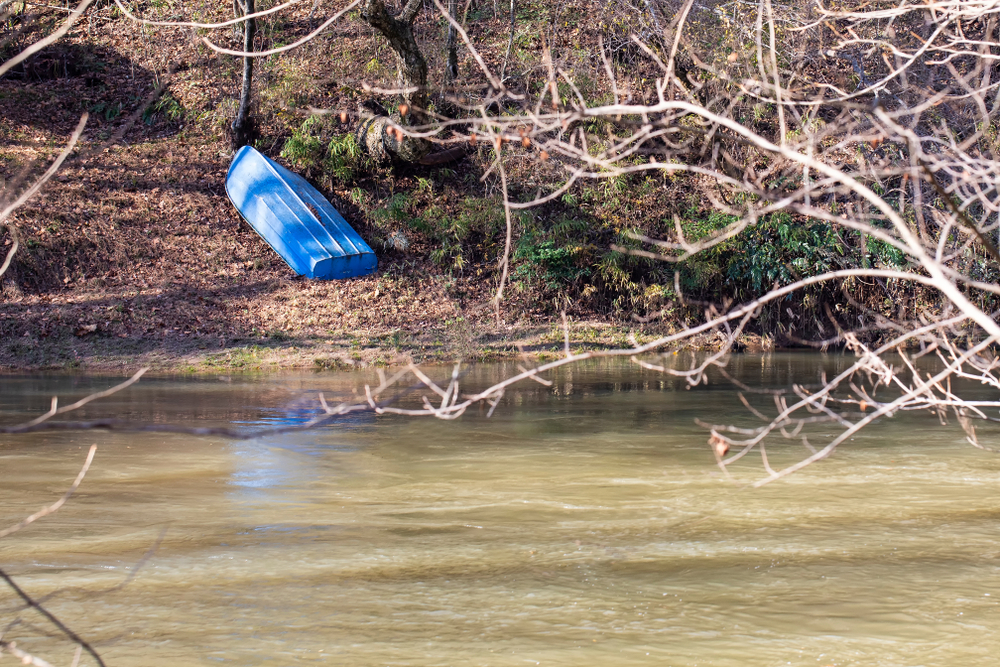 We'll start deep in the heart of North Carolina, where rivers and lakes criss-cross and dot the Appalachian mountains and foothills. One central and scenic location just a short ways away from the major urban center of Winston-Salem: the access to Yadkin River tucked inside Donnaha Park, whose soft, sandy shores are a popular place to put in a kayak or canoe, but also serve as an excellent spot for sunbathing or swimming with the family. Offering a boat ramp and ample space to fish along with its sunny shoreline, this river access area is a convenient option for outdoor enthusiasts of many stripes — and is only one of many access sites along the river, also known as the Yadkin "blue-way."
Things to do near Donnaha Park River Access: All the urban to-dos of Winston-Salem are less than half an hour away from this rugged landscape, and Greensboro is not much further afield. Plus, there are many other wildernesses in the area to explore, such as Hanging Rock State Park and Pilot Mountain State Park. Here are some local RVshare rentals to help you make a whole trip out of it, as well as some great local campgrounds to take them to.
2. Lake James State Park Beach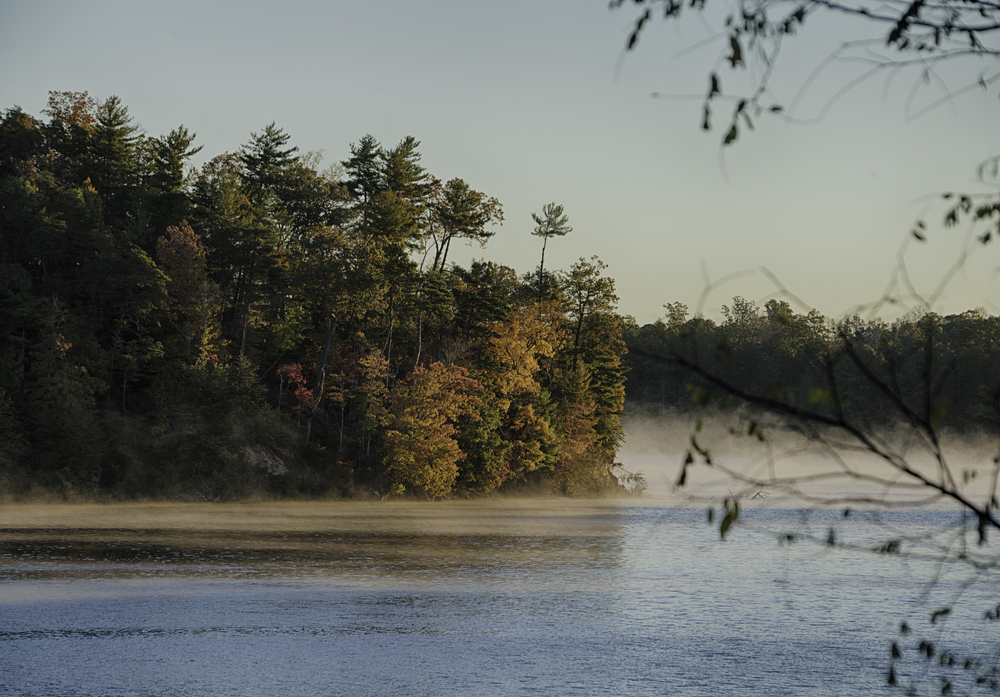 A bit further west, just on the edge of the place where the state well and truly blooms into a mountain paradise, Lake James State Park sits along the coastline of its namesake body of water, which meanders through the region with more than 10 square miles of surface area. While the state park is an attractive destination for a wide variety of reasons, including wooded hiking trails, an on-site campground and marina, and more, one of the main draws is its ample, sandy shoreline, where visitors gather under the hot North Carolina summer sun to bask and bathe. There's even a special roped-off area for younger swimmers and others who don't quite have their sea legs under them.
Things to do near Lake James State Park Beach: Swimming and sunbathing are just the start at this epic mountain lake, which is also beloved by local boaters and fisherfolk. Common catches include largemouth bass, smallmouth bass, blue catfish, black crappie, white crappie, walleye, bluegill, white bass, striped bass, northern pike and tiger muskellunge, all of which can make for an excellent meal over one of the park's public grills. Here are some local RVshare rentals to choose from for your trip!
3. Lake Lure Beach and Water Park
Maybe the best-known mountain lake beach in all of North Carolina, Lake Lure Beach and Water Park has earned its name: soft, well-groomed sands open up onto shining blue waters, all surrounded and shadowed by the foothills and trees that characterize this part of the state. A well-developed beach area with a separate water park for kids, plenty of sand for adults to lay out their towels on, and a nearby marina offering both boat rentals for you to take to the waters and boat tours for those who'd rather be chauffeured, this is a truly unmissable destination in western North Carolina, all under an hour from Asheville.
Things to do near Lake Lure Beach and Water Park: As mentioned, Asheville waits just 45 minutes away, brimming with breweries, bookshops, and the many acres of the Biltmore to explore. And, of course, all of this is situated in the context of the greater outdoor wonderland that this part of the United States has to offer; be sure to save some time for Chimney Rock State Park, and ideally, also head over to Great Smoky Mountains National Park — here are the RV rentals you need to make a comfortable, leisurely road trip out of it, and some Asheville-area campgrounds!
4. Seaforth Beach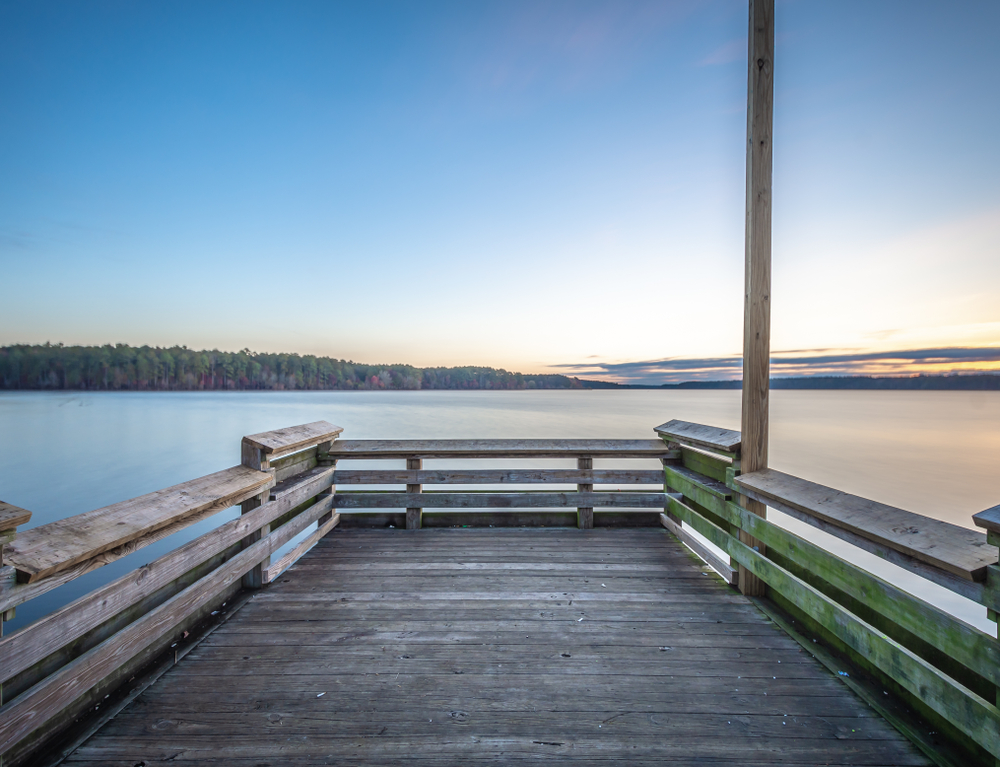 We're going to get out to the Atlantic coast beaches in just a second — but before we do, it's well worth making a stop off at Seaforth Beach, which sits on the western shore of large and languid Jordan Lake, another well-known and beloved central North Carolina beach day destination. Part of the larger Jordan Lake State Recreation Area, which offers a number of sandy lake access points, we favor Seaforth Beach because of its unique location on a spit of land that extends into the lake, offering multiple waterfront views. It also offers a well-kept restroom and bathhouse and is not far off from a boat ramp, making for a multitude of options to keep the entire family comfortable and entertained.
Things to do near Seaforth Beach: All of this beachy oasis is located less than an hour west of Raleigh, which offers its own bevy of fun to-dos and cultural attractions like the North Carolina Museum of Art. As always, there are some excellent RVshare vehicles in the area to choose from, not to mention some lovely Raleigh-area campgrounds!
5. Carova Beach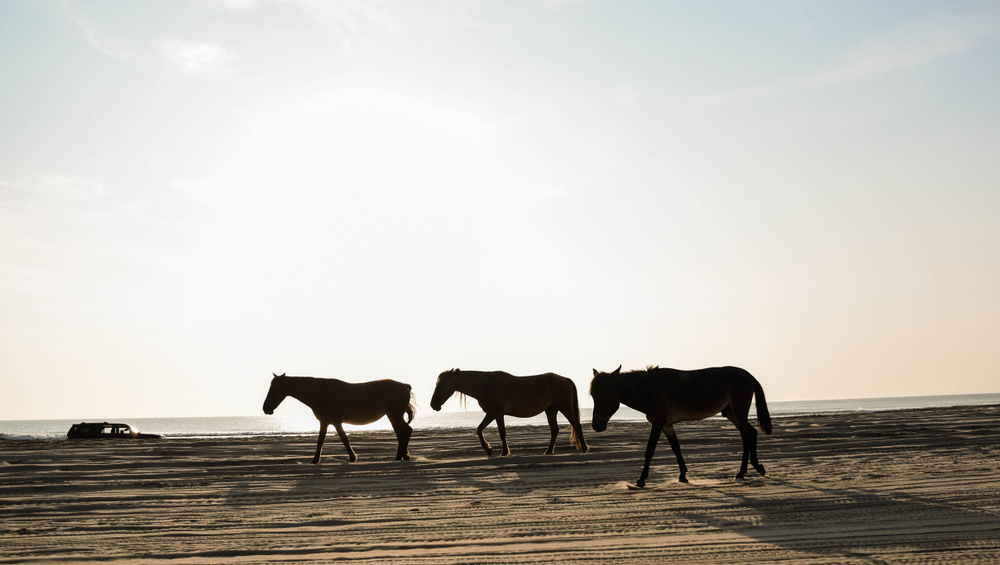 If there's one thing that can be said about North Carolina's ocean beaches (and there's not, there are thousands), it's that they're diverse. Later on in this list, we'll talk about big, developed tourist-directed beachfronts with Ferris wheels and boardwalks — but it all starts here at the northern end of the state's string of barrier islands, with this quiet, untouched landscape known best for its population of wild ponies. (Yes, really.) Carova Beach is less for those looking to lay out a towel and more for those with four-wheel drive who want to take to the dunes on wheels and enjoy the incredible natural surroundings that are so hard to find anywhere else. Along with the wild ponies, naturalists enjoy seeing the local and migratory bird life in this area — and, of course, the unique ecosystem of dunes, sea grasses, and gentle ocean breezes.
Things to do near Carova Beach: This beach is technically part of the larger Currituck National Wildlife Refuge, which constitutes many of the miles of North Carolina's first barrier island coast. There is also a small city called Carova Beach which offers basic resources and amenities, but for the most part, you're pretty far off the beaten path — which is the point. Here are some local RVshare rentals to consider!
6. Kitty Hawk Beach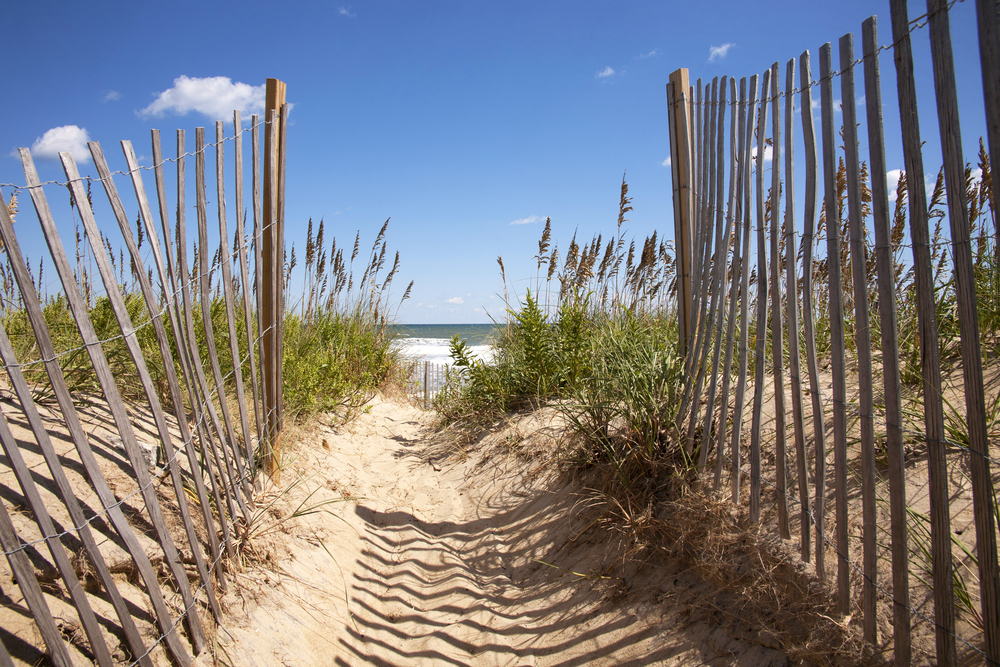 You may best know Kitty Hawk as the place where the Wright brothers bravely made the first-ever controlled human flight in a powered airplane — but we're here to tell you that you should also know it for the sheer beauty of its epic beach. With four miles of sugar-soft, golden-white sands running into a sparkling blue ocean that crashes rhythmically against the shore, this beach is both endlessly beautiful and easily accessible; it's all directly off a highway that runs directly back to the mainland, and well-served by the community of the same name at its back.
Things to do near Kitty Hawk Beach: While you're here, you'll probably want to head on down to the Wright Brothers National Memorial to pay your respects toward the miracle of human flight and the people who first made it possible. If you're looking for a different outdoorsy outing, the Kitty Hawk Woods Coastal Reserve is another great place to put on your list. Here are some area RVshare rentals to consider for your trip!
7. Nags Head Beach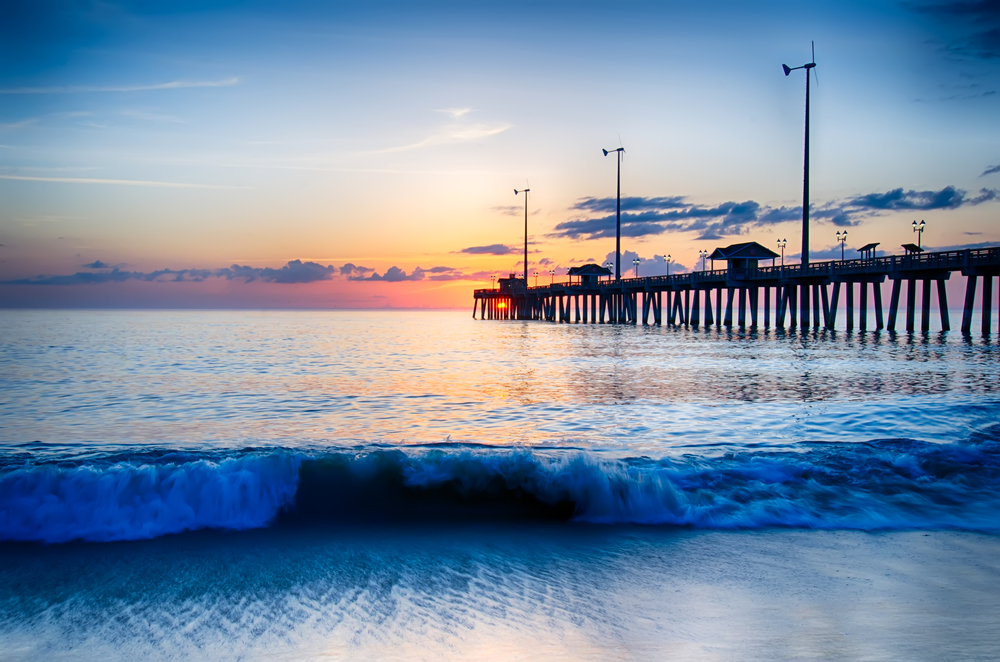 Only a short ways further south, Nags Head Beach offers another look at the incredible coastline of the Outer Banks — this time with 12 full miles of sands to wander along and lay out your towel on, as well as a scenic fishing pier that's perfect for reeling in a catch or simply enjoying the sunrise or sunset. There are also plenty of nearby options for lodging, restaurant fare, bars, and bait and tackle — which makes sense, since this is one of the best-loved vacation destinations in the state, as it has been since it was first settled in the 1800s.
Things to do near Nags Head Beach: On the other side of the barrier island spit, find Jockey's Ridge State Park, which boasts, among many other attractions, the east coast's tallest sand dune. Nags Head is also only a short distance from the (in)famous Roanoke Island, and the small coastal cities dotting the area have everything you need by way of vacation supplies. Here are some local RVshare rentals to consider!
8. Avon Beach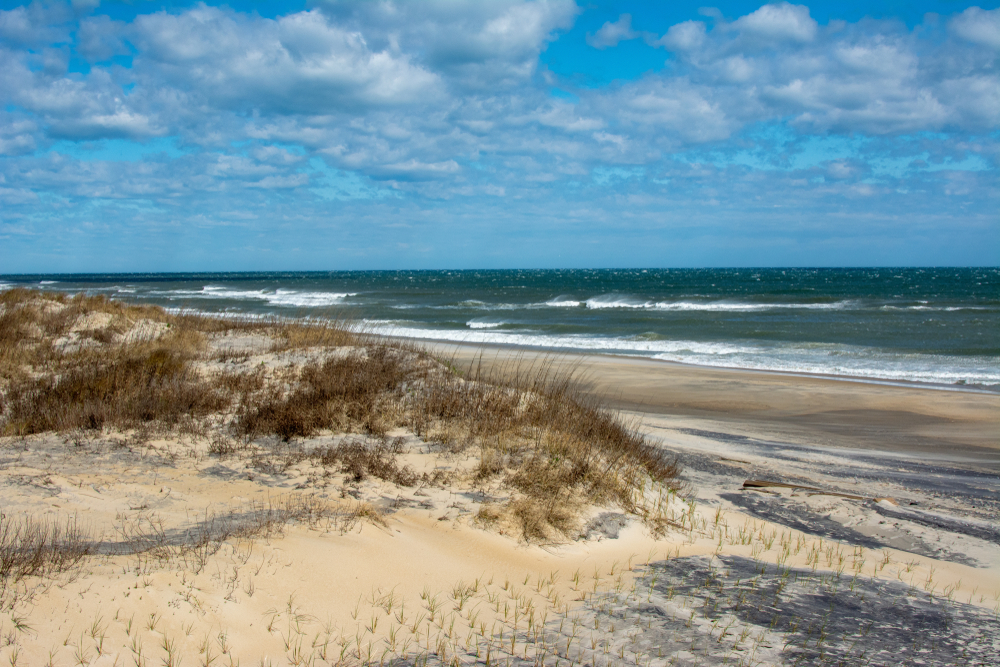 Just north of where the outer banks make their distinctive elbow out into the Atlantic, Avon Beach awaits, offering an untouched getaway perfect for those in search of solitude and silence. A small town that offers little more than a few restaurants and residential areas, Avon really exists only because of the beach itself, which is a long, golden stretch backed by beautiful, grass-topped dunes… which conveniently block out the small amount of human development there is, giving you the illusion of being truly off the grid and and away from it all. There's also a fishing pier that serves as a popular gathering place as well as the premier location for reeling in some dinner.
Things to do near Avon Beach: Just north of this area, you'll find the Little Kinnakeet Lifesaving Station, which offers visitors a unique look into the important historic role of the rescuers who predated the Coast Guard. It's all part of the larger Cape Hatteras National Seashore, an NPS-managed property — here are some local RVshare rentals for those wanting to stay and play for longer.
9. Topsail Island Beaches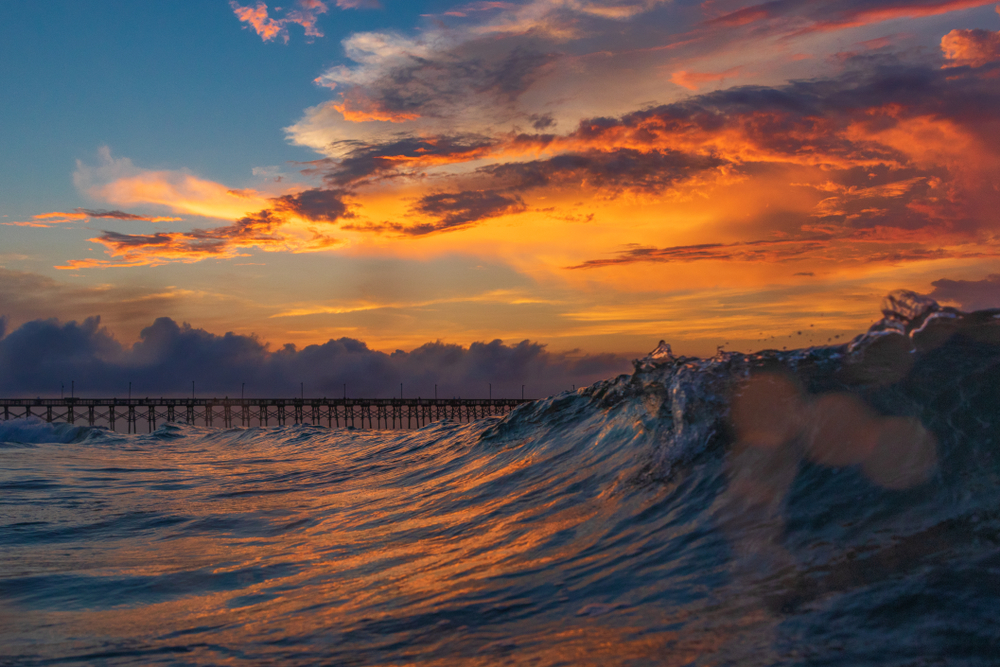 Spanning more than 26 miles of stunning oceanfront, Topsail Island is one of the best and most often overlooked destinations along the North Carolina shore, tucked close to the mainland along the southern stretches of the state. It boasts not one but three epic beaches, all of which are well worth visiting: Topsail Beach, North Topsail Beach, and Surf City Beach, each with their own unique flavor and characteristics. All of the beaches offer ample soft sands to spread out on or stroll along, and maritime forests dot the island along with sea turtle sanctuary areas. In short, plan to spend at least a week — you probably still won't see it all!
Things to do near the Topsail Island Beaches: One of the coolest parts about this complex of beaches is that it's all just an hour away from Wilmington, which offers plenty of incredible restaurants, museums, and other attractions. Here are some local RVshare rentals to choose from, and campgrounds to bring those rigs to!
10. Carolina Beach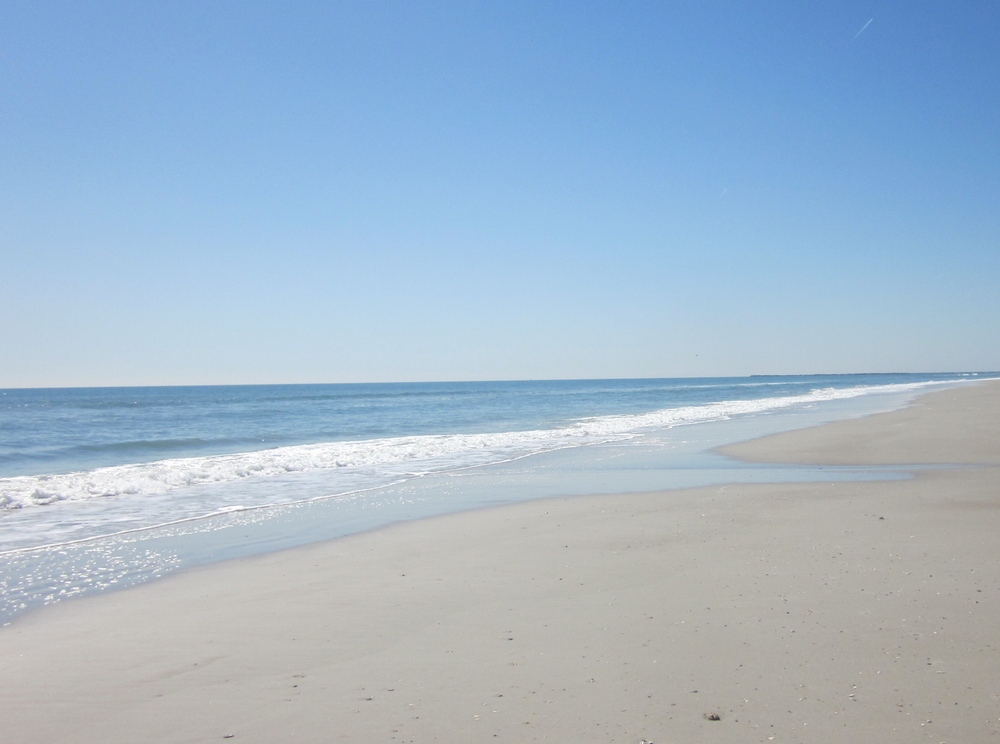 Last but most certainly not least, Carolina Beach awaits visitors at the place where the Cape Fear River meets the Atlantic Ocean — and it's earned its prestigious state namesake for sure. Along with seemingly endless diamond sands into which the sea softly cascades, this beach also offers an elevated wooden boardwalk as well as a permanent midway with a Ferris wheel, fair food, and other fun diversions that will thrill both kids and the rest of the family. With beautiful, grass-topped dunes and the kind of southern charm you'd expect from a city this side of the Mason-Dixon, Carolina Beach truly offers it all, and is easily accessible to a wide range of southern residents and visitors.
Things to do near Carolina Beach: Given its location just twenty minutes from Wilmington, it is in no way a surprise that this beach is an uber-popular destination… and it's within an easy reach of many fun things to do, both inside the city and outside. Here are the local RVshare rentals and campgrounds you need to take your time and enjoy it all!
Planning an RV Trip to North Carolina
North Carolina's beaches are absolutely epic… and also just the start of what this state has to offer. There's only one thing for it — and that's an RV trip!
We've got you covered with the best rental rigs on the market, as well as guides to the best state parks and campgrounds across North Carolina. We've also written guides to its biggest metros, not to mention Great Smoky Mountains National Park, which is another must-do while you're in the state.
Enjoy your trip!