Travel Inspiration
Last updated on May 30th, 2023. Originally published on December 17th, 2019
What's better than RV camping? FREE RV camping!
RVing has long been seen as a way to travel cheaply, but with private resorts charging per-night rental prices as high as $100 (or even more), the cost of being on the road can add up quickly. Free campgrounds allow you to save money on your accommodations, which gives you extra cash to spend where it matters: fuel, food, and fun!
While free RV campgrounds may not offer the same level of luxury amenities as, say, an exclusive motorcoach club, for many campers, you're really only in your rig when you're sleeping at night. Why spend insane amounts of cash just to park your RV when you're not even going to be there for most of your vacation? Free campgrounds are a great way to lower your overall travel budget and focus on the experiences you really value.
In this post, we'll walk you through the best free RV campgrounds across the United States, so you can find a cost-free option no matter where you're planning to spend your next vacation. We'll also share 5 of our favorite places to camp for under $25.
So without further ado, let's dive into the best free campgrounds on the American highway system!
1. Craggy Wash – Lake Havasu, Arizona
Many full-time RVers retreat to Lake Havasu during the harsh winter months, and even if you're just a weekender, a quick trip will show you why this spot is so popular. Nestled along the California border with access to hiking, biking, and water-based outdoor activity opportunities, Lake Havasu is an amazing desert destination.
There are a variety of free campgrounds for boondockers in the area — which is one reason it's such a popular winter spot. But perhaps the best is the stretch of BLM-owned land known as Craggy Wash, which is located an easy drive from the city and offers clean, gravel-lined spaces and decent data coverage for Verizon, AT&T, and Sprint users.
Although the access road is a bit rough, RVers traveling with rigs up to 42 feet in length have successfully accessed the campground.
Click here to see RVshare rentals near Lake Havasu, Arizona.
2. American Girl Mine Road – Winterhaven, California
Formerly known as Karmack, Winterhaven is a small town in California situated just across the state line from Arizona and only a few minutes from the Mexican border. It's an expansive desert vista and a great place to camp if you're looking for a free boondocking site that makes international travel easy.
As if its great location weren't already enough of a draw, the free campground along American Girl Mine Road has the additional benefit of being a great beginner boondocking site. It's easy to access even for larger RVs, and just 15 miles away from the city of Yuma, where you can stock up on supplies if you forgot anything.
Click here to see RVshare rentals near Winterhaven, California.
3. Sacred White Shell Mountain – Great Sand Dunes, Colorado
You might first think of Florida or Hawaii when you think "sand dunes." But the southwest has some amazing mounds of its own, and Colorado's Great Sand Dunes National Park is the place to see them. Located in a surreal and remote landscape in the south-central section of the state, this national park is a hidden gem, and certainly one you'll be glad you took the time to get to.
If you're looking for free camping in this part of Colorado, one great option is the BLM campground at Sacred White Shell Mountain. Campers rate it five stars overall, citing its stunning views, solitude and great location. It also has decent data coverage from all of the major service providers and can accommodate even large rigs, like a 39-foot fifth wheel trailer.
Click here to see RVshare rentals near Great Sand Dunes National Park in Colorado.
4. Cherry Creek Road – San Juan National Forest, Colorado
A southwestern gem off the beaten path, Durango, Colorado is a destination worth adding to your list, even if it's not there yet. The town itself has an array of shopping and dining options to offer, and San Juan National Forest is easily one of the most beautiful places on earth, with snow-capped mountains in the distance year-round over a foot of dense, green trees and alpine lakes.
As far as free campgrounds go in the area, the location on Cherry Creek Road is hard to beat. Although it's not right in town, you get all the silence and solitude of one of the most beautiful landscapes in America while still having access to the urban adventures of Durango. Some connectivity is available, depending on your carrier, though if you're serious about staying connected, a cell booster may be helpful.
Click here to see RVshare rentals near the San Juan National Forest in Colorado.
5. Madden Peak Road — Hesperus, Colorado
Also located in the San Juan National Forest, Madden Peak Road is another great choice for RVers seeking a peaceful, free camping spot in the state. Its prime location north of Highway 160 and proximity to Mancos makes it a convenient base for exploration, particularly for those planning to visit Mesa Verde National Park. 
According to Campendium reviewers, this area gets good cell service for all major carriers and large RVs shouldn't have an issue navigating the road. Sites are surrounded by towering mountains, gambel oak trees, and dazzling star-filled skies at night. You won't have any amenities here, but sites offer the perfect balance of solitude while still being within an easy drive from the towns of Mancos, Cortez, and Durango if you need to run to the store or grab a bite to eat.
To access Madden Peak Road, simply head west along Highway 160, pass the Target Tree Campground, and take a right turn onto FR316/Madden Peak Road.
Click here to see RVshare rentals near Mesa Verde National Park in Colorado.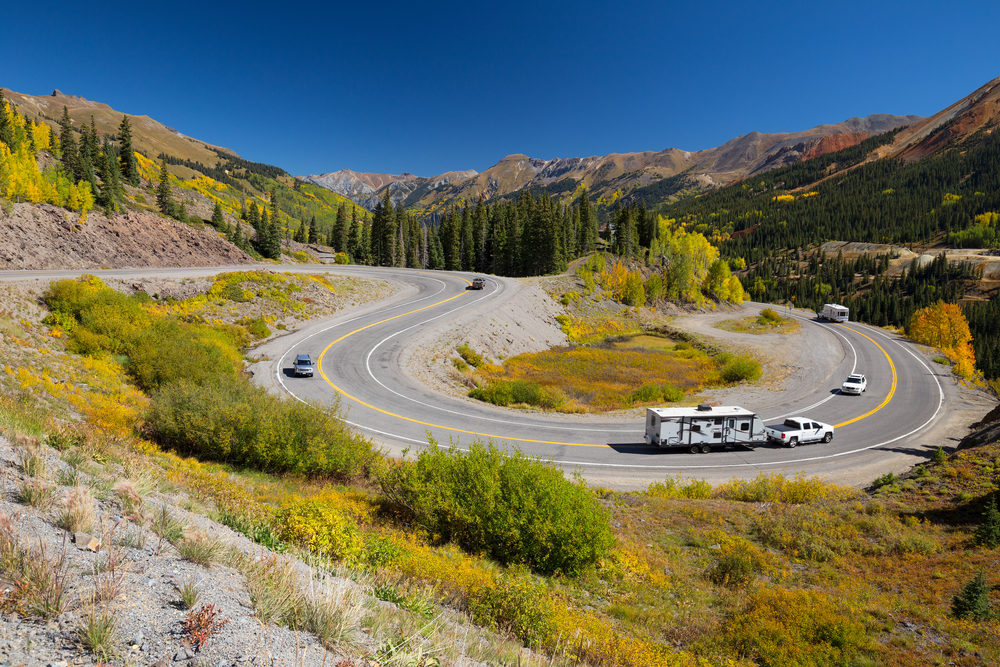 6. Jackson Mountain Road – Pagosa Springs, Colorado
Looking to enjoy all Colorful Colorado has to offer? Pagosa Springs is a Rocky Mountain paradise, complete with hot springs and a river perfect for tubing. And although the free campground at Jackson Mountain Road doesn't have many amenities, it does offer totally free camping in close proximity to this well-loved destination.
Given the elevation, this campground is only open seasonally, and some larger RVs may have difficulty navigating the access road. Those who make it will find a beautiful and clean campground with lovely surrounding views, forest cover, low noise levels, and even passable data connectivity for those who need to get work done even when they're off-grid.
Click here to see RVshare rentals near Pagosa Springs, Colorado.
7. Deep Creek Preserve – Arcadia, Florida
Miami Beach may get all the glory, but the southwestern portion of Florida is, by our account, a whole lot nicer. You'll notice a more laid-back pace and quieter waterfronts less ravaged by rampant tourism, nestled into woodland communities where southern hospitality is still a thing. Deep Creek Preserve is a campground offered by the Southwest Florida Water Management District, and it's free to camp here for up to seven days.
Because the campground is immediately adjacent to the highway, there is some noise, according to Campendium reviewers… but given the price and the fact that it's less than a half hour's drive to the gulf, we feel like it might be a worthy trade! (Please keep in mind that reservations are still required, even though the accommodations are free.)
Click here to see RVshare rentals near Arcadia, Florida.
8. Hickory Hammock Campground – Lorida, Florida
Another campground offered by Florida's Wastewater Management District, Hickory Hammock offers free campsites just outside of Sebring, Florida, making it the perfect home base for your central Florida adventures. It's dry camping, so you may want to plan your travels for fall or winter so as to avoid the hottest portion of Florida's calendar year… but no matter when you come, it's a convenient location with spacious campsites for rigs of up to 36 feet in length or so, with vault toilets, a variety of shaded and sunny spots, wooded walking trails, and fire rings available.
Please keep in mind that reservations are still required, even though the accommodations are free. Check in with the camp host upon arrival, then you'll be able to select your site.
Click here to see RVshare rentals near Lorida, Florida.
9. Blackwell Horsecamp – Hoosier National Forest, Indiana
It's a lot harder to come by free campsites in the Midwest than it is in the far west. But still, if you do a little digging, you can occasionally find a hidden gem — which is exactly how we'd characterize Blackwell Horsecamp. This green spot in the Hoosier National Forest looks like something out of a magazine ad, with rolling green hills and picturesque fences, and yet it's totally free to camp in and even offers restrooms with vault toilets.
The location is convenient to the city of Bloomington, so you can easily get to town if you need to — but given the solitude, silence, and scenery in the forest, chances are you're going to want to stay put.
Click here to see RVshare rentals near Bloomington, Indiana.
10. Jewett Cove — Moosehead Lake, Maine
This spot is located in Greenville, Maine on the beautiful shores of Moosehead Lake, the largest lake in Maine (and one of the most remote!). Situated in the northwestern part of the state, this area is renowned for its pristine wilderness and tranquil surroundings. If you like to fish or do any sort of boating, Moosehead Lake is definitely worth the trip!
Jewett Cove is conveniently located at a boat launch area, so if you're driving or towing a larger RV you'll have no problem staying here. You can stay for up to 14 nights on Moosehead Lake Shoreline Public Lands and aside from Jewett Cove, there are countless primitive sites on the land that are all free for use. Sites have fire rings, picnic tables, and access to a vault toilet. And if you're lucky you might even see a Moose, as the vast wilderness surrounding Moosehead Lake offers some of the best Moose watching in the country!
Click here to see RVshare rentals near Greenville, Maine.
11. Green Road — Nordhouse Dunes Wilderness, Lake Michigan
Campendium reviewers note this place as a "hidden gem" and a "great spot for first-time boondockers". Green Road is located in Michigan's Nordhouse Dunes Wilderness Area, part of the Huron-Manistee National Forest. It's highly regarded for its proximity to Lake Michigan, private campsites, and accessible location. While there are no restrooms or water sources on-site, some nearby trailheads offer vault toilets.
Green Road's appeal lies in its seclusion, ease of access for most vehicles (though turning around can be challenging for larger rigs), and its short drive (like literally 5 minutes!) from the captivating dunes and shores of Lake Michigan.
Click here to see RVshare rentals near Nordhouse Dunes Wilderness
12. Jeff Busby Campground — Natchez Trace Parkway MP 193.1 (Ackerman), Mississippi
Out west, big stretches of public land are easier to come by. But when you're headed toward the east coast, it can be a lot more difficult to secure free camping at all — let alone free camping in a picturesque area. Luckily, the Natchez Trace Parkway offers a few great options, one of the best being Jeff Busby campground.
The Natchez Trace Parkway is renowned for its rich history as it follows the ancient Natchez Trace route, a path used by Native Americans, traders, and settlers for centuries. This picturesque road spans 444 miles from Mississipi to Tennesse and the breathtaking views, plus ample opportunities for outdoor adventures will not leave you disappointed. Jeff Busby campground is located right along the Natchez trace and offers paved sites, restrooms with flush toilets (and hot water!), and decent cell service for Verizon and AT&T. It's worth the stay whether you're looking for a quick overnight stop, or a nice place to post up for a few days. And if you're up for a hike while you're there, Little Mountain Overlook is a nice treat!
Click here to see RVshare rentals near Ackerman, Mississippi.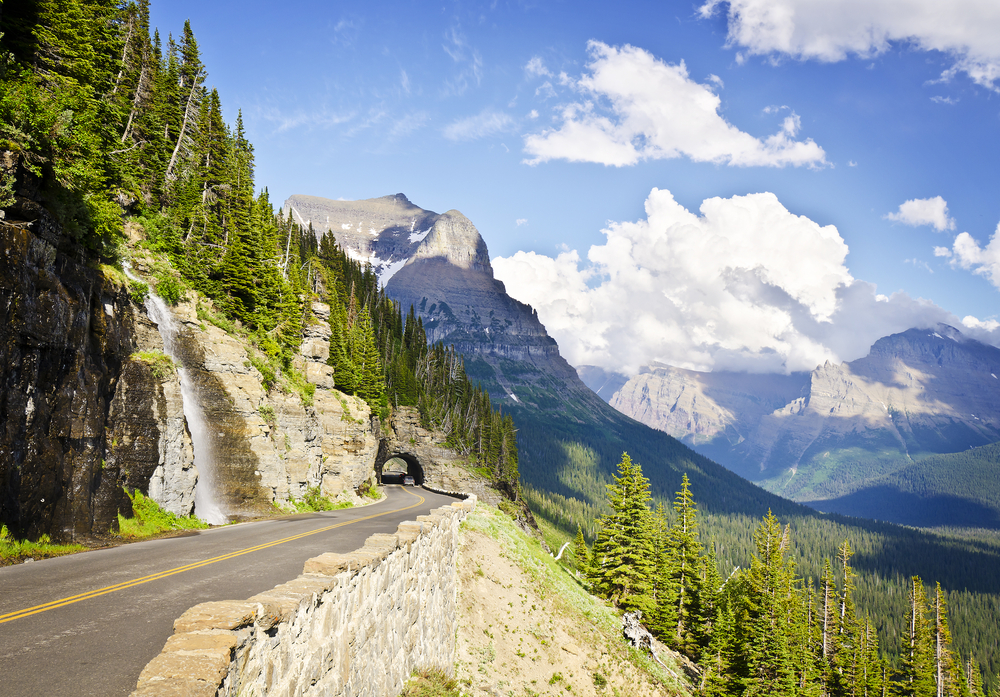 13. Middle Fork Flathead River – Glacier National Park, Montana
Glacier National Park is one of those places that's so freaking pretty, it doesn't even look real. It honestly feels like walking into a desktop background.
That said, it's not surprising that the word's out on exactly how gorgeous this location is… and given its very short window of opportunity (thanks to its extreme northern location), the nearby campgrounds can get very crowded — and very expensive — during the short Montana summer.
In most cases, there aren't many ways around these problems. In all honesty, we recommend you make reservations well ahead of time and don't make last-minute plans to visit Glacier. But if you do find yourself in the area with a few days to spare and you're driving a very small RV or sleeper van, there is an option that we couldn't resist putting on this list: Middle Fork Campground, boasting free campsites right outside of the gateway town of West Glacier on the Middle Fork Flathead River, right off of Blankenship Road.
Although it's free to camp here and the views are generous, access to this campground is quite limited. Campers have reported success with trailers of up to 20 feet in length, but generally, the smaller and spryer your RV, the better your chances are of getting to this location. Note, there is a 3-day stay limit at Middle Fork.
Click here to see RVshare rentals near Glacier National Park in Montana.
14. Telephone Cove Road – Searchlight, Nevada
Lake Mead is considered an outdoor playground for those who call this part of the desert southwest home, and even if you're from further afield, one visit will show you why it's so popular. Nevada is home to lots of wide open spaces, making it a great place to find BLM-owned land that's friendly to dispersed campers, but Telephone Cove takes the cake when it comes to location and cleanliness.
The access road is more than four miles of dirt, and it can be a bit of a bumpy ride, but Campendium reviewers say that even larger motorhomes and fifth wheels can make it with patience. Just take it slow and don't rush… which shouldn't be a difficult task, given the beautiful surroundings.
Click here to see RVshare rentals near Searchlight, Nevada.
15. Cebolla Mesa Campground – Rio Grande del Norte National Monument, New Mexico
Northern New Mexico is simply stunning — and the word is out. Maybe it's partially Breaking Bad tourism or maybe it's just plain old word of mouth, but no matter how you slice it, Taos, Santa Fe, and even Albuquerque are experiencing an influx of visitors.
Particularly around Santa Fe and the resort destination of Taos, prices can get pretty steep for campsites. Which is why we recommend the Cebolla Mesa Campground, where you'll get all the stunning New Mexico skies and easy access to nearby attractions like the Rio Grande del Norte National Monument, the Rio Grande Gorge Bridge, and the ski slopes (and in summer, hiking trails!) of Taos.
Cebolla Mesa is located in a small town called Questa which is on the Enchanted Circle, an 80-mile scenic drive you absolutely have to take while in New Mexico.
Click here to see RVshare rentals near the Rio Grande del Norte National Monument in New Mexico.
16. Sugar Hill Fire Tower – Watkins Glen, New York
Watkins Glen is a stunning segment of the Finger Lake area of upstate New York, home to what is sometimes referred to as the Grand Canyon of the East. And while the campgrounds in the state park fill up fast (and do still come with a nightly fee attached, even if it's not as much as you'd pay at a resort), there is a free camping option in the area that's so nice, Campendium reviewers agree that it's hard to believe it's actually free.
The free campsites under the Sugar Hill Fire Tower offer bathrooms and water spigots throughout the property, and while there are no showers, there is a designated area for dishwashing. Reviewers say the campground is sparkling clean and the on-site staff are courteous and helpful, making this free campsite a no-brainer if you get there in time to find a spot.
Click here to see RVshare rentals near Watkins Glen, New York.
17. Rufus Landing Recreation Area – Rufus, Oregon
Portland may be the best-known part of Oregon these days, but there's so much stunning countryside to see outside of the city — including the alien-looking landscape outside of the Rufus Landing Recreation Area in the town of the same name.
A couple hours east of Portland, this smaller town offers an array of outdoor recreational opportunities as well as much-needed solitude and epic scenery. Campendium reviewers say the area is easy to access, clean, and offers good coverage for Verizon and AT&T users. It's nestled right along the mighty Columbia River, making it a perfect spot to swim, fish, or catch some kitesurfing in action!
Reviewers do also mention that there's a bit of train and highway noise, but most say it's subtle and did not disturb their sleep. RVers are welcome to stay here for free for up to 14 nights.
Click here to see RVshare rentals near Rufus, Oregon.
18. Nomad View – Buffalo Gap National Grassland, South Dakota
If you think South Dakota is nothing but long, flat stretches, think again. This state is home to a wild diversity of sights and denizens, including Badlands National Park, Mount Rushmore National Monument, and roaming herds of buffalo along its rippling grasslands — which, even if they are flat, are certainly not boring.
The Nomad View dispersed camping area is aptly named; it offers some of the most stunning and surreal views in the entire country completely free of charge. The area is located right outside of Badlands National Park, overlooking cliffs and valleys which offer the most amazing opportunities for sunrise and sunset chasers. RVers with rigs of up to 44 feet in length have reported success in accessing the campground, where you can set up for up to 14 days without paying a dime. Reviewers also mention seeing mountain goats here!
Click here to see RVshare rentals near Buffalo Gap National Grassland in South Dakota.
19. Magnolia Beach County Park – Port Lavaca, Texas
Beachfront camping… for free??
Yes, it does exist! The stunning waterfront at Magnolia Beach in Port Lavaca will make you feel like you've taken an epic, tropical vacation without ever leaving the States — and you're just a short drive from southern Texas comforts like barbecue as well as all the things to do and see in Houston and San Antonio.
This campground's high camper ratings are thanks to its location, ease of access, and straight-up beauty. Plus, it's got data coverage with all major carriers, bathrooms with flush toilets and cold showers, as well as plenty of opportunity for seashell hunting!
Click here to see RVshare rentals near Magnolia Beach, Texas.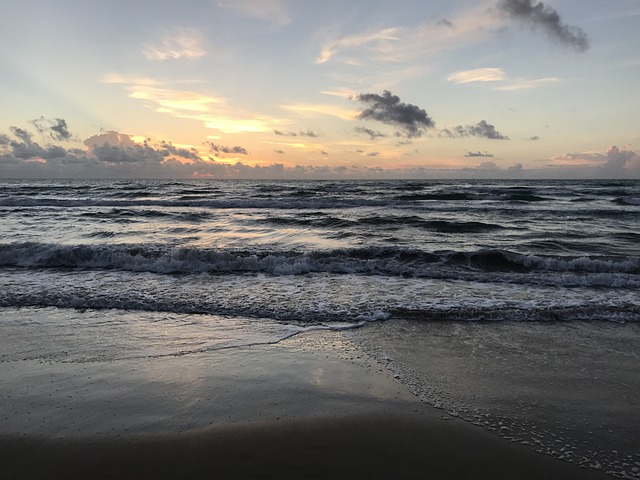 20. North Beach – Padre Island National Seashore, Texas
Padre Island is a popular vacation spot for Texans as well as folks from further afield, boasting a diversity of sea and avian life that's hard to come across anywhere else in the country. It's a barrier island about as close to a Mexican beach town as you can get without crossing the border… and if you stay at North Beach, you'll get access to all of it without paying a dime in campground accommodation fees. Almost sounds too good to be true, right?
Although there's very little cell phone service (which you may just consider a benefit rather than a drawback), North Beach does have a dump station and water access, and it's literally right on the beach, close enough for the sounds of the surf to sing you to sleep. Plus it's easy to access, which means that even big rigs can camp on island time too, totally free of charge.
Click here to see RVshare rentals near Padre Island National Seashore, Texas.
21. Wedge Overlook – Little Grand Canyon, Utah
With five national parks and far more state parks, national monuments, and other sites of interest, Utah is a veritable dreamscape for the outdoorsperson — and as such, yes, it can be very expensive to camp there. That's especially true during the most popular travel seasons in spring and fall when the weather is just gorgeous and the crowds are flocking in.
Fortunately, all that empty space Utah boasts does equate to some great free campground options, including Wedge Overlook just outside of the community of Emery. In fact, the campground is directly adjacent to a beautiful stretch of land that's sometimes called the Little Grand Canyon of Utah — you might be able to camp right on the rim, in fact!
Separated from the highway entrance by 20 miles of dirt road, this free campground offers scenery and solitude in spades, which is probably why it's earned five stars in almost every Campendium category. Stay for up to two weeks in this dreamlike vista completely free of charge. Note, there is no water access here, so be sure to bring in what you need (and if you're here in the summer, definitely bring extra!)
Click here to see RVshare rentals near Emery, Utah.
22. Lone Mesa — Moab, Utah
This just in: Moab is awesome. Awesome enough that staying there can be pretty dang pricey, especially during the high season.
Which makes sense. This quirky Utah mountain town is the gateway to not one but two stunning national parks: Canyonlands and Arches. And if you're looking for free camping in Moab, the Lone Mesa campground is a total Easter egg! You'll get quiet, star-filled nights, gorgeous red-rock views, and incredible proximity to Canyonlands — which helps you get in the gates early enough to actually enjoy your day. Plus, it's only a 15-minute drive. While staying here is free of charge, that kind of deal doesn't stay a secret, which means that this free campground gets pretty crowded. You'll want to roll up early to have the best shot of actually getting a site, and be sure you have a backup plan in place just in case.
Reviewers note to watch out and take it slow on the dirt road coming in, as it's a bit rocky.
Click here to see RVshare rentals near Moab, Utah.
23. North Creek BLM – Virgin, Utah
Looking for a home base from which to explore Zion National Park or the southwestern Utah towns of Hurricane or St. George? The BLM's North Creek dispersed campground is a great retreat, with beautiful views and the wide-open southwestern skies that make this area so special.
RVs of up to 38 feet in length have successfully navigated into this free campground, which also boasts workable cell service for users of Verizon, AT&T, and T-Mobile.
The site is also popular with tent campers, so if you are planning on running your generator, remember to be mindful of your neighbors!
Click here to see RVshare rentals near Virgin, Utah.
24. Hurricane Cliffs Recreation Area – Hurricane, Utah
The BLM's Hurricane Cliffs Recreation Area is another amazing choice for free camping near Zion, with other-worldly views and the wide-open southwestern skies that make this area so special. Hurricane Cliffs is only about a 20-minute drive to Zion and about a mile from the town of Hurricane. According to Campendium reviewers, sunsets here are phenomenal, and service is top-notch so if you're working from the road this is a great place to post up. As the name suggests, it can get a bit windy and dusty here, but the views and location still make this another one of the best options for free RV camping near Zion.
Keep in mind, Zion has become increasingly busy over the years, so if you want to find a free place to camp nearby it's best to show up early in the day and in the middle of the week for your best shot.
Click here to see RVshare rentals near Hurricane, Utah.
25. Forest Road 29 – Sappho, Washington
If you haven't been to the Olympic Peninsula yet, boy, are you in for a treat! Within one (admittedly gigantic) landmass, you can travel from snow-capped alpine mountains to the dense rainforests to coastal beaches lined with haystack rocks, all within the same day — if you're dedicated.
You'll find plenty of camping options along the way, but most of them will charge you a good deal for their services. But the campground off Forest Road 29 in Olympic National Forest's Pacific Ranger District is free for up to 14 days for the lucky few who get there in time. 
The good news is, this location still remains unknown to most, and some campers say they had the space entirely to themselves for nights on end. So if you do go and enjoy yourselves, do us a favor… and keep your lips zipped, okay? 😉
Click here to see RVshare rentals near Sappho, Washington.
26. Lake Hattie Public Access Area – Laramie, Wyoming
An easy drive to the Bamforth National Wildlife Refuge, Curt Gowdy State Park, Medicine Bow-Routt National Forests and so many other destinations, Laramie, Wyoming is a great spot to set up camp while you're wandering around the mountain west — and if you'd like to do so for free, don't miss the Lake Hattie Public Access Area. Clean, level campsites are available right along the Lake Hattie waterfront, giving you great access to boating, fishing, or just plain old soaking in the view.
While nights are quiet and starry-skied, the campground can fill up during the daytime, when visitors use the area's boat launch to take to the waters. Keep in mind also that this boondocking site is quite remote, so you definitely need to pack in all the things you need for your adventure… and pack them back out afterward, of course!
Click here to see RVshare rentals near Laramie, Washington.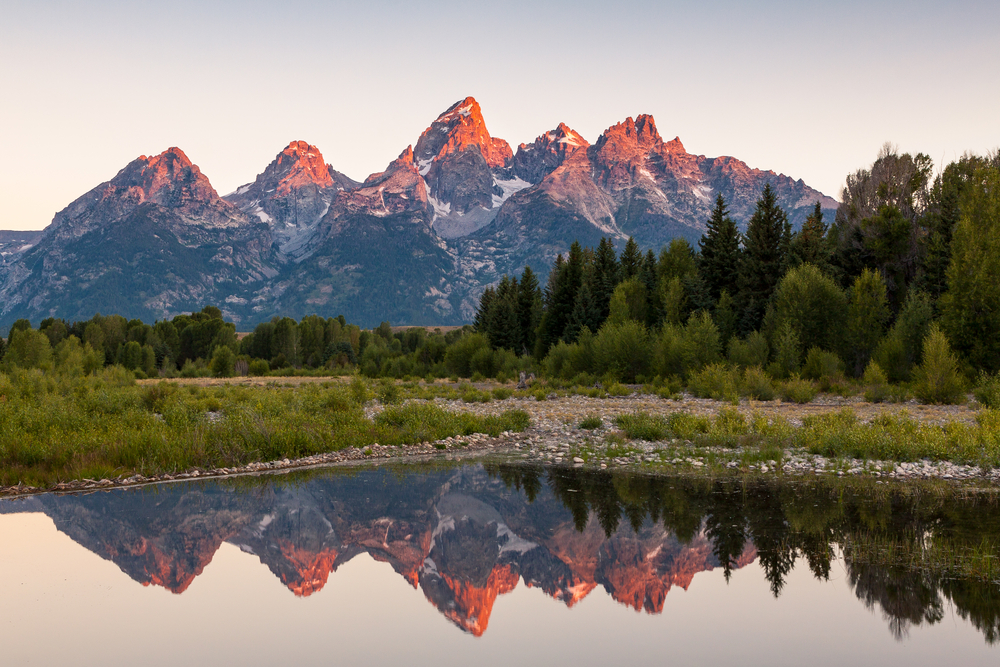 27. Shadow Mountain Road — Bridger-Teton National Forest, Wyoming
Both Yellowstone National Park and Grand Teton National Park are at the absolute tip-top of many RVers' to-travel-to lists — and we certainly understand why. In fact, Yellowstone is so stunning and special it inspired legislators at the time to name it the first national park not only in America, but in the entire world. Shadow Mountain Road in Bridger-Teton National Forest has some of the best free camping opportunities in the state,. It can get a bit crowded here for obvious reasons, but you'll have the most incredible views of the Tetons all for free so it totally makes up for it.
Herds of bison, blossoming wildflowers, and snowy peaks off in the distance… talk about epic morning coffee views! You'll also be right next to Grand Teton National Park and only about an hour from Yellowstone making this campsite extra convenient.
Several Campendium reviewers note the road up the mountain is pretty bumpy, so if you're in a big rig it's probably best to look for a site at the base of the camp.
Click here to see RVshare rentals near Grand Teton National Park
Free Campgrounds: Frequently Asked Questions
Let's answer some frequently asked questions about free campgrounds — how to find them, how they differ from resort-style campgrounds, etc.
What is boondocking?
At almost all of the campgrounds listed above, the type of camping you'd be doing is dispersed camping, otherwise known as boondocking. This means camping without hookups to city electricity, water, and sewer.
Although this may sound like an inconvenience, as you can see, finding free boondocking sites is a great way to save money on your campground accommodation fees — and in most cases, your RV is designed for it. If you have onboard plumbing facilities, with black and greywater holding tanks, your RV can be used for boondocking. Better still if you have a generator or solar setup!
That said, there are some things to know about boondocking before you set out on your first venture. Here's a guide we wrote on everything you need to know about boondocking — Boondocking 101: The Secrets to Success
What's the difference between public and private campgrounds?
Campers often want to know about the difference between public and private campgrounds, as the price difference can be quite significant. Basically, private campgrounds are just that: privately owned, for-profit businesses that often include lots of luxury amenities in order to make their sites look more attractive. Public campgrounds, on the other hand, include spots in government-run places like state or national parks. Many of these sites do still charge a nightly fee, though it might be significantly less than you'd spend at a private campground.
BLM campsites — like many on this list — are located on public lands. The Bureau of Land Management (Yeah, they're kind of a big deal, so you might have heard of them) manages thousands of acres of some of America's most beautiful landscapes, including more than 400 campgrounds, many of which are totally free to stay at.
Click here for more on the differences between public and private campgrounds.
Do I need any special equipment for boondocking?
Boondocking is all about simplicity. That said, some extra gear can make it more comfortable, depending on what your goals are. For instance, if you want to stay connected no matter what, a cell signal booster can help you get those bars even when you're far afield. And extra collapsable water jugs make it more possible to stay out in the "boonies" for longer since it extends your water supply.
Upgrading your rig's power system is also a good idea, whether that's upgrading your house batteries for extra storage, replacing your generator, or purchasing a solar set-up.
How do I find more free campsites near me?
Although the campsites on this list are great, we don't have room to talk about every amazing free campsite in the country — let alone the ones near your favorite destinations.
Fortunately, it's easy to find free campsites almost everywhere in America. Just utilize a website like Campendium or freecampsites.net, and adjust the filters to look for free sites that suit your other parameters. Boom! Your camping experience just got more affordable… and a whole lot better.
5 Beautiful Places to Camp for Less than $25 Per Night!
If you're looking for a campground that's somewhere in between getting totally off-grid out in the boonies and the full-on, resort-style, developed campground scene, there are some stunningly cheap options out there that honestly feel like anything but.
Here are 5 beautiful campgrounds you have to see to believe! Each of these campgrounds costs less than $25 per night, but you certainly won't feel like you're making a sacrifice.
1. Edson Creek Campground, Oregon
Portland may get all the glory (and the funny TV show), but the Oregon coast is a hard destination to beat. Stunning coastlines, ample hiking opportunities, and agate-hunting await, not to mention world-class wines grown right in the area.
Edson Creek Campground is just 15 minutes from the shoreline, and though it may not have hookups, it does offer a number of amenities like campfire rings, picnic tables, and restrooms, as well as access to potable water. And for $8 per night, we definitely consider that a bargain — even if only for the location!
Click here to see RVshare rentals near Edson Creek, Oregon.
2. Devil's Elbow Campground, Montana
Ready to have a #MontanaMoment?
With some of the most stunning vistas in the entire country, this northern mountain state is a popular RV destination for good reason. But popularity comes along with pricing, and camping here can be downright expensive, especially if you're not sure where to look.
Well, we suggest you look just east of Helena, where Devil's Elbow Campground waits to greet you. Situated on a scenic bend in the Missouri River, its gravel sites can accommodate even larger motorhomes and travel trailers, and sites are just $15 per night. (No electricity is available.)
Click here to see RVshare rentals near Devil's Elbow, Montana.
3. Goodale Creek Campground, California
Nestled smack-dab in the middle of Sequoia, Death Valley, and Yosemite national parks, Goodale Creek Campground is the best way to experience the stunning beauty of Inyo County at stunningly low prices — $5 per night, to be exact. You'll enjoy sweeping views of the Sierra Nevada mountains as well as ample hiking, biking, climbing, and fishing opportunities, without shelling out the high prices you'll find at developed RV campgrounds in the area.
Click here to see RVshare rentals near Goodale Creek Campground, California.
4. Ken's Lake Campground, Utah
It's no secret that Moab and its two nearby national parks, Arches and Canyonlands, are some of the most sought-after camping destinations in the country. And although they're popular for a reason, that popularity brings priciness along with it; many of the local resorts charge $75 or more for a single night of camping.
But Ken's Lake Campground lies just 10 miles south of town and offers a perfect home base for exploring any of the area's multitude of outdoor opportunities. In fact, if you want to skip the crowded park experience altogether, you can simply take advantage of the hiking trails that originate right on the property, or enjoy fishing and boating in and on the local reservoir.
Even large motorhomes are welcome! Loop A sites can be reserved day of, up to 6 months in advance but Loop B sites are available only on a first-come, first-served basis, and as we said, this is one of the most popular destinations in the U.S. — so be sure to arrive early!
Click here to see RVshare rentals near Ken's Lake Campground, Utah.
5. Wild Rivers Campground, New Mexico
It may not be on your radar, but it should be — because they don't call New Mexico the "land of enchantment" for nothing. With dramatic views of the Rio Grande gorge, dazzlingly tall mountain peaks to scale, and all the delicious, hot-chile-based cuisine you can get your hands on, chances are you'll find this big-sky state even more charming than advertised.
Wild Rivers Campground is located in a central area, allowing you to explore the quaint ski town of Taos as well as the beauty of the surrounding wildernesses. It's off the beaten path, which translates to silence and incredible starscapes… and best of all, it's only $7 per evening. In addition, if you have an annual National Park Pass you'll only pay $3.50!
Click here to see RVshare rentals near Wild Rivers Campground, New Mexico.
How to Camp Cheap (Without Making Sacrifices) – In Addition To Booking Cheap Campgrounds
Even if none of the campgrounds listed above are on your to-travel list this year, there are still plenty of ways to find cheap getaways in your area. In fact, even if you do prefer the full-hookup, developed-campground experience, there are plenty of ways to get what you want while still saving money… or, as they say, to have your cake and eat it, too!One step we recommend all RVers take, whether you're a full-timer or just somebody who takes an annual long weekend, is to purchase a Passport America membership. It's true that there are lots of different discount camping clubs out there, but this one is unique and straightforward: you just pay your membership fee of less than $50, and you get 50% off your campsite accommodation fees at almost 1900 campgrounds across the country. And these are the types of campgrounds where a night's stay could easily cost you $75… which means that membership quickly pays for itself, even on a short trip! If you are interested in an RV Club membership and all the perks that come with it, check out the best RV Clubs and groups you should join!
Double Down on Your Affordable Vacation with a Cheap RV Rental
No matter how cheap your campsite is or how much money you save on food, gas, and activities, the RV itself makes up a major portion of your overall travel budget — whether you own your own or you rent. RV owners often have to finance these large purchases, leading to expensive monthly payments, and rental vehicles can easily fetch as much as $300 per night or even more, depending on the vendor.
That's why we're so proud of what we've created here at RVshare, where our unique peer-to-peer rental marketplace both helps renters save money while putting extra cash into the hands of RV owners, helping them to afford their own adventures. You can find rigs of every shape, size, and style available all across the country, and you'll save a huge percentage off what you'd pay if you went with one of the big, nationwide franchises. Click here to see what's available in your area today!
More Ways to Save
You can also save money on your camping trip simply by adopting frugal behaviors and lifestyle choices, which you can easily apply to your daily life at home as well as on the road.
Looking for even more ways to save money and reduce waste, both on the road and at home? Check out the following RVshare blog posts:
Happy camping!
This post contains affiliate links. RVshare may receive compensation if you make a purchase after clicking on a product link.