Travel Inspiration
Last updated on October 24th, 2023. Originally published on November 15th, 2018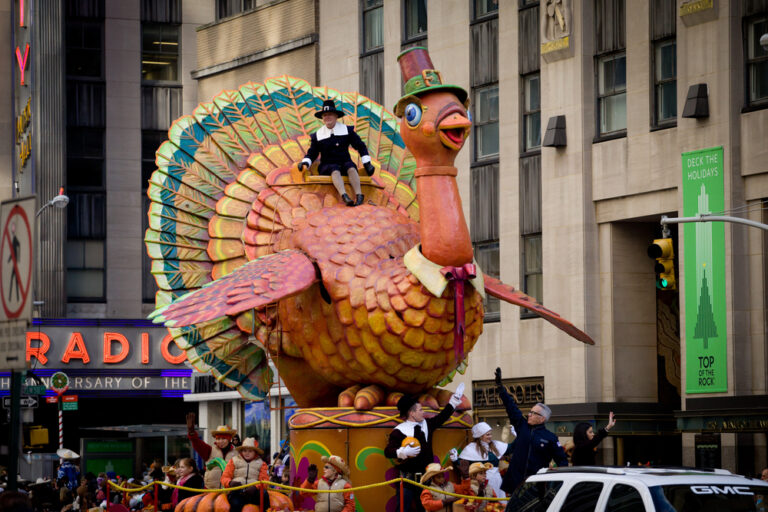 Who doesn't love a parade?
Along with sweater weather, changing leaves, and pumpkin spice everything, Thanksgiving parades are part of what makes fall… well, fall. Celebrating our gratitude by marching down the street is a longstanding tradition, filled with equal parts excitement and nostalgia.
Everyone knows about the Macy's Day Parade in New York City — and don't get us wrong, we'd love to attend. (And we'll give you all the deets you need to know to make it happen if it's on your bucket list, too!)
But there are plenty of other parades and fun fall events happening around the country that are totally worth traveling to.
In this post, we've put together a list of the best spots in America to witness a killer Thanksgiving parade — as well as some general travel tips that'll help you enjoy your on-the-road holiday. From cooking a gigantic feast in a tiny trailer to packing the layers you need to stay warm on chilly fall nights, read on to learn everything you need to know to take a journey to one of these amazing Thanksgiving parade destinations.
Thanksgiving Getaways are a Great Way to Celebrate
Some travelers may initially balk at the idea of a Thanksgiving getaway. After all, the holiday is really all about food — and it might seem like creating a big feast in a small travel trailer or motorhome is more trouble than it's worth.
But a Thanksgiving camping trip is actually an amazing way to introduce a new tradition into your family's set of holiday rituals. After all, when else does almost everyone in the fam have a long weekend off at the same time? You'll all be able to explore a new destination while keeping your favorite long-time celebrations in action. (And, yes, it's totally possible to host an epic meal in even the smallest RV; check out our comprehensive holiday travel guide and guide to entertaining in small spaces for more details.)
RVing is also a great way to navigate a big family gathering when you have to travel a long distance to meet up with extended relatives for the feast. When you're in your own travel trailer or motorhome, you don't have to worry about crashing on Aunt Mabel's couch or paying expensive holiday hotel room prices. Privacy, affordability, and closeness to the action… when you travel in your very own house on wheels, you've got it all!
And besides — there are some pretty epic Thanksgiving parades to check out around the country. If you want to catch one without sacrificing comfort and convenience, an RV is the way to go.
And speaking of those parades…
Macy's Thanksgiving Day Parade: Get In on the Action
We're going to start with the one everyone's heard of. The Macy's Thanksgiving Day Parade, which marches annually through the center of New York City, is easily the best-known in the country, and watching its televised stream is a tradition in countless households across the US. It's not only the largest Thanksgiving parade, but also the largest parade, period — not just in America, but in the whole world.
The Macy's Day Parade started all the way back in 1924, and has always brought the very best in the way of floats, balloons, and live entertainment, featuring artists and celebrities of worldwide acclaim.
And don't get us wrong, watching the live stream from the comfort of your couch (or, let's be real, your kitchen while you're busily preparing the night's feast) is pretty exciting. But if you want to step up your game, you've gotta watch Macy's parade in person, all bundled up against the NYC cold with your loved ones.
New York City is a big place, and it's not exactly covered in RV campgrounds. But there are RV parks in close proximity to all the action (yet far enough away to give you a reprieve when you're done with the craziness). For instance, Jersey City's Liberty Harbor RV Park is just 15 minutes away from Manhattan by train or ferry, with an amazing view of the skyline and Lady Liberty herself.
If you want to make Macy's Thanksgiving Parade an amazing 2018 memory, now's the time to secure your reservation and vehicle. RVshare is a great way to find an affordable RV rental — yes, even in NYC!
Click here to see RVshare rentals near New York City, New York.
Beyond Macy's: The Best Thanksgiving Parades in the USA
Now that we've covered the big guy, let's move on to some of the other amazing parades that go on around the country. Although they might not have the star power of the New York City event, these Thanksgiving celebrations offer plenty of festivities no matter what part of our nation you call home!
Ameren Missouri Thanksgiving Day Parade — St. Louis, Missouri
Meandering eastward from 20th and Market Street towards Broadway in Downtown St. Louis, the Ameren Thanksgiving Day Parade has actually been awarded an Emmy for its live broadcast in the past — which means seeing it in person is guaranteed to be fun.
While you're in town, don't forget to pay a visit to the Gateway Arch as well as its attached museum, which relatively recently achieved National Park status.
Click here to see RVshare rentals near St. Louis, Missouri.
America's Thanksgiving Parade — Detroit, Michigan
Voted the second-best holiday parade in the country in USA Today 10Best Readers' Choice travel award contest (second only to you-know-which), America's Thanksgiving Parade has been careening down Detroit's historic Woodward Avenue since 1924. That's quite a legacy! Featuring live music, local and national celebrities, and once-in-a-lifetime performances, you don't want to miss out on this opportunity if you're anywhere near Motown this Thanksgiving.
Detroit is also home to the Henry Ford Museum and the family-fun-packed Belle Isle Park, so you'll have no shortage of things to see and do even after the big day is over.
Click here to see RVshare rentals near Detroit, Michigan.
America's Hometown Thanksgiving Parade — Plymouth, Massachusetts
Where better to celebrate Thanksgiving than the site of the very first feast? Along with a celebratory parade, Plymouth, Massachusetts pulls out all the rest of the stops, too, with a waterfront festival, food truck rally, craft beer and wine garden, and more.
Click here to see RVshare rentals near Plymouth, Massachusetts.
Annual H-E-B Holiday Parade — Houston, Texas
They certainly know how to throw a killer Thanksgiving celebration deep in the heart of Texas. The H-E-B Holiday Parade has been going strong since 1949, when Santa first arrived in Houston's Union Station. (Fortunately, his sleigh is magic, so it works even when there isn't any snow!)
From the world-famous Space Center to the Houston Zoo, there are all sorts of fun to get your family into in Houston, so for best results, plan to spend the whole long weekend — or maybe even longer!
Click here to see RVshare rentals near Houston, Texas.
Dunkin' Donuts Thanksgiving Day Parade — Philadelphia, Pennsylvania
Although New York's parade may be more famous, Philadelphia's is the oldest in the country — which is fitting for our nation's first capital. Meandering down 1.4 miles of Philly's famous Market Street, the procession is a sight to behold.
While you're in the City of Brotherly Love, don't miss a visit to the Liberty Bell, or the chance to wander through Independence Hall, where our constitution first came into being. And, of course, you'll need to eat a cheesesteak (or six) while you're in town.
Click here to see RVshare rentals near Philadelphia, Pennsylvania.
Novant Health Thanksgiving Day Parade — Charlotte, North Carolina
If you like your Thanksgiving feast with a heaping side dish of southern charm, look no further than Charlotte, North Carolina, whose Thanksgiving parade has been going strong for over 70 years. With dozens of floats, balloons, and hundreds of performers, it's no surprise that last year's event gathered a crowd of over 100,000 — and that's not counting those watching the live stream from as far away as Sweden!
Click here to see RVshare rentals near Charlotte, North Carolina
My Macy's Holiday Parade — Seattle, Washington
Hey west-coasters: you don't have to travel all the way to New York to see the Macy's Day Parade! Although it's slightly smaller than its Big Apple counterpart, Seattle's parade is just as spectacular.
Click here to see RVshare rentals near Seattle, Washington.
Uncle Dan's Thanksgiving Parade — Chicago, Illinois
Though its sponsors have changed throughout the years (past versions were famously funded by McDonald's), the Chicago Thanksgiving Parade itself has remained largely the same since it started back in 1934, when it was a welcome spot of brightness in the grim depths of the Great Depression.
Today's parade is backed by Uncle Dan's, an outdoor gear store headquartered in the Windy City. We'll just have to wait and see who hosts it next!
Click here to see RVshare rentals near Chicago, Illinois.
Other Fall Parades and Events to Consider
Although they happen in all sorts of towns across the country, most of the big Thanksgiving parades are in big cities. But if you're looking for a smaller-town feel (or an outdoorsier camping excursion), check out these fantastic fall events going on in cozier settings.
Caroling in the Caverns — Mountain View, Arkansas
Deep in the decorated caves of Blanchard Springs Caverns, just a few minutes from Mountain View, Arkansas, beautiful voices fill and echo off the chamber walls as part of the unique holiday tradition that is Caroling in the Caverns. Better yet, you don't have to go on Thanksgiving itself to partake in this serenely southern tradition; performances start on November 23 and run through December 16th. Plus, tickets only cost $25 per person.
Once you're done with your subterranean adventure, come back to the surface to see the rest of what this beautiful part of the country has to offer. From live theater to outdoor recreation to amazing eats, when it comes to family fun, the Ozarks deliver.
Click here to see RVshare rentals near Mountain View, Arkansas.
Christkindlmarkt — Leavenworth, Washington
Leavenworth is already a household name amongst the holiday-obsessed… which makes sense, since it's a cute little Washington mountain town fashioned to look like a Bavarian village. Its Christkindlmarkt — a traditional Bavarian Christmas market complete with live entertainment, traditional treats, and tons of handmade arts and crafts to stuff into your loved ones' stockings — begins on the day after Thanksgiving each year.
Click here to see RVshare rentals near Leavenworth, Washington.
Festival of Lights — Winterset, Iowa
An annual tradition falling on the Friday after Thanksgiving, the Winterset Festival of Lights has way more to offer than a lantern launch — not that that wouldn't be worth traveling to in its own right. The event also boasts live entertainment including fire dancers, fresh local foods, and a screening of a fun holiday movie. (Last year's was Elf!)
Click here to see RVshare rentals near Winterset, Iowa.
Festival of Trees — Gatlinburg, Tennessee
Given that it's the gateway town to the most popular national park in the country (Great Smoky Mountains), there's already ample incentive to spend the holidays in Gatlinburg, Tennessee. You can ski, skate, and snow-sled on the hills of Ober Gatlinburg, or simply meander through one of the park's many hiking paths. Those babbling brooks and tree-lined trails are even prettier covered in snow!
But just in case you needed another reason to spend your Thanksgiving weekend in Tennessee, there's the Gatlinburg Festival of Trees — which this year will be celebrating its 45th anniversary. You and your family will be able to wander through a veritable wonderland of elegantly-decked firs, not to mention the silent auction and live visits with Santa. (Hope you've been good!)
Click here to see RVshare rentals near Gatlinburg, Tennessee.
Nights of Lights — Saint Augustine, Florida
Famed for its status as the oldest continually-run European settlement in America (and purportedly one of the most haunted), Saint Augustine draws as big a crowd for the cheerier holidays as it does for Halloween. That's because every year, the entire city comes alive with over three million twinkling lights, which you can wander through on foot or on one of the town's many tour trolleys.
This year's Nights of Lights event starts on November 17 and runs through February 3, 2019, so you've got plenty of time to experience a southern-style holiday celebration. Don't forget to take a horse-drawn carriage ride… or a trip to the beach!
Click here to see RVshare rentals near Saint Augustine, Florida.
Nubble Lighthouse Lighting — York, Maine
The famous Nubble Lighthouse at Cape Neddick is already a common destination on travel bucket lists — so why not visit during the cheeriest time of year? On the Saturday following Thanksgiving, celebrants gather to watch the famous beacon get even brighter, with an array of holiday lights helping it stand out against the winter sky.
If the lighting alone isn't enough to draw you, there's also hot cocoa, cookies, and music. Santa will be in attendance, too! And once you're done with the event, you'll be within easy driving distance of all the fun and food to be had in Portland — or venture just a little further for the sweeping seaside views of Acadia National Park.
Click here to see RVshare rentals near York, Maine.
Thanksgiving Ball — Fredericksburg, Texas
Don't get us wrong — Thanksgiving is all about eating, and we're happy to indulge.
But if you're looking for a super-fun way to burn off some of that stuffing, the Fredericksburg Thanksgiving Ball might just be your answer. Dance the night away in the famous Luckenbach Dancehall for just $20 per person. (Yes, kids are welcome — and those under 12 are free!)
If Fredericksburg sounds familiar, that's because it already has a well-deserved spot on many travel bucket lists — thanks to its status as a stellar wine region. You'll definitely need a bottle or three to have with Thanksgiving dinner, so take the opportunity to taste some local delicacies and find your new favorite.
Click here to see RVshare rentals near Fredericksburg, Texas.
Thanksgiving Camping
Thanksgiving getaways are an amazing opportunity for families to connect over some of life's most worthwhile experiences: food, fun, and the adventure of discovering a new destination.
But pulling it off the right way does require a little bit of extra planning, especially if you're responsible for hosting a big feast! Along with figuring out how to entertain a large group in a relatively small motorhome or travel trailer, there are other logistical issues to contend with, too; Thanksgiving weekend is one of the busiest travel times in America, and traffic or overcrowded RV parks can put a damper on your otherwise-idyllic vacation.
The good news is, so long as you take those factors into account, you can circumvent them. It just takes a little bit of forethought and pre-travel footwork. Here's what to keep on your radar for a successful Thanksgiving camping trip.
What day is Thanksgiving this year?
Chances are, you've got big commitments on Turkey Day — whether that means meeting up at someone else's house or throwing a worthy feast in your own.
That means it's pretty important to know what day the holiday actually falls on!
An easy trick so you're never again caught unawares: Thanksgiving is always the third Thursday of November. That puts this year's Thanksgiving date as November 22, 2018.
Planning to cook? Here's the lowdown.
Creating that knock-your-socks-off feast you're famous for might seem like a bit more of a feat if you're working within the confines of a motorhome or travel trailer. But having a fully functional mobile kitchen is one of the most attractive parts of RVing — and yes, it's totally possible to host a five-star Thanksgiving fete from the comfort of your rig!
For all the details you need to know about how to create a masterpiece meal in a teeny-tiny space, check out the following RVshare articles:
Make a reservation — for the restaurant and the rig.
If you're not keen on cooking a big holiday meal in your RV, you can take advantage of one of the many Thanksgiving restaurant specials that go on around the country. Eating out takes all the stress away from the holiday — you won't even have to do the dishes!
That said, you will need to make a reservation ahead of time in order to be sure you'll find a table with your name on it. Thanksgiving is a super-busy travel time, and lots of other people are looking to avoid spending a full day in the kitchen, too!
The same goes for RV parks, or any other kind of accommodation. Given the popularity of Thanksgiving travel, it's a good idea to book your campsite as far ahead of time as possible. (Psst: want to save some cash on those campsite fees? A Passport America membership costs less than $50 for a whole year… and gets you a full 50% off your accommodation fees at almost 1900 campgrounds across America. That's a deal that pays for itself in a flash!)
Know your destination's Thanksgiving parade route ahead of time.
Whether you're traveling for the express purpose of seeing a Thanksgiving parade — or you just happen to be headed to a spot with lots of festivities — it's important to get the lay of the land before you arrive if you want to avoid a frustrating few hours stuck in traffic. Fortunately, most Thanksgiving parades publish their routes ahead of time, and you can easily find maps and other information online. That way, you can avoid getting out into the thick of it… unless, of course, you want to!
Along with the route, you'll also want to keep an eye on the timing of the parade — and keep in mind that street closures may be in effect for several hours before and after the actual event. Redirected traffic can have a serious impact on your travel time, so try not to be en route on the actual day of Thanksgiving!
Make sure your rig (and your wardrobe) is ready.
From leaf peeping to celebrating the holidays with comfort, privacy, and style, fall camping is where it's at — but the cooler weather does require a little bit of vigilance before you get on the road. For instance, if you're going to be taking your RV to a place where the temperatures will dip below freezing, even just for a little while, it's important to thoroughly winterize the water system as well as to ensure you have the supplies you need to stay nice and toasty.
Fortunately, we're fans of fall camping, and even winter camping, here at RVshare, so we've written lots about what you need to do to take a holiday vacation in comfort. Here are some posts to take a look at if you're preparing for a cold-weather venture:
Taking Your Thanksgiving Traditions on the Road
Although the holiday will always revolve around food and family, there are plenty of other Thanksgiving activities that can make the day special — and parades are just one part of that. Thanksgiving travel affords families the opportunity to connect over not only delicious food, but also the discovery of a brand-new destination… or a revisit to an old favorite that brings back fond memories.
When you're traveling in an RV, you can easily implement new family traditions, too. For instance, maybe you'll visit a new National Park for Thanksgiving each year from now on, and make it a point to take a hike (rather than waiting in those crazy retails lines) on the following Friday. It's hard to think of a better way to inspire gratitude than to get outside and enjoy the beauty of the natural world, after all.
Or maybe your Thanksgiving RV rental adventure will become a way to get the family together without the hassle of picking a specific host or having everyone travel to one relative's hometown. Instead, the family can break into smaller parties and caravan in RVs, meeting together at one central location. You can even take turns deciding on where that might be!
No matter where you're headed for Thanksgiving, we hope you enjoy it with your favorite food, family, and friends around. So long as we've got those things, we've got a lot to be grateful for, whether we're sitting in our own backyard or on the sidelines of an epic Thanksgiving parade.
This post may contain affiliate links.