Travel Inspiration
Last updated on October 24th, 2023. Originally published on December 28th, 2017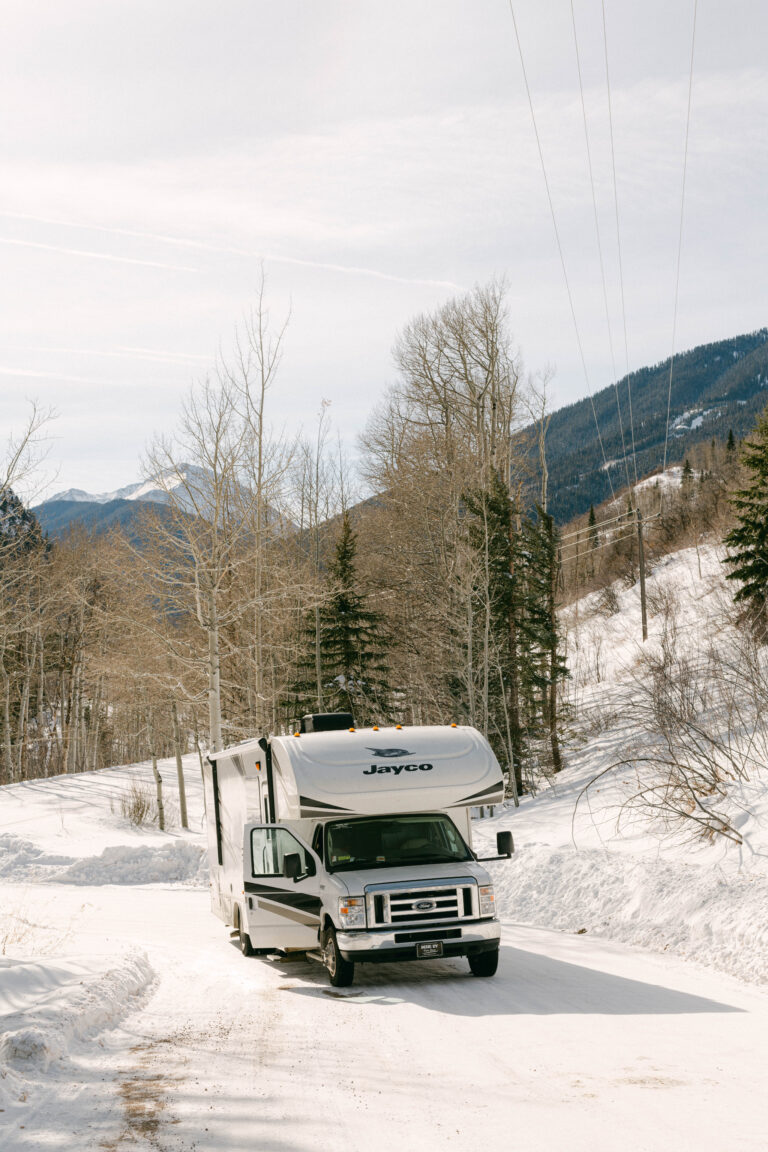 Your RV isn't fat, it's just big-boned. More of it to love, we say!
All jokes aside, one of the most complicated parts of this wonderful travel lifestyle is figuring out your RV parking situation, both when your rig is waiting for its next use and when you're camping. You're driving a big vehicle, after all, and it needs a good amount of space. It's simply not as easy as grabbing your Rand McNally Road Atlas and heading out whichever way the wind takes you — because contrary to popular belief, it's not actually safe, or even legal, to just pull over on the side of the road and camp on very many public streets.
And if you're looking for private, covered RV parking, you might be surprised at the price tag your rig's accommodations can run up. Indoor RV parking especially can be shockingly expensive!
But if you're scrappy and creative, there are ways to find affordable RV parking, whether you're storing it for winter or looking to set up camp on the cheap. (Spoiler alert: one of them is using your Passport America membership!)
So, ready to get in gear… and take your RV out of it? Read on to learn more about how to find the perfect spot.
Overnight RV Parking
If you're not heading out on a fun winter travel excursion this season, you may be looking for RV storage parking, a place to keep your rig safe, clean, and dry while it's not in use.
First of all, great planning! Keeping your rig out of the elements goes a long way toward extending its life, and can help ensure you'll have a functioning, comfortable RV to camp in for many years to come.
But if this is your first off-season, you may be a little overwhelmed, wondering questions like "Can I park an RV in a parking lot?" or "Do hotels allow RV parking?"
Not every lot with a big enough space is viable for overnight RV parking. But there are tons of places you can park your rig and rest assured that it'll stay safe from harm.
Check out the archive of RV storage facilities by location here at RVshare for starters. You can also search for RV storage facilities in your area online. But you may quickly realize how expensive these lots and covered RV parks can be, especially if you're looking to store your rig for a whole season!
That's part of the reason RVshare is such a great option for RV owners like you. Your rig can earn extra dough instead of collecting dust, all while it would have been sitting empty and unused anyway. You always have total control over who rents your RV and under what terms, and every rental is backed by RVshare's unique spectrum of peace-of-mind benefits, including liability and crash coverage backed by A-rated insurers and free 24/7 roadside assistance. Listing your rig is super simple — click here to get started today!
RV Parking on Residential Property
Another option is to find a residential property where you can park your RV. The most ideal and cheapest solution, of course, is to keep your rig on your own turf, although you will have to watch out for homeowners' associations and other neighborhood guidelines that could deem your big motorhome an eyesore. (Don't worry — WE know it's actually beautiful!)
However, if you don't have a covered driveway or a large enough garage, parking your RV on residential property means it could be exposed to the elements during its storage. That can create a big mess to clean up before your next camping trip and even ruin your paint job if your rig is subject to tough, sticky messes like bird droppings, so it's important to invest in an RV cover to help keep it safe and clean.
You can find RV covers for every size and shape of travel trailer and motorhome, and they'll not only help keep your RV dry and clean but can also protect your exterior finish from harmful UV rays. Here are a few highly-rated covers for different RV sizes:
How Much Does RV Parking Cost?
Whether you're storing your rig or camping, the average cost of parking your rig will vary depending on the quality and location of the site. And while the cost of camping vs. traveling by airfare and hotel room is usually less expensive, some RV campgrounds have surprisingly high rates — as much as $75 or even more per night for the really ritzy ones.
If you're looking to find RV campgrounds with affordable prices, a great shortcut is to sign up for a Passport America membership. Yes, it'll cost you a bit less than $50 to become a member… but then you'll get instant access to 50% campsite savings at a vast and reputable network of campgrounds across the nation. Almost 1900 different locations are participating across the US, as well as in Mexico and Canada! With RV campgrounds at already-affordable prices slashing their rates in half for Passport America members, your club fee easily pays for itself in just one trip.
How to Find RV Campgrounds
Need more RV park options? Wondering, "How much do RV campgrounds cost near me?"
The best way to find out what's available where you are is — you guessed it — to ask the internet. Simply run a Google search for "RV parks near my location" or "RV campgrounds near me" to see the options available in your area or your preferred destination. Then, you can reach out directly to ascertain pricing information.
Whether you're storing or exploring, here's to finding the perfect space!
This post may contain affiliate links.