RV Owners
Last updated on September 9th, 2023. Originally published on February 4th, 2019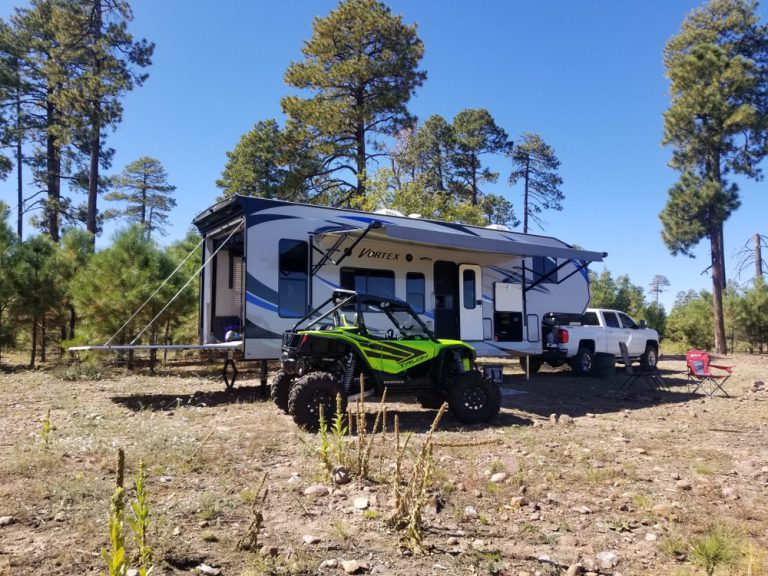 The RV lifestyle has grown in popularity with everyone from singles to retirees, to families hitting the road in well-appointed motorhomes and travel trailers. Among the most popular types of RVs now on the road is the toy hauler. This type of RV is also known as a sport utility recreational vehicle. Although initially built to haul grown-up toys, anything from personal watercraft, to motorcycles, to golf carts, to snowmobiles, these recreational vehicles can also provide extra living space while out on the road.
Different Types of RV Camping
Before we get into the nitty gritty of toy haulers specifically, let's take a quick step back. There's a whole lot to learn when you're first entering the world of RV shopping! While we've already written a deep-dive post explaining the different RV classes (and how to decide which one is right for you), we thought we'd start this post with a quick look at the most common RV types you're likely to find on the market. That way, you'll have a better context for understanding why a toy hauler can be useful — and where they fit in the grand scheme of the RVing world in general.
Class A Motorhomes
For many of us, this is what first springs to mind when we think of RVing: large, bus-shaped, self-driving vehicles packed to the gills with luxury amenities.
However, not all Class A RVs are quite so grand. The thing that makes them "Class A" is the body shape, not their level of luxury — and you can actually find more modest Class A vehicles starting at less than 20 feet in length. (They're significantly more affordable, too!)
While Class A motorhomes have a whole lot going for them, their main drawbacks are high cost and low gas mileage, especially when you're talking about the 40-foot diesel pushers that are so popular amongst full-timers and vacationers who want the cushiest experience possible. As in most areas of life, that indulgence comes at a cost: new RVs of that caliber can easily cost upwards of $500,000, and they might get as little as 6-8 miles to the gallon!
Class C Motorhomes
Set apart by their unique "attic" space over the cab, Class C motorhomes are built into traditional truck chassis, which makes them a slightly less intimidating drive for those who aren't so sure about navigating with such a large vehicle. They also tend to be a little bit smaller than their Class A counterparts (although you can find 35-40 foot models), but still offer many of the same luxury amenities, like fully functional kitchens, private master bedrooms, and slide-outs to increase living space.
Plus, that "attic" makes an excellent hideaway for older kids who might like to maintain a sense of privacy on the road. It can also be used for additional storage or to build out an epic entertainment system if you're traveling as a couple or solo.
Class C motorhomes are a generally more affordable way to access many of the same luxuries you'd experience with a Class A motorhome. They also tend to get slightly better gas mileage: between 14-18 mpg, depending on size and model.
Class B Motorhomes
Sometimes referred to as sleeper vans or camper vans, Class B motorhomes are a much smaller, more agile form of motorhome that can take on even the most rugged adventures. They're usually built into regular van chassis, and may even be converted from an old cargo van such as a Volkswagen or Ford Transit. And while their interior amenities are scaled-down, they're often just as luxurious as the ones you'd find in bigger motorhomes — especially in the case of the fancy Sprinter models.
This RV class features an especially wide range of vehicles and price points, starting from modest vans that may offer little more than a bed and extendable tent-top to brand-new, high-end vans with high-top ceilings, wet bathrooms, and surprisingly capable kitchenettes. As such, you could pay as little as $20,000 or as much as $300,000 for a new campervan. Although you'll be sacrificing some serious interior space, you'll definitely be making up for it in the form of flexibility and adventure-readiness! Just be advised that this type of motorhome might not be the right fit for you if you're traveling with a large family… or if you've got lots of gear you want to bring along for your exploration, which seems likely since you clicked on this headline. 🙂 (Keep reading for toy hauler info!)
Travel Trailers
Alright, we'll admit it: trying to cover travel trailers as a single category is kind of cheating because there are so many different kinds of vehicles that fall under this umbrella. Teeny-tiny teardrop trailers, fold-out campers, and gargantuan fifth wheels all count as travel trailers, but the experiences of camping in those various types of rigs couldn't possibly be more different.
That said, most travel trailers — i.e., towable RVs that require a capable secondary vehicle to haul them — do have a few things in common. One of the most important? A much lower price point than you'll find with just about any motorhome. After all, you're not paying for an engine, just the interior amenities.
That doesn't mean trailers are necessarily cheap, per se. Some of the largest and most luxurious models can easily go for tens of thousands of dollars. Plus, that price doesn't include the cost of the vehicle you need to tow it, which can be its own major investment if you don't already have access to one. That said, travel trailers offer a unique style of camping, and they boast more living space per foot of length (since they don't have to devote any of their living space to a driving area or engine). They can be a great way to upgrade your tent camping experience or even to full-time if you purchase a four-season travel trailer.
Toy Haulers: A Comprehensive Guide
Now that we've covered the main classes of RVs out there, let's talk about toy haulers specifically. What exactly are they, and what makes them different from other classes of motorhomes and travel trailers?
Like most other types of RVs, toy haulers come in a wide variety of sizes, styles, and footprints. What knits them all together as a class is their unique garage feature. It allows campers to bring along large toys like ATVs, golf carts, motorcycles, and other types of adventure gear. That means they have higher-than-average weight limits. Built-in cargo doors are usually included, providing easy access. Those doors will often convert to a ramp for loading and unloading your toys. All you need to do is walk or wheel your cargo up the ramp and into your toy hauler. You'll also find tie-down bars and strap-in systems so your gear won't slip around while your rig's in motion. Additionally, the enclosed space of a toy hauler also provides protection from the weather and extra security.
Toy Haulers Offer Many Advantages
The clever use of space included in these designs is often appreciated by RV enthusiasts who are looking for maximum convenience. With a toy hauler, you gain the convenience of mobility along with all the advantages of having a garage on the go. So if you've ever had to tow a separate trailer just to bring your cargo or toys with you, a toy hauler RV can help you avoid that.
These rigs offer you the ability to safely travel with all of your gear to ensure you're ready for any adventure. It's a great way to combine the luxury of RV living with the rugged utility you need to bring along your babies.
But while a toy hauler RV can be advantageous for storing your toys, they also serve a variety of other purposes. Just because there's a utility space in the back doesn't mean toy haulers don't have beautiful and comfortable RV interiors! In fact, an increasing number of people who opt for a toy hauler RV aren't even hauling toys. If you're planning an extended journey, the extra space in a toy hauler could come in handy for additional living space, a hobby room, or an office on the road. With this type of arrangement, you could easily create a traveling office, great for those who need to stay connected with their work while soaking up the benefits of the RV lifestyle.
Queen-size beds that can be raised up to the ceiling and fold-up sofas make it easy to maximize living space in a toy hauler. You could even rig up the door and ramp to provide an outdoor deck and space for dining when the weather is nice!
Toy Hauler Motorhomes
While most toy haulers are towable RVs that require a towing vehicle, toy hauler motorhomes do exist if you're looking for an all-in-one experience. For example, the well-known RV manufacturer Thor makes toy hauler motorhomes in both Class A and Class C styles. These well-equipped rigs combine beautiful interiors with heavy-duty carrying capacity. This allows you to enjoy the convenience of having your favorite "toys" along with you while also having access to a fully functional kitchen, plush bedding, and immersive entertainment systems — the best of both worlds! Of course, as with any other motorhome-versus-travel-trailer situation, you can expect a self-powered toy hauler to be significantly more expensive than a towable version. After all, you're paying for an engine as well as all the interior accouterments!
Toy Hauler Travel Trailers
As we previously mentioned, the vast majority of toy haulers on the market are travel trailers. From large fifth wheel toy haulers to small, lightweight aluminum camper trailers with garages, this class of RV is extremely diverse and adaptable. Whether you prefer a sprawling living space with every amenity or a compact adventure-ready rig, rest assured, there's a toy hauler on the market that'll fit your camping needs!
Toy Hauler Stats
While there's a broad range of toy haulers out there and some may lie outside of these metrics, here are some general toy hauler stats to give you a better understanding of these rigs:
Length: 19′-39′
Sleeping capacity: 2-8 adults
Amenities: Large "garages" that enable you to bring along "toys" like ATVs, motorcycles, or golf carts; comfortable and well-stocked RV interiors including fully functional kitchens; on-board plumbing systems with toilets, showers, and fresh- and wastewater holding tanks; generators for off-grid camping, slide-outs to increase living space
Cost: $20,000-$200,000+ (especially in the case of toy hauler motorhomes)
How Much Weight Can a Toy Hauler RV Carry?
So, what are the specifications as far as how much you can load into a toy hauler?
Well, like any RV, a toy hauler's cargo-carrying capacity depends on its size and weight — not to mention what kind of vehicle you're traveling with, whether you're towing a travel trailer or hauling a dinghy behind a motorhome. The good news is, toy haulers are specifically designed to carry extra weight so they typically have higher cargo capacities than other types of RVs. 
To calculate a toy hauler's carrying capacity, subtract the unloaded vehicle weight (UVW, also referred to as dry weight) from the gross vehicle weight rating (GVWR). The UVW includes the weight of full propane and fuel tanks. The GVWR accounts for the maximum weight of the vehicle, fuel, propane, passengers, and cargo combined.
Although the carrying capacity depends on various factors, toy haulers tend to have an average maximum cargo limit of around 6,000 pounds. But a large 40-foot toy hauler could carry up to 12,000 pounds! To put it into perspective, most ATVs weigh less than 1,000 pounds, even when filled with fuel. Many are as low as 400-500 pounds. A capacity of that size means that some very small, lightweight cars, like the Mitsubishi Mirage or a Smart car, might even be permissible for towing in your toy hauler.
However, you also have to consider the weight of the food and other goods you'll carry in the trailer, such as propane gas for your generator. It's always good to keep your total load as light as possible, as it's safer as well as easier on the machinery in the long run. (If you overshoot the rated weight limit, you may also forfeit your insurance coverage… so always make sure to keep an eye on the scale!)
Toy Hauler Maintenance
Like every other type of RV — or vehicle, for that matter — toy haulers do require regular maintenance to ensure they stay in proper, working condition as long as possible. For example, the trailer's tires need to be checked for rot and other issues, balanced, and occasionally replaced as necessary. Your toy hauler's onboard appliances and amenities may require their own types of specific care and upkeep.
No matter what kind of RV you purchase, creating a preventative maintenance schedule is the best way to get ahead of the repairs and issues that can keep you off the road when you're ready to go exploring. You should also be sure to check your RV thoroughly for signs of water damage. Take the opportunity to perform a deep cleaning after each trip you take. Storing your RV properly is another crucial step toward increasing its lifespan. By keeping your rig clean, dry, and out of the sun's harmful UV rays, you'll not only extend the life of its paint job and finish, but also help keep those pesky water leaks and other potential hazards from damaging your rig's structural integrity.
Toy haulers do have some parts that other types of rigs don't have, including moving parts that require attention and care to avoid damage. For example, your garage's entry ramp will likely need to have its hinges oiled from time to time in order to keep it in good working order. You'll want to ensure that the systems in place for holding your auxiliary vehicle are in top-notch condition. (After all, you definitely don't want a great big ATV or even a motorcycle sliding around back there while you're en route to your next destination!)
Maintenance Resources for Toy Haulers
RV maintenance can seem overwhelming for beginners. There are lots of different systems to keep in mind when you're drafting up your maintenance checklist. Fortunately, we've written a host of posts aimed toward helping you learn how to DIY the most common RV maintenance items campers encounter. And, how to find a repair mechanic worth his (or her) salt for the big stuff you just can't tackle without a professional.
Psst — if you're looking for an RV storage facility, we've got a great archive of RV storage locations across the country to browse. This includes many with covered and indoor storage options. And if you're not storing your rig under a roof, be sure to invest in an RV cover that's built to fit your rig closely. These will help keep out dust, dirt, water, and even ultraviolet radiation.
What's the Best Toy Hauler?
It's true that you get what you pay for to some extent across the RV industry. However, in many ways, the luxury toy haulers that will run you upwards of $200,000 offer much of the same capability as the vehicles on the lower end. You'll likely have more amenities, plus furnishings and appliances of a higher quality. But, as far as basic safety is concerned, all modern RVs are built pretty tough and will surely be able to get you where you're going.
What truly sets one toy hauler apart from another are its specific features and amenities, and how well they align with your unique camping style. Ultimately, the best toy hauler is the one that's right for you and your travel party.
Think About Size
In all likelihood, size will also play an important role in your decision-making process. For instance, if you're traveling with kids and bringing say, an ATV and a kayak along, you'll probably want a toy hauler that ensures you have plenty of separate sleeping spaces and room for your gear. This will keep everybody comfortable throughout your journey.
Some of the larger toy hauler models can haul a boat or race car, while others are designed to carry smaller toys such as motorcycles and ATVs. Carefully consider how you plan to use the toy hauler to ensure you choose the size that is appropriate for your needs.
Which toys do you plan on bringing with you? Before renting or buying a toy hauler, be sure you know its towing capacity and weight limits. If you'll be towing a travel trailer or plan to tow a dingy with a motorhome, you'll need to make sure you also have an appropriate vehicle for hauling. Most towable toy haulers will require at least a ¾-ton pickup truck to pull them, with a 1-ton often being recommended, along with dually tires in the rear.
Think About Weather Conditions
Bear in mind that the weather where you'll be traveling will also have an influence on the type of toy hauler you need. For instance, do you plan to use it to haul gear for winter sports? If so, the model that will best suit your needs is one that provides ample storage for equipment, including skis. Likewise, if you plan to travel mostly in a warmer climate, you need to verify that the toy hauler you choose has sufficient space for holding your dirt bike, ATV, or other equipment. Oh, and has great AC, too! For year-round RVers, you'll need a rig that is capable of 4-seasons travel. To evaluate whether a toy hauler is four seasonal, you'll need to consider things such as the RV's insulation, windows, venting and heating, cooling systems, and the structure. If it's truly a 4-seasons RV, it will have been built with specific features to withstand extremely hot and cold temperatures. A popular choice for RVers looking to travel year-round is the Keystone Fuzion. This rig comes equipped with an Omni Shield weather protection package which includes an Omin-Chill™ 3/4 ton, high-efficiency A/C system, the highest insulation values in its class, ducted heat into the underbelly, a vented attic, and heat pads on all holding tanks to prevent freezing.
Top Toy Hauler Brands
While the 'best' toy hauler really depends on your personal travel needs and preferences, there are a few notorious toy hauler brands consistently top-rated among campers that we feel are worth mentioning:
Keystone offers some of the most reliable and high-quality toy haulers on the market, with models like the Keystone Fuzion fifth wheel we previously mentioned, and the Outback travel trailer stand out as top choices.
Grand Design is another well-rated manufacturer, with the Grand Design Momentum fifth wheel being a top contender.
Forest River has several top-notch toy haulers in their lineup, including the XLR Nitro which comes in travel trailer and fifth wheel models, and the Wildwood FSX max which comes in a variety of versatile travel trailer models.
Heartland offers a handful of reliable toy haulers, from short travel trailers to 40-foot fifth wheels. If you're looking for a premium toy hauler with tons of room for family and friends, Heartland's Road Warrior is a top pick amongst RVers.
Alliance RV manufactures a top-quality line of toy haulers known as the Valor series. These luxurious, multi-functional RVs are available in several floorplans including fifth wheel and travel trailer options with all the bells and whistles.
Thor Motor Coach is a widely known and respected manufacturer. The Thor Outlaw is a popular choice for those looking to go with a spacious Class A or Class C driveable toy hauler.
In order to discover which of the many different styles and footprints of toy hauler (or any RV) will best suit your needs, it's a good idea to walk through as many options as possible. That way, you'll have the opportunity to compare different toy hauler interiors. You can see how they're set up, and imagine what it would be like to actually take a camping trip in each. (You can also go one step further and actually try out a few toy haulers before you get serious about buying one. A peer-to-peer RV rental marketplace can help with that. But, we'll say a bit more about that in the next section!)
How to Find Toy Haulers for Rent
While it makes sense to seek out a rental vehicle before you make your big purchase (and many campers in the market do so), when you're considering a "non-traditional" rig like a toy hauler it can be a bit of a challenge. Many of the big, nationwide rental dealerships exclusively offer Class A and Class C motorhomes, so if you're searching for a towable toy hauler, this rental route might be tricky.
So, you're probably wondering, "Where is the most convenient place to rent a toy hauler?" Well, fortunately, RVshare's peer-to-peer RV market makes finding your dream toy hauler rental a breeze. Especially if you're looking for something a little bit outside of the big box's normal parameters! Whether you're looking to try out the wild in a tiny toy hauler trailer or hoping to find the largest and most luxurious fifth wheel out there, renting a toy hauler to try before you buy is totally possible (and easy!) through RVshare.
When you rent on the peer-to-peer market, you're leasing an RV directly from its owner. This means that you can find all sorts of different vehicle types that aren't represented in traditional rental agencies.
To find a toy hauler rental, simply head to rvshare.com and enter your pickup/dropoff location, your trip dates, and your number of guests. You can then select "filters" at the top of the page and choose "toy haulers" to narrow down your search. This will pull up thousands of RV rentals for you to browse through. Once you've found the perfect toy hauler to rent, you can message the owner with any questions or submit a request to book.
Toy Hauler Rental Rates
If you are considering renting a toy hauler for your next big adventure, you should know what to expect in terms of rental rates. As with most other RV rentals, factors such as season, size, and availability will affect the rental price. Expect to pay between $100-$200 per night to rent a toy hauler, though if you look around, you might find one for under $100 a night. Some owners may even offer discounted rates during off-seasons or if you're renting long-term.
Keep in mind that the per-night rental rate may or may not include everything. Always check to see if there's a per-mile rate or if mileage is included in the total cost. Extra options may be available with your rental for an additional fee. Such items could include extra gear (yes, sometimes owners will rent out their personal adventure toys!), portable generators, a kitchen kit, or bedding, among many others. Finally, be sure you know the amount of the deposit and cleaning fee.
Wrap Up
We hope this deep dive provided you with everything you need to know about toy hauler RVs! As you can see, toy haulers come in many shapes and sizes, so be sure to research thoroughly before you make a decision to rent one or buy one of your own. Happy camping!
Looking for more helpful RV info? Check out these articles on our blog:
This post contains affiliate links. RVshare may receive compensation if you make a purchase after clicking on a product link.