Storage
Last updated on July 13th, 2022. Originally published on September 13th, 2019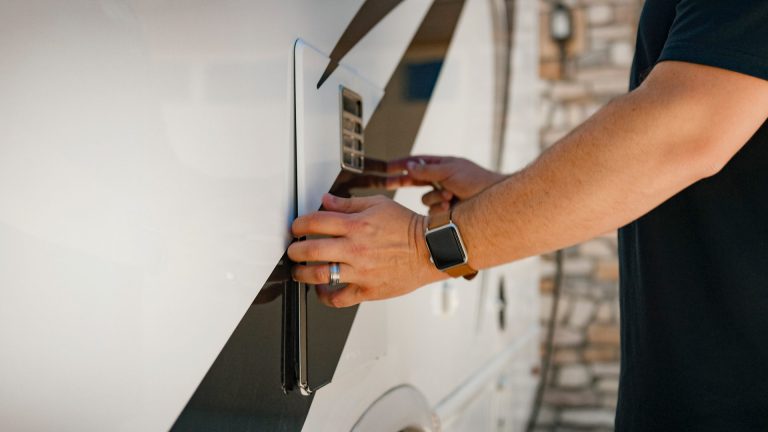 It's not pleasant to think about protecting your RV. After all, you can meet some pretty amazing people on your travels, and even become good friends with people you've met along the way. Unfortunately, though, not everyone is this friendly. As RVs get more high-tech and start to come with more gadgets and expensive add-ons, they make tempting targets for break-ins. 
Your RV should come with a key to lock all the doors, of course, but those keys are easily duplicated and can possibly be opened with a master key. These master keys can be used by dealers and salesmen to keep them from having to hunt down a particular key for each motorhome when they're showing them. This also means you don't have the only key that can open your RV, and the more keys that are out there, the more the safety of your RV is compromised.
Your RV storage compartment locks key is likely not unique, either. Most are interchangeable. In fact, if you have one with the number CH751 on it, it's one of many. One lock review I was reading said that the author was chatting with an RV neighbor and was skeptical about the claim that everyone had the same storage lock key…until he walked over to his neighbor's compartment and was able to use his key to open it up!
Fortunately, changing your RV storage locks isn't complicated. You can re-key your door by removing the latch – unscrew the four screws from the flange of the latch and the two from the striker plate. Then remove the latch and bring it to a locksmith. Replacing your RV storage compartment locks is even simpler than re-keying. A cam lock is going to be more secure than a standard lock – the lock slides out of place when you unscrew the nut holding it there. 
Here are a few good options for RV storage locks:
Prime Products ⅞" Keyed Camlock

– people like that these locks are good quality for a good price. They come in a 4-pack, so you have several locks for different things if you need them
You've invested a lot in your RV. The one extra step of purchasing an RV compartment storage lock can help to keep your possessions safe when you're not right there to keep an eye on things. With the variety of locks available out there – locks with standard keys, locks with cam lock keys, and locks with combinations – you should be able to find one that suits your lifestyle and your storage locker!
& that is not all we have for you, we created this RV Compartment Door Guide for everything else you need to know about this feature of your RV.  While on topic you can also check out this complete guide on RV Door Locks.
Now, lock the door and hit the open road!
*This post contains affiliate links. RVshare may receive compensation if you make a purchase after clicking on a product link.