Storage
September 11th, 2019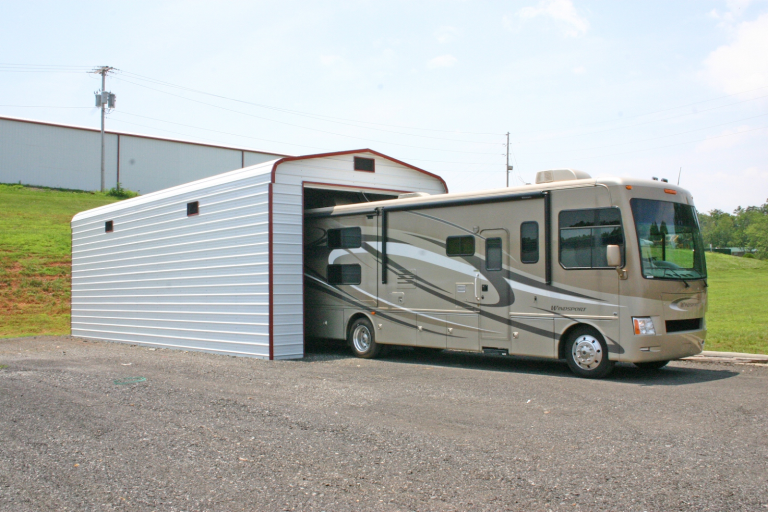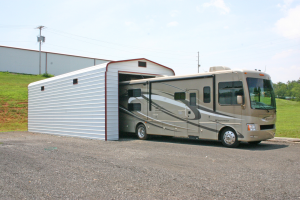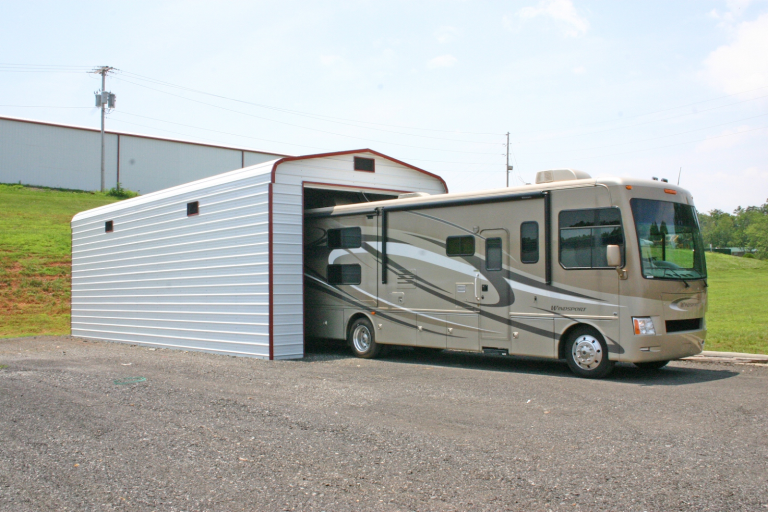 Your RV is like a second home on wheels, so it's certainly something you'll want to protect all-year-round. Even when your motorhome isn't being used, it can be exposed to harsh weather conditions, including wind, snow, hail, and the hot sun.
The solution? An RV carport, of course! They serve as a durable, year-round RV shelter for your precious investment. Today, we're going to tell you everything you need to know about RV carports, especially before you take the plunge and invest in one yourself!
The Benefits of RV Carports
RV carports provide many benefits for your vehicle, including:
Protection from rust-causing elements (such as snow, ice, and rain)
A shelter from potential damage (including hail, falling trees, etc.)
Coverage from damaging weather elements (like the harsh sun or UV rays)
Ample year-round protection while still providing ease-of-access to your RV
Metal RV Carports
While many RVers might think that covering their RV in a cloth or tarpaulin provides sufficient protection, we must warn you: these materials can easily wear and tear over time and fail to protect your motorhome from dent-causing impact. This is why metal RV carports are best, as they're durable, sturdy, and made from long-lasting, weather-resistant materials.
Partially Closed Versus Fully Enclosed RV Carports
You can purchase metal RV carports in a variety of styles, with the two most popular being partially-enclosed or fully enclosed (with the latter resembling more of an RV garage).
Partially-enclosed carports (like this one) come with a roof and two partial sides or a roof and one full side. They're great for providing ventilation, whilst still offering ample protection, and easy access to your RV should you want to clean it, inspect it, or hop in behind the driver's wheel.
Fully-enclosed RV carports, on the other hand, offer complete protection and allow you to store your RV away with peace of mind. Both styles are also available with a variety of roof shapes and types, including regular, boxed eave, and vertical.
RV Carport Kits
You can either have your RV carport built on-site by a professional, or for those wishing to save some dollars, a do-it-yourself RV carport kit is a great option. These kits are also very versatile, so you can customize each part to fit your preferences, as well as your RV's size and shape. These RV carport kits should come with detailed instructions from the manufacturer, so be sure to follow them if you want an RV carport that will stand the test of time!
RV Carports for Sale
If you're wondering where you can get your hands on an RV carport for your motorhome, you're in luck. These structures can be purchased from a variety of places, including online marketplaces such as eBay and Amazon, as well as companies including Alan's Factory Outlet, Metal Carports Direct, Carport Central, and Absolute RV (just to name a few). A Google search should bring up your local RV carport producers too. Be sure to shop around for the best deal!
It doesn't matter what metal RV carport you choose, you can rest assured knowing that your precious RV is being protected all-year-round – rain, hail, or shine!
This post may contain affiliate links.