A Giant (But Friendly!) Guide to RVing Safely
Travel Inspiration
August 28th, 2018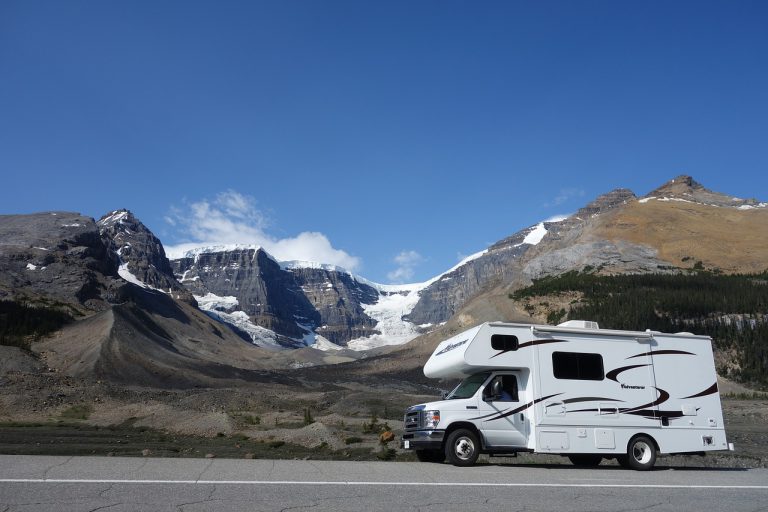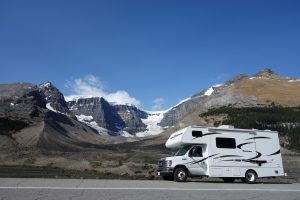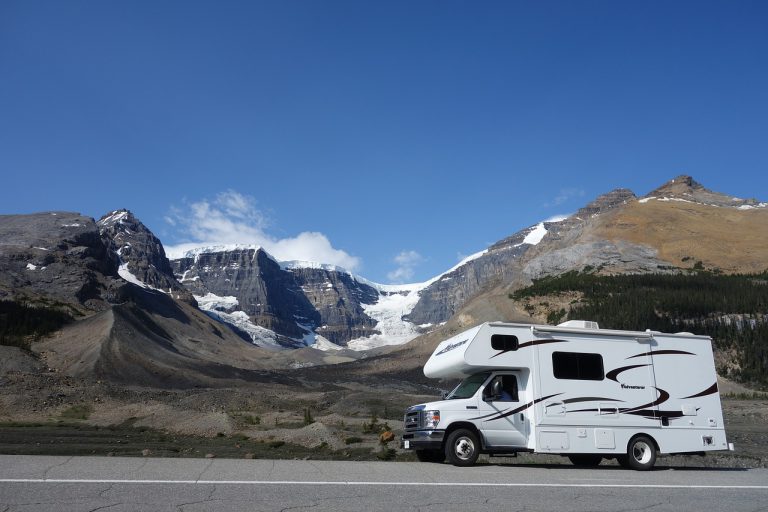 When you're in the throes of planning an RV trip, safety might not be the first thing on your mind. It's much more exciting to spend some quality time with your road atlas choosing your destinations and routing your itinerary, or even poring over your packing list. (Psst: here's our guide to what to bring for a quick weekend getaway, and here's what you need to add if you're traveling in winter or fall.)
But a safe RV trip is a happy RV trip. And with just a little bit of preparation and forethought, you can significantly reduce the risks you take on the road — and increase your chances of enjoying a hiccup-free vacation.
In this post, we'll discuss everything you need to know about road trip safety, from packing an emergency kit to staying safe while you're at camp. We've also included RV-specific safety tips, like how best to obtain a rental vehicle and what to consider while you're behind the wheel of a large, weighty rig.
The good news: None of the safety preparations or steps you need to take are difficult or expensive, and they pay dividends in peace of mind. So hang on to your hats and buckle your seatbelts — hey, this is the safety article, after all! We've got a lot of ground to cover, but we'll do our best to ensure the ride's as fun as it is secure.
Travel Preparation: What to Do Before You Leave
Some of the most important steps toward enjoying a safe vacation actually take place before you get behind the wheel. Here's what to tick off your safety checklist before the rubber meets the road.
Plan your trip to some extent — even if you're into spontaneity.
We get it: the ability to meander, going wherever the mood strikes, is one of the biggest appeals of RVing. And we're not saying you have to give up your devil-may-care attitude entirely.
But having some sense of your itinerary can help you avoid the scenario where you find yourself in a strange, new place without a clue where you'll be camping that night. Granted, when you have your bed along for the ride, you don't have to worry about finding yourself sweating in a seedy hotel. But although they may be convenient and available, Walmart parking lots aren't always the most wholesome place to camp. (In fact, in many cities, they're hot spots for criminal activity.)
Even if you don't nail down every single campground you'll stay at, having a basic map routed out will get your trip started out on the right foot from a safety perspective. It'll also help facilitate the next item on our safety preparation checklist…
Let someone at home know where you're going.
It's classic travel advice, but for a good reason. Keeping someone at home abreast of your sojourns can mean faster access to help should something happen to you — and besides, it's always fun to share travel stories. (And photos.)
Full-timers, this advice applies to you, too! Even if you're not sure exactly where you'll be in a month's time, keep a trusted someone updated as your plans evolve. You could even consider creating a travel blog — but in that case, keep in mind that the internet is public and permanent. You may not want everyone to know your latest whereabouts, so set security measures on your posts before you publish!
Pack an emergency kit.
When it comes to packing your RV camping supplies, a little bit of planning can go a long way in case an emergency does arise. Tire-changing equipment and road flares can help you stay safe and secure when an unexpected repair issue stalls your progress; spare potable water can turn a desperate roadside situation into a mere inconvenience.
Whether you're traveling in your own rig or renting one, make sure you've got an up-to-date fire extinguisher on board, stored in a spot that's readily available. Don't forget to make sure you know how to use it — and give all the other campers in your party the run-down, too!
You'll also want to ensure you have some basic first aid on board, especially if you and your family are into outdoor adventures like hiking. For full details on what to include in your emergency provisions, including a first aid kit list, check out this RVshare emergency kit guide.
RV Security
Another part of sound safety planning? Ensuring you have the safest vehicle possible. And while some basic, common-sense practices apply to all forms of travel, there are also some RV-specific extras you might consider, like installing an RV alarm system.
From simple habits to technological upgrades, here's how to turn your RV into Fort Knox on wheels. (Well, not really. But it'll be a whole lot safer than if you hadn't taken these tips to heart!)
Always lock your doors when you leave camp.
Yes, even if you're in the middle of nowhere. In fact, especially then — a thief is a lot less likely to target a bevy of RVs than a singleton out in the woods.
To that end, it's also a good idea to choose your camping spot with security in mind in the first place. Wilderness boondocking is serene and beautiful, and chances are nobody's going to find you out in the wild anyway. But if they do, you'll be without the community benefits of a developed or state campground. You know what they say about safety in numbers!
Hide valuables — or better yet, don't bring them in the first place.
It's not always possible to leave your expensive electronics at home, but you likely don't need your finest gold jewelry for your camping adventure. Either way, keep the costliest items you bring with you in a secure place, and well away from any windows where they might be seen by potential intruders. Break-ins are usually motivated by monetary gain, so if a thief doesn't see anything they stand to earn money off of, they'll be less likely to target your vehicle.
It can also work to your benefit to have an RV that looks… not worn down, exactly, but like it's seen some love and travel. To a burglar's eye, a shiny, 40-foot Class A diesel pusher may resemble a locked treasure chest, whereas a vintage trailer with a little bit of wear and tear might look more like an empty cabinet. (But the joke's on them, of course; your tiny campervan or modest motorhome might be filled with all sorts of expensive goodies!)
Consider investing in special remote locks or an RV alarm system.
If you have an RV of your own, you might consider some technological upgrades that can up your safety and security game. In today's all-digital-everything market, it's not even difficult or expensive!
For instance, you can find easy-to-install security cameras for just over $100, and in many cases they're pre-programmed to work with your existing smartphone technology, or through your Amazon account with Alexa. You can get instant security updates on your cell phone, as well as alerts whenever the camera senses motion.
You could also consider purchasing a remote RV lock, which can help you rest assured that your rig is secured even after you've walked away from the door. A remote RV lock can also help you re-enter the RV more easily if you find yourself in an unsafe personal situation on the exterior.
For more details on RV safety equipment and upgrades, check out this RVshare blog post.
Traveling solo? Take extra precautions.
If you're young, single, and child-free, you're actually at a great travel advantage — even though it can be darn near impossible to get all of your friends' schedules to line up for a girls' or boys' trip. Solo travel can be uniquely liberating and even life-changing… but it does come with some extra security considerations, especially, unfortunately, for women.
In every solo travel situation, it's important to keep your eyes peeled and stay aware of your surroundings. If anything — or anyone — leaves you feeling the heebie-jeebies, don't be afraid to abandon your plans and change directions. (After all, that's what those wheels are for!)
In order to facilitate that freedom, though, you'll need to have an exit strategy in place. For instance, many solo travelers choose to drive a self-powered motorhome rather than a travel trailer, since you won't have to exit the rig to pick up camp and go.
It's also a good idea to try and make your campsite look like it's inhabited by more than one person. For example, some women who travel alone will place a pair of large men's boots by the doorstep to ward off potential intruders; depending on your personal stance, you might also consider adding a pro-gun bumper sticker or two to your RV's collection. Finally, consider keeping personal protective tools on your person as you take on your explorations. Pepper spray is a great way to circumvent a potentially deadly situation, and you won't have to worry about figuring out the gun laws every time you cross state lines.
How to Travel Safely in an RV Rental
Adding fancy security technology isn't an option if you're traveling in a motorhome rental — but you can still follow the common-sense rules outlined above to ensure your rig and its contents stay as safe as possible.
However, there are a few added items to take into consideration when you're renting, most of which are to do with the rental process itself. Here's our best advice.
Always ensure you rent through a secure platform or from a verified vendor.
Whether you go with a large, commercial rental franchise or find a cozy rental rig available by owner, you want to ensure you keep your sensitive information safe and sound. It may be tempting to find an under-the-table rental deal on Craigslist, but those kinds of transactions lack reliability or security. What if the renter decides to double-charge your card? What if she takes your cash and then doesn't give you the keys? What if you run into trouble on the road and find yourself without anyone to call for help?
Renting through RVshare gives you all the benefits of a by-owner rental with the added perk of a secure payment system, as well as a detailed renter rating system and 24/7 roadside assistance. In other words, you won't have to worry about finding yourself in a less-than-awesome rental situation, whether we're talking vehicle quality, renter communication, or the safety of your financial information.
Double-check your rental RV's insurance coverage.
Even if you have regular auto insurance coverage, it may not extend to rental vehicles you drive — and that includes your RV rental. Double-check the details of your own policy, as well as what kind of insurance coverage is offered through the actual rental dealership.
FYI, all RVshare rentals come with comprehensive, collision, and liability insurance coverage valid in all 50 states and backed by an A-rated underwriter. The cost of this coverage is automatically included in the advertised rental rate on each listing, so you won't have to worry about any unexpected surprise fees after you make your booking.
Go ahead and shop around.
Renting an overpriced RV only to discover you could have gotten a better product for less later isn't a personal safety risk, but it is a risk to your wallet. And besides, no one wants to end a beautiful vacation with a raging case of buyer's remorse.
With the demand for RV rentals, supply keeps on increasing — and the competition fostered between different rental agencies works to the consumer's advantage. That's not to mention the savings you might enjoy by renting through the peer-to-peer market. After all, private owners don't have those hefty overhead costs to worry about, so they can pass the savings on to you in the form of much lower per-night rental prices!
In short, it's well worth your time and energy to thoroughly explore all of the available options before you make a rental decision. That way, you'll keep as much money in the bank as possible — which means a bigger budget for fun stuff at your destination. (Or even your next trip!)
When in doubt… back out.
True story: I once rushed a rental an RV from a large, commercial dealership — which shall remain nameless — only to discover it had a serious leakage problem. The issue was with the seams on the slide-out, which my partner and I found out only after we were an hour down the road and hit with a sudden Florida rain storm.
Water poured in and sloshed back and forth in the cabin as we continued up the highway, helpless. If we'd examined the RV more closely before signing the rental agreement, we probably would have figured it out ahead of time… but we hadn't planned well and needed to get to our destination as soon as possible. (Plus, the rig we got was one of the last rentals on the market that weekend.)
Learn from my mistake. If at all possible, don't rush through your RV rental process — and take the time and effort to go over the rig thoroughly before you hit the road. And if anything about your RV rental agreement, or the vehicle itself, gives you pause, follow your gut instinct and ditch the deal altogether. A delayed vacation is way better than one ruined by an unfit vehicle. (Trust me on this.)
Road Safety Tips for RV Drivers
In any road trip situation, careful driving is perhaps the most important ingredient to ensuring a safe travel experience. Even in small vehicles and low-traffic areas, driving can be very dangerous; vehicular accidents are one of the most common causes of injury and death in the world.
But that shouldn't scare you off of your highway-based journey. So long as you keep your eyes peeled and your thinking cap on, operating an RV is no more difficult or perilous than any other driving situation.
Here are a few things to keep in mind before you sit yourself in the RV driver seat.
RV driving isn't hard — but give yourself time for the learning curve.
Many first-time RV renters are intimidated by the idea of driving such a large vehicle. And it's true that there are some differences between navigating the road in a Cadillac versus a camper van — and even more so if you choose a very large motorhome or travel trailer.
That said, in the vast majority of cases, driving an RV doesn't take any special training or licensure. All sorts of people safely operate RVs all the time, and you can easily count yourself among them. The extra weight just takes a little bit of getting used to — and you may also need to teach yourself how to use RV-specific technology, like an on-board backup camera.
So to make sure you have the safest (and most enjoyable) trip possible, give yourself the time you'll need to conquer the RV driving learning curve ahead of time. If at all possible, avoid a situation where you need to hit the road and head to your destination as soon as you've got the keys in your hands. Allowing yourself some time to familiarize yourself with your camper will make you feel much more confident behind the wheel, and help you drive safely, too.
Take it slow, and don't be afraid to stop if you need to.
Don't get us wrong; speeding is never exactly the safest driving scenario. But in a travel trailer or motorhome that adds thousands of pounds to your total vehicle weight, braking becomes that much harder — and the consequences of a collision go up exponentially, too.
So when you're operating your travel trailer or motorhome, don't feel bad for actually obeying posted speed limits. Heck, depending on the roadway, you may even find yourself traveling five or so miles an hour slower; mountainous regions or inclement weather can make the road even more treacherous. Leave lots of space between your vehicle and the next one ahead of you, and start braking as soon as you see their brake lights come on. And if a sudden downpour occurs — or even if you simply find yourself growing tired or anxious — give yourself permission to pull off at the next exit and take a breather. Better to get to your destination late and alive than early and injured!
Seat belts, everyone!
When you're traveling by motorhome, it can be especially tempting to forego seatbelts — especially for passengers other than the person by the driver's side. Lying on the couch while you're cruising down the road might sound cozy, but it's neither secure nor, in most cases, legal. So ensure that everyone on board is sitting in a proper seat with their seatbelts on!
Stay vigilant at rest stops.
One often-overlooked part of RV travel road trip safety: the potential for danger at highway rest stops. With weary travelers constantly moving in and out of these travel centers, there's a high potential for burglary.
So when you're making your pit stops, be sure to continue to abide by the common sense safety rules outlined above: lock your rig, hide your valuables, and keep whatever valuables are on your person in a secure place. The most important part? Keep your eyes open. Most people can sense a dangerous situation and avoid trouble before it starts, given that they're vigilant… which it can be hard to be after spending hours on the road.
Camp Safety
No matter where in the USA your road trip takes you, getting there safe is just one part of the equation. You also need to ensure you stay safe once you arrive and throughout your explorations and adventures!
Here are a few common dangers you may encounter in camping situations, and the steps you need to take to circumvent them.
Fire safety: what you need to know
Gathering around the campfire is one of the most classic and enjoyable camping pastimes. But it can also be one of the most prevalent and destructive sources of campsite danger.
The first rule of starting a campfire? Always use a designated campfire spot. If you start a fire in a new place, you'll destroy the plants and animals that live there… and depending on your skill level and the dryness of the environment, you also risk accidentally causing a much larger conflagration. We have enough forest fires as it is!
Once you've got a fire going in a well-insulated, approved spot, you still need to follow basic fire safety rules to ensure you avoid burns and injuries. Whether you're simply warming your hands or cooking up some delicious, fresh s'mores, always ensure you keep a respectful distance from the flames. And never allow children near the campfire unattended!
Finally, when you're done with the campfire, be sure it's entirely extinguished before you head off to bed. Even those tiny, insignificant-seeming embers can reignite given the right conditions, and a surprise fire is not a good surprise.
Be bear (and bobcat, and coyote) aware!
One of the most important aspects of outdoor safety is to respect the creatures that call the outdoors their home. After all, when you bring your RV out into the woods or the mountains, you're the intruder — the critters actually live there!
When you're in an area with large and potentially dangerous wildlife, always secure your food and garbage in secure, tamper-proof containers. This is for the animals' benefit as well as your own; consuming human food and garbage can be detrimental to their health, and seeing a bear rifling through your garbage is a good way to incite a panic attack. If you'll be doing any hiking or other outdoor adventuring in these areas, be sure to bring a buddy along rather than going it alone, and make frequent, loud noises to alert these animals to your presence.
You might also consider investing in bear spray, which can be an effective measure to stop an attack, should you accidentally provoke a predator. Although animal attacks are very rare, they do happen, so research the correct course of action ahead of time depending on where you're going and what sorts of animals live there!
Motorhome Safety
As we hope this post shows, traveling safely doesn't have to be a chore. In fact, it really only takes a little bit of time and effort to significantly decrease your chances of any unwanted mishaps — and to make the ones that do happen a breeze to deal with.
For more information on safe RVing and what to expect from and prepare for your first RV rental, check out the following posts here on the RVshare blog:
Safe travels!
This post may contain affiliate links.