Awning
Last updated on April 27th, 2023. Originally published on September 16th, 2019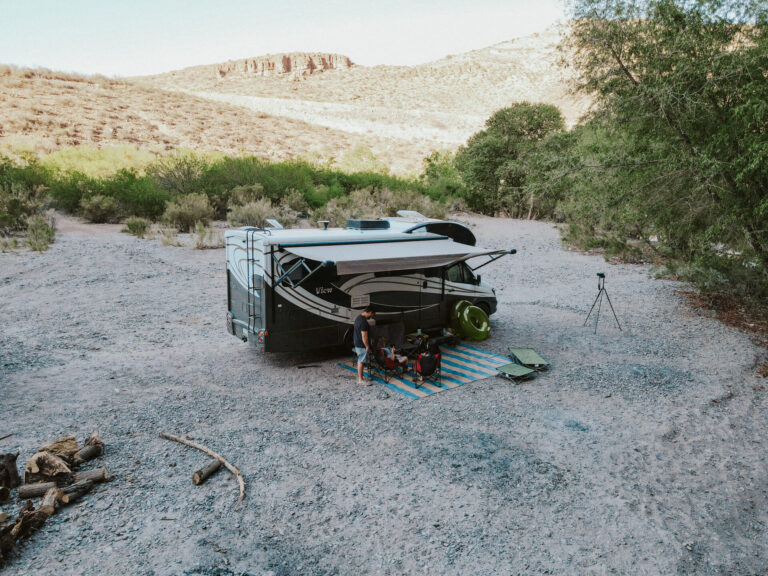 It's nowhere near as important as the engine, and you probably don't give it as much thought as, say, your RV's interior, but your RV awning is still a big part of what makes your RV home. On a nice day, unrolling your awning creates a shaded, breezy respite from the hot sun. It turns the bare space around your parked rig into a welcoming patio area. It essentially creates an outdoor living room and doubles your RV's living space.
In a lot full of parked RVs, unrolled awnings create a front porch effect, where others are welcome to sit and chat for a while, and everyone is a friendly neighbor.
Besides that, an awning can also provide shade for the side of your rig, meaning the inside stays much cooler. Obviously, this is a huge benefit during the scorching summer months, and may even help extend the life of your RV A/C.
The problem with RV awnings is the fact that they tend to wear out, break, and acquire holes and tears over time. A torn or broken RV awning is of no use to you or anyone else, and it can really put a damper on even the best of camping trips.
If this is a problem you've run into, you may be wondering what your next step should be. Below you will find the ultimate guide to repairs, replacement, types, styles, maintenance, accessories, and all you need to know about RV awnings.
Reasons to Replace RV Awning Fabric and Parts
There are a number of things that can wrong with your awning that could require you to do an awning RV replacement or repair. Below are some of the more common issues you may come across.
Tears or Holes in Awning Fabric
The most common issue is with the awning fabric, which will likely develop holes, tears, or worn spots after several years of use. Small holes and tears can be repaired with tent repair tape, but bigger holes or an awning with lots of rips will require replacing RV awning fabric.
Sagging Canopy
A sagging canopy is another issue you may run into. Generally, this can be fixed by replacing any broken rivets. That said, if replacing the rivets doesn't help, your next step should probably be installing an RV replacement awning fabric.
Broken Arms or Mechanisms
Occasionally, the arms of your awning—or even the little mechanisms that help your awning move and lock into place properly—will break. In these cases, purchasing replacement arms or even an entire replacement awning is probably your best bet.
Electric Awning Failure
Finally, you might find that your electric awning no longer wants to move in or out with the push of the button. In some cases, this is due to something as simple as a dead battery. However, if you charge your battery and the awning still doesn't work properly, a replacement motor or switch might be in order.
How To Repair RV Awning – Small Spots
If your tear or hole is under three feet, you may be able to fix it easily yourself with RV awning repair tape. You should be able to find RV awning repair tape at hardware stores, RV retail stores like Camping World, or online at sites like Amazon. Prices vary, but you should expect to pay less than $20. Most tapes are 15ft long, though some are wider than others. Although it's more expensive, you may want to buy thicker tape if you need to cover a hole or a larger rip. Eternabond tape is another option – it's much more expensive (around $60 on Amazon), but it's much more powerful and holds much more effectively. You should know that it's not transparent, however, and your repair will show.
A lot of RV awning repair parts can also be gleaned from tent repair kits, which run from $5-$20 at most camping and outdoor stores.
How To Repair An RV Awning – Large Holes
If your repair is longer than three feet, you'll need to purchase fabric of the same color and consistency as your awning and patch up the tear. You may be able to find matching fabric from the retailer where you bought the original awning, or at a fabric store. Using fabric scissors, cut a square or rectangle of your matching fabric to the correct size for your hole or rip. Apply to the spot using water-resistant RV glue like Amazing Goop, which is just $9 on Amazon.
Once your square is properly applied, use the fabric scissors to trim any loose edges to your repair is as unnoticeable as possible.
Tips On Repairing Your RV Awning
There are a few things you can do to make your RV awning repair go more smoothly. Before you begin the repair, wash the awning to get off all the dirt or other debris. Dry it with a towel and be sure the fabric is completely dry before beginning your repairs.
When you apply awning tape, push the tear together while the fabric is on a flat surface, then apply the tape (you may want a repair partner to help you keep everything in place). Take your time when positioning everything so you can get it in the right spot. Be sure to push out any air bubbles. If you make a mistake and place the tape incorrectly, rather than pulling it up and trying again, apply another piece. Put awning tape on both sides of the fabric at the location of the tear.
With some patience and a few small items, you may be able to save yourself a lot of money in the long run by repairing your awning instead of having to replace the entire thing!
Where to Find Replacement RV Awning Parts
If you do some troubleshooting and determine you'll need replacement awning RV parts, your next step is finding a place that sells such parts. Many bits and pieces can be found on Amazon. That said, for the best assortment of replacement awning RV parts, you'll want to check out an RV parts store such as RV Parts Country. These stores should carry everything you need to get your awning in tip-top shape.
RV Awning Replacement Fabric
Looking for RV awning replacement fabric? While you can buy this at RV parts stores, some people prefer to purchase this fabric from Tough Top Awnings. This particular company makes extra tough RV awning fabric that can withstand the rigors of frequent travel and rough weather, making it ideal for many RVers. When purchasing RV replacement awning fabric you'll want to ensure you're getting the right size for your awning. Additionally, you'll want to consider the colors of your rig in order to ensure your fabric compliments your color scheme. Replacement fabric for RV awnings comes in countless colors and patterns, so this shouldn't be an issue.
How to Replace RV Awning Fabric
Once you have awning replacement fabric for your RV in hand, you'll need to learn how to replace RV awning fabric. Luckily, there are tons of RV awning replacement instructions online, meaning it's totally possible to learn fairly quickly and easily.
Replacing awning fabric on an RV does require 2–3 people, so be sure to round up some help before you get started. You'll also want to have a flathead screwdriver, a Phillips head screwdriver, and a drill handy. Detailed text instructions for completing the process can be found here.
We especially enjoy this "How to Replace RV Patio Awning Fabric" video, and find that it explains the process very well.
Here is a recommendation for an RV favorite option when it comes to awnings:
Dometic RV Awnings
One brand that is particularly popular is Dometic, as their awnings have provided customers with years and years of satisfaction. In the RV community, you'll often hear the term "A&E" used to refer to RV awnings, particularly retractable awnings that were previously branded as A&E before Dometic discontinued the A&E brand in 2017. This is because the A&E brand was a popular and trusted name in the RV industry, and many RVers still associate retractable awnings with the brand name.
Why Dometic RV Awnings?
Today, Dometic still holds an excellent reputation for their RV awnings for a number of reasons. Firstly, their high-quality designs come in a variety of styles, colors, and sizes to ensure that every type of camper or RV can have an awning that's just right. Dometic's awnings are made from a combination of high-quality fabric and weather-resistant materials such as aluminum and plastic to ensure your awning holds up well over time. Most of Dometic's awning fabric is heavy-duty, polyester reinforced vinyl fabric. A clear acrylic coating also helps to prevent mildew, fading, and staining.
Additionally, Dometic RV awnings come in both manual or electric, depending on your needs and reliance upon electricity. Customers also love the fact that awnings from Dometic are all tested to reliably function within a wide range of temperatures and weather conditions, helping to shelter them from harsh UV rays and rain.
The brand also offers window and door awnings for even more protection!
Where to Buy Dometic RV Awnings
You can source your perfect Dometic RV awning from a variety of retailers both online and in-person, including directly from the manufacturers website. They offer a wide range of products and have detailed information and specifications for each product. Additionally, you can find Dometic awnings either through specialist RV stores, online retailers, or via a website such as eBay or Amazon.
Looking for an upgrade to your awning? Let´s get into electric awning information!
Automatic RV awnings
An electric awning for RV is different from a standard awning because it collapses and folds into the RV. It's a huge convenience when traveling, and is ideal for frequent RVers who will be setting up and breaking down camp on a regular basis, as it will save you a lot of hassle. An electric awning will allow for a quick set-up once you arrive at your campsite, giving you more time to enjoy your stay.
Fitting your RV power awning
The easiest way to measure your power RV awning is to simply measure your previous automatic RV awning and use those same dimensions again. If that's not possible, measure the length of the awning's roller tube – the drape material that goes inside will be cut to the nearest foot so round up (it's better to have a little extra fabric than not enough!).
If you don't have a previous awning or roller tube to measure, measure ⅓ to ½ of the length of your RV – this is the standard area to cover with an electric RV awning. Standard sizes go by meters – 2-5m are the most common. Before buying an extremely long awning, consider its slant so it doesn't get in the way of your windows or doors. Smaller power RV awnings are easier to roll up and pack, and require less support, but of course, also cover less area when they're open.
Also, think about how close to the ground you want your RV power awnings to hang. Some people like to have them come close so they can tether the end to the ground at an angle away from their rig.
Materials for your RV power awning
There are a few different materials that tend to be used in retractable awnings. Many retailers also have a variety of designs and colors of shades for you to choose from.
Vinyl, acrylic, plastic, and fiberglass (for stationary awnings) are all common materials that are used in RV awnings. The type of material you choose will affect the durability and upkeep of your awning. Most awning materials can be cleaned with a combination of special soap and water.
As with a lot of things, more expensive awnings will likely hold up longer if you maintain them properly. You may find that spending a lot of money, in the beginning, is actually the cheaper way to go since you won't need to replace your awnings as often in the long run. It's a good idea to talk to an RV retailer or dealer, or do some online research to see if the extra price is worth it. New awnings can run anywhere from a few hundred dollars, to a few thousand for more complex setups.
What is an RV Awning Roller Tube?
As the name suggests, this part is a tube-shaped roll that holds the fabric part of your awning. When you set-up your awning, the fabric is rolled in an outwards direction, and when packing away your awning, the fabric is rolled up neatly again so that it is out of the way. Most awnings include both parts (though it's wise to make sure!), but you can also purchase them separately if you're looking for a replacement.
You can either replace the roller on its own if the fabric is still in good condition, but the roller is broken or faulty, or you can purchase a new roller that also has new fabric on it. The latter is a great option for if your awning fabric has damage beyond repair (such as large rips, fading, or other more serious wear and tear).
RV Awning Roller Tube Repair Vs. Replacement
How can you tell if your RV awning roller tube needs repairing or replacing altogether? Firstly, you can determine exactly what is wrong with it then deem whether it would be cheaper to repair the problem or replace the roller tube completely. Secondly, you may realize that your roller tube is beyond repair and therefore you will have no other option but to replace the entire mechanism.
RV Awning Roller Tube Replacement FAQs
If you've decided that your roller tube needs replacing, then you've come to the right place. Below, we've answered some of the most popular questions relating to RV awning roller tube replacement to help you get started.
Q: What should I look for before purchasing a new roller tube?
A: Firstly, you'll need to ensure the specifications of your new product matches those of your existing awning parts. After all, no one wants to waste time trying to install something that simply won't fit. Secondly, it's necessary that the awning roller and roller tubes you purchase are compatible with the awning you're using them in. If not, this can lead to breakages or difficulty using the product.
Q: Are all RV awning roller tubes weather-proof?
A: Many models or roller tubes will be both water-resistant and weather-proof. Just to be on the safe side, ensure the roller and tubes you get are made from rust-resistant materials (or at least have water and rust-resistant finish). It's also important that your roller tube replacement can withstand the sun's harsh UV rays.
Q: How can I make installation of my RV awning roller tube replacement easier?
A: When purchasing an awning roller, make sure to get one that can simply be bolted or screwed in place, without the need for cutting, drilling, and any other heavy-duty modification. Your new awning roller should include instructions for installation, and there are numerous YouTube videos and other online resources available if you're planning on putting it in yourself.
Q: Where can I buy an awning roller tube?
A: Check out any local RV parts retailers in your city, as well as online retailers such as etrailer and Dyers RV Parts and Accessories (just to name a few).
RV Awning Replacement Parts
Sometimes, you've just gotta fix something. (In fact, RVers know it's more than sometimes — it happens pretty dang frequently!) An RV awning might look simple but, as you've probably grasped so far, it's far from it. There are numerous bits and pieces involved in keeping your awning not only upright, but working smoothly. Here are some common parts that RVers may find themselves in need of:
1. Awning Lift Handle
If your RV or pop-up camper carries an awning, specifically a Dometic A&E model, this is the replacement handle you'll need if you run into trouble with yours. It helps you put up these manual operation awnings in comfort and style, thanks to its ergonomic, vinyl-covered grip, and it's reliable thanks to its rust- and corrosion-resistant paint finish.
2. Knob Adjuster
Adjuster knobs are part of the awning mechanism that allows you to adjust the tension on the awning fabric. This knob is typically located on one of the awning arms, near where it attaches to the RV sidewall. By turning the adjuster knob, you can tighten or loosen the tension on the awning fabric to ensure that it is properly extended and held taut. This is especially important in windy conditions.
Adjuster knobs are common problem parts on awnings — they're just so dang finicky and small and easily broken. If you need to replace one on your Dometic awning, this 1 and 7/8-inch-diameter knob might be exactly what you're looking for.
3. Main Rafter Assembly
If you have a problem with your existing rafter assembly or want to install a new one where there wasn't one before, Dometic's main rafter assembly can help you get where you're going. This is the 66-inch model in polar white, and includes the main rafters as well as the top bracket, travel latch, and five-point awning knob.
4. Mounting Bracket
Mounting brackets are usually installed onto the RV sidewall using screws or bolts, and it has a slot or groove where the awning arms can be inserted and attached securely. While they typically hold up well, they can face wear and tear over time. There are different types of replacement mounting brackets available, depending on the type and size of the awning and the RV.
5. Spring Assembly
An RV awning spring assembly is a component of the awning mechanism that provides the tension needed to extend and retract the awning. It consists of a coiled spring that is housed inside a metal casing, along with a locking mechanism and the tension adjustment knob. If your existing RV awning uses a spring assembly and it needs to be replaced, consider this Carefree Awning Upgrade Kit. It takes the hassle out of winding up spring tension since no springs are used. For under $100, you can't beat that convenience!
RV Awning Replacement Instructions
If you find yourself needing to replace your entire awning, the good news is you should be able to tackle the task yourself. That said, a DIY RV awning replacement will require some helping hands from some friends or family members.
Additionally, to replace the awning on your RV, you will want to ensure you know what you're doing. For this reason, we did a bit of digging to find the very best instructions on replacing an RV awning. After much searching, we found this article article from Camper Smarts which gives very detailed instructions on how to measure for and install replacement RV awnings.
For reference, here are the steps that the process would entail:
Get a properly-sized replacement RV awning.
Release the existing awning.
Roll the awning down and lock it into place.
Rotate the inner shaft until the holes are lined up, and then bend the end of the cotter pins.
Disconnect the lag bolts using a wrench. These are what hold the awning rafters to the RV.
Lift the awning out of its place and walk away as you unwind the fabric.
Note the number of times you turn each spring to relieve tension. (This number is exact and you will need to re-install it exactly as you found it.)
Lift, out of place, the tube that holds the awning fabric, as it should be free at this point.
Install the new fabric carefully to avoid tearing it.
Reconnect the torsion assembly and rivet it back into place.
Reconnect everything as you found it before.
Then test your handy work to ensure the awning moves easily.
Replacing your RV awning can be a simple process, if you know your way around tension-loaded springs, but when in doubt, always consult a professional.
RV Awning Replacement Video
Of course, because installing RV replacement awnings can be daunting, you may also want a video to help you along. Tough Top has some great DIY videos on their site so be sure to check those out!
Repairing or replacing the awning on an RV isn't always easy, but it is totally doable with the right instructions, tools, and set of helping hands.
Tips for RV Awning Maintenance
Like just about everything else on your RV, your RV awning requires a little bit of ongoing care and maintenance to keep it functioning properly and to avoid the need for repairs or worse, replacements. None of them are major, but you will want to put some thought into how you treat this small but transformative part of your rig. Here are seven tips for regular RV awning maintenance.
1. To wash your RV awning, simply hose it off.
This will work for both acrylic and vinyl awnings. If there are still dirty spots after a good hose down, take care of them on a spot-by-spot basis with soap (there are special soaps made specifically for cleaning RV awnings) and a soft brush. And be gentle when you clean! Too much scrubbing will wear down the waterproof coating as well as the fabric beneath it.
2. If you've got your RV awning up in the rain, keep one corner lower than the others so the water will run off rather than collect.
Water weighs a lot, and too much collecting on your awning can put unnecessary strain on it. Your awning tube can bend under the weight of all of that water, or even worse: the whole awning can break off.
3. Retract your awning during extreme weather
A little rain is one thing, but leaving your awning up during a nasty storm is a recipe for disaster! For example, it's always a good idea to retract your awning during heavy rain, hail, or snow to prevent it from getting damaged.
4. Wait for your RV awning to dry before rolling it up.
Just like putting away a wet tent, rolling up a wet RV awning can lead to mold — and all of the problems that go along with it (dry rot, a bad stink, and eventually ruined fabric). Fortunately, if the sun's out, the drying-out process should not take too long.
5. Limit your RV awning's exposure to UV rays.
This may seem counterintuitive — isn't it the awning's job to protect you from UV rays? But a lot of sun exposure can weaken the fabric and shorten the life of your awning. If you're away from your RV for the day, keep your awning rolled up. Additionally, you might consider investing in an awning cover to protect it when it's all rolled up. Keep reading on for more awning cover info!
Typically consisting of several spiral stakes and some tension ropes, these inexpensive kits are especially helpful if you've got your awning open in windy conditions. These parts will give your awning a bit more stability, especially if an unexpected gust blows by.
7. Use an awning lock after you've rolled it up.
Most awnings will lock into place once they're rolled up (so that they don't accidentally unroll on the road), but for an extra precaution, an RV awning lock or clamp can really keep it in place while you're barreling down the highway.
8. Keep Your Awning in Great Shape!
It's true that your awning isn't as integral to the functionality of your RV as some of its other components, but having your RV awning in good working condition can really contribute to your quality of life when you're on the road. Take good care of it, and you'll not only be rewarded with a great outdoor extension of your living space, but you won't have to spend your road trip money on a new awning.
RV Awning Accessories
You can even add fun and functional RV awning accessories to help light up your campsite and make your outdoor seating space that much more inviting and homey. Here are our favorite ways to spruce up your own RV patio.
1. Awning Rope Light Track and Clips
We all love the look of awnings adorned with pretty rope lights… but let's be frank. How do you attach them?
Well, with this handy awning rope light track, it's not an issue. It converts the existing utility track on your awning into the perfect place to stick some weatherproof rope lights, no winding or binding required.
This track will hold either 3/8- or 1/2-inch lights, and trust us when we say it's way easier than wrapping them around your awnings' arms. Plus, it's easy to remove then put up again if you're moving frequently!
For a more affordable option, you might want to check out these Camco awning light clips that slide right into your awning's roller tube.
2. Solar Powered LED Rope Lights
If you're like most campers, you value living lightly on the land… and occasionally want to camp away from the hustle and bustle of cities, where most spots with shore power are situated. But that doesn't mean you don't want to enjoy an inviting, awning-covered RV patio!
If that sounds like your situation, consider solar-powered string lights, a fun, safe, and powerful way to add a little bit of levity to your campsite. After a full day's charge, they should light up your campsite for up to twelve hours… which can be immensely helpful if you're out in the woods with nothing but the stars to guide you.
3. Camco Awning "De-Flapper"
As fun as this product's name is to say, the thing it's fixing is no fun to go through — and if you've ever had an RV awning flapping around in the wind, you know what we mean. Not only is it annoying, but it's dangerous… and it's all too easy to lose your awning entirely if it's not secure.
If you've got issues with your awning flapping around, we highly recommend investing in Camco's awning "de-flapper," whose universal fit should work no matter what make, model, or size awning you're securing. Choose from an entire de-flapper kit or just the replacement straps; either way, you won't spend more than $10, which is an incredible deal for helping ensure the safety of one of your rig's most expensive accessories!
4. Awning Sun Shade
Yes, your awning does a good job of protecting you from the sun on its own… at high noon, when it's directly overhead. But if you've ever been sitting on your patio wishing the sun would stop its slow adventure across the sky, when its rays can peek annoyingly underneath your awning, you may want to consider investing in an awning sun shade for an added layer of protection. Because the sun shade is made of mesh screenwork, it's still possible to enjoy the view from your campsite through the sun shade, and meanwhile, you'll be more inclined to do so since it's both darker and cooler.
The way it works is pretty simple. The sun shade attaches to your main awning and gets anchored to the ground with bungee cords and stakes (or sometimes sand bags) to provide a sort of front wall effect, acting as both physical shade as well as UV protection to skin and eyes. If you're out in the desert where the ground is harder and a stake won't work, sandbags might. In a soft, grassy area stakes will be just fine.
The sun shade kit is easy to install, coming complete with three sets of plastic stakes and bungees, and can be rolled into the awning for storage. You can choose between black, brown, and a fun blue option — after all, coordination still counts when you're camping! That said, be sure to measure your awning per the specifications, as the shades come in a variety of different sizes to fit different sized rigs.
5. Awning Side Shade
A front shade already offers a lot of extra protection — but if you really want to upgrade your patio game, you can invest in side shades, too. Along with providing additional shade and cooling down the patio temperature, awning side shades can also help reduce the wind flowing through your outdoor seating area, whether you use them with or without a front awning shade. They're a great investment for any camper whose rig has an awning — and again, come in multiple colors!
6. Awning Sun Room
Of course, you can get really upscale with your shade options by going a step further and getting yourself an RV sunroom. You'll have a totally screened porch in no time, and for way less money, time, and effort than you'd spend to erect one outside of your home!
RV Sunrooms are essentially four-sided RV awning suns shades. So instead of just one panel of sun-resistant material, you'll get three, and these will create a small room to keep out the heat. Sunrooms typically zip at the corners and sometimes feature windows made out of different plastic materials.
Because they take more time to install, you might only consider them for long-term road trips or a more permanent set up. A pro is that they also keep out the bugs while allowing a gentle breeze. You can't say the same for a simple sunshade on your awning.
7. RV Awning Cover
Protect your RV awning like the investment it is with an affordable, durable RV awning cover, which can keep your canopy safe from weather, debris, and more. Most RV awning covers are made of a fabric that reflects UV light and is mildew resistant. Typically these are one-piece and slide onto the awning to form a cylinder. They come in multiple sizes and colors depending on your style and the particulars of your RV.
If you're looking for a more robust storage option that will stand up to tears, stains and wear, you might consider a solid cover. Plastic versions of these products typically come in pieces and require some assembly onto the cover itself. Once installed, they're easy to pop on and off any time you need to use your awning in a pinch. This kit fits awnings from 16 to 20 feet long and a diameter of 3.65 to 4.75 inches — which is essentially every main RV patio awning on the market, both electric and manual.
Should either your awning itself or the cover you're using to protect it with become stained or damp, you might want to use a cleaner for added protection. Mildew sprays and cleaners will do the job quickly and easily.
Final Thoughts
We hope this ultimate RV awning guide answer all your questions and has left you feeling prepared and informed to move forward in your repairs! Did we miss something or do you have a question? Comment below and don't forget to share this article with fellow Rvers if you found it helpful!
For more tips and tricks for your next RV trip, check out these articles:
*This post contains affiliate links. RVshare may receive compensation if you make a purchase after clicking on a product link.