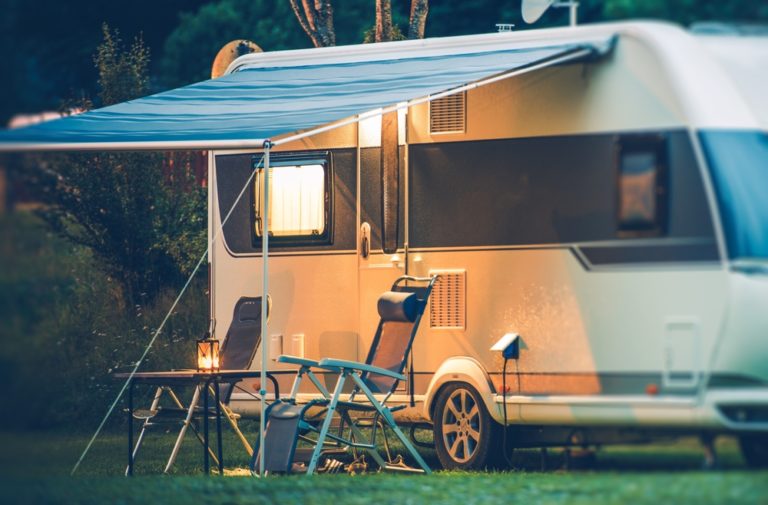 Every RVer who has ever used an awning knows what a fantastic asset this simple little contraption can be. After all, nobody likes sitting outside in the direct sunlight, and an awning can give campers the shade they need to truly enjoy their outside time. Besides that, an awning can also provide shade for the side of your rig, meaning the inside stays much cooler. Obviously, this is a huge benefit during the scorching summer months, and may even help extend the life of your RV A/C.
The problem with RV awnings is the fact that they tend to wear out, break, and acquire holes and tears over time. A torn or broken RV awning is of no use to you or anyone else, and it can really put a damper on even the best of camping trips.
If this is a problem you've run into, you may be wondering what your next step should be. Below are our best tips.
Reasons to Replace RV Awning Fabric and Parts
There are a number of things that can wrong with your awning that could require you to do an awning RV replacement or repair. Below are some of the more common issues you may come across.
Tears or Holes in Awning Fabric
The most common issue is with the awning fabric, which will likely develop holes, tears, or worn spots after several years of use. Small holes and tears can be repaired with tent repair tape, but bigger holes or an awning with lots of rips will require replacing RV awning fabric.
Sagging Canopy
A sagging canopy is another issue you may run into. Generally, this can be fixed by replacing any broken rivets. That said, if replacing the rivets doesn't help, your next step should probably be installing an RV replacement awning fabric.
Broken Arms or Mechanisms
Occasionally, the arms of your awning—or even the little mechanisms that help your awning move and lock into place properly—will break. In these cases, purchasing replacement arms or even an entire replacement awning for RV is probably your best bet.
Electric Awning Failure
Finally, you might find that your electric awning no longer wants to move in or out with the push of the button. In some cases, this is due to something as simple as a dead battery. However, if you charge your battery and the awning still doesn't work properly, a replacement motor or switch might be in order.
Where to Find Replacement RV Awning Parts
If you do some troubleshooting and determine you'll need replacement awning RV parts, your next step is finding a place that sells such parts. Many bits and pieces can be found on Amazon. That said, for the best assortment of replacement awning RV parts, you'll want to check out an RV parts store such as RV Parts Country. These stores should carry everything you need to get your awning in tip-top shape.
The Best RV Awning Replacement Fabric
Looking for RV awning replacement fabric? While you can buy this at RV parts stores, some people prefer to purchase this fabric from Tough Top Awnings. This particular company makes extra tough RV awning fabric that can withstand the rigors of frequent travel and rough weather, making it ideal for many RVers.
RV Awning Replacement Instructions
Even if you need to replace the entire awning, you should be able to tackle the task yourself. That said, a DIY RV awning replacement will require some helping hands from some friends or family members.
Additionally, to replace the awning on your RV, you will want to ensure you know what you're doing. For this reason, we did a bit of digging to find the very best instructions on replacing an RV awning. After much searching, we found this article from Love to Know which gives very detailed instructions on how to measure for and install replacement RV awnings.
RV Awning Replacement Video
Of course, because installing RV replacement awnings can be daunting, you may also want a video to help you along.
While we couldn't find a patio awning installation video specifically, we did find this video from RV Geeks. The video shows a window awning installation, a process very similar to the installation of a patio awning or the process of RV slide-out awning replacement. Because the processes are so similar, many may find this video quite helpful, especially when combined with the text instruction above.
Repairing or replacing the awning on an RV isn't always easy, but it is totally doable with the right instructions, tools, and set of helping hands. Go ahead and check out your awning, see what you need, and start shopping for parts or replacement awnings for your RV.
The sooner you can get your awning in good working order, the more comfortable your camping will be, and because finding awning for RV replacement units and parts is so easy, it makes no sense to put it off any longer.
This post may contain affiliate links.