Awning
September 16th, 2019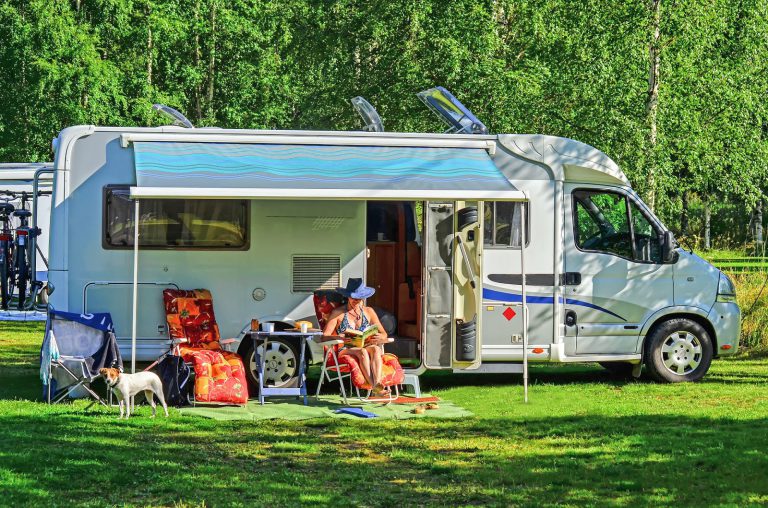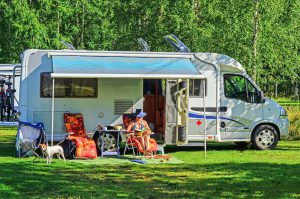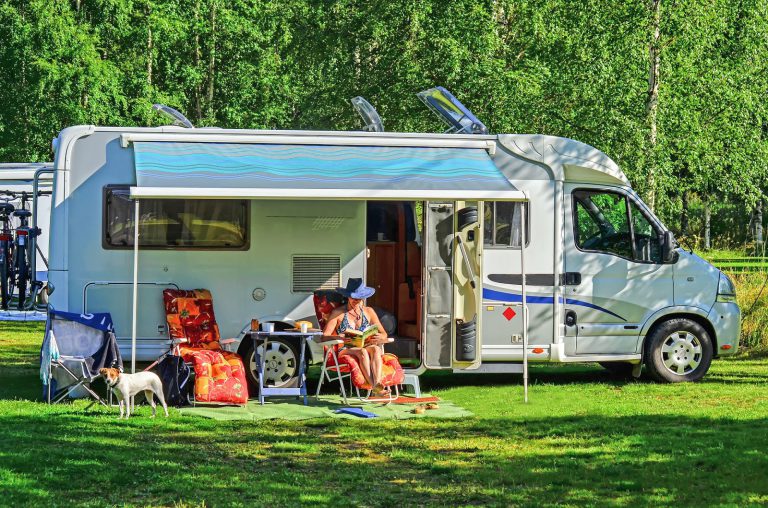 Warm weather is almost always the best option when RVing. That said, with warm weather comes bright sunlight, and when the sun is bright, awnings are an excellent thing to have around.
Fortunately, most RVs come equipped with an awning, making it super easy to shade your rig from the heat of the sun. Heck, even if your RV didn't start with an awning, you can always add one after purchase, and trust us when we say you won't ever regret such a purchase.
Still, even though they are an excellent addition to any trailer or motorhome, awnings do have their downsides. Perhaps the worst thing about these handy shade providers is the fact that they do eventually wear out, requiring repair or replacement. In particular, RV awning fabric has a tendency to wear, rip, fade, and stain.
Luckily, it's not too hard to replace or repair RV awning fabric, meaning you can probably take care of your awning woes all on your own.
Reasons to Repair or Replace RV Awning Fabric
Wondering what reasons a person might have for repairing or replacing their RV patio awning fabric? Here are a few:
Rips or Tears — Nature isn't always kind, and often this leads to rips and tears in our RV awning fabric. These must be repaired because they will continue to grow over time, rendering the awning useless.
Mold and Mildew — Because the awning is exposed to moisture and is often rolled up before that moisture has a chance to dry, mold and mildew are not uncommon. Unfortunately, it's pretty hard to get rid of these problems, and in some cases, replacing RV awning fabric is the best bet.
Aesthetic Reasons — Awnings are out for the world to see on a pretty regular basis. Therefore, those campers with faded or stained awnings may feel the need to do an RV awning fabric replacement. This definitely gives the rig a fresh new look.
How to Repair RV Awning Fabric
If you're dealing with a hole in the awning fabric on an RV, you may be able to do a quick RV awning fabric repair rather than a replacement. This works best when the tear is less than 2–3 feet in length and requires clear RV awning repair tape.
Begin by cleaning the area well and ensuring it is completely dry. Place a very clean board or another hard flat object under the tear and very carefully apply the tape over it. The tape cannot be pulled up, so be sure to get it right the first time. Finish by smoothing out any bubbles and you should be good to go.
Where to Buy Awning Fabric for RV
If you're dealing with an especially bad tear, you might need to skip the tape and go right for the RV patio awning replacement fabric. Replacement RV awning fabric can be found at major RV supply stores such as Camping World. It can also be found at specialty fabric and shade shops.
When purchasing RV replacement awning fabric you'll want to ensure you're getting the right size for your awning. Additionally, you'll want to consider the colors of your rig in order to ensure your fabric compliments your color scheme. Replacement fabric for RV awnings comes in countless colors and patterns, so this shouldn't be an issue.
How to Replace Awning Fabric on RV
Once you have awning replacement fabric for your RV in hand, you'll need to learn how to replace RV awning fabric. Luckily, there are tons of RV awning replacement instructions online, meaning it's totally possible to learn fairly quickly and easily.
Replacing awning fabric on an RV does require 2–3 people, so be sure to round up some help before you get started. You'll also want to have a flathead screwdriver, a Phillips head screwdriver, and a drill handy. Detailed text instructions for completing the process can be found here.
How to Replace RV Awning Fabric Video
Still not sure how to install replacement awning fabric for your RV? Many people find it helpful to watch an RV awning fabric replacement video. Luckily, you can find a number of RV awning fabric replacement YouTube videos, and many of them are quite helpful.
We especially enjoy this replacing RV awning fabric video, and find that it explains the process very well.
Hopefully, we've helped you feel confident in your ability to carry out a DIY awning fabric replacement for an RV. Whether you need to replace something small like your RV slide out awning fabric or the fabric on an entire front awning, you are completely capable, and with a little help from your friends, you'll be camping in the shade once again!
This post may contain affiliate links.