Awning
September 10th, 2019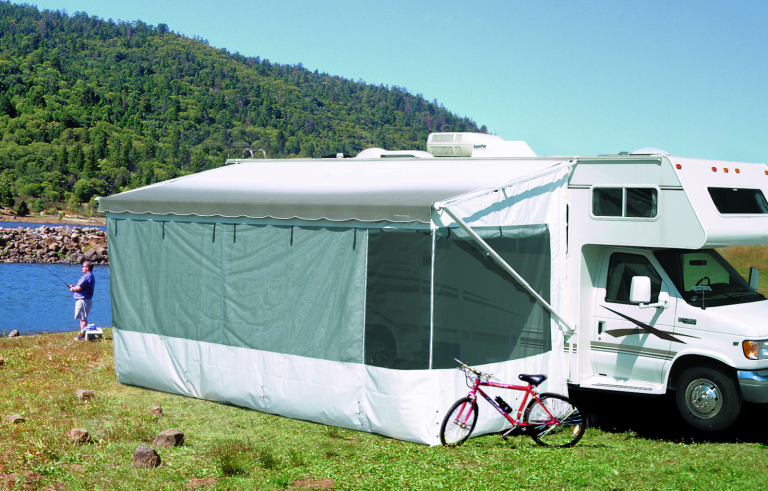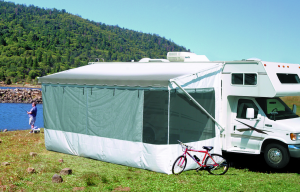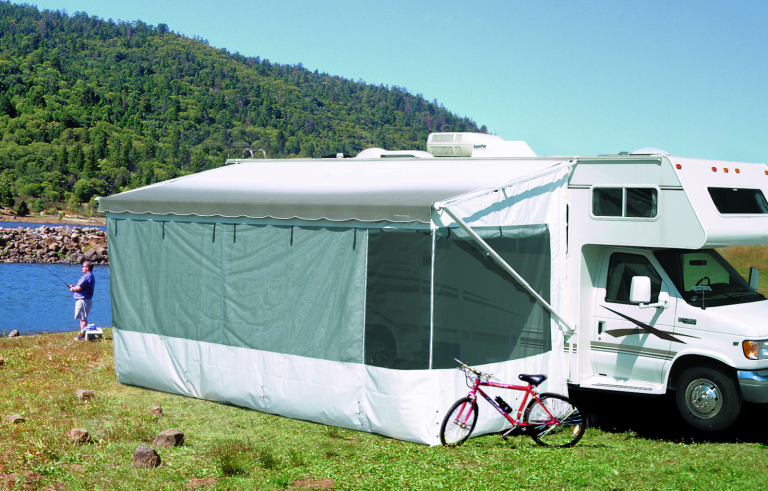 If you're not familiar with RV awning screen rooms, then you're in for a treat. These versatile rooms are perfect for increasing the usable size of your RV, plus they're great for allowing you and your family to enjoy the great outdoors without being exposed to harsh weather conditions.
Today, we're going to tell you everything you need to know about an RV awning screen room, as well as where you can purchase one, how to set it up, and more!
How Does an RV Awning Screen Room Work?
RV awning screen rooms work by attaching to your RV's existing awning and creating an enclosed area off the side of your camper. They're usually made from a screen-like material and can be used to house a variety of activities, such as cooking, reading, storing materials, or a number of other recreational activities.
The Difference Between an RV Awning Screen and a Screen Room
When searching for a screen room for your RV, you may also come across a lot of RV awning screens (also known as an RV awning sun screen). The most notable difference here is that an awning screen room can be enclosed on all sides, turning the space into what resembles a room. An awning screen, on the other hand, has just one sheet of screen which comes off the front of your awning, aiming to provide protection from the sun and add some privacy. The sides, however, are completely open to the elements.
Advantages of RV Awning Screen Rooms
RV awning screen rooms pose a number of benefits to motorhome owners, including:
They can increase your living area dramatically
The screen-like material allows ventilation whilst keeping out insects
It adds an element of privacy when wanting to enjoy the fresh air
It provides basic protection from rain, wind, and the sun
Great option to house an outdoor kitchen, providing more ventilation and requiring less cleaning than an indoor kitchen
Disadvantages of RV Awning Screen Rooms
While a screen for your RV awning offers many benefits, it may not be for everyone. To help you weigh up the pros and cons, we've also included the disadvantages below:
With all walls enclosed, the area can become humid
Installation will require time and effort (especially for first-timers!)
Depending on the model, they can be expensive (often costing from $200 – $500 on average)
Where Can You Buy RV Screen Rooms for Awnings?
If you're ready to invest in an RV awning screen room, then you've come to the right place! You can purchase one through an online retailer (such as Camping World, Dometic, or ShadePro) and can often find a great deal on sites such as Amazon. Alternatively, search for companies in your local area who specialize in this product.
Before you choose your desired screen room, it's important that you measure the length and "drop" (distance from the top of the awning to the ground) of your awning to know the exact dimensions you'll need.
You'll also want to consider how strong and durable you want your screen room to be, as these are features which separate the cheaper RV awning screen rooms from the more expensive models. You'll need to pay close attention to the quality of the support beams and tension mechanisms that hold the room in place, as these will keep it resistant to damage from strong winds.
Setting Up an RV Awning Screen Room
When it comes to setting up your RV awning screen room, your product should come with installation instructions. If in doubt, there are also plenty of tutorials online (especially on YouTube) that you can benefit from. Depending on your model, you may require a ladder for set-up. Some products also require you to permanently attach some fasteners to your awning or to temporarily hammer stakes into the ground to hold the room down.
Many RV owners who take advantage of an awning screen room believe that the initial set-up can be difficult but is well worth it. As you use your screen room more frequently, the set-up becomes a process that you become more familiar with.
There you have it – our guide to RV awning screen rooms! Are you considering a screen for your RV awning? We hope that this information will now help you to make the best decision.
This post may contain affiliate links.