RV Parts & Accessories
Last updated on June 13th, 2023. Originally published on September 10th, 2019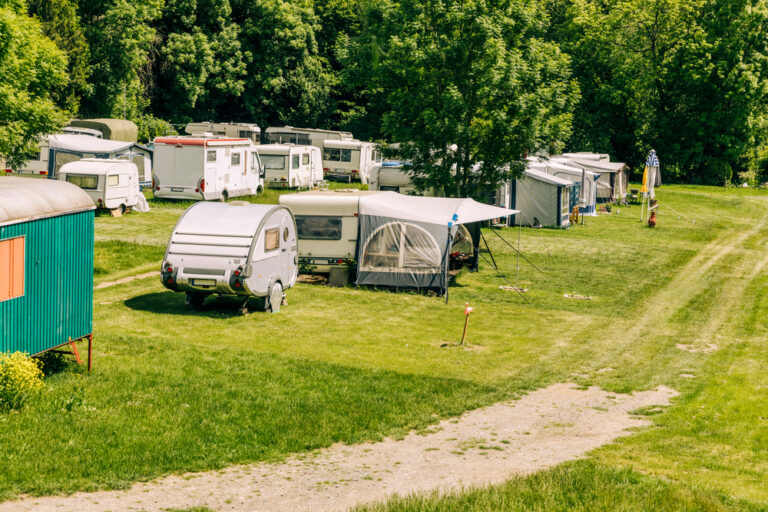 If you're not familiar with RV awning screen rooms, then you're in for a treat. Awning screen rooms increase the usable size of your RV. They also allow you and your family to enjoy the great outdoors without being exposed to harsh weather. Purchasing a screen room allows you to create a great deal of extra living space, but there are several things to consider before running out and buying your RV awning screen room.
Today, we're going to tell you everything you need to know about an RV awning screen room, as well as where you can purchase one, how to set it up, and more!
How Does an RV Awning Screen Room Work?
RV awning screen rooms work by attaching to your RV's existing awning and creating an enclosed area off the side of your camper. This insulates the space against bugs, inhospitable heat, and rain to make the space more livable. They are also sometimes called awning rooms, or extend-a-rooms. They're usually made from a screen-like material and can be used to house a variety of activities, such as cooking, reading, storing materials, or other recreational activities.
The Difference Between an RV Awning Screen and a Screen Room
When searching for a screen room for your RV, you may also come across a lot of RV awning screens (also known as an RV awning sunscreen). The most notable difference here is that an awning screen room can be enclosed on all sides, turning the space into what resembles a room. An awning screen, on the other hand, has just one sheet of screen which comes off the front of your awning, aiming to provide protection from the sun and add some privacy. The sides, however, are completely open to the elements.
Advantages of RV Awning Screen Rooms
Why do you need to buy an RV awning screen room? Do you really need one? There are more than a few advantages to owning one of these, but they might not be worth it for every RV owner.
They can increase your living area dramatically
The screen-like material allows ventilation while keeping out insects
It adds an element of privacy when wanting to enjoy the fresh air
It provides basic protection from rain, wind, and the sun
It's a great option to house an outdoor kitchen, providing more ventilation and requiring less cleaning than an indoor kitchen
Disadvantages of RV Awning Screen Rooms
While a screen for your RV awning offers many benefits, it may not be for everyone. To help you weigh up the pros and cons, we've also included the disadvantages below:
With all walls enclosed, the area can become humid
Installation will require time and effort (especially for first-timers!)
Depending on the model, they can be expensive (often costing from $200 – $500 on average
Where Can You Buy RV Screen Rooms for Awnings?
If you're ready to invest in an RV awning screen room, then you've come to the right place! You can purchase one through an online retailer (such as Camping World, Dometic, or ShadePro) and can often find a great deal on sites such as Amazon. Alternatively, search for companies in your local area that specialize in this product.
Before you choose your desired screen room, measure the length and "drop" (distance from the top of the awning to the ground) of your awning to know the exact dimensions you'll need.
You'll also want to consider how strong and durable you want your screen room to be, as these are features that separate the cheaper RV awning screen rooms from the more expensive models. You'll need to pay close attention to the quality of the support beams and tension mechanisms that hold the room in place, as these will keep it resistant to damage from strong winds.
Types of Screen Rooms
There are several things to consider when deliberating between different types of screen rooms. Here are a few factors to look at before making a decision.
Price: The price also depends heavily on the durability and quality of the screen room. Those priced closer to $500 generally offer more insulation and adaptability. These RV awning screens may have zippered compartments to let air in or trap it outside, or zippers that let you detach walls to have even more openness. This adaptability will make the screen room more suited to a wider range of temperatures so you can use it in hotter or cooler temperatures comfortably.
Size: The most important consideration, however, is size. Measure the length and "drop" (distance from the top of the awning to the ground) of your awning to know the dimensions you'll need. There should be an RV awning screen shade that corresponds to your specific needs in online stores or at a local retailer.
Features: Other distinctions between screen rooms include the color of the design and the quality of the support beams and tension mechanisms that hold the room in place — you want something that will hold up to the wind if the need arises. There are also other kinds of screen shades on the market that offer different features. Without going into too much detail, you might look at something like this cabana dome.
Setting Up an RV Awning Screen Room
When it comes to setting up your RV awning screen room, your product should come with installation instructions. If in doubt, there are also plenty of tutorials online (especially on YouTube) that you can benefit from. Depending on your model, you may require a ladder for set-up. Some products also require you to permanently attach some fasteners to your awning or to temporarily hammer stakes into the ground to hold the room down.
Many RV owners who take advantage of an awning screen room believe that the initial set-up can be difficult but is well worth it. As you use your screen room more frequently, the set-up becomes a process that you become more familiar with.
If you're trying to decide whether to get a retractable awning or an RV awning screen room, here are a few details about RV awnings to know as well.
The Difference Between Retractable RV Awnings and Standard Awnings
While both aim to protect their users from weather elements and provide a nice shady spot to relax under, there are some differences between a standard awning and an RV retractable awning. Standard awnings collapse and fold up into the RV, making them ideal for frequent travelers.
Retractable awnings, on the other hand, are made to be more of a permanent structure, making them perfect for those who park their RV at an RV park and live there for months at a time.
While this means they're less mobile, they are sturdier and are usually made from durable materials such as hard plastic or fiberglass. This makes them last longer, plus they're more resistant to extreme weather conditions, such as hail, snow, and intense heat.
Manual RV Awning
This is the least complicated style of awning and generally requires you to roll it out with a hand crank. Smaller window awnings may be simply pulled out, which might require a pull rod extension tool.
The good thing about manual RV awnings is that they don't have any electrical or motorized components to worry about breaking. They simply crank out, just like an old-school car window. Of course, the crank itself can still run into problems, and the awning fabric does still require maintenance. We'll go into more detail about how to properly care for and clean your RV awning later in the post.
Electric Motorized RV Awning
Motorized RV awnings take the work out of setting up your outdoor space. All you have to do is push a button, and the awning unfurls itself, ready for you to relax underneath.
Motorized awnings are a fairly new invention, and still a luxury item on many RV models. If you're shopping for a new camper, it may be available as an upgrade at an additional price. However, it's also possible to install an electric awning on an older model camper. You can find motorized RV awnings available at camping stores, and even on Amazon — though they do run several hundred dollars. Furthermore, some assembly will be required, so make sure you feel comfortable with basic tools — or consider hiring professional help!
A motorized awning can be a great investment for frequent campers who don't want to have to deal with the hassle of constantly rolling and unrolling their awning themselves. It's also a good upgrade for elderly or infirm campers, who may have physical limitations.
How to Choose the Perfect RV Awning Size
When it comes to retractable RV awnings, they aren't one size fits all. First, you'll want to measure the length of your RV. It's recommended that your awning cover approximately one-third to one-half of your RV's length. Standard sizes go by meters, including 2 m, 3 m, 4 m, and 5 m.
You'll also want to consider the awning's slant (as they tend to slope downward) and ensure the placement of your desired awning won't block things such as doorways or windows.
If you have an RV awning in place already and are simply looking to replace this with a retractable version, then you can begin by measuring the dimensions of your existing awning. The best way to do this is by measuring the length of the awning's roller tube.
Different Materials for Retractable RV Awnings
There's a lot of variety when it comes to choosing your perfect retractable RV awning, especially when it comes to materials. The most popular types of materials to choose from, include vinyl, acrylic, plastic, and fiberglass. The quality and durability of the materials vary by price and each one will require slightly different cleaning methods.
RV owners can also choose RV retractable awnings in various colors or patterns.
Where to Buy an RV Retractable Awning
If you're considering installing an RV retractable awning from scratch, or simply replacing your existing awning with one, then there are plenty of options available to you. You can purchase retractable awnings for great prices on websites such as Amazon, or by visiting your local RV awnings specialist. Camping World is another popular company providing RV retractable awnings.
RV Window Awnings – Things You Need To Know
Another useful feature for your rig is RV window awnings! They will provide shade to your windows and keep your rig from getting too warm.
RV Window Awnings
Most standard motorhomes come with some type of window awning. Whether you're traveling by Class A or with a fifth wheel, the big side windows prominent in most living areas have some type of window cover and a window awning. These awnings are typically stored at the side of the RV just above the window and either roll or retract for use. Most offer a sleek design that blends with the motorhome's profile when tucked away.
They differ from the large awnings you see along the entire length of the RV in that they aren't typically used for outdoor enjoyment. Instead, these awnings are handy when your motorhome is parked and you're inside enjoying your camper. The awnings will protect the window opening from light and heat, keeping them insulated against temperature fluctuations and glare.
Most window awnings are extended with a pull strap. These pieces are usually the first to break over time, but they are also easily replaced at a low price. Other mounting features might include a bar that pulls down from the side of the RV and then locks into place when the awning is extended.
Protecting your RV Window Awning
There are a few things to keep in mind when protecting your RV's awnings. Consider storing your awnings with a cover. Covers are typically made either of a hard shell plastic, fit perfectly to your particular vehicle, or with a more universal cloth cover. Either way, both are made to protect your actual awning from UV light while not in use. They also work to keep the awnings dry, which prevents mold from growing.
Another way to keep your awnings mold-free is to use a cleaning and protecting spray. There are tons of mold-repellent sprays on the market, but a few are also specially made for awnings and other RV accessories. We recommend a regular treatment to prevent build-up, especially if you're not using your awnings or your RV during certain seasons.
Of course, the most important way to protect your RV window awnings is not to use them while traveling. This might seem obvious, but it's important to roll them away when not in use so they don't snag on something or rip off with the force of your movement. Storage is key!
Caring for and cleaning your awning
Many of the procedures when caring for and cleaning an awning are the same for an RV awning screen room as well. You'll want to understand the different types of fabrics used to make awnings for RVs.
Vinyl and acrylic are the most commonly used fabrics. Acrylic is breathable and allows air to circulate through it. This means that an acrylic awning will dry faster than a vinyl awning. Acrylics are not waterproof but are water-repellant. Do not touch the underside when it's wet, or the water will seep through it. Hose off acrylic fabrics to prevent dirt from embedding itself into the fibers. Do not scrub acrylic.
Vinyl resists mildew growth. Mildew can grow on the dust and dirt that accumulates on it though. Never store vinyl when wet, especially in places with high humidity.
When opening a stored awning, inspect it for mildew or stains.
If mildew has grown on a vinyl awning, commercial cleaners usually remove it just fine.
The cleaning solution should be sprayed on both sides of the fabric, then let it sit for a few minutes so that the solution can work.
Thoroughly rinse both sides.
You may need to scrub stubborn stains.
Do not use a harsh abrasive on your awning fabric.
Always allow the awning to dry completely.
Inspect it for tears and repair any that you find. Check for a lag in the mounting screws, and inspect pivot holes, before putting your awning fabric back in place. Spring tension can result in serious injury, so be careful when working with the awning rail.
Securing your RV awning
RV patio awnings should be set up in such a way that one end is lower than the other. This will let the water run off at the lower end, in case it rains.
Wind gusts can also rip awnings apart, so store the awning in a travel position when not being used. Your awning is more secure when attached to the RV awning brackets on the side of the RV, as opposed to the floor. Take care of your awning to prevent costly repairs.
Wind and your RV awning
RV awnings are considered an accessory by insurance companies and they will probably not pay for any damage.
When your awning is open, secure it with an RV awning saver clamp. This reduces the whipping action that the fabric will be exposed to, due to wind.
The RV awning saver clamp does not guarantee a total reduction in the amount of whipping your awning will experience, but it will prevent it from tearing the RV awning mounting rack.
The RV awning tie-down kit also allows your awning to withstand more wind than usual.
Secure your awning correctly before heading out on the road, to prevent it from ripping in the wind. The ratchet lever should remain as it does when rewinding the awning for storage.
The knob on the side arms should also be tightened in the stow position, to keep the arms from extending while you drive. Clips may also be present, to further lock it down on the framework. RV awning straps also keep the awning down, to prevent tearing while driving.
Quality RV awning fabrics are made from Sunbrella fabric. This acrylic fabric is breathable and recommended for the outdoors. It dries quickly and has a high tolerance for UV rays. The finish on this fabric will fade over time.
RV power awnings extend and retract at the flip of a switch. Mounting a wind sensor on this will retract the awning, as soon as wind speeds exceed those recommended. Do not attach patio lights to an automatic retractable awning, as they would be crushed.
Make a DIY Awning Protector
If you do buy an awning screen room, it will require protection from dirt, debris, and bugs. The clever folks over at Do It Yourself RV came up with a simple, cheap way to make an awning protector out of an empty two-liter bottle of soda.
This cover can even be attached to the rolled-up awning while driving down the road. Simply attach it using a bungee cord or just some rope.
Begin with an empty, clean two-liter soda bottle. Make sure you rinse out any sticky residue, to ensure it doesn't attract bugs.
Use a sharp utility knife to cut the head off the bottle. Cut roughly a quarter of the way down the bottle.
Next, determine how big of a hole you will need at the bottom of the bottle to fit over the awning shaft. The easiest way to do this is by tracing the end of the shaft's hole on the bottom of the bottle. Once you have the correct size, drill a hole through the bottom.
Using your utility knife once more, slice from the top to the bottom hole.
Repeat for the other side and slide each of your DIY awning protectors onto the ends of your RV awning. That's it!
This easy, simple DIY project only takes minutes and could save you the hassle of cleaning and potential damage from dirt. Interested in seeing a video of how to make this awning cover? Head on over to Do It Yourself RV.com.
Awning Lights for RVs
You may want to spruce up your RV awning or awning screen room with some festive lights! Fortunately, you have plenty of choices. String lights come in all shapes, sizes, and colors from LED RV awning lights to RV awning globe lights. Whether you're looking for a sophisticated Edison bulb or a fun string of mini light-up campers, you can probably find what you're looking for online.
RV Awning Light Power
When it comes to awning lights, you'll want to consider whether having them is worth the price. We all know how expensive fuel is and how precious electricity can be at a campsite. When you're working to power a handful of appliances, you'll want to make sure it's not a string of lights that puts you over the edge. That said, LED RV awning lights are much less of a drain on your power supply. They also last much longer than a typical strand of Christmas-style lights with incandescent bulbs.
Many of these LED string lights are super high-tech these days and can even be operated using your smartphone. These string lights can be turned on and off with an app and can even be programmed to change colors or shut off at a certain time. The possibilities are truly endless here.
Awning Lights Power Source
Of course, how you power your lights is also important. You don't want to have millions of extension cords running the length of your RV or getting damaged in bad weather. One solution is to look for lights that come with a small battery pack. These days, that usually means an LED string light. You can also look for weather-resistant outdoor bulbs with power ratings that won't be a massive drain on your supply. However, the easiest way to go these days is likely with LED RV awning lights. A few solar-powered options also exist which might be a good compromise from an eco-friendly perspective.
Awning Light Style
If you like the look of RV awning globe lights, you'll have plenty of options. Of course, there are also novelty lights that can speak to your personality, background, or sports team preference. And if you like a more high-tech look, you might consider LED tube-style lights which look more like lighted ropes instead of individual bulbs. They're easier to hang that way because you can run them in a tighter space and keep them flush with your camper.
Function
Of course, style isn't the only reason to have lighting. If you're looking for something powerful to keep the party going past sunset, there are plenty of strong floodlights for outside your RV. You might also want to consider this type of lighting as a security measure when parked in unfamiliar places. Much like your standard security lighting at home, these bulbs can also come with motion sensors that will trigger when someone walks by.
How you hang these lights is another consideration. Some RV awnings come with built-in hooks for this very purpose. Other lights might be heavier and require more serious hanging hardware.
RV Awning Mats
Another useful RV awning screen room accessory is an RV awning mat! They are useful for keeping dirt and sand out of your rig, and for decorating your campsite as well.
RV Awning Mat Features
Believe it or not, you have a boatload of options to choose from when it comes to this simple product. Awning mats come in various materials and sizes based on your needs.
Perhaps the most common RV mat is the bright green faux grass, much like AstroTurf. These mats are built with absolute function in mind. They spray clean easily and prevent dirt and sand from tracking into your RV. Tough, plastic-based fibers cling to the bottom of your footwear then trap and hold anything that falls off. Many also boast that they are slip-free, meaning you won't lose your footing. And many are UV resistant so they won't fade in the sun.
Another factor to consider is moisture. Many mats are advertised as mildew resistant for folks concerned about rain affecting the lifespan of the mat or causing some nasty build-up. A mildew-resistant mat can prevent moisture damage, and most of these mats are easily cleaned as a result. With just a little soap and water, you can rinse and scrub most of these weather-resistant mats and let them air dry before storing them for the trip home.
Many RV awning mats also come with stakes or tie-downs that fasten the mat into the ground so it doesn't blow away or shift with use. This is a nice function if you plan to double your RV awning mat as a beach or picnic blanket.
The best RV awning mats are lightweight, easy to store, and easy to set up. It's best if the mat you choose is thin enough to fold and store in a small space instead of a heavier option that might need to be rolled for storage. In other words, shopping for a mat specifically made for RVs is important.
How to Choose an RV Awning Mat
Ultimately, the choice for your RV awning mat depends on your needs. If you're prioritizing function, you might shop for a mildew-resistant model that cleans easily. If you just need something cheap and easy to use for a quick weekend trip, you might be comfortable with a less expensive option. And if you're looking to express your personality, you might just search for mats with fun patterns, bright colors, or the logo for your favorite sports team.
There you have it – our guide to RV awning screen rooms and all their accessories! We hope that this information will now help you to make the best decision.
This post may contain affiliate links.