RV Parts & Accessories
September 9th, 2019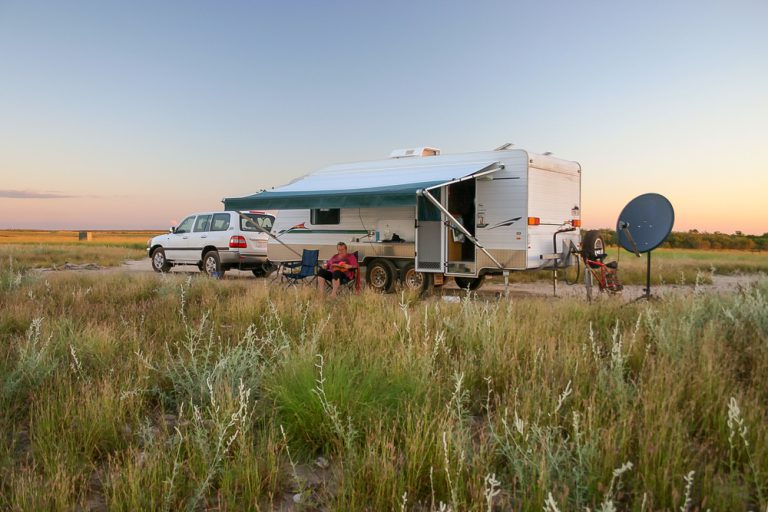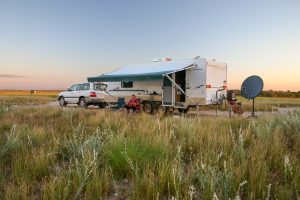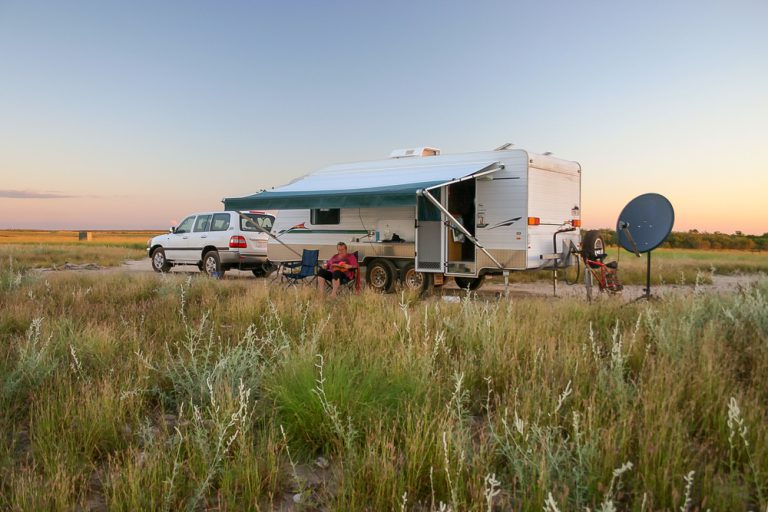 The best part about camping is being outside, right?
Right… but let's face it, there are some parts of being outside that could be improved. Namely, sitting under the killer heat and light of the sun can make an otherwise fun patio experience into a broiling mess.
Fortunately, most RVs are equipped with trailer awnings or an RV canopy, which can help transform your outdoor seating area from a crucible into a cozy place to kick up your feet. That is, of course, so long as your RV's awning is well-maintained and taken care of.
Although awnings are generally low maintenance, every once in a while you'll need to perform a routine cleaning or make a replacement that'll keep it in tip-top shape. You can even add fun and functional RV awning accessories to help light up your campsite and make your outdoor seating space that much more inviting and honey.
This post covers the high-quality RV awning parts and accessories that will help keep your canopy — and you — made in the shade. Ready for a prettier, perkier patio? Read on!
Camper Awning Lights
While they may not be critical for the operation of your RV awning, lights make everything, well, brighter. Here are our favorite ways to light up your own RV patio.
1. Awning Rope Light Track
We all love the look of awnings adorned with pretty rope lights… but let's be frank. How do you attach them?
Well, with this handy awning rope light track, it's not an issue. It converts the existing utility track on your awning into the perfect place to stick some weatherproof rope lights, no winding or binding required.
This track will hold either 3/8- or 1/2-inch lights, and trust us when we say it's way easier than wrapping them around your awnings' arms. Plus, it's easy to remove then put up again if you're moving frequently!
2. Solar Powered LED Rope Lights
If you're like most campers, you value living lightly on the land… and occasionally want to camp away from the hustle and bustle of cities, where most spots with shore power are situated. But that doesn't mean you don't want to enjoy an inviting, awning-covered RV patio!
If that sounds like your situation, consider solar-powered string lights, a fun, safe, and powerful way to add a little bit of levity to your campsite. After a full day's charge, they should light up your campsite for up to twelve hours… which can be immensely helpful if you're out in the woods with nothing but the stars to guide you.
RV Awning Accessories
Here are some more RV awning accessories that can be total patio game-changers.
3. Camco Awning "De-Flapper"
As fun as this product's name is to say, the thing it's fixing is no fun to go through — and if you've ever had an RV awning flapping around in the wind, you know what we mean. Not only is it annoying, but it's dangerous… and it's all too easy to lose your awning entirely if it's not secure.
If you've got issues with your awning flapping around, we highly recommend investing in Camco's awning "de-flapper," whose universal fit should work no matter what make, model, or size awning you're securing. Choose from an entire de-flapper kit or just the replacement straps; either way, you won't spend more than $10, which is an incredible deal for helping ensure the safety of one of your rig's most expensive accessories!
4. Awning Sun Shade
Yes, your awning does a good job of protecting you from the sun on its own… at high noon, when it's directly overhead. but if you've ever been sitting on your patio wishing the sun would stop its slow adventure across the sky, when its rays can peek annoyingly underneath the cover of your awning, you may want to consider investing in an awning sun shade, which adds an additional layer of protection between you and that boiling ball in the sky.
The way it works is pretty simple. The sun shade attaches to your main awning to provide a sort of front wall effect, providing both physical shade as well as UV protection to skin and eyes. Because it's made of mesh screenwork, it's still possible to enjoy the view from your campsite through the sun shade, and meanwhile, you'll be more inclined to do so since it's both darker and cooler.
The sun shade is easy to install, coming complete with three sets of plastic stakes and bungees. You can choose between black, brown, and a fun blue option — after all, coordination still counts when you're camping!
That said, be sure to measure your awning per the specifications, as the shades come in a variety of different sizes to fit different sized rigs.
5. Awning Side Shade
A front shade already offers a lot of extra protection — but if you really want to upgrade your patio game, you can invest in side shades, too. You'll have a totally screened porch in no time, and for way less money, time, and effort than you'd spend to erect one outside of your home!
Along with providing additional shade and cooling down the patio temperature, awning side shades can also help reduce the wind flowing through your outdoor seating area, whether you use them with or without a front awning shade. They're a great investment for any camper whose rig has an awning — and again, come in multiple colors!
6. RV Awning Cover
Protect your RV awning like the investment it is with an affordable, durable RV awning cover, which can keep your canopy safe from weather, debris, and more. This kid fits awnings from 16 to 20 feet long and a diameter of 3.65 to 4.75 inches — which is essentially every main RV patio awning on the market, both electric and manual.
RV Awning Parts
Sometimes, you've just gotta fix something. (In fact, RVers know it's more than sometimes — it happens pretty dang frequently!)
Here are some common parts that RVers may find themselves in need of.
7. Dometic A&E Awning Lift Handle
If your RV or pop-up camper carries a Dometic awning, specifically A & E models 8500 or 9000, this is the replacement handle you'll need if you run into trouble with yours. It helps you put up these manual operation awnings in comfort and style, thanks to its ergonomic, vinyl-covered grip, and it's reliable thanks to its rust- and corrosion-resistant paint finish.
8. Dometic Knob Adjuster
Adjuster knobs are common problem parts on awnings — they're just so dang finicky and small and easily broken. If you need to replace one on your Dometic awning, this 1 and 7/8-inch-diameter knob might be exactly what you're looking for.
9. Dometic Awning Main Rafter Assembly
If you have a catastrophic problem with your existing awning or want to install a new one where there wasn't one before, Dometic's main rafter assembly can help you get where you're going. This is the 66-inch model in polar white, and includes the main rafters as well as the top bracket, travel latch, and five-point awning knob.
10. RV Vinyl Awning Replacement Fabric
It's no fun, but we've all been there: you leave camp for a few minutes expecting everything to be fine, and in your absence, there's a crazy, unexpected storm. You come home to find things mostly unharmed (thank goodness), but the same can't be said for your RV awning, which you'd left extended thinking everything was going to be okay for a while.
Fortunately, it is possible to replace your actual RV awning fabric, whether it's your main awning or your RV slide-out awning that was affected. This 16-foot slate blue fade fabric fits Carefree, A&E, and Lippert awnings, and with its 13-ounce, 3-ply construction, it's the heaviest-duty awning fabric available on the market.
Shade Pro added Welded Weatherguard to their product to ensure its durability even more, but if you do run into problems again, at least you have a failsafe: the company offers a three-year limited warranty on parts and freight, and makes the project an easy one with do-it-yourself instructions and a replacement pull strap.
We hope this post will help keep you made in the shade — which is a way better camping experience, even for the most ardent sun-worshipper. Enjoy, campers!
For more tips and tricks for your next RV trip, check out these articles:
*This post contains affiliate links. RVshare may receive compensation if you make a purchase after clicking on a product link.