Awning
September 10th, 2019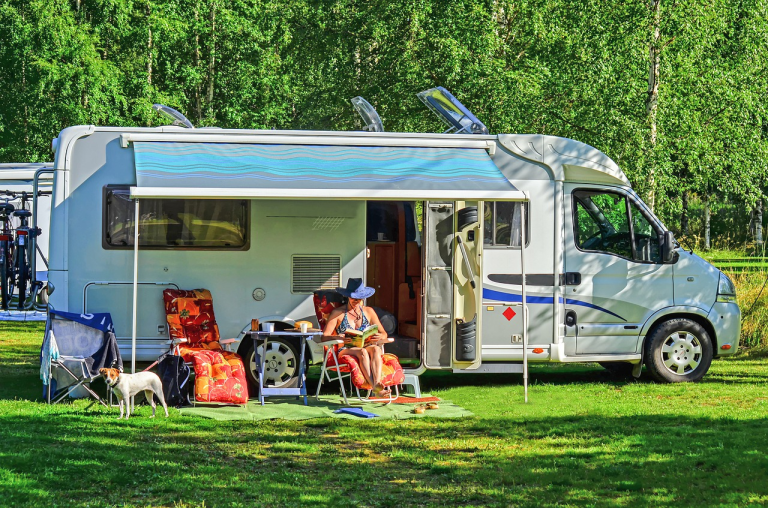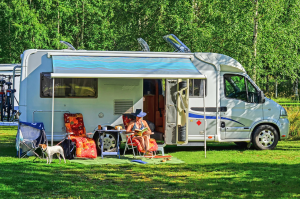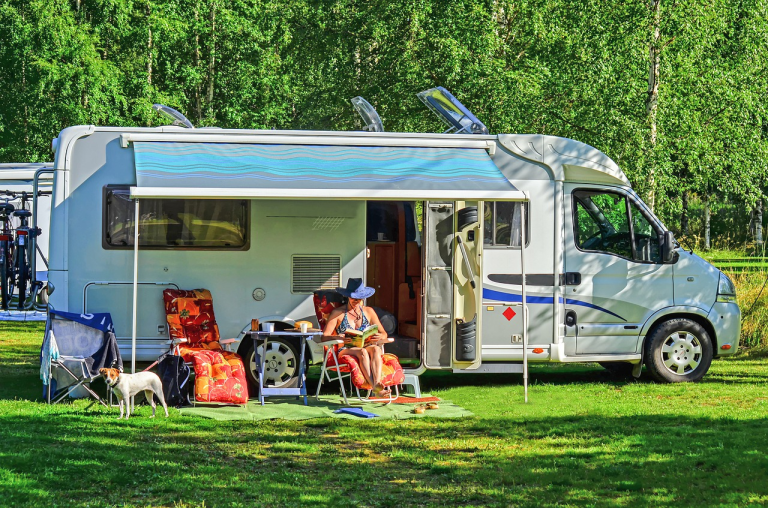 Most modern RVs come with an awning already fitted, but what happens if your model is without? Or perhaps your existing RV awning is damaged and requires replacement? No matter what the issue, we're here to help, as this article will explain everything you need to know about RV awning parts – including what's needed, where to buy them, and more. Let's get started!
Do You Need an RV Awning?
Firstly, let's look at the important advantages that an awning for your RV has to offer. Not only are awnings perfect for sheltering you and your family from elements such as rain and wind, but they're also vital for keeping those harsh UV rays from your skin. Additionally, when an awning is used to support an awning screen room, it adds additional space onto your RV that you and your fellow travelers can enjoy.
RV awnings are quite simple to install, plus they come in a wide range of styles, colors, and patterns to help separate your RV from the rest. When looked after correctly, an RV awning should be expected to last for years to come.
Awning Parts for Your RV
Now that we've covered the benefits of an awning, it's time to delve into its structure. An RV awning might look simple, but it's far from it. There are numerous bits and pieces involved in keeping your awning not only upright, but working smoothly. Here are the most common RV awning parts and accessories:
Awning rafter
Rope clips
Anti-flap kit
Mounting bracket
Awning rafter pole
Travel straps
Pole carrier
Tent / support pole
Roller tube
Fabric
RV Awning Parts Diagram
Ever wondered where each part goes? The following diagram provides a good overview of an RV awning setup.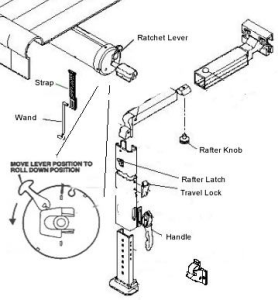 Where to Buy RV Awning Replacement Parts
Did an RV awning part break or is it simply suffering from wear and tear? Thankfully, there's plenty of places that you can purchase RV awning replacement parts from, including both online or in-store.
A quick Google search is sure to bring up any bricks-and-mortar stores in your local area specializing in RV parts and accessories. Alternatively, you can check out online retailers such as Camping World, Dyers Online, RV Parts Country, and more.
For brand-new or used RV awning parts, we recommend scouting around sites such as eBay, Craigslist, or Amazon. These sites have some great deals that many other retailers just can't beat (like this Carefree White Pioneer Crank-Out Upgrade Kit for under $75).
There you have it – everything you need to know about RV awning parts! When installed and looked after properly, an awning is a worthwhile investment for your RV.
This post may contain affiliate links.