Travel Inspiration
Last updated on January 12th, 2023. Originally published on December 27th, 2018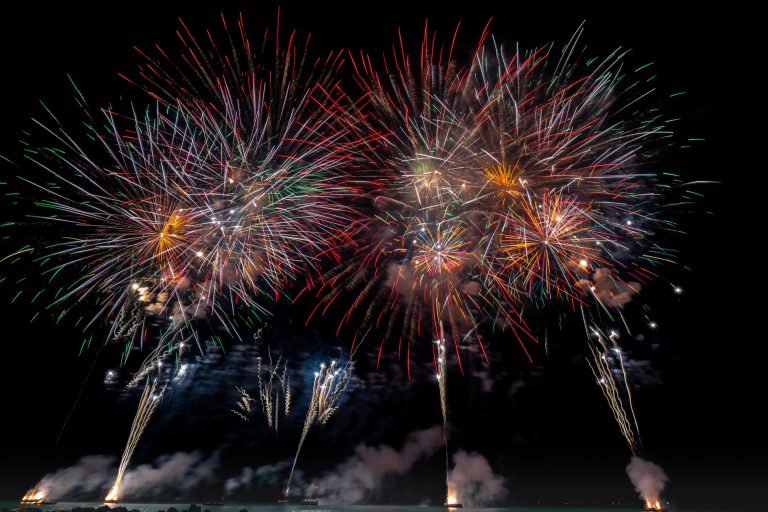 While the big guys like Christmas and Halloween might eclipse it for many, we contend that New Year's is actually one of the best holidays of the year. It's a chance to make a fresh, new start, bringing along a whole new calendar of blank pages ready to be filled in with adventures.
But when it comes to celebrating the big night, what makes for the best New Year's Eve party will vary a lot depending on your circumstances. Some people want to ring in the new year with a big, boozy bash, while others are after a quieter experience — or one that's more suitable for children.
No matter what you want to do on New Year's Eve, though, there are a huge number of events to choose from across the country, many of which offer family-friendly, daytime activities that'll have you safely home before the madness starts. And for those of you who are looking to get a little wild in anticipation of 2019, don't worry. We've definitely got those events covered on this list, too!
Here are some New Year's events and activities that are totally worth traveling for.
Best Things to Do on New Year's Eve
"Um, drink champagne and watch the ball drop," some of you might be thinking. After all, that's how many Americans will ring in 2019 this year.
But if you're looking for some new things to do on New Year's Eve, we've got you covered. (Besides, the big show just hasn't been the same since Dick Clark died back in 2012.)
No matter where in the country you go, there's bound to be some festivities going on to help count down to the start of the new year. But certain cities really pull out all the stops when it comes to waving goodbye to the last twelve months and getting started on the next. And if you've never considered it before, trust us: a New Year's Eve road trip can be a really amazing way to experience this holiday like you never have before. How better to get in the spirit of renewal and discovery than to celebrate New Year's in a destination you've never been to before?
Below, we've listed some of the best places to celebrate New Year's Eve across the U.S., from the big-time bash in New York to slightly smaller celebrations in cities like Atlanta. We've also made a host of suggestions for tayloring your New Year's experience to your specific needs, whether you'll be celebrating with a big, happy family or sneaking off with your honey for a romantic getaway.
Top New Year's Eve Events
Looking for some of the best New Year's Eve parties, events, and celebrations in the world?
Luckily, you're in the right country — America knows how to send off an old year (and ring in a new one) right. Here are the best places to go for New Year's, from sea to shining sea.
America's Party — Las Vegas, Nevada
With fireworks set to music and fired from the rooftops of not one or two, but seven of Vegas's iconic hotels, there's no surprise they call this shindig America's Party. And before you hunker down on the strip to watch the show, don't miss a stop at the Fremont Street Experience. It's always a good time, but for New Year's Eve, they're putting on a bash of epic proportions, with four stages, 12 bands, and "roaming entertainers" to ensure you're having a good time. Plus, the mayor and her husband will be in attendance!
Click here to see RVshare rentals near Las Vegas, Nevada.
Bayfront Park's New Year's Eve — Miami, Florida
When an event advertises itself as the "largest dance party in Miami," you know it's no joke. After all, The Magic City is one of the hoppin'est places in the USA.
Along with a world-class slate of DJs and danceable entertainment, this event stays true to its Florida roots with a midnight countdown featuring not a glowing ball, but a giant orange. (What else?)
Best of all, this super-heated New Year's Eve festival features absolutely free admission. Of course, chances are you'll spend some money on a drink or three, not to mention parking. It's Miami!
Click here to see RVshare rentals near Miami.
First Night — Boston, Massachusetts
Looking for something that moves beyond the standard drinking-and-dancing fare for New Year's this year? Boston's First Night might be just the ticket.
Although many still use it as an excuse to get wild, First Night also features a wide range of family-friendly fun, like ice sculptures, light displays, and puppet show theaters. It's more like a one-day art festival that also happens to fall on the last day (and first night) of the year.
Even cooler: all of the events and features are fully funded by donations from the surrounding communities, which means you can partake in the excitement totally free of charge. And once it's officially 2019, you'll wake up and find yourself in one of the coolest, most historically relevant cities in America, ready to take on even more exploring!
Click here to see RVshare rentals near Boston, Massachusetts.
New Year's Eve at Times Square — New York, New York
This is the big one. And as someone who's actually been there for the ball drop, I will tell you: It's worth it, but only once.
Celebrating New Year's Eve at Times Square is an iconic experience, but it's definitely a trying one. Many of the people you see happily kissing and cavorting in the sub-freezing temperatures at midnight have been waiting there since noon or even earlier in order to get the best spot possible. One way to avoid that scenario: get a fancy-dancy hotel room right on the square, where they cordon off a standing section specifically for guests. But don't expect those rooms to come cheaply… and at this point, you might be more likely to get a reservation for next year's event.
Our suggestion? Take an RV to the city (or just outside of it), and enjoy the hustle and bustle during the daytime hours. Skate on the rink at Rockefeller Center and do some Christmas shopping at Macy's or Saks… and then skedaddle out of there before things get really hectic. There's an RV park right across the river in Jersey City, which will allow you to get in and out of Manhattan with a short and simple boat or train ride. Then, you can watch the ball drop from the comfort of your RV's couch, probably close enough to hear the crowd cheer when midnight finally approaches.
Click here to see RVshare rentals near New York City.
Peach Drop, Atlanta, Georgia
Every year, revelers gather at the historic Underground Atlanta to watch the southern equivalent of the Times Square bash: the slow descent of an 800-pound, 8-foot-diameter peach. As is the case in New Year's Eve celebrations elsewhere in the country, the countdown is accompanied by a stunning display of fireworks as well as live entertainment and fun, all of which is broadcast and streamed directly from the heart of the ATL.
After the festivities are over (or before they begin), take advantage of all the other fun to-dos in this southern city, like palming the glass at the world-famous Georgia Aquarium or taking a tour through the World of Coca-Cola — this is, after all, the soda's birthplace. Atlanta's Botanical Garden is also top-notch, and outfitted in an array of holiday lights this time of year. And just a hop, skip, and jump outside the city, you'll find yourself in some beautiful, eminently hikable wildernesses. (The author highly recommends a trip to Sweetwater Creek.)
Click here to see RVshare rentals near Atlanta, Georgia.
Waikiki Beach New Year's Eve Bash — Oahu, Hawaii
If you're looking for somewhere nice and warm to ring in 2019, it's hard to beat Hawaii — and as far as fireworks, entertainment, and fine dining are concerned, it's hard to do better than the island of Oahu.
Home to both the state's capital city of Honolulu and the world-famous Waikiki Beach, Oahu is the perfect spot to celebrate the new year with a literal bang. Each year, a large display of pyrotechnics are lit from a large barge right off the beach, starting at five minutes before midnight with one firework going off every minute. Then, when the big moment arrives, they pull out all the stops and set off a whole bevy at once. The display is timed with music, and better yet, attendance is free and open to the public.
Many of the resorts and hotels along the nation's most famous slice of paradise have celebrations of their own, as well, so be sure to check with whomever you're using for accommodations. And while you certainly won't be driving an RV to Hawaii from the mainland, that doesn't mean it's impossible to enjoy a Hawaiian New Year's Eve from the comfort of your camper! There are a wide array of both public and private campgrounds on Oahu, and you can easily fly in and rent your rig upon arrival.
Click here to see RVshare rentals on the island of Oahu, Hawaii.
New Year's Eve Events for Families
When you're traveling with kids, traditional New Year's party ideas don't always translate. After all, midnight is likely way past Junior's bedtime… and besides, the go-to adult activities (i.e., mostly drinking Champagne and eating hors-d'oeuvres) don't really apply.
But there are lots of fun New Year's Eve activities that are totally family appropriate, especially if you're traveling by camper.
Go for a hike.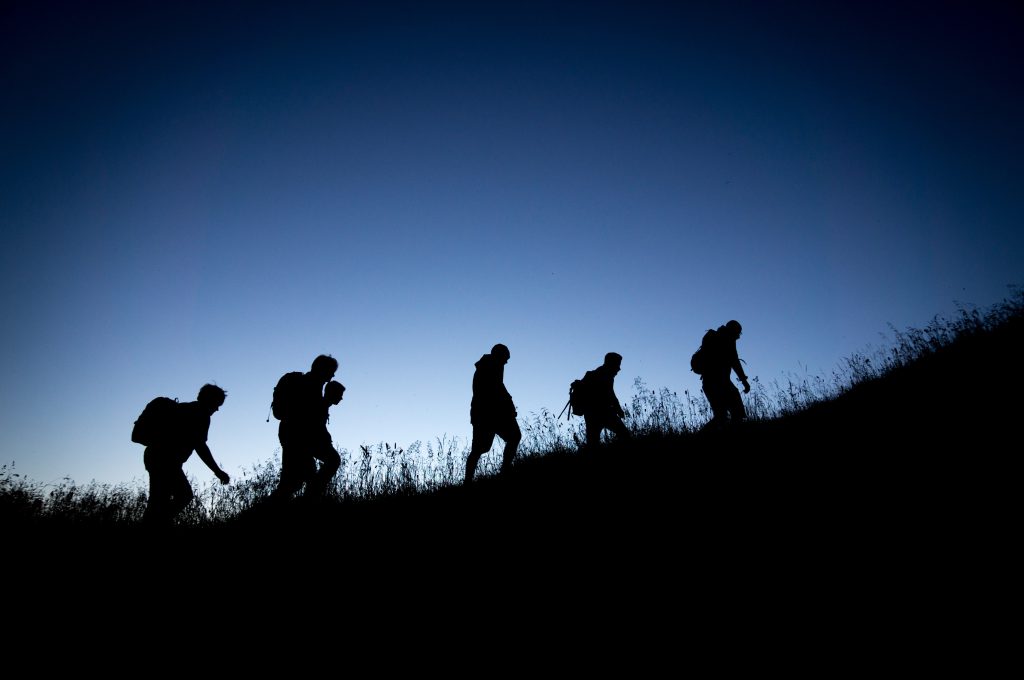 No matter where you're headed for the holidays, when you're in an RV, outdoor fun isn't far behind — so take advantage of the chance to get out and see the world on foot with your family. There are few ways to more effectively get your kids away from their ubiquitous screens for a while than to take them out in the woods where there's no signal. (And to be honest, mom and dad could probably use a little bit of digital detoxing, too.)
In a super-urban setting for New Year's? Check out the local botanical garden or arboretum. Bonus: if you're in a cold place, these public gardens will likely be heated in some capacity, which might be more inviting than hoofing it through the cold.
Talk about your goals for next year.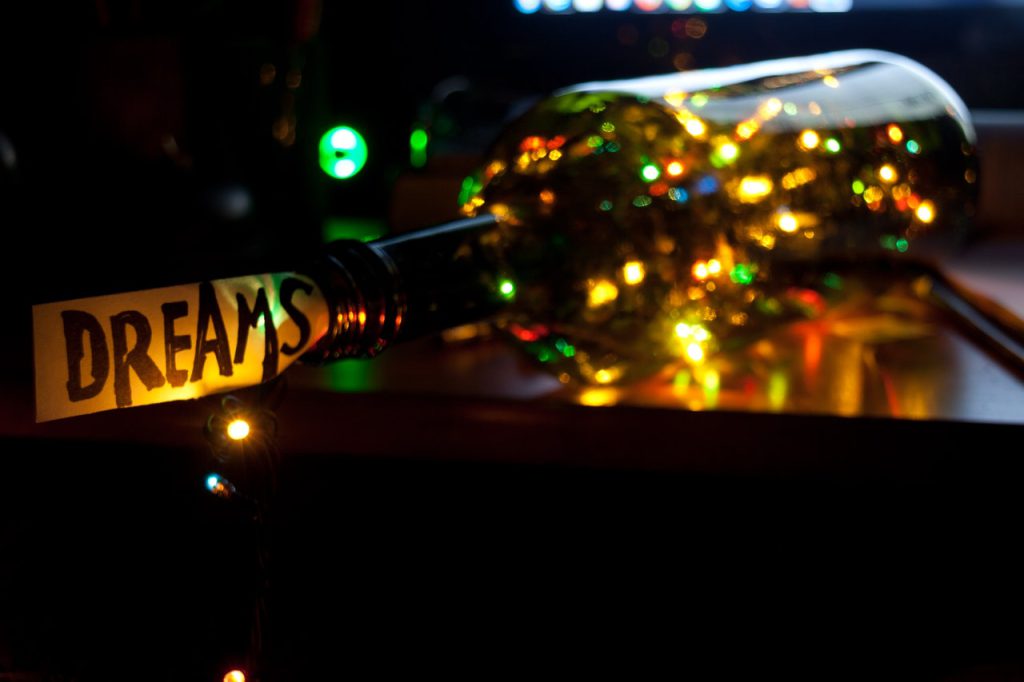 New Year's is basically synonymous with "resolutions." That brand-new-fresh calendar turn makes all your goals feel possible, from getting fit to learning a new skill.
So why not cement those intentions by talking about them with your family? You can have everybody go around the table and explain what their number one goal for the new year is — and also reflect on something they accomplished or are grateful for from 2018. Then, you can help each other achieve those dreams together by offering encouragement and holding one another accountable. No matter what your objectives are, it's a whole lot more possible to reach them when you have a supportive community behind you. Who better to form that community than your family?
Go to a theme park.
Looking for a New Year party that's still rambunctious, but totally family-friendly?
You might try looking into the plethora of events thrown by the nation's theme parks, from Disneyland in California to Universal Studios in Florida. Even much smaller, local parks often create some special magic to celebrate the holidays, adding extended hours, fireworks displays, and heaps of festive decorations to their regular bill of fun.
For example, at Walt Disney World Resort in Orlando, many of the parks participate in a souped-up calendar of revelry, including live music and dance-worthy DJs fit for both adults and kids. And, of course, fireworks are a nightly occurrence at this famous family destination, so you can guarantee they're going to have an unparalleled show on the big night.
Take advantage of a cool campground's planned activities.
Can't make it all the way out to a theme park? Well, if you head to the right RV park, you might have just as much fun — at only a fraction of the travel time and cost.
If you've been reading the RVshare blog for any length of time, you likely know that Jellystone Parks are one of our favorite franchises. They're all-inclusive RV resorts owned by families who really know how to create a wholesome, fun environment fit for the entire family — and that includes hosting amazing New Year's Eve entertainment and events!
As they do for so many other holidays, many Jellystone Parks host exciting, dynamic activities to ring in the new year, from midnight countdowns to trivia games to test how closely you were paying attention to the year we're waving goodbye to. At the North Texas Jellystone resort, they've also got family charades, paintball countdown targets, a wishing tree, and hay rides.
And once the big night is over, there's still big fun to be had no matter which Jellystone Resort you're at. With jumping pillows, splash zones, gem mines, and all sorts of other stuff to get into, one thing's for sure: everyone sleeps well after a Jellystone day!
With over 80 locations across the U.S. and Canada, there's bound to be a Jellystone Park near your favorite destination. Click here to look for one near you!
New Year's Eve Ideas for Couples
Looking forward to little more than sharing that sweet kiss right at the stroke of midnight? If you're planning on spending New Year's Eve with no one but your honey, here are our best suggestions.
Hide away in a secret destination.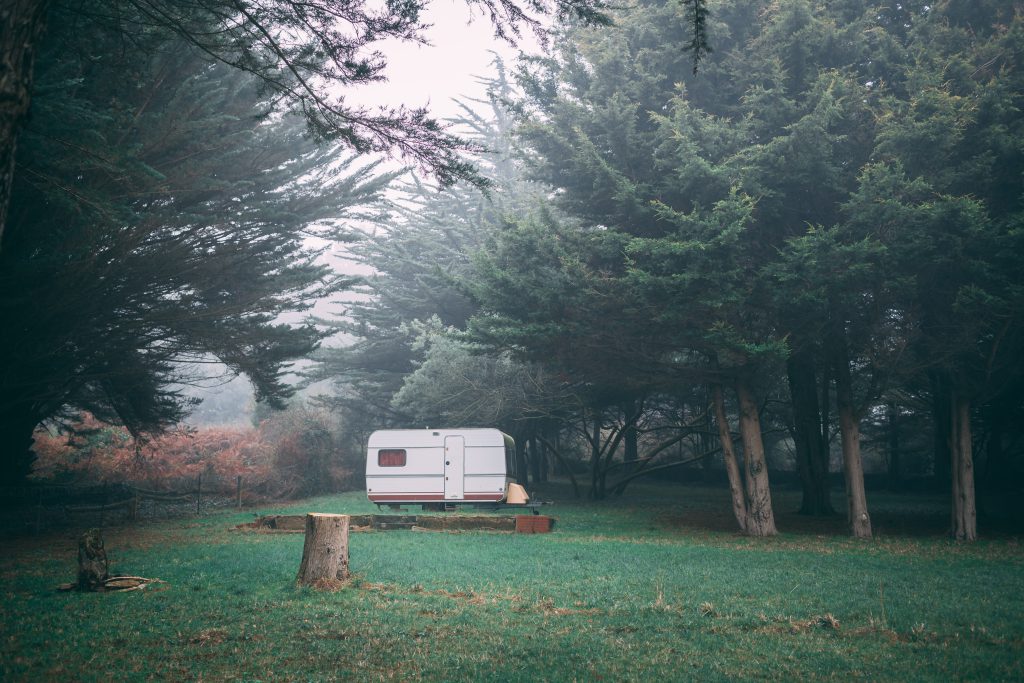 Imagine this. You drive down a beautiful, tree-lined highway, noticing fewer and fewer cars in the other lane as you get further away from the hubbub of the world. You finally arrive at your off-grid destination, an untouched stretch of wilderness facing a mountain or a stream or field of flowers — and nobody around but you, your sweetie, and maybe some birds to set the mood music.
Make no mistake about it, it's hard to beat boondocking when it comes to romance. Finding the perfect spot together already feels like a fun and intimate game, and then you get to set up camp in a place where you can't see or hear your nearest neighbors. You'll reconnect with both nature and each other, without any of the constant distractions of modern technology that can keep you from each other in the "real world."
If you can bear to skip the big parties, we highly suggest getting away from it all by trying out boondocking. Below, check out some related content, which will help you get off-grid as smoothly and easily as possible. (That way, you won't have anything to worry about, and you'll be able to train all of your attention on each other.)
Enjoy one of the events above… but take a respite before midnight.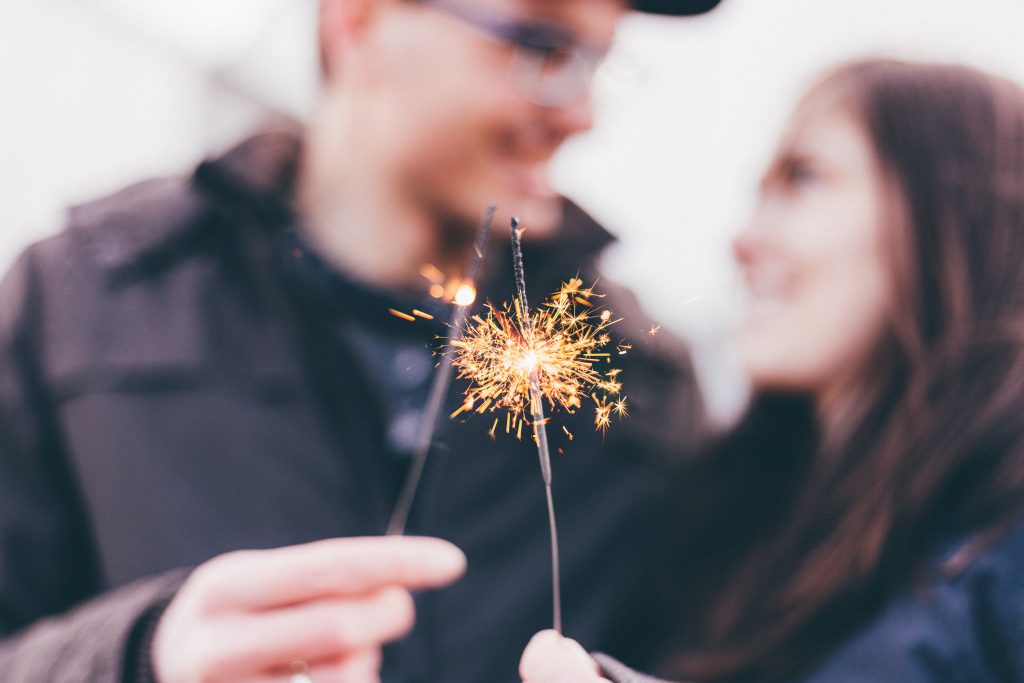 We get it. When you're young and in love, it can feel pretty amazing to get lost in a crowd together, pressed amongst a crush of bodies, sipping something that makes you feel a little woozy and laughing with your sweetheart.
But in our experience, it's just as satisfying to escape the crowd and retreat to your home away from home together. An RV makes that process super simple, giving you a go-to spot to return to once the excitement of all that hullabaloo has turned fatiguing and stressful.
See the fireworks from a ship or helicopter.
Cuddling together under the bright booms of fireworks is already romantic enough. Why not double down by enjoying them from an even more thrilling seat — say, one on the water or high up in the air?
Many of the New Year's Eve celebrations listed above (and a whole host of others around the country) are serviced by tour guides and companies that'll get you a whole different level of front-row fireworks seating. For example, in Las Vegas, aerial tours of the spectacle are popular, probably not least because they come with a fancy-pants limousine pickup. And given that almost every coastal (and even lakeside) city launches their displays from the water, it's not hard to find a New Year's Eve destination that offers the opportunity to see the fireworks by boat.
New Year's Eve Events Near Me
Looking for NYE events, but none of the destinations above in the cards for this year? No sweat. In such a great, big, beautiful country, there's no shortage of great places to go on New Year's Eve… even if you don't leave your hometown.
To find local New Years Eve parties and events near you, run a quick Google search with your zip code or find a local community bulletin and see what's available. From lavish prix-fixe dinners to live entertainment and music, chances are there's something exciting to get into without going very far at all. Honestly, even staying at home in your very own backyard (or bedroom) can be a fun New Year's experience, so long as you have the right company by your side. The holidays are so much less about how you celebrate, and so much more about who you're celebrating them alongside!
Celebrate NYE in an RV!
Whether it's to help you get to a far-off destination or simply a place to lay your head after a day filled with celebration and fun, celebrating New Year's Eve in an RV gives you the perfect balance of privacy and readiness for adventure. You'll be able to take your home on wheels right to the heart of the action, no matter where you go, but you'll also have the benefit of your very own bed, bathroom, kitchen, and space to retreat to once you're done dealing with the New Year's craziness.
If you've never traveled by RV before, or even if you've already rented a few times, renting through the peer-to-peer market here at RVshare (as opposed to patronizing a large, nationwide franchise) is a surefire way to upgrade your camping experience. The RVs you'll find listed are actually lived in and loved by real people, and they're usually offered at much lower prices than you'd find with the big guys. After all, regular people like you and I don't have to worry about footing expensive overhead business costs, like keeping the lights on in a huge dealership environment.
What's more, your rental transaction is totally safe and secure, with all financial and personal information being processed through our easy-to-use platform. You'll also have access to informative user reviews before you ever commit to your rental decision, which means you'll know what you're getting into before parting with a single dime.
Aside from safety and convenience, renting from RVshare also helps adventurers rest assured that their trip will go smoothly, even if unexpected circumstances arise. With comprehensive, A-rated insurance coverage on every rental period, you'll truly be ready for anything the road throws at you — although, of course, with our expert guidance and support, chances are everything will be silky-smooth the whole way along.
Finally, we have to mention our very favorite part about the peer-to-peer market — the intimate, personal nature of the transactions (and the stellar vehicles new campers get to use and experience). At a large dealership, you're pretty much stuck with factory-floor Class A and Class C rigs, but when you're renting from a private owner, the sky's the limit — you might get to camp in a teardrop trailer, sleeper van, or even a converted bus. Just take a look and see what kinds of vehicles are listed around you!
And when you go to pick up your keys, you'll be greeted by an adventuresome traveler just like you — who likely has lots of tips, tricks, and vacation ideas you just can't get any other way. In fact, many RVshare owners and renters report creating lifelong friendships through their rental interactions. In short, when you rent through RVshare, you're not just a customer. You're part of a community. And we can't think of any better way to explore the world than that.
Speaking of which… are you ready to plan your 2019 adventures? Here are some helpful RVshare articles that'll make it simple to get started, even if you're brand new to motorhomes and travel trailers.
Happy new year, everybody! May all your hopes and dreams for 2019 come true — and more.
This post may contain affiliate links.