How Tos & Tips
Last updated on January 12th, 2023. Originally published on November 7th, 2018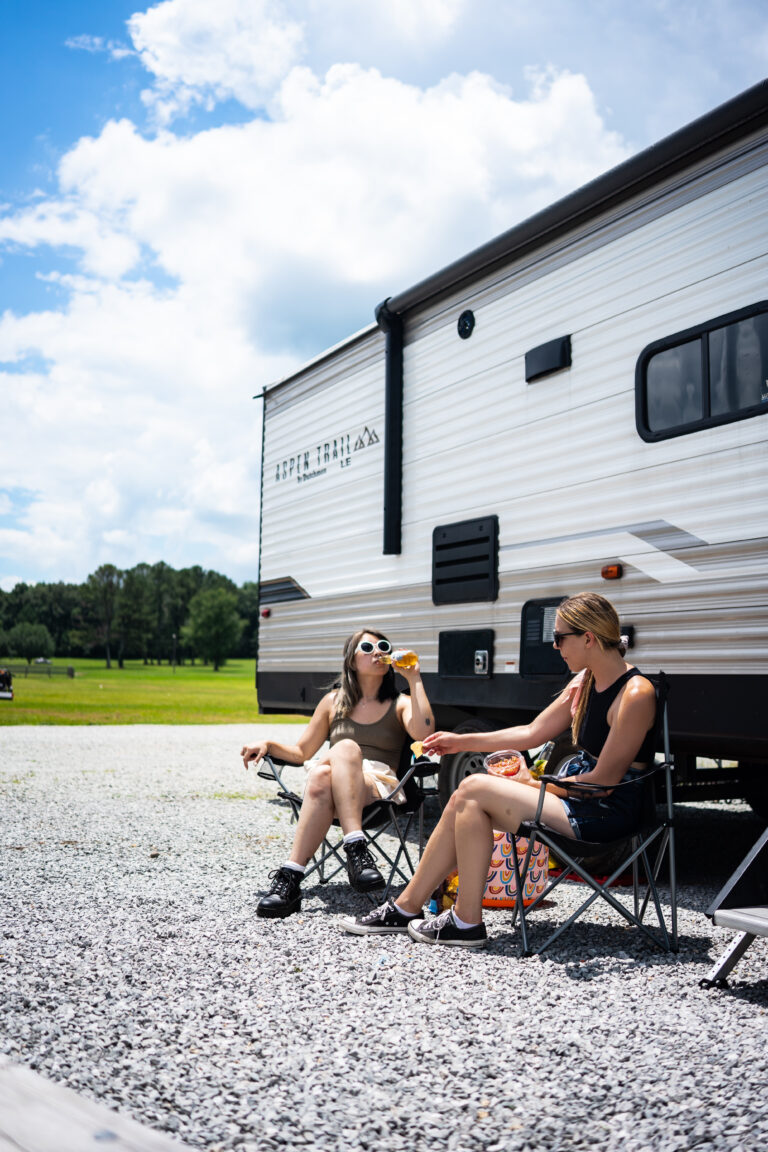 You made your reservation at the campground months ago. You watched endless instructional videos about how to maneuver your RV down the highway and correctly back it into a parking space. You've finally made it to your campsite. It's time for RV setup — now what?
Setting up an RV isn't difficult, but if you're new to the world of RV campgrounds, it can all seem a bit intimidating at first. Don't panic — we're here to help! In this guide, we'll walk you through everything you need to know about how to set up an RV before your first trip.
Before you go RV Camping
Before we get into the RV setup process, we actually need to back up a little bit, since choosing the right campground is key to having a successful trip. These days, many RV parks are like miniature cities, with general stores, restaurants, horseback riding, resort-style pools, and more. Depending on your style, this may or may not suit your travel needs. If you're traveling with young kids, having amenities such as laundry or mini golf might appeal to you. On the other hand, if you're traveling alone or as a couple and looking for an experience that involves more solitude in nature, you might prefer a campsite with less frills.
Before you leave for vacation, be sure to read online reviews so you can learn more about the campsites in your desired travel destination. It may seem obvious, but you can really learn a lot about a place simply by reading about other people's experiences. Don't forget to look at the photos to see what your fellow travelers are posting!
Finding the best RV sites
Next, you'll want to be sure you're picking an RV campground with the right kind of campsites for your needs. In general, staying at a campground with full hookup sites is the easiest, most convenient way to camp in an RV. Hookups give you access to water, sewer, and electricity at your campsite. This is vital to maintaining the home-like feel of staying in an RV, since you'll want to be able to use your kitchen sink, keep the lights on, and flush the toilet.
Keep in mind that some campsites, including many in national parks, only have hookups for water and electricity. For a short-term trip, this is fine — all it means is that at the end of your stay, you'll need to find a dump station to clean out your RV holding tanks, which is where your wastewater ends up. No matter which type of campsite you'll be staying at, knowing that information before you arrive is the key to having a stress-free RV setup.
Getting connected to the RV hookups
Once you've arrived at your chosen campsite, it's time to connect to your RV hookups. Electrical hookups are the easiest to connect to — simply plug in your RV's power cord into the corresponding outlet at your campsite. For water hookups, you'll want to connect your fresh water hose into the campsite's water source. Finally, for the sewer connection, you'll follow a similar process. Locate your sewer hose and attach it to the sewer drain at your campsite. (If your campsite doesn't have a sewer hookup, you can skip this part.)
For more details on the ins and outs of RV hookups, check out our guide here.
RVing for beginners
Now for the fun stuff — the camping setup! Many RVers say that setting up their campsites is one of the most enjoyable parts of a trip. This is your chance to make your motorhome setup as cozy as possible, so take advantage!
If you have an RV awning, snap it into place so you can have a shady area and protect yourself from any unexpected rainstorms. If you're so inclined, you can also set up an indoor/outdoor rug outside your front door to make the area feel more inviting. This is where you'll want to set up any outdoor chairs or table, or a portable camping grill if you plan to do any grilling.
Bistro lights are another way to make your RV setup seem more like home. Add some music from a portable speaker and you're ready to have a great night in!
This post may contain affiliate links.