How Tos & Tips
April 10th, 2018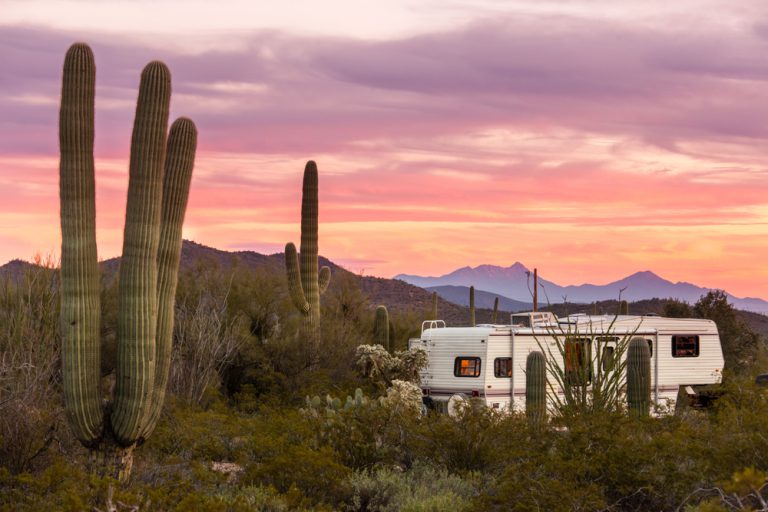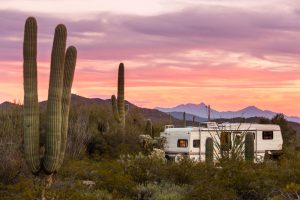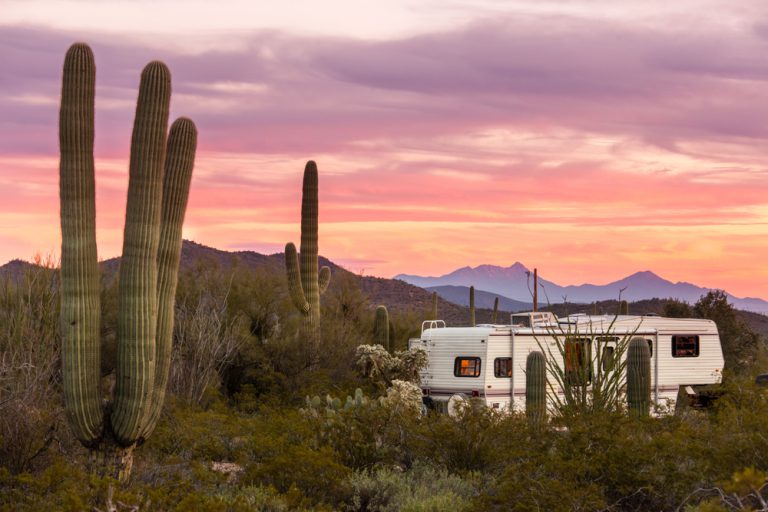 RV camping means home sweet home is anywhere you park it. But no matter where that might be, it takes a little bit of planning and preparation to make sure of the "sweet" part!
(Psst: Want a quick and easy way to save a ton of cash on your next camping trip? Check out Passport America — it's the only discount camping club that gets you 50% off your campsite accommodation fees at almost 1900 campgrounds across the country. Plus, it costs less than $50 for a full year's membership, so you're guaranteed to get your money's worth and then some!)
Just a few items — like cozy outdoor camp chairs or a quality ground cover — and savvy organizational tips can take your campsite from so-so to snug. And whether you're just about to head out on your first-ever trip or are simply looking for a new approach to your traditional camping setup, we've got the tips and tricks to help you feel right at home on the road.
Here are some of our best camping ideas and hacks to make your best campsite the best one ever.
Campsite Setup Ideas
When you're traveling in an RV, it's all about getting outside. Sure, it's nice to have a cozy bed and couch to retire to after a long day of hiking and exploring… but wouldn't you rather enjoy the fresh air and cool breeze?
That's why one of our top tips for creating an extra-special campsite is to take advantage of your outdoor space by providing comfortable camping furniture and amenities.
The family will be a lot more likely to peel themselves off their laptops and head out into the open air if there's cozy seating available, and cold drinks don't hurt, either. Check out these comfortable folding camp chairs, which are easy to store and come in a broad range of colors, and don't forget to pack a decently-sized cooler. Who wants to have to go inside every time you need a new can of Coke?
An outdoor ground cover or mat can also be a huge upgrade if you're spending lots of time under your awning, since it'll help keep your family members from tracking dirt inside the rig. Although your RV might not have a lot of floor space, you probably don't want to spend any of your precious vacation time vacuuming or mopping!
Camping Ideas for Families
If you've got kids along for the ride, sleeping arrangements can become a little complicated. It's hard to ensure everyone has their own space even in the largest campers out there.
But depending on your kids' personalities, tent camping might actually be a perfect solution. Many young campers think it's way more fun to sleep under the stars than inside your rig's four walls, anyway — and it greatly increases how much space everybody has to spread out in!
Obviously, sleeping on the ground isn't quite as luxurious as cozying up on a couch or bunk bed. But if you're wondering how to make tent camping more comfortable, it's actually not too hard. Along with, of course, a quality tent, you'll also want to ensure that everyone sleeping in it has a sleeping bag rated for the weather at your destination. Keep in mind sleeping bags come not only in varying warmths and thicknesses, but also different sizes; you can find them sized for adults and children, as well as ones built for couples who want to cuddle while they camp. (Cute!)
Another thing to add to your list of things to take if you're camping outside is a good ground or sleeping pad to help make for a softer "bed" in the great outdoors. Everyone in the party will be happier with a good night's sleep, so this is a worthwhile investment!
Camping Organization
If you've traveled in an RV before, you know that one of the most important camping needs is to stay organized. After all, you're dealing with an extremely limited amount of space — even a 40-foot diesel pusher isn't anywhere near as large as the average American home!
Making sure everything in your RV has a home — and that it stays there — is key. A travel trailer or motorhome is not the place to leave laundry, shoes, books, and other stuff simply lying around!
If everyone in the group contributes to picking things up and putting them back where they found them, it's easy to keep your camper in ship shape throughout the entire trip. You'll thank yourself when you come home after long hours of exploring and enjoying your destination to have a cozy, well-organized place to sit back and relax as the day winds down.
Camping Storage Ideas
Keeping everything in its place is a whole lot easier if you've come up with some creative camping storage solutions. Even the largest rigs sometimes simply don't have the amount of storage we need to keep up with all the stuff our families want to bring with them!
Fortunately, we've written about a ton of unique, out-of-the-box storage techniques here on the blog, many of which are very affordable to purchase or totally DIY. From figuring out how to keep everyone's toothbrush handy, clean, and accessible to simply cramming enough food to feed your family into your tiny RV kitchen, chances are, we've talked about it here!
If your camper is feeling a little crowded, check out the following posts to help make a little bit of extra space where you thought you couldn't.
With a few minor investments, some planning, and a little bit of luck, your next campsite can be so amazing, you'll never want to pick up and move on to your next destination.
But then, remember… you can recreate this wonderful sense of home no matter where you wind up, which means the whole wide world is home sweet home. Happy exploring!
This post may contain affiliate links.