National Parks
November 23rd, 2020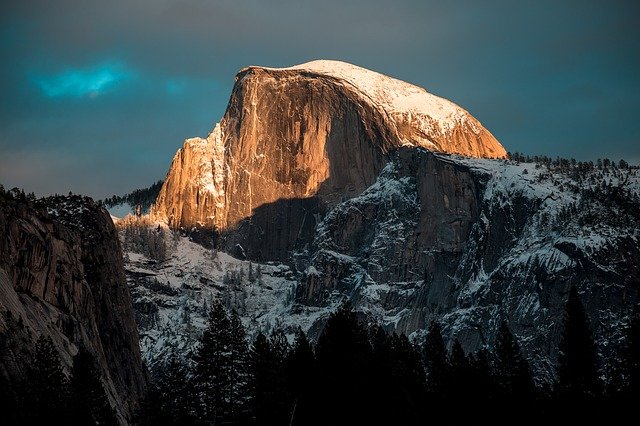 As of Veterans Day 2020, veterans and Gold Star families now have access to all national parks and other federal lands for free every day. The National Park Service says the free access program is a way to thank America's veterans and Gold Star families for their sacrifices and to encourage them to explore recreational opportunities on public lands and waters.
Free Entry For Veterans And Gold Star Families
The U.S. Department of the Interior announced in late October that "entrance fees for the National Park Service and the U.S. Fish and Wildlife Service and standard amenity recreation fees for the Bureau of Land Management and the Bureau of Reclamation sites will be waived for veterans and Gold Star Families. They will have free access to approximately 2,000 public locations spread out across more than 400 million acres of public lands, which host activities to fit any lifestyle, from serene to high octane, including hiking, fishing, paddling, biking, hunting, stargazing and climbing."
The entrance fee is waived for everyone who qualifies, but it does not include extra fees like camping, transportation, special recreation permits, or special tours.
What you need to bring
Any veteran who has served in the United States Armed Forces, including the National Guard and Reserves, can get free admission to national parks, wildlife refuges, forests, and more. You need to show one of the following forms of ID in order to get your free admission:
a Department of Defense ID card
a Veteran Health ID card (VHIC)
A Veteran ID card
A Veterans designation on a state-issued U.S. driver's license or ID card
Gold Star Families are the next of kin of a member of the United States Armed Forces who lost his or her life in a "qualifying situation," such as a war, international terrorist attack, or military operation outside of the United States while serving with the United States Armed Forces.
For Gold Star Families to get a free entrance pass, they need to download and print a voucher to give to the ranger at the entrance, or to place on the dashboard if the site is unstaffed. When you download and sign the voucher, Gold Star Family members are self-certifying they meet all the required criteria:
"I hereby affirm that I am an eligible next of kin (NOK) of a member of the United States Armed Forces who lost his or her life in a qualifying situation, such as war, an international terrorist attack or a military operation outside of the United States while serving in the United States Armed Forces, as identified in sections 3.2 (Qualifying Situation) and 3.3 (Eligible NOK) of Department of Defense Instruction 1348.36."
You can download the Gold Star Family Voucher here.
Free access will be granted to the veteran or holder of the Gold Star Family voucher, along with anyone traveling with them in a single, private vehicle. If per person fees are charged, the holder of the pass plus three people 16 and older are granted free admission. You can't transfer your pass to anyone else.
How long the program is available
This free access for veterans and Gold Star Families is continuing indefinitely unless the order is amended or revoked.
Which agencies are participating in the program?
The agencies offering free entrance fees, or standard amenity fees include:
the Bureau of Land Management
the Bureau of Reclamation
the U.S. Fish and Wildlife Service
the U.S. Forest Service
the U.S. Army Corps of Engineers
Do people currently enrolled in the military get free access to parks?
Yes, they do! However, they fall under a different category and need to get their pass for free entrance by following the Military Pass instructions here.
Do disabled veterans get a pass?
The Interagency Access Pass is a lifetime pass, free for any U.S. citizen or permanent resident including veterans and Gold Star Family members, with a permanent disability. This pass may also include discounts for other amenities like camping, guided tours and more. You can find out more about it here.
Are other free passes available?
The America the Beautiful National Parks and Federal Recreational Lands Pass Program offers free annual passes for active-duty members of the U.S. military and their dependents. Other free and discounted passes are available for people with permanent disabilities, fourth-grade students, volunteers, and seniors ages 62 and older.
There are free entrance days for everyone to mark the birthday of Martin Luther King, Jr., National Public Lands Day, Veterans Day, and the signing of the Great American Outdoors Act.
Which national park should I visit?
Part of the beauty of the United States is that there are so many amazing national parks and public lands to visit, with varied landscape and history. Many national parks, monuments, and other designated areas also have connections to the military. If you or your fellow travelers want to learn more about the military history of the United States, there are frontier forts, Cold War sites, battlefields, national cemeteries, and memorials commemorating the great sacrifices made by so many to protect this country.
Minuteman National Historic Park in Massachusetts marks where colonists stood in defense of their rights, Yellowstone National Park was once protected by the 1st U.S. Cavalry to prevent vandalism and poaching before the National Park Service even existed, and Mount Rushmore is a site where reenlistment ceremonies have occurred.
You can definitely take advantage of your pass to visit the national parks closest to your home. However, if you want to rent an RV and head out on a road adventure, you have a lot of options!
West Coast National Parks
If you're headed to the West Coast, you'll find a variety of landscapes and terrain and a variety of parks that let you appreciate that scenery.
One of the most popular national parks on the West Coast is Yosemite, and with its sheer cliffs, rushing waterfalls, ancient sequoias, and backcountry wilderness it's not hard to see why. Half Dome and Yosemite Falls are showstopping sights, and both are easy to see from several vantage points throughout the park. You can also visit one (or all!) of the three groves of giant sequoias.
There are activities at Yosemite year-round, with hiking, climbing, and swimming available in the summer, and snowshoeing, sledding, or downhill skiing at a small resort in winter. The fall also showcases beautiful autumn foliage, and spring brings wildflowers to many of the park's meadows.
If you do want to explore Yosemite in an RV rental, there are numerous campgrounds in Yosemite, and many more private campgrounds nearby.
If you want a stark contrast to Yosemite's mountains, rivers, and lush green meadows, Death Valley National Park has a stark desert beauty that is impressive in a completely different way. While most people may think of brown desert sand, Death Valley is a riot of color with reds, blues, purples, oranges, and greens in the rocks and mountains of the area. In spring, multi-colored wildflowers also lend a bright beauty to the desertscape.
There are several campgrounds inside Death Valley, and in the surrounding areas as well.
One of the most iconic national parks, the Grand Canyon has something for everyone to do! If you're a good hiker, you can trek to the bottom of the canyon and back out again. Those who don't want to undertake such a strenuous journey can walk along the top of the canyon in many spots, or take a mule trip part or all the way to the bottom. You can learn about the history of the park and the people who lived there at one of the visitors centers along the rim.
There are several campgrounds at the South Rim of the park, and a smaller selection at the North Rim. There are also private campgrounds in many spots nearby.
Spend some time in the Rocky Mountains at the park named for the range. Weather at the park can change quickly, and parts of it close in the winter, but there are many things to do in the warmer months of May through October and there is snowshoeing, sledding, and more to do in winter. There are also quaint mountain towns on both sides of the park, so you can spend plenty of time exploring the area.
You can camp at many places inside the park, or in the nearby towns of Estes Park to the east or Grand Lake to the west as well.
Midwest National Parks
The Midwest has several national parks as well, with sweeping prairie views or a variety of lakes to explore!
The alien-looking landscape of Badlands includes buttes and pinnacles that make perfect homes for bighorn sheep, prairie dogs, and bison. Badlands National Park is also just a short drive from the Black Hills National Forest and is about a ninety minute drive from Mount Rushmore.
You can camp in the Badlands National Park at two different campgrounds, and there are private campgrounds just outside the park as well.
Over 40% of this Minnesota park is water, which means you can actually arrive at the park via RV, car, or even boat. The park has amazing forests, waterways, and a multitude of lakes along with over 27 miles of hiking trails. Along with hiking, visitors can kayak, boat, swim, ice fish, snowshoe, cross-country ski, and more.
There are several communities near the park, so if you don't want to stay at one of the park's five campgrounds, you have other options as well.
Ohio's only national park features the state's tallest waterfall – Brandywine Falls. The park is along the Cuyahoga River between Cleveland and Akron, and is home to lush forests, picturesque rolling hills, ravines, wetlands, and rivers. The park is one of the most-visited in the United States.
There are six campgrounds in the park itself, and there are plenty of private campgrounds just outside the park's boundaries as well.
East Coast National Parks
From the peaks at Acadia to the wide ocean expanse of the Florida Keys, the East Coast has a variety of scenery and exciting things to do at national parks!
This Maine park is the oldest national park east of the Mississippi and has amazing views of mountain peaks, ocean shores, lakes, and forests. The 16 stone bridges in the park provide a quaint scene, and there are many small towns and villages nearby that lend to the charm of the area. You can bird watch, hike, swim, fish, and so much more.
You can camp at one of three campgrounds at Acadia National Park, or at one of many private campgrounds nearby.
The Everglades are the largest tropical wilderness in the country and are home to manatees, American crocodiles, and Florida panthers. Visitors enjoy boating, backcountry camping, birdwatching and more. The park is also known for its airboat tours to see the swamps and learn more about the ecosystem of the park.
There are two campgrounds inside the park where you can stay on an RV road trip, and there are many more private campgrounds outside the park's boundaries.
Dry Tortugas National Park is only accessible by boat or seaplane, but it's location at the very end of the Florida Keys guarantees that a stay nearby will be peaceful and tranquil and a great escape from the hustle and bustle. The park is made up of seven islands and their coral reefs, and houses a 19-century fortress, a lighthouse, and a huge population of sea turtles. Visitors can boat, paddle, fish, swim, and enjoy the breathtaking snorkeling or SCUBA-diving. There are also guided tours of Fort Jefferson and other ranger-led activities at the park.
There are no campgrounds at the park, but there are several privately-owned campgrounds in the Florida Keys with beautiful views of the turquoise ocean and the vast sky above. The remote area also makes for some stellar stargazing at night when darkness falls.
There are so many national parks and other federal lands to explore! You can find guides to all of the country's national parks here, with ideas for activities, nearby campgrounds, places to eat, and so much more to help you plan your trip.