Voyageurs National Park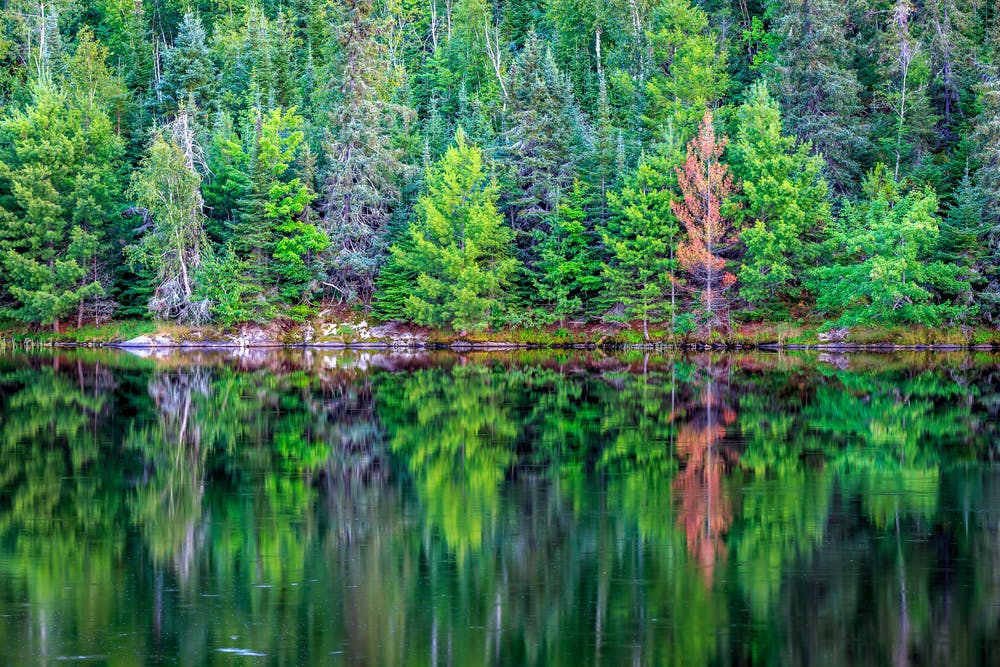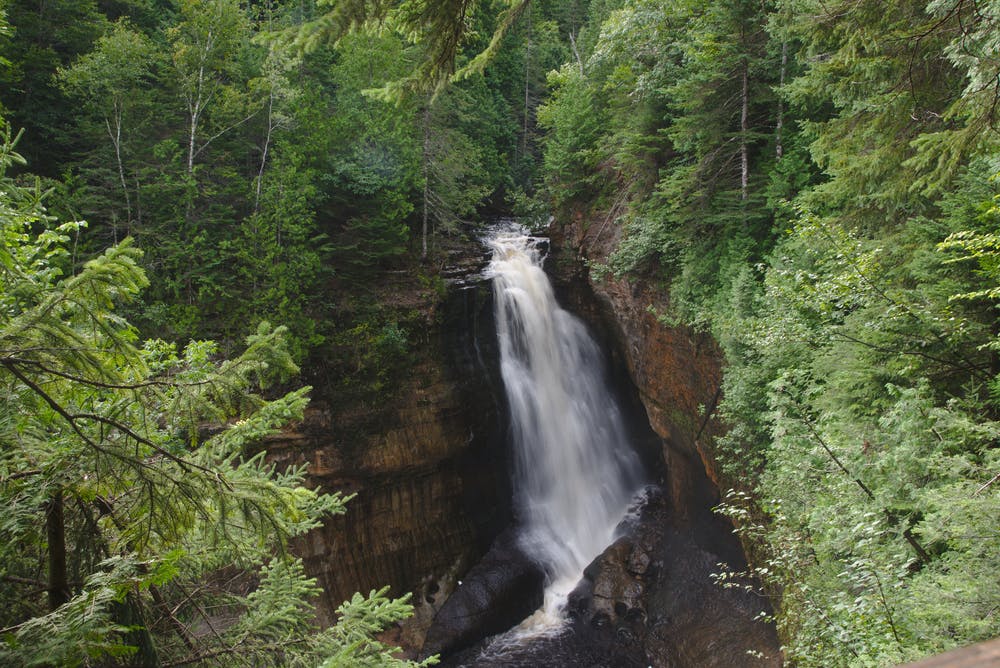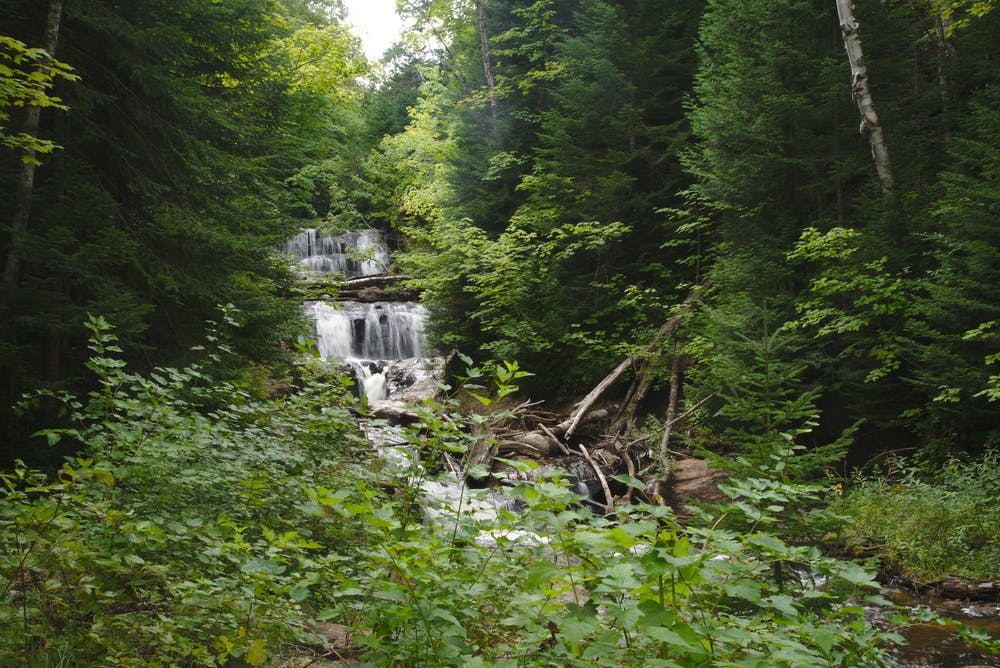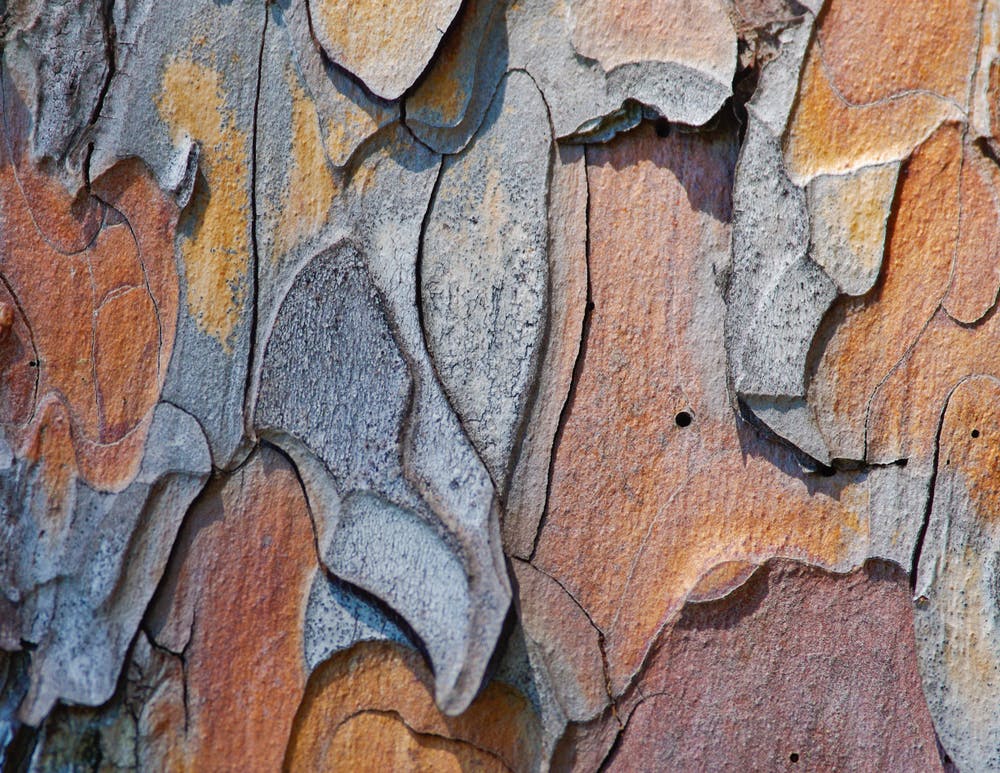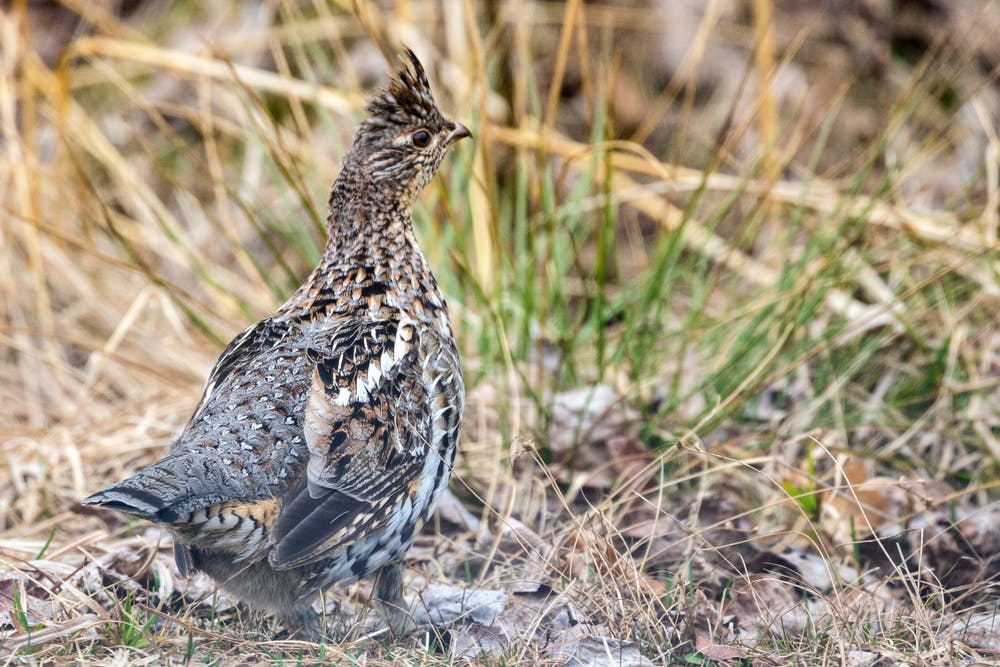 Love to be on the water? Located in International Falls, Minnesota, Voyageurs National Park is the perfect park for you! Over 40% of the park is water, and you can arrive at the National Park via RV, car, boat and so much more. One of the most unique National Parks, it's known for its forests, waterways, and lakes. There are over 200,000 acres, four large lakes, and 26 smaller interior lakes, plus more than 27 miles of hiking trails in the park.
The weather at the Voyageurs National Park truly has four distinct seasons. In June through August, mild weather occurs with highs in the 70s and lows in the 50s, making it a great time to visit the park for lots of outdoor fun. In the fall, September, and October, temperatures dip down to the 50s and 60s with lows in the 30s and 40s. In late October, the first snowfall typically occurs, with winter temperatures can be quite low, ranging from the teens to the mid-30s, with lows sometimes below 0. At that point, all the water in the park turns into ice, and the park is the perfect location for winter fun like ice fishing, snowshoeing and much more. In late April or early May, the last snow occurs and temperatures rise to 50s and 60s.
There are quite a few gateway communities near Voyageurs National Park, so there's something for everyone to see and do in and outside of the park. If you're looking for guided ranger activities, there are plenty of scheduled events. Find the full calendar here.
Whether on the water or land, there is plenty to do at the National Park, including camping, hiking, kayaking, boating, swimming, ice fishing, snowshoeing, snowmobiling, cross-country skiing and so much more! Traveling by RV or car, but want to experience the water fun at the park? Many local companies offer canoe and kayak rentals and boat or birding tours.
Voyageurs National Park is also well-known for stargazing. The night sky above the park is one of the darkest in the county, and the large waterways and uninhabited islands allow visitors to view shooting stars, the Milky Way and sometimes even an aurora borealis.
Weather
Spring 50-60s F
Summer 50-70s F
Fall 30-60s F
Winter 0-30s F
Nearby Cities
International Falls, MN
Trip Planner
Use our FREE RV trip planner to begin customizing the perfect RV trip.
Continue
RV Resorts & Campsites in Voyageurs National Park
There are plenty of options for camping within Voyageurs National Park, but they are all accessible by boat only. If you are traveling by vehicle or RV only, there are many options just outside of the park, both public and private. For more information about camping within the park, click here.
Public Campgrounds Voyageurs National Park
Private Campgrounds Voyageurs National Park
RV Rentals Near Voyageurs National Park
Nearby RV Rentals
Hit the Trails
Hiking at Voyageurs National Park offers a ton of variety – some of the trails are only accessible by water! Whether you prefer a trail through the forest, one with great views or one along the water, there is a trail for you.
Here are a few of our favorites, accessible by land only. For a full list, including those only accessible by water, click here.  
Voyageurs National Park Trails
Blind Ash Bay
Distance: 2.5 miles loop
Terrain: A moderate to difficult hike, the trail is narrow, winding and rocky through the boreal forest. In the winter, use snowshoes.
Beaver Pond Overlook
Distance: 0.2 miles, one way
Terrain: Easy, short uphill hike that leads to a rocky terrace high above a beaver pond for spectacular views. Birding and large wildlife viewing is possible.
Rainy Lake Recreation
Distance: 1.75 miles
Terrain: This easy, ADA accessible trail offers visitors a wide variety of sights, as it leads through forest, lake and marsh scenery.
Kab-Ash
Distance: 27.9 mile
Terrain: Strenuous trail that offers an in-depth view of the park. Trail connects two communities and travels through backcountry forests and wetlands.
Sullivan Bay
Distance: 1.5 miles round trip
Terrain: Easy hike along an old converted road, mostly flat with one small hill, ends with views of Sullivan Bay.
Voyageurs' Tilson Connector Ski
Distance: 1 mile, one way
Terrain: Part of a network of ski trails, this is a wintertime trail for skiing.
Voyageurs Forest Overlook
Distance: 0.5-mile loops
Terrain: A short trail loop with views of the forest. A picnic table and restroom are available at the trailhead.
What to Do at
Voyageurs National Park
When you're done on the water, camping or walking on the trails, you may be ready for another kind of adventure. Whether it's continuing to sightsee throughout the local area, or grabbing a bite to eat with family and friends, there is plenty to do in the International Falls community. Here are some of our top recommendations for how to spend your time outside of the park.
Restaurants
Whatever you're craving after a long day of enjoying the outdoors, you are sure to find it nearby Voyageurs National Park. Even better, many of the local restaurants have patio dining complete with beautiful waterside views. Here are some of our top places to check out on your trip to the park.
Type: Bar & Grill
Location: West Side of Lake Kabetogama
Type: Pizza
Location: International Falls
Type: American
Location: International Falls
Type: Comfort Food, Small Plates
Location: Rainer
Type: Bar & Grill
Location: International Falls
Shopping
Forgot some of your camping equipment? Want to grab some bait for fishing? Must grab a souvenir from your trip for years to come? The shopping in International Falls has you covered for all that and more. Here are some of the best places in the area to peruse the racks.
Rainy Lake Stop
Here you'll find everything you need to enjoy the National Park – bait for fishing, sporting goods, snowmobile gear for the wintertime, gifts, clothing and much more.
Location: International Falls
Border Bob's
It's the last stop before Canada! This store prides itself on offering "something for everyone." Recently celebrating its 40th year in business, Border Bob's has everything from stuffed animals and toys to jewelry, food, apparel and much more.
Location: International Falls
Hometown Hobby & Crafts
Looking for a fun game to play or craft to complete while at the campsite? Check out Hometown Hobby and Crafts, where you can find games, puzzles, crafts and much more.
Location: International Falls
Stewart's Super One
Stop at Stewart's, a locally owned and operated food store, to pick up all the essentials for a great picnic inside the park!
Location: International Falls
Mason's on Main
Stop by Mason's on Main and pick up some new clothes for your trip or to sport when back at home. Mason's offers stylish and affordable men's and women's clothing.
Location: International Falls
Jefferson National Parks Association Bookstore
Jefferson National Parks Association partnered with the National Park to operate three bookstores within the National Park.
Location: Within Voyageurs National Park
Museums
When you're ready to head indoors and soak up some local culture, there are two local museums to check out. If you're looking for more museums and cultural experiences, Minneapolis, the largest city in Minnesota, has a wide variety of museums and is roughly a four-hour drive from the park.
The Koochiching County Historical Society collects, preserves and exhibits natural history and cultural items from the local community. Additionally, the Museum exhibits sports memorabilia from All-American legend Bronko Nagurski.
This museum holds one of the finest private wildlife collections in the area. Visit the museum and view exhibits including over 100 birds and 50 animals.
Sightseeing
While the Voyageurs National Park is sure to have a plethora of breathtaking sights, there is plenty more beauty in the local area.
Smokey Bear Park
Smokey Bear National Park is home to one of the best kid-friendly sights in the area – a 26 foot tall, 82-ton statue of Smokey the Bear!
Waters of the Dancing Sky Scenic Byway
Minnesota's most northern byway, this scenic drive is 191 miles long and offers scenic views of lakes, the legendary Rainy River, forest, farmlands, small towns and cities. Voyageurs National Park is at the eastern end of the route, which is named after the Northern Lights that can often be seen in the sky.
Lutsen Mountains Summit Express Gondola
This high-speed gondola whisks you up to one of the best vantage points to view the Sawtooth Mountains and Lake Superior. It's extra beautiful in the fall! You can also hike 4.5 miles back to base, through the heart of the maple forest.
Kettle Falls
This small town is separated from International Falls by Rainy Lake and Voyageurs National Park. The iconic hotel can only be reached by boat, and the town offers boat tours that boast spectacular scenery, historic sites and beautiful colors in the fall.
Rainy Lake Bike Tours
This 10-mile scenic bike trail takes you through the town of International Falls and ends at the Visitor Center in Rainy Lake at Voyageurs National Park.
Little American Gold Mine
The largest and most successful Gold Mine on Rainy Lake can still today be explored, thanks to the ranger-led boat tours. Visitors can explore the old shaft, davit and machinery that was used to move the gold from the ore to be processed.
City Beach
The City Beach has sand beach located right on Rainy Lake, plus plenty of family fun, including a sand volleyball court, basketball court, floating swim platform and picnic areas.
How to Get to
Voyageurs National Park
Because Voyageur National Park is surrounded by water and on the Minnesota-Canada border, there are not a wide variety of travel options.
By Car
To get there via automobile, you can drive via Minneapolis-St. Paul by using 1-35 and Highway 35. To travel from Duluth, the park is 3 hours north on Highway 53, and from Winnipeg, Manitoba, Canada the park is a 4-hour drive south.
By plane
The largest airport nearby is about 5 hours south, and is the Minneapolis-St. Paul International Airport, and the nearest smaller airport is Falls International Park. On the Canadian side, Fort Frances, Ontario, is the nearest airport.
By RV
The best way to experience the park is on the water, by boat, but another way to get there is by RV. Even if you don't own an RV, traveling to a National Park in the comfort of an RV is possible, with RV rentals available across the country. Whether you want to travel to the park from your home entirely in an RV or fly in and drive the rest of the way, there is an option and the perfect RV available to you.
Keep in mind that the best of the park is best seen via a boat, so most RV travelers prefer to keep their RV at their campsite and rent or bring along a boat.
View RV Rentals
Entering Voyageurs National Park
There is no fee to enter Voyageurs National Park, but there are some fees for tent campsites, overnight fees and some ranger-led tours and activities. For more information, click here.
We hope you're as excited for your trip as we are for you! Voyageurs National Park is a truly unique National Park, and we're sure you're going to love your memories made there. Experiencing the park and your travel there in comfort is an essential part of having a wonderful vacation, and RVing is a way to ensure you're comfortable!
Whether you visit Voyageurs National Park in an RV rental from us, or simply drive in and tent camp, we'd love to hear all about your trip! Send us photos at [email protected], tag us on social media, share amazing details, and anything else you want others to know about your experience for a chance to be featured on our blog or social media channels.