Travel Inspiration
April 7th, 2021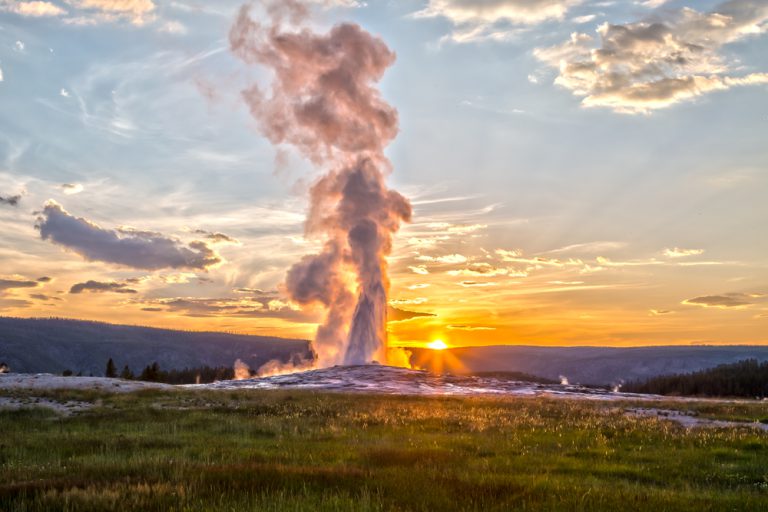 Celebrate National Park Week with us from April 17 to 25! Share your love of the national parks and follow along with themed days throughout the week.
April 21 is Wayback Wednesday during National Park Week 2021. Today we're going to look at some of the oldest and newest national parks to give you some travel inspiration for your spring RV trips.
Wayback Wednesday at the National Parks is April 21
For Wayback Wednesday, we're going to jump back to the past and see how the national parks and National Park Service preserve our nation's historic heritage and cultural treasures both in the parks and in communities. There are plenty of fun ways you can learn about the history of the parks and maybe even relive your own history of visiting a park in the past!
If you can't get out to visit a national park, you can learn about any of the 400 parks and monuments virtually on the National Park Service website. The NPS has also curated sections of their website with stories, featured parks, and monuments that reflect the many cultures of our diverse nation. It's a fantastic way to research your own heritage or learn about the history of other American heritages.
The History Behind Some of the Most Iconic National Parks and Monuments
There's a lot of history in the 400 national parks, monuments, and memorials that are located across America. We've rounded up some fun historical facts on some of the most iconic and popular national parks and monuments.
Statue of Liberty National Monument
Both the Statue of Liberty and Ellis Island are including in the Statue of Liberty National Monument. The statue itself was given to the United States by France in 1886 as a gesture of friendship and to commemorate the 100th anniversary of the signing of the Declaration of Independence. It became a national monument in the 1920s, along with Ellis Island, which was the busiest immigrant inspection station in the states. It's a fun stop to add to any road trips on the east coast.
Yellowstone National Park
We'll talk more about Yellowstone below, but it has the honor of being the very first national park in the world, established in 1872!
Devils Tower National Monument
President Theodore Roosevelt named Devils Tower the first U.S. national monument. It's a sacred site for many Native American Plains tribes, whose oral histories say the long parallel gouges down the side of the mountain were made by giant bear claws. It's a favorite stop for RVers who love the outdoors!
George Washington Carver National Monument
The George Washington Carver National Monument in Missouri was the first national monument dedicated to an African American and the first monument not dedicated to a U.S. President. George Washington Carver was an educator, humanitarian, and agricultural scientist. The site preserves the childhood home of Carver and includes a museum, film, interactive exhibits for kids, and nature trails. It's a great monument to visit to learn more about Black history in the U.S.
Grand Canyon National Park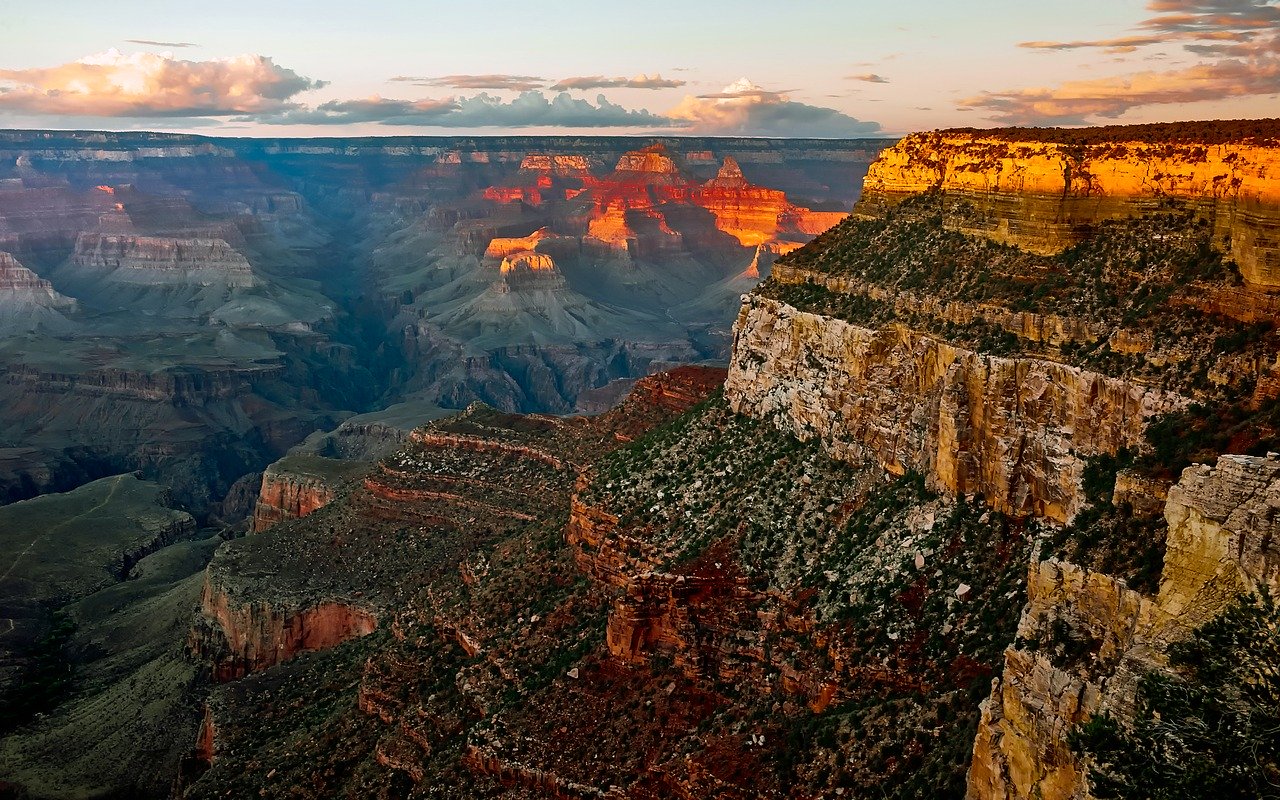 The Grand Canyon is arguably one of the most recognizable national parks. This mile deep gorge in northern Arizona was formed by the Colorado River, which is still running through the canyon today. The Grand Canyon was first declared a Forest Preserve, then a National Monument, and finally a National Park in 1919. Native American tribes inhabited this area for over 10,000 years, and 11 contemporary tribes have cultural links to the Grand Canyon.
Then and Now: Major Changes to the National Parks
National parks started as a way to preserve the land – mostly in the American West. Today, landmarks of historic and cultural significance are designated as memorials and national parks. These are protected by the National Park Service and are excellent stops on any RV road trip to learn more about our country's history and cultural heritage.
The 5 Newest National Parks
New national parks have been added throughout the years. As of early 2021, there are 63 officially designated "National Parks" Here are the newest ones to add to your road trip itineraries.
New River Gorge National Park
The newest of the national parks, New River Gorge National Park was established just last year on December 27, 2020. This incredible gorge in West Virginia has been carved by years of flowing water, and offers visitors no end of land and water based outdoor activities. Here are some great local RV rentals if you need a way to see the newest national park.
White Sands National Park
Get your cameras ready, White Sands National Park is what you keep seeing on Instagram – those gorgeous white sand dunes in the middle of New Mexico. White Sands has been a national monument for a long time, but it was upgraded to official national park on December 20, 2019. Great for families and individuals alike, you can sled down the dunes, take horseback rides, and hiking. We've got you covered with nearby RV rentals.
Indiana Sand Dunes National Park
Tucked along the shores of Lake Michigan in northwestern Indiana, Indiana Sand Dunes National Park was upgraded from National Lakeshore to National Park on February 15, 2019. This national parks offers visitors sand dunes, forests, wetlands, rivers, and prairies – in addition to the lakeshore. And it's incredibly easy to get to, located an hour outside Chicago and close to major cities in Indiana. Looking for an RV to get you there? Check out our listings of local rentals.
Gateway Arch National Park
Gateway Arch National Park in Missouri used to be called the Jefferson National Expansion Memorial, but the iconic arch was official made a national park on February 22,2018. Reaching 630 feet in the air, the arch marks the beginning of Lewis and Clark's expedition in the 19th century. Today the park runs along the river and includes museums and historic buildings. You can find local RV rentals on RVshare.
Pinnacles National Park
Named for the pinnacles and rock outcroppings, Pinnacles National Park in California was officially named a national park on January 10, 2013. A fantastic place to watch for wildlife, Pinnacles National Park has multiple landscapes from grasslands to canyons to woodlands. There's even hiking through bat caves! Find local RV rentals for your visit to Pinnacles National Park.
The 5 Oldest National Parks
Located in the western part of the United States, the 5 oldest national parks are still incredibly popular with visitors today.
Yellowstone National Park
Yellowstone National Park was the very first designated "National Park" on March 1, 1872. It covers over 3,500 miles and is located in parts of Wyoming, Montana, and Idaho. It also sits on top of a dormant volcano and has more hot springs and geysers than anywhere else in the world. It's no wonder it's also a top destination for visitors and RVers! And if you need to rent an RV, we have some great rentals located nearby.
Sequoia National Park
Sequoia National Park in California was the next area to become an official U.S. National Park. Designated on November 25, 1890, it's home to the giant sequoias – world's largest trees by volume. There are over 800 miles of hiking trails, and it's full of incredible vistas, towering trees, and snowy mountain peaks. Need an RV to get there? Check out our list of nearby RV rentals.
Yosemite National Park
The third national park to be officially designated was Yosemite National Park on October 1, 1980. Also located in California, Yosemite is another RVer favorite with the iconic Half Dome, and Yosemite Falls drawing visitors from all over. This 1,200 square mile park has amazing hiking through forests, meadows, and along rivers to waterfalls. We've got you covered with nearby RV rentals.
Mount Rainier National Park
Mount Rainier National Park is the 4th oldest national park, established on March 2, 1899. One of Washington's iconic landmarks, Mount Rainier stands at 14,410 feet and is highest point in the Cascade Range. The surrounding forests, meadows, and glaciers bring in over 1.5 million visitors each year. Here are some fantastic RVs for rent nearby.
Crater Lake National Park
Crater Lake National Park in Oregon rounds out the last of the 5 oldest national parks. Established on May 22, 1902, Crater Lake is the deepest lake in the U.S. It's also the only national park in the state of Oregon. It's in a fairly remote part of Oregon, but offers forests, lakes, mountains, and caves to bike, hike, and explore. If you need an RV to get there, we have some great rentals in the area.
Ready to visit some of these national parks and monuments? We have guides on all the U.S. national parks to inspire you. And if you need an RV to get to your favorite park, we've got you covered with rentals all across America.