Travel Inspiration
May 31st, 2019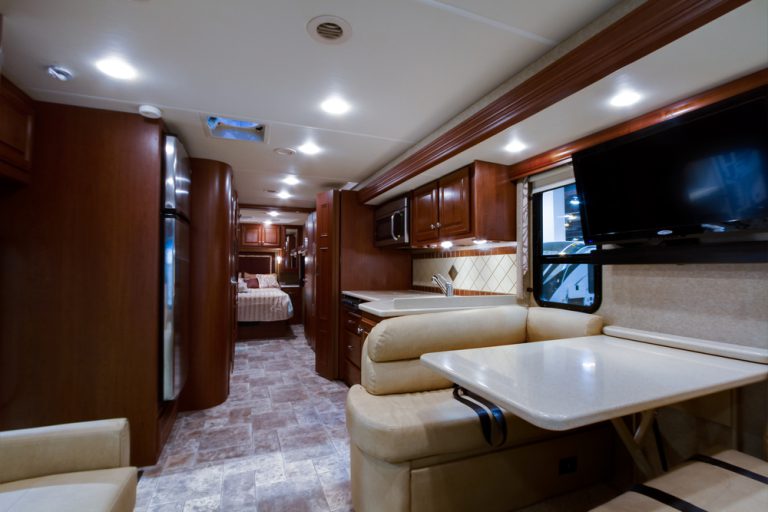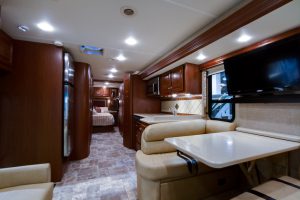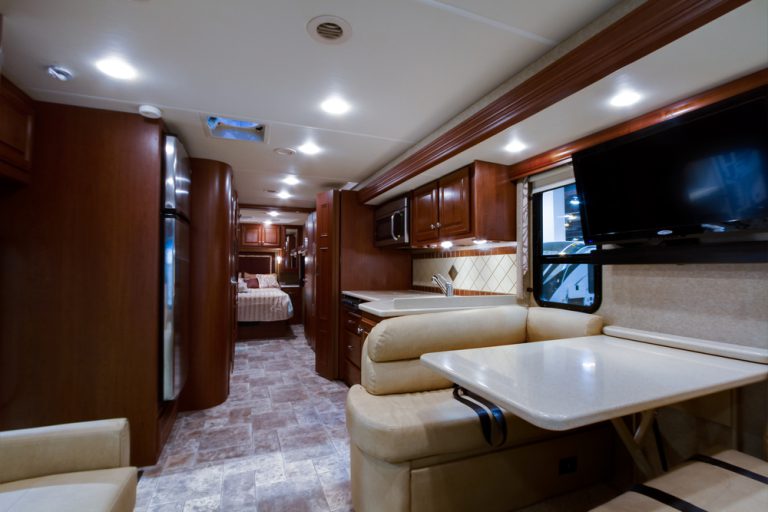 RVing has always been kind of futuristic. Take, for example, the humble beginnings of the Airstream trailer, which started as a figment of Wally Byam's imagination. He tinkered with existing Model Ts, installing tents on top of his car's chassis, before eventually moving on to innovate a whole brand new kind of mobile housing technology — one that's still cherished today.
Of course, we've come a long way since the most primitive travel trailers first hit the road. RVs have seen all manner of updates, including the invention of self-driving motorcoaches that now make up a significant portion of the RV market. The modern camper demands a modern RV, filled to the brim with luxury amenities that help make camping even more comfortable and enjoyable. And fortunately, 2019 is a great time to get into RV camping.
In this post, we've compiled images and descriptions of some of the most innovative, modern-design travel trailers and motorhomes we could find, as well as describing advancements and upgrades it's possible to outfit your own rig with. As these RVs prove, the future is now — and it's high time to get out there and start enjoying it!
A Quick History to Put RV Upgrades in Context
Before we dive into the stunning, shiny new rigs that are available on the market today, let's put it all in context by taking a trip back in time. (Don't worry, this kind of time travel doesn't require any special apparatus — just sit back, relax, and enjoy!)
RVing as we know it began all the way back in the 1910s and teens, when innovative campers were considering how to use the newly-proliferating automobile technology to their advantage. Rather than schlepping a tent into the countryside on foot or on horseback, they figured they could fashion accommodations on wheels that could be pulled behind their vehicles — and thus, the very first travel trailers were born.
Fast forward to the 1940s and 50s, and RVs were becoming way more than a passing fad. Instead of looking like ramshackle, homespun creations, travel trailers were starting to resemble the rigs we know and love today, with interior fixtures like bathrooms, refrigerators, stoves, and air conditioners.
In the 50s and 60s, the popularity of RVs continued to blossom, and self-powered motorcoaches were added to the market. RVs were suddenly fairly common, not curiosities to be mooned over whenever they were seen in public.
These days, of course, there are a plethora of RV makes, models, and manufacturers to choose from, offering all sorts of shapes, styles, and body types from tiny fold-out campers to huge Class A diesel rigs. No matter what kind of camping experience suits your fancy, there's an RV out there that's just perfect for it. (Psst: want more information on the different RV classes? Click here.)
The full history of RVs is much longer and more fascinating than we have time to go into in this post. To keep reading about our RV camping heritage, check out this complete RV history as well as some information on the foundation of Airstream.
Modern Travel Trailers and Motorhomes
Now that we've taken a trek down memory lane, let's steer our time machines back to the present day. If only Wally Byam and those other early innovators could see the legacy of their creations!
Today's RVs offer a full range of interior amenities that make it possible to totally forget you're camping. Hot showers, full-sized kitchens with stoves and ovens, and even washing machines and bathtubs are pretty common these days. (Heck, I've definitely lived in a studio that didn't have a washing machine or a bathtub!)
But these luxurious amenities, which meet every need and whim for the modern camper, are just the beginning when it comes to the latest and greatest in the RV industry. Today's rigs aren't just functional, they're also stylish, with interiors decked out in sleek wood finishes and genuine leather upholstery.
Here are just a few modern-day RVs we'd definitely consider the rigs of the future.
1. Sleek and subtle
An RV doesn't have to be massive to be luxurious. Although this Class B rig looks to be 20 feet or less (and doesn't seem to offer slide-outs), just check out how well-done the interior is, with the matching kitchen and dinette finishes. Plus, the dinette seating doubles as passenger seats, complete with seatbelts for safety on the road. Modern RVing is all about finding multiple uses for everything… without sacrificing luxury or comfort!
2. Chic and cozy

Again, this isn't the biggest RV we've ever seen; as you can see from the picture, the master bedroom isn't separated by a door. But check out that vast dining area, perfect for entertaining, and the beautiful, light-colored wood fixtures that make this rig look anything but dated. In short, the designers have successfully combined comfort with style, creating an inviting vehicle we'd love to have the chance to camp in.
3. It's lit!
Yes, we're including a lot of small rigs in this post — but when you think about it, smaller is actually more futuristic. After all, a dedication to our earth requires us to find greener ways to go about exploring it, and the smaller your RV, the smaller your carbon footprint.
Either way, it would be impossible NOT to include this looker of a rig on the list. Check out those futuristic inset lights up above, and the space set aside for a high-definition television and entertainment area. Although this Class B rig doesn't look like it offers much more than a place to lay your head, it's definitely a comfortable and forward-minded place to snuggle after a long day of adventures.
4. Rustic and ready
Think every RV on this list is going to look like something out of The Jetsons? Think again. Because in 2019, modern isn't necessarily about sleek, metal fixtures and all-automated-everything. With retro and vintage styles in vogue, sometimes, the most updated looks are actually totally analog.
Either way, we love what the owners of this small camper have done with its interior, outfitting it with comfortable, color-coordinated touches that make it feel like a cute, quaint farmhouse that just so happens to be able to move. It's no mistake that the guitar is acoustic rather than electric, either. Again: some of the best parts of the future are about going back to the past!
RV Entertainment System Upgrades and More
Along with the beautiful interiors we've listed above, we'd also like to talk about some modern camper upgrades that can make any rig feel a little bit more twenty-first century. Because these days, manufacturers have come up with all manner of special extras, from built-in USB charging stations to high-def entertainment systems (both indoors and out!) and more.
One camper upgrade we recommend to almost every RVer: an automated retractable awning, which will make it much simpler to get your outdoor patio area ready to go when you're setting up camp. These days, a perfectly-positioned awning doesn't require more than pushing a button, so why are you still cranking out your old one by hand?
You can also add an outdoor entertainment system to your existing setup, making it possible to watch TV even while you're in the great outdoors. That may sound counterintuitive and not like the best way to reconnect with nature, but hey: if you're going to watch the football game either way, you might as well enjoy some fresh air and sunshine while you do so!
Finally, keep in mind that sometimes, all it takes to make your RV feel a whole lot more up-to-date is a fresh coat of paint and some elbow grease. Here are some posts with both information and inspo on DIY upgrades and renovations that offer stunning and accessible results.
Of course, no matter how modern and luxurious your RV is, don't forget: the most exciting part of camping has nothing to do with looking at a screen or pressing buttons. It's about spending time with the people you love best and exploring new destinations together — so even if you're in a vintage trailer (or car camping with a tent in tow), get out there! The world is waiting.
This post may contain affiliate links.