6 Practical RV Renovations for Older RVs (Plus Photos!)
RV Owners
June 14th, 2018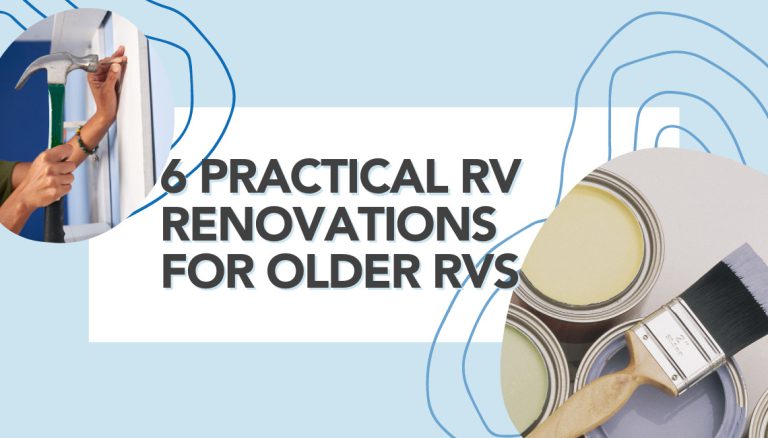 Has your rig been around the block a time or two?
That's not a bad thing — it's the sign of a well-loved motorhome (and a happy camper filled with tons of amazing memories and stories!).
But if your travel trailer is starting to show the signs of its age, it may be time for an RV remodel.
We can hear some of you sighing already. Fixing up an old camper can be a tiring and time-consuming experience… not to mention expensive. RVs depreciate in value anyway, right? Why not just go in for a whole new one?
Well, we're here to show you some practical RV remodel ideas that'll prove it doesn't have to be a crazy expense or effort to make a huge difference in your home away from home. You'd be surprised what a few coats of paint and some new curtains can do, as well as simple decorations like throw pillows!
RV Renovation
Whether you're looking to give your own RV a makeover sometime or you just want to brainstorm for the future — or, heck, just ogle pretty rigs, who could blame you? — here are some of the best old camper interior remodels we've come across on the web.
RV Interior
Home is where the heart is — and if you're anything like us, it's in a place on wheels! Here's how to make it even cozier.
1. Wallpaper to the rescue!
If your RV is feeling drab and claustrophobic, the answer might be as simple as buying some wallpaper in a bright new color. After all, that interior paneling is… well, let's be honest, more than a little dated.
Although the photos above look insanely different, there's actually not much done in the way of serious RV interior wall repair, here. A few coats of high-quality interior paint and some fun wallpaper will do the trick. You can also look into wall decals to add some pizazz to the space with ease! Stick with light, bright colors to open up the room and bring the cheer of the great outdoors inside. Best of all, this seemingly-major upgrade is just as easy as it is affordable.
2. Sometimes all it takes is a little accessorization.
There's no denying that Jenn and Brent, who blog about their travel lifestyle over at New School Nomads, did an amazing job giving their rig a new look. And although there was certainly a lot of hard work involved, we like this particular set of photos because it demonstrates how far a little accessorization can go.
Aside from the paint and fancy London Bridge wall decal — both of which are relatively easy upgrades — the major difference between the before and after photos, in this case, are simply the colorful bedspread and sheet set, and the addition of an adorable decorative throw pillow. They changed out the curtains, too… but even still, this whole transformation could be done in just a few hours! Excellent job, New School Nomads!
Best RV Remodel
Check out these amazing transformations!
3. Just look at what a little paint can do.
Deb chronicled her full motorhome remodel at her blog, Deb's Heart & Home — but of all the amazing renovation work she did, we have to say we simply cannot get over this kitchen transformation!
The best part of all? Although it looks totally different, there really aren't too many expenses that go into making this crazy change. Deb gave her cabinets a nice new coat of paint and invested in some fun new curtains, as well as reupholstering her dinette set, all of which is a whole lot easier than you might expect. (Here's a link to an easy YouTube tutorial on how to reupholster your RV's dinette seating.)
And that fancy-looking backsplash? You can actually get vinyl kitchen backsplash stickers — and yes, they're still high-quality and totally washable. Just way, way easier to install!
Deb and her husband did a whole lot of other amazing work on her RV makeover, which you can check out on her blog. Great job, Deb!
4. A whole new way to… "go."
If you're looking for an amazing RV bathroom remodel, look no further than this excellent job done by Helen Mills, who writes about her experience at What Happened Next. Although this looks like a fairly huge project, there are actually a lot of small upgrades that come together to make the startling change.
For one thing, the cabinets got a nice new coat of paint, and Helen replaced those old school doors with some new pull-out storage boxes you can easily find online or at Ikea. She also added some of that stick-on backsplash to jazz up the sink area, as well as investing in a new RV toilet.
Read more about Helen's renovation experience here. Such good work — we love this transformation, Helen!
5. Making the outside look as good as the inside.
Although it might not have as much effect on your day-to-day camping experience, keeping your RV's exterior looking ship-shape is important. In fact, some campgrounds will actually refuse to allow you to stay if your rig looks very dilapidated!
That's why we love this simple before and after photo — it shows how just a few coats of exterior paint and a nice shine can make all the difference. You don't necessarily have to do an entire RV exterior remodel!
6. Don't (forget to) look down!
Matt and Kate of Wheeled and Free made an amazing transformation to their fifth-wheel trailer, including a total revamp of their RV flooring. They removed their tired old carpet and upgraded the space with some hardwood flooring — and what an incredible difference! Read more about the process over at their amazing blog.
RV Remodel Cost
We hope this post has shown you that major upgrades don't have to mean major expenses, or major headaches either.
Looking for even more camper rebuild ideas and upgrades? Check out the following RVshare posts:
This post may contain affiliate links.