26 Different Ways to Remodel & Refresh your RV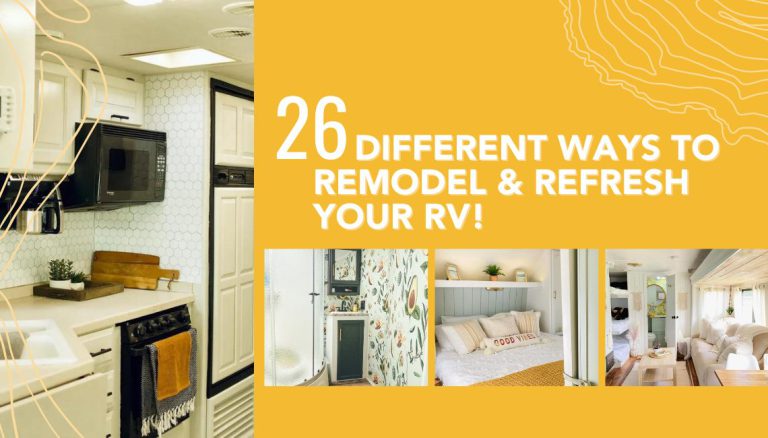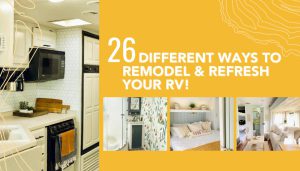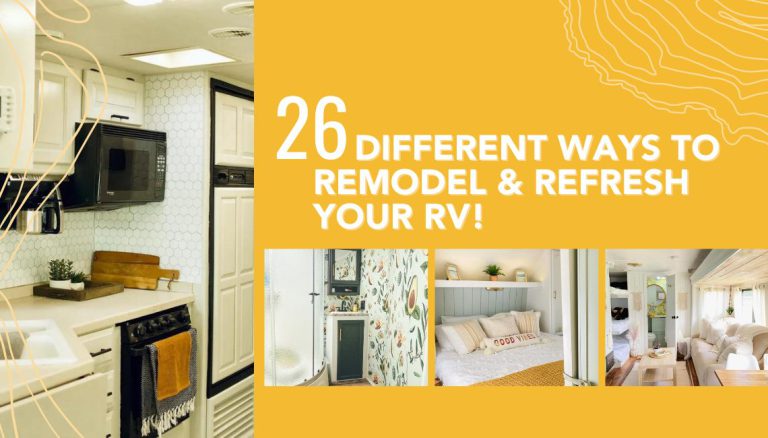 Maybe you've been on the road for a while and your trusty RV is beginning to show its age.
Or maybe you invested in a used RV from the start. (Smart move!)
Either way, if you're dealing with a travel trailer or motorhome that has more than a few miles under its belt, it might be time to make some upgrades.
Remodeling your RV can be a daunting project, but it can also be a whole lot of fun. After all, depending on how far you take it and how much work you're willing to put in, you can basically create your very own custom RV from scratch.
And even if you're not ready to strip your rig down to its bare bones, it's surprising how much small touches can add to your RV's ease of use and coziness. Even a few well-placed throw pillows can make a huge difference!
At RVshare, we understand that not everyone has the same amount of DIY renovation skills, or the same RV remodeling budget to work with. Furthermore, not every rig is in the same spot on the upgrade spectrum — maybe you're looking for a total overhaul, or maybe you just want to add in a few new touches here and there.
That's why we put together this post with 26 of our very best RV remodeling and redecorating tips, so you can pick and choose which projects look best for you and your vehicle. We've also included helpful tips on how to learn more about the skills you need to take on a DIY camper renovation, saving you money and time.
So, ready to learn our very best tips on how to remodel an RV? Let's get started!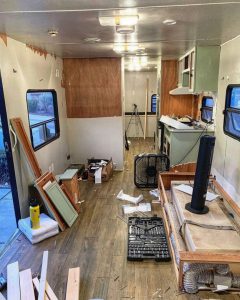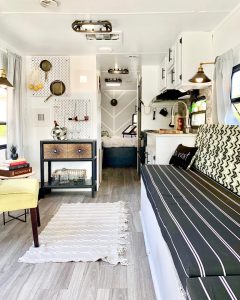 RV Interior Remodel Ideas
From general upgrades to specific remodel ideas for your RV's kitchen and bathroom, here are some of our best ideas for RV interior remodeling.
1. Floors
Like anything in life, a great RV remodel starts from the ground up — quite literally. If your floors are a mess, nothing else in your rig will truly shine, no matter how much time, effort, and cash you pour into it.
Whether it's ripping up your living room carpet to put in hardwood-style laminate or upgrading the tile in your kitchen and bathroom, laying new flooring is the perfect base off which to build a really stellar camper renovation.
Replacing your flooring is a pretty intricate job, so if you're not super handy, you may want to hire a professional. However, if you're looking to save money and also learn a useful new skill, it is possible to teach yourself some basis with RV remodel videos. YouTube is flooded with options, here is a great DIY tutorial video. 
2. Windows
The whole point of RVing is to see the country, right? Well then, it's time to pay some attention to those windows you're looking through.
If your windows are plastic, they may be scratched up and ready for replacement; glass can get grimy and stained over time. Give 'em a good cleanup job and consider installing new ones if you need — and don't forget about the interior, either! Lovely new curtains can totally change the way you see the world around your rig… and good black-out shades can make or break your night's sleep in super-sunny summer destinations.
3. Digital nomad set up
If you're on the road full-time and working remotely, installing a computer-friendly workspace can be a total lifesaver. Don't be afraid to change the original set up, make the space work for your needs and wants. Replace a couch for a work desk and set up the area with all you need to get your work done.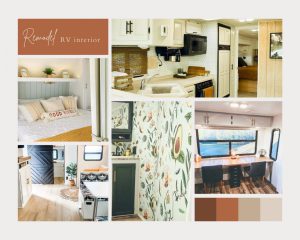 4. A splash of wallpaper 
Even if you spend most of your camping trip outside your RV's four walls, they're still what literally surrounds you when you're trying to relax after a long day of exploration!
If they're feeling drab, give them a nice new shine with some easy-to-install wallpaper, or even interior paneling.
5. What paint can do 
The most powerful and most affordable way to completely change a space is without a doubt PAINT! With the most difficult part being prepping for the activity, painting is an easy and fool proof way to bring it some radical changes. Because of the materials often find in RV cabinets and walls sanding is VERY important to the success and long lasting life of your paint job. Sand down all surfaces and clean them before dropping in the color. Go for high quality paint and make it washable, the extra few dollars will really show and withstand time and your camping activities!
RV Furniture
Upgrading your RV's furniture and fixtures can go a long way towards making the space feel cozy. In fact, if you play your cards right, you may feel like you're traveling in a whole new rig.
6. Recover your couch — literally.
If you camp anything like we do, that RV sofa gets a lot of use. It might be ready for some fresh, new upholstery.
Even if you have a fancy-schmancy fold-out jackknife couch, it's totally possible to give it a recovery treatment yourself — all you have to do is sew a slipcover. Here's one of our favorite YouTube tutorials to help you get started.
7. Or replace it entirely.
Sometimes, it's not about what it looks like — it's about sagging springs or just needing something totally fresh. Don't be afraid to replace your RV sofa with something modern and different. Just because RV dealers like big brown couches doesn't mean you have to like them too. Just make sure you measure your space and purchase accordingly! 
8. Dinette talk
Don't be afraid to say out with the old and in with the new! More and more RV owners are swapping their old built in dinettes for free standing tables! From plastic to wood, any and all small tables can be a great way to add in personality and make some big changes!
Not ready to let go of that storage? Then try reupholstery the couches with a new fabric, it can even be a fun patterned one!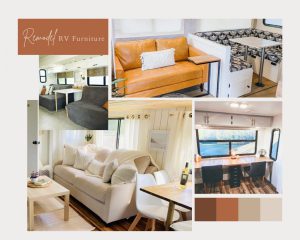 Refresh your Interior
Change doesn't always have to be big to be impactful, here are a few simple and budget friendly ways to spice up your home on wheels. 
9. Give your space life — for real — with indoor plants.
You might be surprised by how much a few houseplants can add to your RV's atmosphere — literally, considering the improvement in air quality!
However, not all indoor plants are created equal, and some do better living the #RVlife than others. Here's our guide to help you get started.
10. Go ahead and mount that new TV — or your art collection.
Yes, you can mount on your RV's walls, whether you're looking to make a high-tech improvement or an analog one. Here's our post on how to do it in five simple steps.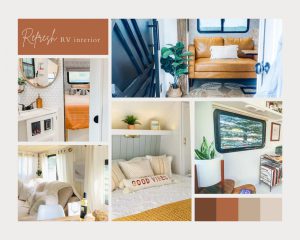 11. Mirrors make even the smallest camper feel bigger.
Want a quick way to make your space feel bright and airy — and to check and ensure you've got your best face on before you head out into the world?
Wall mirrors are an affordable and simple way to make even the smallest camper feel twice as large as it really is. Plus, they come in all sorts of fun shapes and different sizes (like these cool hexagons or these adorable birds), so you can really let your creativity show.
12. Add some Decor 
From candlesticks and picture frames to vases and pots. Just add a little museum putty in the bottom and they can all join in the adventure! Its strong enough to withstand earthquakes so you can drive with peace of mind and without having to add more to the packing list. 
Remodeling Your RV Kitchen
The kitchen is the heart of any house, and that includes ones on wheels. Here are our favorite ways to improve your galley.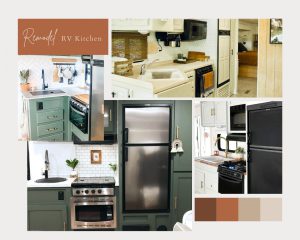 13. Recalibrate your kitchen cabinets.
Aside from their important role in storing all your food and cooking utensils, your RV kitchen cabinets are also one of the most visually prominent parts of your interior — so if they're looking drab, giving them an upgrade goes a long way towards making everything feel shiny and fresh.
Better yet, it's really simple to make RV kitchen cabinet improvements on your own. Giving them a fresh coat of paint is an obvious solution, but you can also look into new cabinet door pulls or even self-adhesive paper liners to snazz up the interior. No matter how you go about it, you'll be surprised at how much this seemingly-small detail changes your RV's aura!
14. Decide whether your kitchen appliances need a replacement.
From your RV refrigerator to smaller gadgets like your microwave or toaster oven, it's important to keep an eye on the age of your appliances. You'll be much happier with your camping trip if you include some new gear in your list of RV upgrades.
Of course, appliances can be a big investment, and choosing the right one can seem overwhelming. Check out this post to learn more about what to look for when shopping for a new RV refrigerator.
15. Install a new backsplash.
Sounds difficult and expensive, right?
Actually, adding in a fancy new backsplash to your RV's kitchen or bathroom counters is anything but — thanks to these newfangled peel-and-stick backsplash options. They're affordable, easy to install, and can be cleaned and disinfected just like real tile. Plus, they'll take your space to the next level instantly.
RV Bathroom Refresh
Hey, when you've gotta go, you've gotta go — and you might as well go somewhere nice!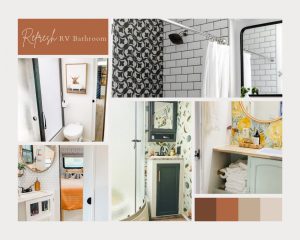 16. A pressure head will totally change your RV shower.
I don't know about you, but I've definitely found myself relying on the campground bathhouse for my daily showers… that is, until I invested in a new high-pressure RV shower head.
Increased water pressure and customizability transform an ordinary RV shower into a luxurious experience, and it can even help you save water while you're boondocking, too. And at less than $20, it's the cheapest serious upgrade I've made to my camper. Think about it: you (hopefully?) shower every single day, and nothing's as miserable as doing it under a trickle. So with this upgrade, you definitely get a lot of bang for your buck.
17. It might be time to upgrade your camper toilet.
If there's one piece of equipment you definitely want to ensure is functioning well, it's your RV's toilet. And fortunately, replacing it doesn't have to be very expensive — RV toilets are often available for only a little over $100.
While you certainly can DIY your toilet replacement, if you don't know what you're doing, this can obviously become a downright messy proposition. Check out this tutorial, but consider hiring professional help if you're at all uncomfortable or unsure!
18. Get creative with your bathroom storage space.
With only a few small, affordable upgrades, like replacing those cabinet doors with pull-out cloth storage bins your camper's bathroom could look totally different. 
Refresh your RV Bedroom
It's where the "magic" happens — even if that magic is just plain old slumber.
Here are some ideas to make your RV bedroom a little bit more magical.
19. Replace your RV's mattress.
Don't get us wrong, we love RVs. But they do seem to have one endemic problem: super uncomfortable mattresses.
Investing in a new RV mattress is one of the most impactful upgrades you can make. Even if everything else in your rig is totally outdated, it'll look a whole lot better when you're well-rested. (Plus, you'll have more energy to pour into those remodeling projects!)
Just keep in mind that RV beds are generally sized differently than standard frames, so you'll need to double-check that the measurements synch up.
Psst: if a whole new mattress just isn't in the cards for your budget right now, a high-quality bed topper can do a lot to make your existing bed better.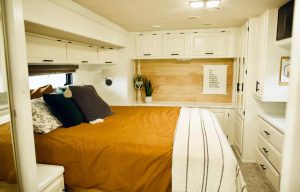 20. Boxed-in by built-in shelves? Rip 'em out.
Although your RV's designer probably meant well with those clunky bedside shelves, depending on your storage strategy, they can be extraneous and claustrophobic.
If so… well, time to grab the sledgehammer! or at least to take the doors off those closets to make things feel a little bit more open.
Take it outside
You can do all the interior remodeling you want, but if you're truly looking to enjoy luxury in your remodeled rig, upgrading key components for utility, rather than style, is really where it's at.
Here are some of the most efficient outdoor RV remodel ideas that might not be super flashy, but will add a lot of comfort and convenience to your camping experience.
21. Get set up for solar.
If you've spent more than an hour researching camper living, this is doubtless not new advice… but it's repeated everywhere for good reason. RV solar panels may be an expensive investment up-front, but they'll easily pay for themselves over time — and that's not mentioning the added benefit of helping Mother Nature.
Even if you approach it from a strictly selfish perspective, boondocking with solar panels is way better than doing so on a generator. You'll enjoy access to your electronics without noise or smelly fumes, and you won't have to worry about figuring out where to fill up the propane on the way.
Of course, it's not as simple as buying some solar panels and slapping them on your rig. A full RV solar setup takes a little bit more doing. Here's our post to help you navigate how to set your RV up for solar.
22. Repaint your exterior.
If your rig's got scuzz and stains that even the best wax job — or, let's be real, a pressure hose — just won't take care of, it may be time for a new coat of paint. And it's about more than just cosmetics: the right protective sealants can help protect your rig's interior from sneaky water damage.
You can also take the opportunity to snazz up your rig's external appearance with a custom mural, like the one on the trailer featured in the photo! Don't worry, it doesn't have to be that extensive if you don't want.
23. Don't forget about your awning.
It's easy to forget about something that spends a lot of its time literally rolled up and stowed away. But your RV awning is actually a really important piece of equipment! Not only does it increase your RV's living space by creating a shaded patio, but it also helps keep the interior cool by blocking the powerful sun rays from your windows.
That's why it's important to take good care of your awning, cleaning and maintaining it as necessary. (Here's how.) But if you're upgrading anyway, you might also consider replacing it — especially if you still have an older, hand-cranked model. They have all kinds of fancy new versions now, ones that unfurl at the press of a button and are pre-lighted with long-lasting LEDs. Check it out!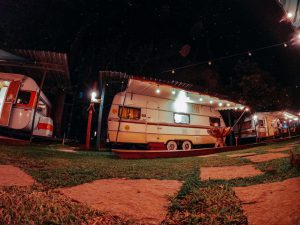 24. Add an exterior entertainment system.
The whole reason you got into camping in the first place was to spend more time outside, right? Well, if you've got a few members of the family who just won't unglue their eyes from the TV screen, you can get the best of both worlds by installing an exterior entertainment system.
Of course, just because the newest RV models that feature outdoor entertainment systems usually include a television doesn't mean you have to. Whether it's a built-in bar or just adding a portable grill to your stock of basement-stored gear, finding more ways to stay outdoors longer is one of our very best renovation tips.
25. Soup up your trailer's suspension.
If you tow a trailer, you likely know how important it is to keep an eye on your weight — if you go over the rated maximum, you risk an unsafe driving situation, not to mention waiving your insurance coverage.
But if you travel frequently (or just aren't great at packing light), having a few extra pounds of capacity can make a big difference. And the way to make that happen is to upgrade your trailer's suspension system.
Want to learn more about the gear you need to upgrade your suspension, and read about an actual RVer who did it? Check out this RVshare blog post, where we mention Jerud of Live Small Ride Free and his suspension upgrade.
26. Add in the gear you need to ensure you stay connected.
As much as we all want to spend every waking moment of our camping trips outdoors and disconnected, these days, it's hard to get much of anything done without an internet connection.
And unfortunately, even campgrounds that offer free Wi-Fi sometimes don't have the bandwidth for all the campers attempting to use it, which can make for frustrating lags or even render the connection unusable.
However, there are certain pieces of techie gear that can help improve your Wi-Fi signal, as well as hot spots and other options for getting online no matter where in the world you are. Click here for our full guide on how to stay online while you're on the road.
DIY RV Remodel
As you can see, many of the very best RV remodeling strategies are totally DIY-friendly. Even big projects, like replacing your flooring, are totally achievable — especially with the power of the internet at your fingertips.
Doing as much of your RV remodeling and renovation as possible on your own can significantly lower your total RV remodel cost, whether you're upgrading a large motorhome or a tiny pop-up camper.
RV Makeover
Looking for even more camper rebuild ideas and RV remodel before and after photos?
Exhibiting the hard work of clever and industrious campers is one of our favorite things to do on the blog, so we've written lots of posts featuring amazing, inventive RV upgrades. Here are just a few!
Remodeling your RV might be hard work, but your efforts will be rewarded with a beautiful, easy-to-operate vacation vehicle, your very own custom getaway bungalow on wheels.
So what are you waiting for, campers? Get to work! That way, you can get back to playtime faster.
*This post contains affiliate links. RVshare may receive compensation if you make a purchase after clicking on a product link.