Travel Inspiration
March 2nd, 2018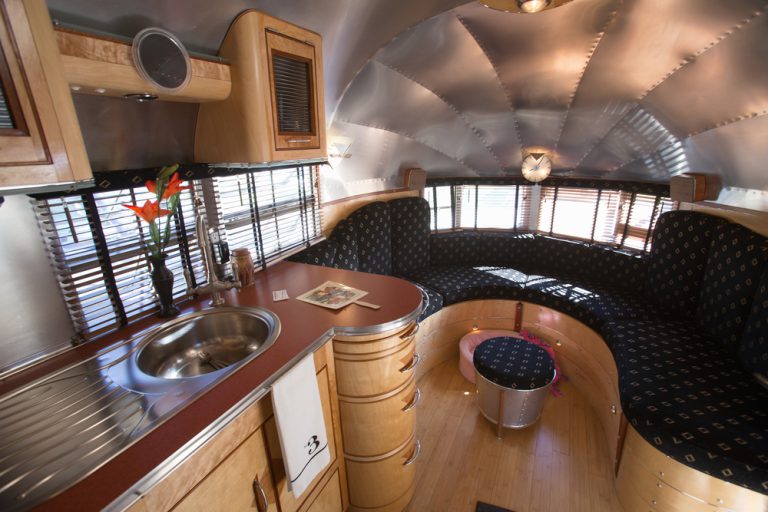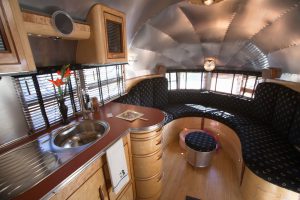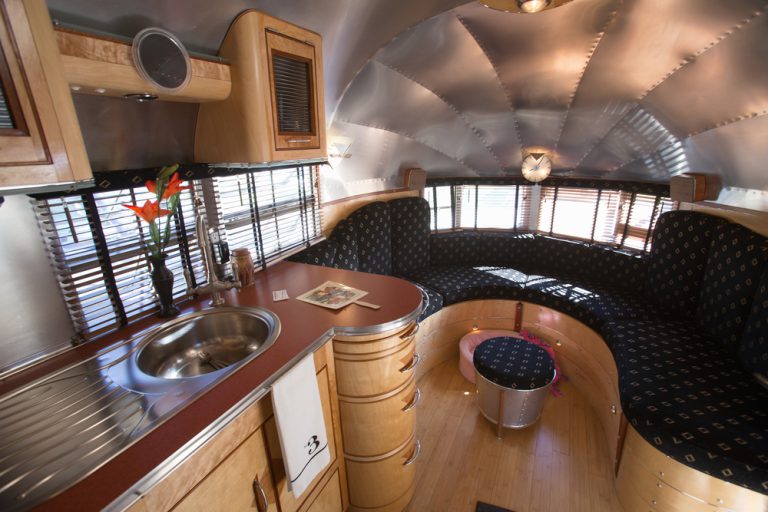 What's a camper's favorite hand-crafted piece of metal?
It's the Airstream brand of RVs, motorhomes, and travel trailers. And if you've spent any time on the road, chances are you've seen one or more of them out in the wild.
Airstream trailers have a devoted fan following, as evidenced by the appearance of the "land yacht" on accessories. These include tee-shirts to throw pillows to wind chimes. There's even an Airstream-specific camping group called The Wally Byam Caravan Club.
So what's all the fuss about? And more importantly, how can you find an Airstream rental?
Airstream Trailers
Airstream trailers are easily identified by their shiny metal exterior and distinctive body shape. According to the Airstream Wikipedia page, this actually "dates back to the 1930s and is based on designs created by Hawley Bowlus, who had earlier overseen construction of Charles Lindbergh's aircraft, the Spirit of St. Louis."
They're also well-known for their very high material and construction quality. This is why you can find models from the '60s and '70s that are still in good, working order. Both inside and out, Airstream trailers are handcrafted and customized to ensure passenger safety, comfort, and convenience.
The Airstream Difference
One main difference between Airstreams and other types of travel trailers is that the interior components are each brought in through the trailer's door by hand. This is instead of being mechanically dropped in from above. Because of this process, technicians can ensure each appliance and furnishing is perfectly sized and situated for the trailer. The process also allows Airstream to create leak-resistant, high-quality exterior shells.
Here's a short video highlighting the process:
The custom-crafted nature of Airstream trailers is backed up with a constant eye toward innovation. According to its website, Airstream was responsible for a huge range of RV firsts including:
workable hot water system.
flushable toilet with a waste holding tank
ladder frame.
pressurized water system.
fully self-contained travel trailer.
Airstream History
Aside from their high build quality and attention to detail, Airstream motorhomes and travel trailers also have a long and storied history. This history is a fascinating tale which is, for many Airstream devotees, part of the allure.
The Airstream project started all the way back in the late 1920s, when a young lawyer by the name of Wally Byam had an idea. He wanted make a travel trailer that floated like a stream of air and was easy to tow by a car. From sailing to camping, Byam had always had a strong thirst for adventure. Therefore, it only made sense that he'd create a way to see the world in comfort and style.
The first Airstream was built on a Model T Chassis and was more like a tent trailer than the silver beauty of today. Wally took his wife on a camping trip and she was not impressed!
This tent trailer eventually evolved into a Masonite trailer that Wally rigged up in his backyard. To help fund the initial idea, Mr. Byam sold "how to" kits in the back of Popular Mechanics magazines so potential customers could build their own little travel trailer.
After trying several models and recruiting some design help, Byam began manufacturing trailers for the wider public in the 1930s. The first Airstream available to the public was called the "Clipper". It was named after a trans-Atlantic seaplane. The little unit slept up to four people and could carry its own water (an new idea at the time). It trailer had electric lights and sold for a whopping, $1,200 in 1936.
Keeping the Dream Alive
A natural born promoter, Wally Byam had an Airstream sign attached to the inside of his door as well as the outside of his trailer. That way, whether the door was opened or closed, everyone knew it was an Airstream. The idea really paid off when magazines or television crews filmed the interior of the trailer because the Airstream sign always showed up!
Thanks in part to this ingenious way of promoting the trailers, the Airstream company survived the Great Depression and World War II. The depression hit the growing RV industry hard and of the 400 travel trailer manufacturers, the Airstream was the sole survivor.
After the war, the company moved to its current headquarters in Jackson Center, Ohio. Since then, Aistream has created RVs of all sizes, including a few rare Airstream motorhomes. Not only that, but the company also produced 32 funeral coaches in the 1980s as well as custom Airstreams that are used by the military and NASA for a variety of purposes.
You can read more about the history and innovation of Airstream here, at its website.
Fun Airstream Facts
A Roof-Top Airstream Hotel
In South Africa there is a hotel that hoisted Airstream trailers to the rooftop. The Grand Daddy Hotel offers guests an amazing view while sleeping in an Airstream high in the sky. 
The odd lodging option boasts seven vintage Airstreams, all recently renovated. They come complete with a U.S. mailbox, a queen size bed, a wet bath/shower, a TV and fridge. All of the RVs decorated in a unique South African theme from glitzy gold, to the African coast.
On top of all that, there is also an outdoor cinema nestled among the trailers, allowing you to picnic under the sky and enjoy a Hollywood movie. It's kind of like a drive-in, only you don't have to bring your trailer, and it's in South Africa!
'Round the World in an Airstream
Wally Byam loved to travel and organized Airstream caravans all over the world.
In the early 1960s he organized an Around the World Caravan that followed the historic map of Marco Polo. It took 403 days and departed from Singapore. 31,000 miles later the caravan ended in Portugal.
National Georgraphic was so fascinated with the idea that they documented the journey and produced a television mini-series featuring the oh-so-spooky voice of Vincent Price.
Airstream Only Parks
There are at least 12 Airstream only RV parks around the US.  Many of these parks allow you to bring your Airstream or rent one to enjoy the facilities.
In Texas and Arizona, Airstream parks are adding homes with garages built especially for storing the silver bullet.
Groups of 'Airstreamers' are popular throughout the world, and many travel to various international locations just to experience the view from the iconic trailer.
Airstream Trailers for Rent
So now that you know what all the excitement's about, let's get down to the fun part: How to take your next RV vacation in an Airstream rental!
Although they're of exceptional quality, it can be difficult to find Airstream trailers on a traditional rental dealership floor. After all, that custom work comes at a price; Airstreams are notoriously expensive. That can be a hard cost for a large business to justify, even if it does mean the vehicles are well built.
That's why the peer-to-peer market is the perfect place to turn if you're looking for an Airstream rental. Private owners of vintage Airstream trailers and motorhomes might list their rigs for rent when they're not using them for vacation. This gives you the opportunity to have the Airstream camping experience without shelling out for a "land yacht" of your very own just yet.
Although there's not a specific Airstream filter at RVshare, you can narrow down your search result by clicking "Travel Trailer" under the "Types of RV" heading on the left sidebar. Because even old Airstreams are often in great traveling condition and are well-loved by many RV campers, it's usually not too hard to find one available as an RV rental in your area!
Airstream Rental Camping
Once you find the Airstream rental of your dreams, it's time to plan your camping trip. If you're renting a travel trailer, your first priority will be to ensure that you have a capable tow vehicle to get your rig where it's going. In some cases, renters might also be willing to deliver and set up the RV for you.
A great way to save money on your camping trip, no matter what kind of RV you're traveling in, is to sign up for (and use!) a Passport America membership. This special discount camping club gets you half price campsites at almost 1900 campgrounds across the country, including several locations in Mexico and Canada. At less than $50 per calendar year, the service easily pays for itself in just one camping trip.
You may also want to bring along some camping accessories that can help make your trip more convenient and comfortable. These can include folding camp chairs, portable LED lights, or a large exterior cooler. Always double-check with your renter to see which accessories have already been provided for your Airstream trailer rental!
Once you have your itinerary set and all your gear ready, you can pick up your rig. From there, you can set off to find out first hand just why so many people are in love with Airstream travel. Reading about the history and quality is one thing, but experiencing it is another. Once your do, we're sure you'll soon count yourself among the company's roster of fans.
For even more about Airstream as a company, as well as the Airstream lifestyle, check out the following books:
And, for when you inevitably cave and buy one of your own:
Happy camping!
This post contains affiliate links. RVshare may receive compensation if you make a purchase after clicking on a product or service link.