Travel Inspiration
Last updated on January 9th, 2023. Originally published on June 23rd, 2018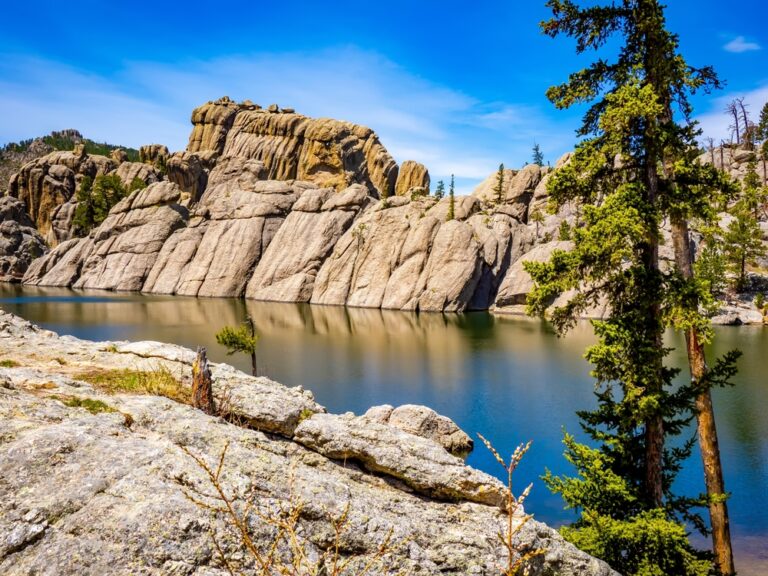 Excited to plan your epic camping trip this summer?
After you figure out where to go and how to get there (by RV, obviously), the next step is to figure out the specific RV parks you'll stay at during your visit.
As you likely know, campgrounds come in a wide variety of shapes, types, and sizes. On one end of the spectrum, there are luxurious resort-style campgrounds with swimming pools, game rooms, and organized social events — and on the other, there's boondocking in the backwoods without water or electrical hookups.
But we'd argue that state parks are just about the perfect sweet spot. In most cases, you'll have the opportunity for electrical hookups at the least, and many also feature extras like barbecue grills and picnic tables. At the same time, they're usually situated on beautiful landscapes and preserved sites, which makes them the perfect place to reconnect with nature.
In this post, we'll list some of the best state parks we know of for RV campers, and also give you some tips and tricks for finding public campsites in your area in case none of these are near your destination.
State Campgrounds
So, why state parks, you may ask? And what can you expect from a state park camping experience?
State parks are a great middle ground for the RVer who wants a slightly more luxurious experience than you can get dry camping, but who'd rather spend their day out on the hiking trails than curled up on the couch or hunkered down in the campground game room. While most state parks do have entry and campground accommodation fees to contend with, the campsites are usually relatively affordably priced, especially when compared to the privately-owned campgrounds that sometimes fetch as much as $75 per night in high-traffic areas. Finally, these parks are excellent places for those campers who enjoy feeling close to nature, since they usually offer a variety of different outdoor adventures to get into.
Want to learn more about the different types of RV parks there are to choose from? Check out this guide we wrote on public vs. private campgrounds.
Best State Parks
While there are excellent state parks open to RVers all across the country, we do have a few favorites we wanted to mention.
Peaks-Kenny State Park, Piscataquis County, Maine
Occupying more than 800 acres on the scenic southern shore of Sebec Lake, Peaks-Kenny State Park features full hookup sites starting at just $20 per night for Maine residents.
Although those hookups mean your camper will be nice and cozy, you'll likely be spending the vast majority of your days outdoors anyway — whether it's boating, fishing, hiking, or just relaxing by the barbecue you're after, this park has you covered.
Click here to see RVshare rentals in Maine.
Hocking Hills State Park, Hocking County, Ohio
With more than 2,300 acres of unique geological formations, cliffs, gorges, and waterfalls right in the heart of southeastern Ohio, Hocking Hills State Park makes an epic summer getaway possible for every midwesterner, even if a long trip isn't in the cards this year.
Both electric and dry campsites are available, though they are limited, so we suggest making your reservation as soon as possible.
Click here to see RVshare rentals in southern Ohio.
Del Norte Coast Redwoods State Park, Del Norte County, California
Redwood National Park may get all the glory, but ask any northern California local and they'll direct you to the state park instead. It's a bit quieter and its stately redwood denizens are just as bafflingly gorgeous — and you can camp there affordably, too.
The max trailer length at Del Norte Coast Redwoods State Park is 27 feet, and the max motorhome length is 31 feet.
Click here to see RVshare rentals near Redwood National Park in northern California.
Cherry Creek State Park, Aurora, Colorado
Looking for the perfect place to camp within easy reach of all the epic adventures the Rocky Mountains have to offer?
Cherry Creek State Park is nestled nearby the bustling community of Aurora, Colorado, so you can easily venture to all the urban and backcountry sites that brought you to Colorado in the first place. Plus, the park offers 4,000 acres of unique landscapes, flora, and fauna of its own, so you don't even have to leave the property to get wild.
Click here to see RVshare rentals in Aurora, Colorado.
Custer State Park, Custer County, Colorado
Rolling hills, herds of buffalo, glassy lakes, endless starry skies, and, of course, the epic Mount Rushmore — the Black Hills region of western South Dakota really does have it all.
Custer State Park is the perfect place to experience all the wonder this unique landscape has to offer, with more than 71,000 acres of adventure to explore. With almost a dozen campgrounds to choose from, most of which offer at least a few hookup sites, there's sure to be an option that suits your camping style.
Click here to see RVshare rentals in Custer, South Dakota.
Camping Reservations
No matter which state park you choose or when you're headed on your trip, it's a good idea to make a reservation ahead of time. Since they're so affordable and awesome, public campgrounds are notorious for filling up fast.
If you find you spend a lot of time at a specific state park location, it can be a decent idea to invest in a state park pass that gets you annual access. These are usually less than $100, and if you visit two or three times in a year, it'll easily pay for itself.
State Park Near Me
One of the best parts about living in the United States is that all of the states have something amazing to offer. If none of these options fit with your travel plans this year, no worries — you likely have a hidden gem right in your own backyard!
Get familiar with the state parks in your area by reaching out to your state parks department, or even just doing online research. Our digital world makes it easier than ever to discover exciting new destinations… even when they're closer to home than you'd first imagined.
This post may contain affiliate links.