Mammoth Cave National Park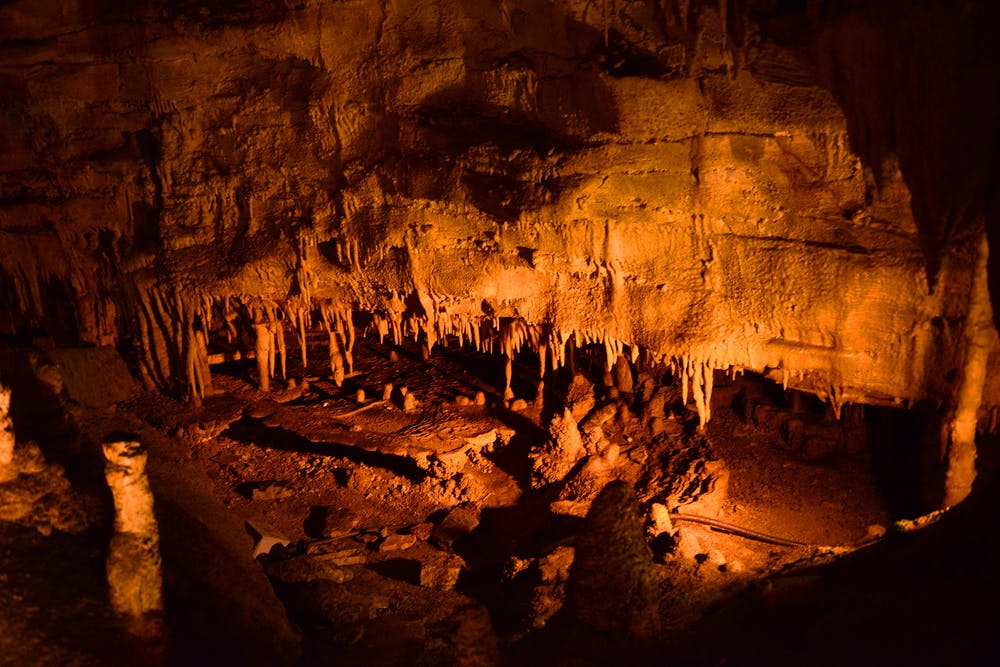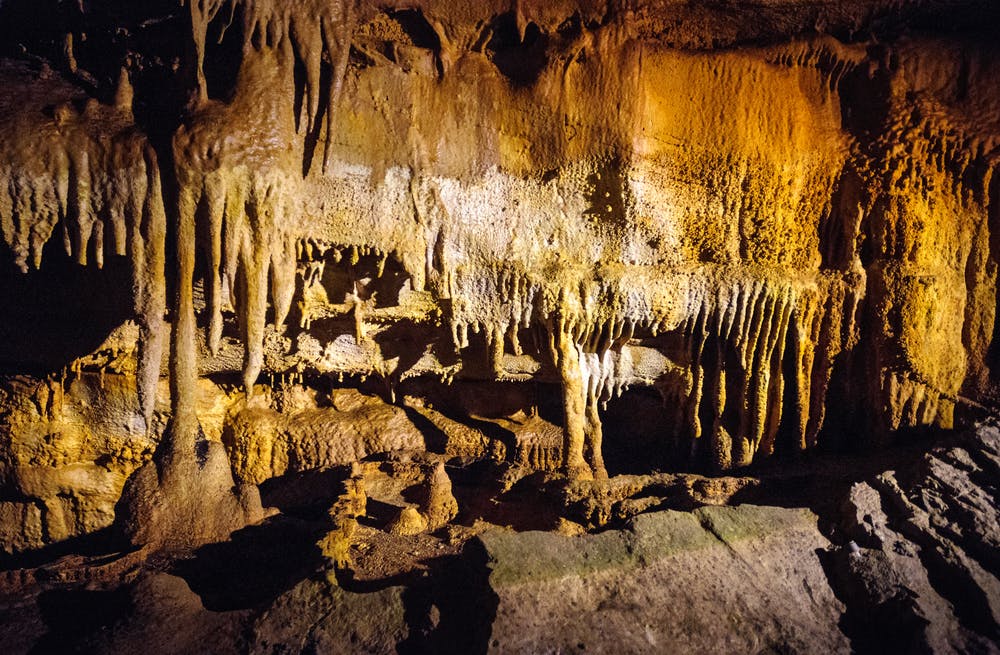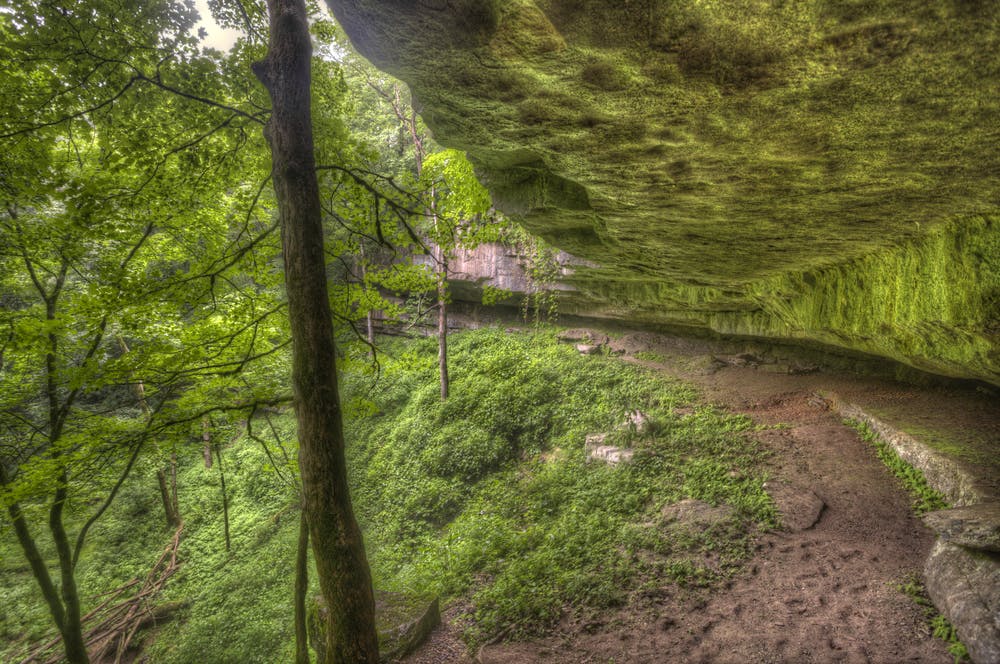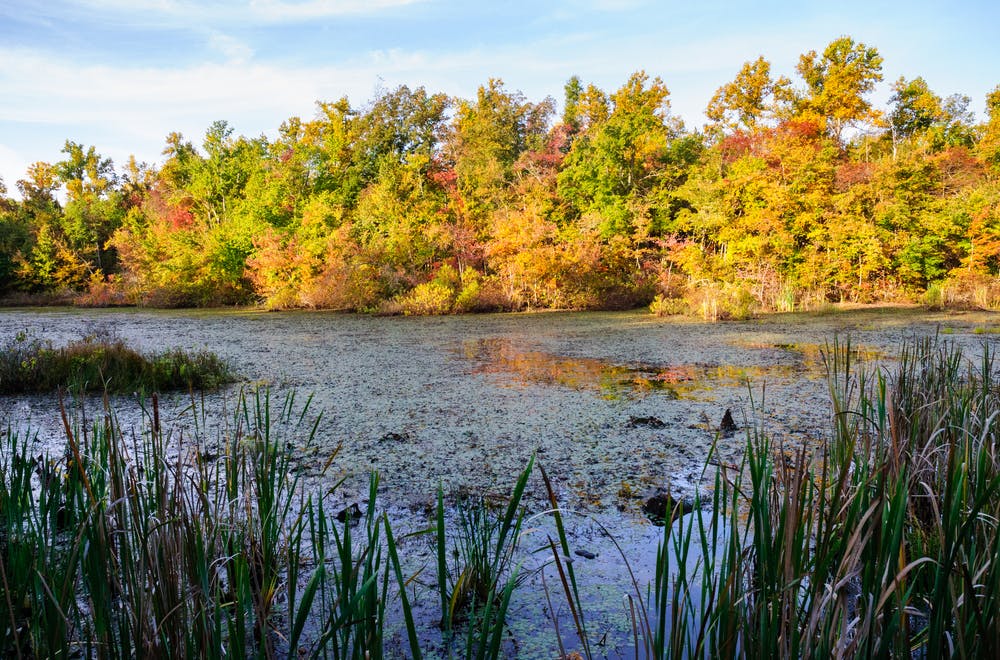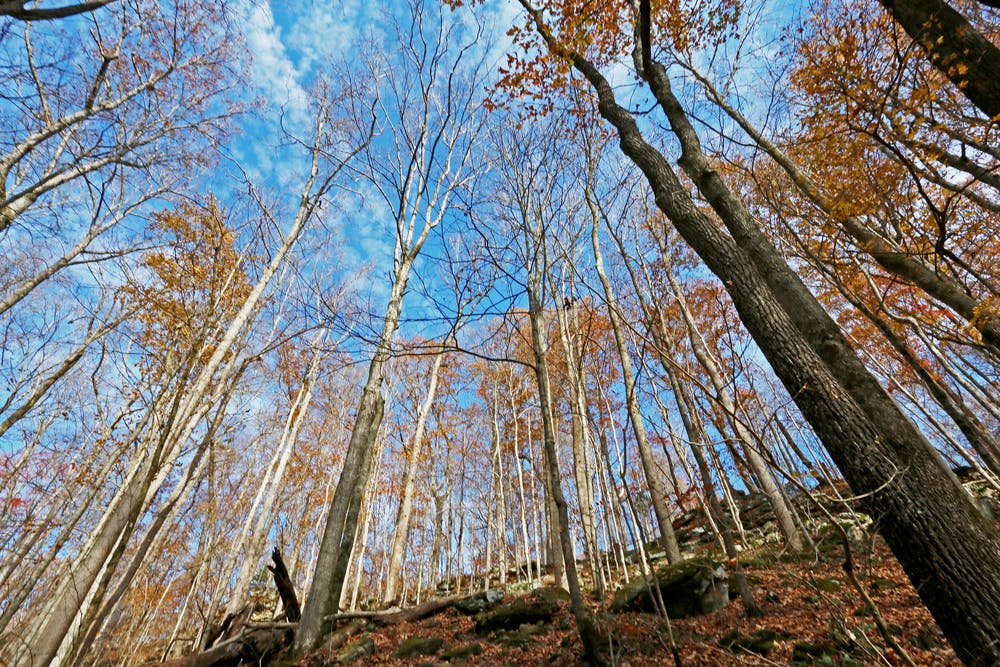 >

Mammoth Cave National Park
Nestled in the rolling green hills of central Kentucky, Mammoth Cave National Park is home to the longest known cave system in the entire world, with more than 400 miles of explored caverns and even more still waiting to be discovered. Sections open to public visitation include the Frozen Niagara area, with cascading flowstone formations, as well as the historic entrance leading to vast chambers such as the Rotunda and Gothic Avenue -- a tunnel whose ceiling is covered with 19th-century signatures.
But this cave has drawn human beings into its depths for far longer than the few centuries it's been since European settler John Houchin first discovered the cave by accident in 1790. Native Americans have known about and been actively exploring this cave for some 5,000 years, according to archeological evidence, and traveled upon and utilized the resources of the area surrounding the caves for more than double that time — some 12,000 years and counting. Learn about the park's indigenous history here.
Central Kentucky has a relatively mild climate, although atmospheric humidity means both summer and winter temperatures can feel uncomfortable. However, the caves themselves are always dark, moist, and chilly, with the air temperature hovering near 54 F -- so visitors are encouraged to bring a light jacket for their tour.
Mammoth Cave National Park is located in quite a rural part of Kentucky, though there are a number of small communities in the vicinity which offer basic facilities like gas, food, and lodging. Park City, Cave City, and Brownsville are all within a twenty minutes' drive of the visitors center, and the larger town of Bowling Green can be reached in less than an hour.
Although visitors are not permitted to explore the cave on their own, the park offers a wide variety of cave tours for every interest and fitness level, including an accessible tour for guests in wheelchairs. Don't like small spaces? No problem -- there's plenty of outdoor adventure to be had on the surface. Hiking, biking, horseback riding, and fishing and boating in the area's rivers are all popular diversions for those who don't fancy a subterranean adventure. The Park Service also administers special events on occasion; check the park calendar for full details.
Weather
Spring 65-70 F
Summer 80-85 F
Fall 75-80 F
Winter 45-50 F
Nearby Cities
Brownsville, KY
Trip Planner
Use our FREE RV trip planner to begin customizing the perfect RV trip.
Continue
RV Resorts & Campsites in Mammoth Cave National Park
RV Camping at Mammoth Cave National Park
Private RV Parks in the Mammoth Cave Area
RV Rentals Near Mammoth Cave National Park
Nearby RV Rentals
Hit the Trails
There are two sides to this magnificent natural park: the sunlit surface and its subterranean depths. No matter which you choose, you'll find ample trails awaiting your exploration.
Below, we've listed a few of the most popular options on either side of the park. Please note, however, that cave tours are offered on a seasonal basis and may change at any time -- and that they are fee-based services. Please also be advised that these tours may not be suitable for those with a fear of the dark or of small spaces. For full, up-to-date information on cave tours presently on offer at Mammoth Cave National Park, including important guidelines and regulations, click here.
Mammoth Cave National Park Topside Trails
Green River Bluffs
Distance: 1.3 miles
Terrain: Meander along the Green River on this short, scenic hike that starts just outside of the visitor center.
Cedar Sink
Distance: 1 mile
Terrain: A well-maintained trail lined with classic Kentucky flora and fauna.
Sinkhole
Distance: 2 miles
Terrain: Follow this green corridor to a marked sink dome, visible from the surface.
What to Do at
Mammoth Cave National Park
Even with more than 400 miles of cave trails to explore, you can't stay underground forever -- even if you wanted to.
When you come up for air, you might as well sneak a meal in, too… and maybe a few fun diversions. Here's what to see, eat, and do in the Mammoth Cave National Park area.
Restaurants
Cave exploring is hungry work. Luckily, there are plenty of delicious mealtime options in the Mammoth Cave area, both within the park and in the neighboring communities.
Type: In the mood for some south-of-the-border favorites in the deep south? This casual eatery serves up authentic Mexican treats -- including a killer margarita.
Location: Cave City
Type: Got a whole camper full of hungry mouths to feed? Pizza is the answer -- and this southern chain knows how to do it right. Create your own or choose from one of their specialties. Delivery, carry out or dine in
Location: Brownsville and Cave City
Type: After a long cave tour, sit back and take a load off to enjoy a fresh-made meal right inside the park boundaries. From southern favorites like fried green tomatoes to organic chicken salad, there's something for everyone. Open seasonally for breakfast, lunch, and dinner
Location: The Lodge at Mammoth Cave (inside the park)
Type: Yes, Pig, Kentucky is a real place -- and yes, you absolutely need to pig out on barbecue while you're there. This low-key joint is a homegrown favorite, and its offerings are sure to please.
Location: Pig
Type: Whether you need a quick grab-and-go pre-packed sandwich or a sweet treat for the kids, this ice cream parlor and cafe is affordable, convenient, and delicious.
Location: The Lodge at Mammoth Cave (inside the park)
Shopping
Hiking boots worn out? RV fridge ready for a fill-up? Don't forget -- you promised Aunt Ellee you'd bring her a souvenir!
Here's where to head for all your shopping needs in the Mammoth Cave area.
Given the fact that you're here to explore a cave system, there's no better souvenir to bring home (or gift) than a rock, mineral, or fossil. Big Mike's shop is also home to Big Mo, a real mosasaur fossil, as well as a full-scale replica of what he looked like when he was up and kicking!
Location: Cave City
Literature and information about this fascinating cave system is just the beginning at the park's on-site bookstore, which also features locally-made goodies, knick-knacks, souvenirs -- and, of course, the opportunity to get your national parks passport stamped.
Location: Inside the Visitor Center
Need a new pair of hiking boots or a backpack before you take to Mammoth Cave's topside trails? This locally-owned Bowling Green outdoor outfitter's got you covered -- literally.
Location: Bowling Green
Eat a lot? Then head to this grocer to save a lot of cash on your next fuel-up trip.
Location: Brownsville and Cave City
Museums
Maybe a rainy day interrupted your park-bound plans, or maybe you've just always been a curious cat. Either way, the museums and cultural exhibits near Mammoth Cave have a whole lot of information -- and entertainment -- to offer.
The expansion of the railroad was critical to our country's development -- and if you've ever wanted to get up close and personal with this important technology, this is your chance. Your entry price includes a guided railcar tour as well as a self-directed museum exhibit.
Location: Bowling Green
Located on the campus of Western Kentucky University in Bowling Green, the Kentucky Museum features six permanent exhibits detailing the state's history and culture, as well as a series of seasonally rotating exhibits.
Location: Bowling Green
Want to learn more about the beasts that roam this land -- and the world at large? The Mammoth Cave Wildlife Museum features 14,000 square feet of exhibitions, detailing the lives and habitats of hundreds of species from across the globe.
Location: Cave City
If someone in your camping party is into all things zoomy, don't miss a visit to this museum, dedicated to America's most beloved sports car.
Location: Bowling Green
Sightseeing
Had all of the underground adventures you can stomach? There's plenty more family-friendly fun to be found in central Kentucky.
This park, filled with hundreds of life-sized dinosaur replicas, is every young aspiring paleontologist's dream. After you're done meandering around (and taking photos with) these gentle giants, you can dig for fossils, pan for minerals, or learn even more about our prehistoric friends at the onsite museum.
Go-karts, horseback rides, kayaking adventures, old-timey photos, and more await and this all-in-one family fun adventure stop.
Bet you didn't think you could find kangaroos in Kentucky! Well, thanks to this quirky and interactive wildlife exhibit, you can -- and you can even pet them, too.
How to Get to
Mammoth Cave National Park
Because of its rural location, the National Park Service advises visitors against relying solely on their GPS system to find their way to Mammoth Cave. From the north, take I65 to exit 53 (the Cave City exit). Then turn right onto KY-70, and follow it as it becomes Mammoth Cave Parkway. From southbound I65, take exit 48 (the Park City exit). Then, turn left onto KY-255 and follow it as it becomes the Park City Road into the park.
The closest major airfields to Mammoth Cave National Park are Louisville International and Nashville International, both of which are just over an hour's drive away. Whether you fly in and rent on-site or drive from your hometown, an RV is the very best way to experience Mammoth Cave National Park -- or any national park, for that matter. You'll be able to get a jump start on the day by camping within the park boundaries or close to the gates, without having to sacrifice any creature comforts. RVing also allows you to take the road at your leisure, and makes it easy to let spontaneity guide your adventure.
If you don't have an RV of your own, check out the RV rentals available in your area through RVshare. By renting from a private owner through the peer-to-peer market, you'll help support another camping enthusiast just like you…and save hundreds of dollars in the process.
Entering Mammoth Cave National Park
While there's no fee to enter the Mammoth Cave National Park property, each of the cave tours does come at a cost, and permits are required for some activities. To learn more (and make reservations ahead of time, which is highly recommended), click here.
No matter how you get there, we can't wait to hear more about your epic adventure in the world's largest cave system. In fact, we might even share your travel tales or photos on our blog or social media channels! To be considered, simply tag us in your posts or send your snaps and stories to us directly at [email protected].
Happy camping -- and caving!