Travel Inspiration
Last updated on May 9th, 2023. Originally published on December 2nd, 2020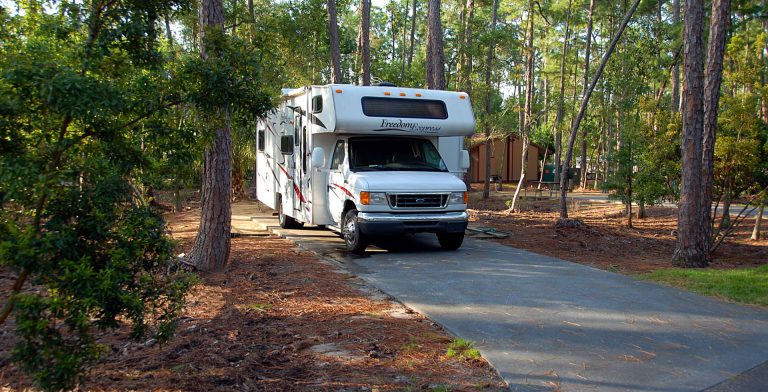 Best Park Passes for Seniors
One of the best things about traveling in an RV is the ability to see the country on a budget. This is especially great for seniors, many of whom are living on fixed budgets in order to remain retired.
Of course, the trick to traveling on a budget is finding budget-friendly campsites. While some people choose to boondock to save money, others may want the comforts offered by hookups and a bathhouse. This is where senior state park passes and other camping passes come into play.
There are several different types of camping passes out there. Some are for everyone, while others are offered only to seniors. If you're in your 60s or older and are looking to save some money, these passes can be a huge help. Read on to learn all about the best annual camping pass options for seniors.
Is there a Senior Pass for State Parks?
Some of the least expensive and most beautiful places to camp are the many state parks scattered across the country. State park camping fees tend to fall in the $25–$30 range, with some priced even lower than that. These prices are very affordable compared to the nightly rates at most RV parks, and the views and hiking offered at state parks are generally pretty incredible.
All that said, even those rates can be a bit high if you camp often or live in your RV full-time. For this reason, we highly recommend looking into annual senior state park passes in states you plan to spend a lot of time in. Many state park systems offer these, and this kind of camping pass can save you quite a bit of money if used often enough.
Is there a senior pass for state parks? Yes, several systems have an option specifically for seniors. A pass for state parks might be quite a bit cheaper than other options, or it might offer a steeper camping discount than other passes. In some state park systems, seniors may receive a discount even without senior state park passes
Senior Pass for State Parks
Wondering where you can get a state park pass for seniors or other senior discounts? Below is information on where you can get senior state park passes and what kind of pricing and benefits to expect.
Alabama
Alabama state park annual passes are only good for day-use admission at the park they are purchased from. Rates for these passes vary by location and are lower for seniors.
Alabama also offers a 15% discount on camping fees for seniors. This discount is applied whether or not you own a camping pass.
Alaska
Unfortunately, Alaska does not currently offer a camping pass to the general public. That said, they do have a Disabled Veteran's Annual Camping Pass option, which is free to those who meet the eligibility criteria. Those who hold this card are able to camp free of charge in Alaska State Parks.
Additionally, Alaska does offer day-use passes. These are $60, and there is no discount for age.
Arizona
There are several Arizona state parks day-use pass options. That said, none of these cover camping fees. These passes range in price from $75–$200, and there are no senior discounts, but there are discounts for veterans.
Arkansas
Day-use at Arkansas state parks is absolutely free. That said, the parks do charge for camping. Fortunately, they also offer a discount on camping fees for seniors. All you have to do is have proof of age and you'll be given this discount.
California
A number of annual passes are available for the California state park system. However, none of these passes offer discounts on camping. Additionally, there are no discounts for seniors on any of these passes.
All that said, those with permanent disabilities can get a pass that entitles them to 50% off of camping fees. Meanwhile, those who qualify for the Distinguished Veteran Pass can camp free of charge.
Colorado
Like so many other states, Colorado offers a variety of day-use annual passes for their state parks. None of these grant discounts on camping fees at all, but they can still help save you some money.
Connecticut
In Connecticut, only non-residents pay to enter the state parks. Those who visit often and wish to avoid these entrance fees can purchase a season pass for a small fee, which allows them unlimited access to any state park. This does not help with camping fees, but can lower the overall cost of your Connecticut adventures.
Delaware
Another state with a day-use-only pass, Delaware's pass allows year-round entry to all state parks at no additional charge. The resident price for this pass is only $35. Meanwhile, out-of-state visitors will pay $70 for a pass. While the pass doesn't discount camping fees, there are discounts available for seniors and it can still be a huge money saver.
Florida
Florida state park passes are available for $60–$120, depending on the type of pass you need. There is an active duty military and honorably discharged veteran discount of 50% off each pass. On top of that, Florida residents who fall into any of the following categories qualify for a free state parks pass:
Disabled veterans
Surviving families of deceased veterans
Families of deceased law enforcement officers and firefighters
Licensed family foster homes
Those who adopt a child with special needs
These passes don't discount camping fees, which fall between $10 and $60 a night. That said, Florida residents receive a 50% discount on camping fees.
Georgia
No camping discounts are available for Georgia's state parks. There is a day-use annual pass though. This pass is available for $50 and gives the user access to all Georgia state parks at no additional fee.
Hawaii
Hawaii state parks don't charge entrance fees, nor do they offer any kind of annual pass. The vast majority of Hawaii's state park campsites are for tents only and are incredibly cheap at $18 a night for non-residents ($12 a night for residents).
Idaho
State parks passes in Idaho remove the need to pay day-use fees, and they cost a mere $10 for residents and $40 for non-residents. These passes do not discount camping fees, which range in price from $10–$31 per night. However, there are camping discounts available for seniors over the age of 62, as well as Idaho residents with limited income.
Illinois
No annual passes are available for Illinois state parks. That said, senior citizens and disabled individuals do receive a discount on camping, dropping nightly camping rates to between $0–$17.50. Everyone else can expect to pay between $8 and $35 per night.
Indiana
An annual state parks pass in Indiana is $50 for residents and $70 for everyone else. This does not discount camping fees, which are between $12 and $44 a night depending on the park, time of year, and even day of the week.
Iowa
Iowa is another state that doesn't charge entrance fees, and therefore doesn't offer an annual pass. This state also doesn't offer any kind of camping discount, but rates are cheap, running between $6 and $19 a night.
Kansas
Kansas has an unusual setup. An annual parking pass can be purchased for $25 and removes the need to pay day-use fees. Seniors and disabled individuals can purchase this vehicle pass for only $13.75.
From there, guests can choose to purchase an annual camping pass for either $202.50 or $252.50, depending on when it is purchased. This covers camping fees but does NOT cover utility fees, which range in price from $9–$12 per night, depending on how many utilities you use during your stay.
Kentucky
There are no annual passes available for Kentucky state parks. However, the system does offer camping discounts for military, seniors, and even those with AAA.
Louisiana
Looking to visit Louisiana? The annual pass for the state parks here is $80. Active military and seniors pay half price to camp at the already affordable state park campgrounds, and those with an "America the Beautiful" pass can also save 50% if their home state park system also honors this pass.
Maine
An annual parks season pass in Maine is available for $105, or $55 for seniors. This pass only covers day-use fees, but since these are wrapped into the camping fees, you will save on camping should you choose to purchase this pass.
Maryland
Maryland offers a state park pass to residents of the state for $75. Out-of-state visitors will pay $100 for the same pass, which offers free admission to all state parks as well as a discount on concessions and boat rentals.
The better deal for seniors looking to visit Maryland state parks is the Golden Age Pass. At $10, this is a super affordable lifetime pass. It's for those ages 62 and up and includes free admission to all Maryland state parks, as well as a 50% discount on camping.
Massachusetts
Valid for a calendar year (Jan–Dec), the Massachusetts state park pass gives you access to most DCR parks without day-use fees. Cost is $120 for the year, with a 50% discount for Massachusetts residents. Those with handicapped license plates or hang tags will not be charged a parking fee, and therefore do not need a pass.
This state park pass does not discount camping fees.
Michigan
Annual state park passes are available in Michigan. These cover day-use fees and range in price from $11–$30.50. An annual pass or day-use stick is required when camping in Michigan state parks, so this pass is useful if you plan on staying in the Michigan state park system for more than a night or two.
Minnesota
An annual Minnesota state park pass costs $35 with discounts for disabled individuals and covers day-use fees. This pass is free for active duty military personnel and their families, as well as for Purple Heart recipients. Meanwhile, K-12 teachers are entitled to free day-use passes, making the annual pass unnecessary.
Keep in mind that campsites are an additional fee and senior discounts are not available.
Mississippi
The state of Mississippi offers an annual state park pass for $42 per year. This covers day-use fees. Camping fees vary, and disabled and senior discounts are available.
Missouri
Missouri state parks offer free entry, meaning no annual pass is needed to visit. That said, camping fees do apply. These range in price from $6–$56 per night and a $2 discount is available for military members, disabled individuals, and seniors over 65.
Montana
Residents of the state of Montana do not pay day-use fees at Montana state parks. Everyone else can purchase an annual pass for $50 to cover day-use fees and get camping discounts. There is also a short term non-resident pass available. This costs $35 and is good for 7 days.
Camping fees are inexpensive, with electric sites starting at just $13 for resident seniors in non-peak season and topping out at $34 for an electric site for a non-resident without a park pass during peak season.
Nebraska
A day-use park permit for Nebraska state parks can be purchased for $31 for residents and $46 for non-residents. This covers daily admission but not camping fees, which can range from $12–$20 depending on season and amenities desired.
Nevada
Nevada offers two options. The first is an Annual Entrance Permit. This covers day-use fees but not camping fees.
An All-Access Permit is also available for $200. This one covers day-use fees as well as boating and boondock camping fees. If you wish to use a campsite with utilities under the All-Access Permit, you will only be charged $10 a night.
Finally, there are Senior state park passes and Disabled Permits available. These offer the same benefits as the All-Access Permit, but the cost is only $30 per year.
New Hampshire
In New Hampshire, you have the option of an individual, family, and/or Seacoast parking pass. Individual resident passes are only $60 for the season. Meanwhile, those wanting a resident family pass will pay $105. Non-resident family passes are $120 and the cost for a Seacoast parking permit is $175 per vehicle.
New Jersey
State park day-use passes are available in New Jersey for $50 for state residents and $75 for non-residents. Camping fees are not included and cost between $3 and $25, depending on whether you're a New Jersey resident, the season you'll be visiting, and the park you plan to stay in.
New Mexico
New Mexico is a very RV-friendly state, and the state parks system is no exception to this rule. Here, you can purchase a state parks Annual Camping Permit that covers day-use fees and offers free dry camping. Want to camp with hookups? Water and electric are an additional $4 a night, and full hookups will cost an additional $8 per night.
For New Mexico residents, the state park annual camping permit is $180, disabled state residents and seniors will need to pay $100, and those who are visiting from out of state can expect to spend $225 on this awesome pass.
New York
New York State offers their Empire Pass, which allows pass holders to enter all New York State parks free of charge. Unfortunately, this pass doesn't cover camping fees at all, so expect to pay $15–$39 per night for your campsite.
North Carolina
Annual Parks Passes are available for North Carolina State Parks for $90. These cover day-use fees but not camping, which can cost as much as $25 a night. Luckily, seniors receive a $6 discount on all campsites with the exception of primitive camping spots.
North Dakota
An Annual Pass to the state parks in North Dakota costs a mere $35. As if that wasn't cheap enough, those who are eligible for senior state park passes and disabled individuals can get this same pass for only $28. That said, this pass doesn't discount camping fees, which can range from $12 to $30.
Ohio
State parks in Ohio don't charge entrance fees. They do charge for camping though, so be prepared to pay $17 to $39 per night unless you qualify for the Golden Buckeye Pass. This senior pass gives the user up to 50% off camping fees in Ohio's state parks.
Oklahoma
Oklahoma offers a state parks Parking Pass that gives the passholder fee-free entry to all Oklahoma state parks. The pass is $75 for the year, and those with a tribal license plate will pay 20% less. Residents of Oklahoma who are also honorably discharged veterans or seniors will receive a pass for free. Meanwhile, those who are 100% disabled can get one for 50% less.
All that said, this parking pass does not affect camping fees, which can vary from park to park and season to season.
Oregon
Like many other states, Oregon offers a state parks pass that covers only day-use fees. These cost $30 for a single year and $50 for a two year pass. Camping fees vary in these parks.
Pennsylvania
There are no fees to enter Pennsylvania state parks, nor is there any kind of annual or seasonal pass for these parks.
Camping fees are less for residents, and range in price from $15–$33 a night.
Rhode Island
Rhode Island state parks system does not offer any sort of pass. That said, there is a beach parking pass available, which gives users free access to all beach parking lots when parking is available. This pass costs $30 for residents and $60 for non-residents, and doesn't discount camping fees, which vary from park to park.
South Carolina
Looking to visit South Carolina? The South Carolina All Park Passport is available for $99. It provides entry to all of South Carolina's 47 state parks and covers everyone in a single vehicle.
Campsite fees are not covered by this pass and vary throughout the system.
South Dakota
An Annual Entrance Pass is available for the South Dakota state parks. This one covers day-use fees and costs $30 for the year. It does not cover camping fees, which can be as low as $17 and as high as $21.
Tennessee
Tennessee is one of the few states that does not charge state park visitors. Therefore, this state doesn't offer any sort of state parks pass. Camping fees, however, fall between $17 and $35 a night.
Texas
Texas is a popular RVing destination, especially in the winter months, when this state is one of the warmer places in the country.
If you plan to join the many RVers in the Lone Star State, we highly recommend the Texas State Parks Pass, which covers day-use fees and offers the user 50% off the second night of a 2+ night stay. Since campers are charged day-use fees, this comes out to be a big discount, making the pass well worthwhile.
This annual pass costs $70 for the year, and discounts are available for Texas residents who are disabled, members of the military, or those who are eligible for senior state park passes.
Utah
Utah is another fabulous RVing destination. After all, every RVer must spend some time in the Mighty 5.
Snagging a Utah state parks Annual Park Pass is a great way to save during your time there. These passes are available for $75, and seniors are offered a discounted rate of only $35.
This pass gives the user free entry to all state parks, but no longer includes camping discounts.
Vermont
In Vermont, you can save on day-use fees by purchasing either an individual pass for $30 or a vehicle pass for $90. A ten-visit punch card is also available for $30, and one punch will be taken per person per visit.
These passes do not discount camping fees, so be sure to budget accordingly.
Virginia
The Naturally Yours Passport is the option in Virginia. This pass is $75, and senior state parks passes are available for only $40. Both passes give visitors free parking and admission to all Virginia state parks for a full year. Unfortunately, these passes do not offer discounted camping.
Washington
Washington offers the Discover Pass, which is required for day-use vehicle access to all Washington state parks. The cost for this pass is $30 and it can be transferred between two vehicles.
That said, this pass is not necessary if you'll be camping in the state parks, as campers are allowed access to the park they are camping in without paying day-use fees.
West Virginia
West Virginia does not offer an annual state parks pass. The system does offer a 10% senior discount on camping though, so be sure to take advantage of this!
Wisconsin
Resident annual state park passes are available in Wisconsin for only $28. Out-of-state visitors will pay $38, and seniors will be charged only $13 for this same pass.
An annual pass grants a person day-use access to all state parks, but does not cover camping fees, which can vary. That said, since an admission sticker is required for each day of a camper's stay, an annual pass will likely save you money if you plan to camp in state parks for any length of time.
Wyoming
Lastly, there is Wyoming. Residents of this state can pay $40 for a day-use fee and $50 for an overnight camping fee. These passes combined will allow them to visit the parks and camp for a full year.
Unfortunately, an overnight camping pass is not available for non-residents. Still, these visitors can save by purchasing a day-use pass for $70 for the year.
Other Camping Passes to Consider
Senior state park passes aren't the only way to save on camping fees. Another great option for the senior camping crowd is the "America the Beautiful" Senior Pass.
This awesome little card can be had for $20 annually or $80 for a lifetime pass, and is available to U.S. citizens ages 62 and up. It offers the cardholder free admission to national parks sites across the country, as well as 50% off many national park camping fees.
Other amazing camping memberships and passes for people of all ages include:
Using a few different memberships in addition to senior state park passes will allow you to travel all over the country without breaking the bank. Why not invest in a pass or two today so you can start saving right away?