How Tos & Tips
October 7th, 2017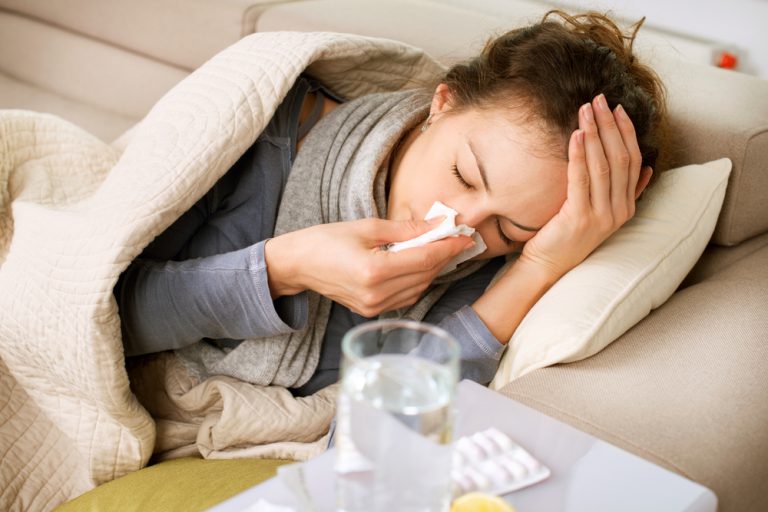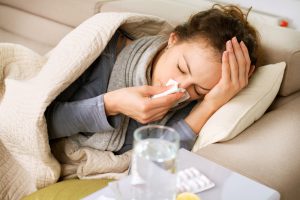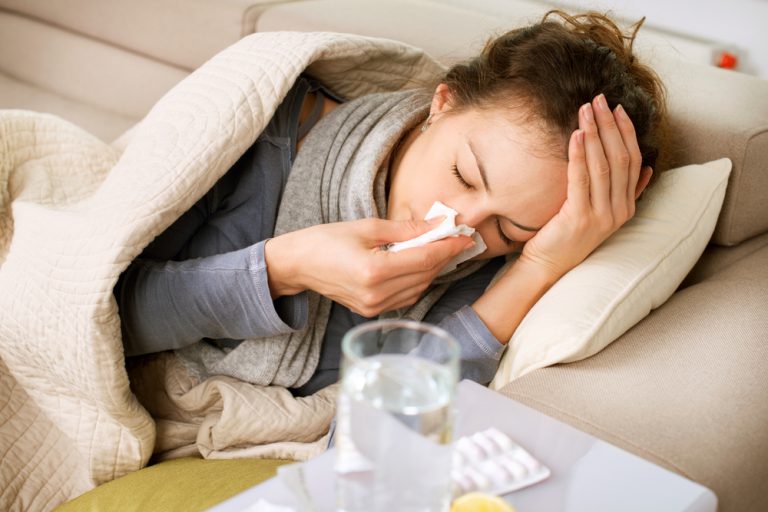 If there's one surefire way to ruin an RV trip, it's coming down with an icky bug when you should be busy having fun.
But unfortunately, flu season doesn't take a vacation. And if you're planning on doing any fall travel this year, you may be wondering how to avoid getting sick while you're traveling — and what you should do to prepare just in case you do actually come down with something. (Hint: It involves more than stocking up on Clorox Wipes and Kleenex!)
Don't worry — we've got you covered! (I mean, you are actually going to have to buy your own tissues, but other than that.)
Here's what you need to know about staying healthy during flu season when you're driving your rig through those crisp, autumn days.
How to Stay Healthy When Traveling
What's the very best way to treat the flu? Why, not to come down with it at all in the first place, of course…
Unfortunately, traveling can throw even the most regimented and health-conscious person's usual schedule into total disarray. Changing up your sleep/wake cycle, exercise regimen, or eating habits can wreak havoc with your immune system… which doesn't bode well if you're trying to avoid catching what's going around.
That's why it's so important not to throw your usual healthy routine out the window just because you're on vacation. And don't worry, it doesn't mean you won't still have a ton of fun on your vacation!
You might not have a gym membership at your destination (or want to spend precious hours of your trip slogging away on the elliptical machine)… but you can totally take on an epic hike in the natural areas surrounding your destination! And sure, you'll probably have a few pig-out sessions while you're trying out the local cuisine… but your rig has a kitchen, which means maintaining a healthy diet for the largest part of your travel is totally doable. (Here are some of our favorite RV-friendly recipes!)
If you're very sensitive to changes in the atmosphere and air quality, it might also be helpful to invest in a quality dehumidifier or air filter, like the Blue Pure 411 Air Purifier with Particle and Carbon Filters or the Mudder Electric Dehumidifier, 500 ml Mini Room Dehumidifier. ALthough they can't prevent you from running into a virus, they can minimize the effect of any allergies you might have and help decrease stress on your lungs in humid environments.
Get Ready for Flu Season
Of course, no matter how healthy you are and how rigorous your attempts to stay that way, sometimes, you just hit a stroke of bad luck. So if you're traveling during flu season, it's always best to have a few preparations on standby.
But when does flu season start and end, anyway? What facts do you need to know about flu season?
Although there aren't exact dates, the flu season is generally considered to extend from the months of October through May, peaking in the dead of winter (i.e., January and February). Of course, it's possible to catch a virus any time of year.
According to the CDC, the very best defense against flu season is to get your flu shot every year, as early as possible. Here's a writeup of theirs on some of the most frequently asked questions for the 2017-2018 flu season.
Fortunately, the vast majority of U.S. insurance plans cover a flu shot free of charge, and you can even get one at your local grocery store or pharmacy if you don't want to make a doctor's appointment. Be sure to listen thoroughly to all of your provider's instructions, however, as people of certain ages or with certain allergies should not get the flu shot.
What to Do if You Get Sick While Traveling
So: You maintained a healthy diet on the road, you made sure to get in ample sleep and exercise, and you got your flu shot… but you still find yourself sick?
Although you can help prevent the flu, you can't always avoid it. But there are ways to help yourself get over it as quickly as possible, and to stay relatively comfortable while doing so.
Once the full force of the achy, exhausted, congested feeling hits you, you may immediately wonder, "How long does the flu last?"
Unfortunately, your misery won't necessarily be short-lived. Although it might only stick around for three or four days, the flu can last for a week or even longer, and you may be contagious for a longer period than that.
One great tip: If you're traveling in fall, keep your rig stocked with some of the best foods for cold and flu season. Obviously, easy-to-make soups like instant Ramen or Lipton's chicken noodle soup are popular and comforting — I know my mom made them for me every time I came down with the sniffles! But you'll also want to make sure you have whole, healthy foods (like fresh meat and produce) to ensure you get all the protein and vitamins you need to fight off the virus. And you can never stock your rig with too many tissues!
Also, be sure you're aware of the symptoms of a flu vs the symptoms of a cold, as they are best approached with different medicines and treatments. For example, according to WebMD, a cold is generally a much milder, mostly respiratory illness and may leave you feeling a little lackluster for a few days, but a flu can be downright dangerous, involving full-body symptoms like vomiting and diarrhea that can leave you dehydrated. Always make sure you're drinking enough fluids whenever you're feeling under the weather — and on normal days, too!
Cold and Flu Season Tips
We hope these cold and flu season tips help you enjoy your vacation 100% healthy and virus-free — but even the best of us fall sick every once in a while.
If it happens to you, do your best to keep a positive outlook, and remember: even though you feel lousy and you might have to cancel a few of your planned activities… at least you're not coughing your lungs out and sneezing yourself silly in a tent!
This post may contain affiliate links.