Covers
September 17th, 2019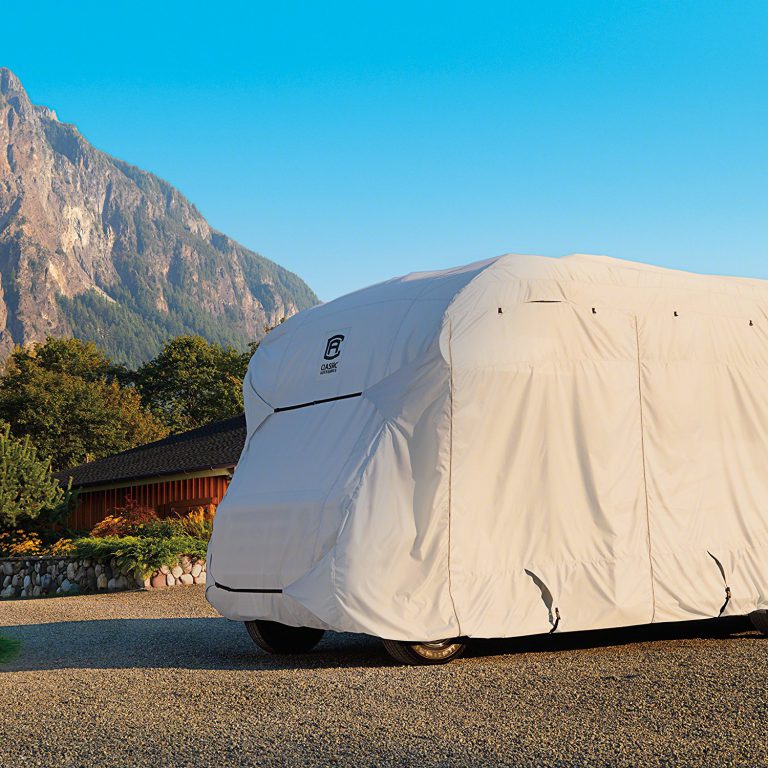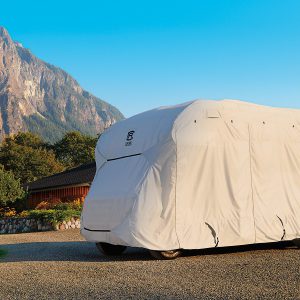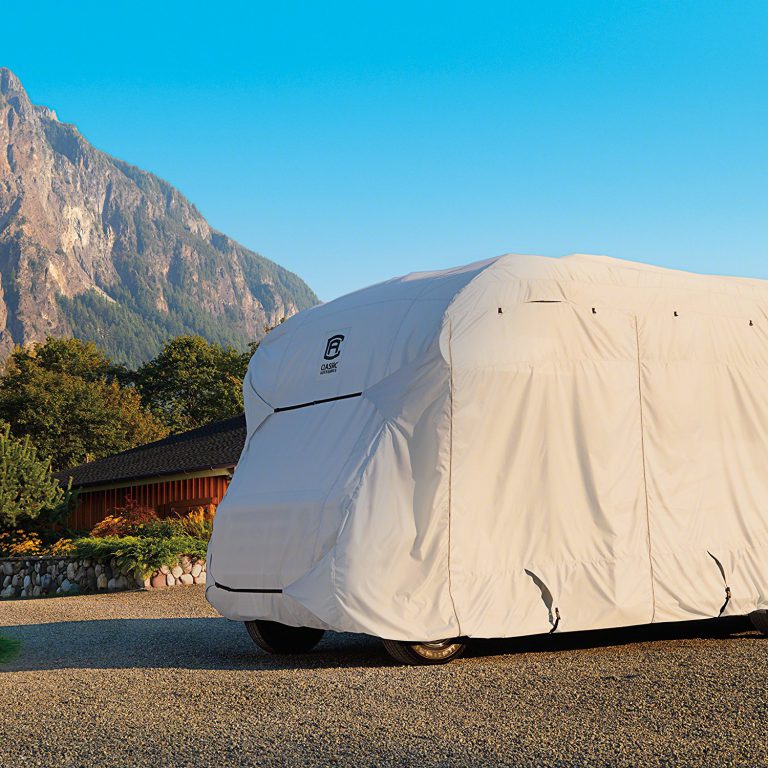 There are accessories that are fun to buy for your RV – bedding and dishes and decorative items! Batteries and things that power your stuff! Trailers and tow vehicles! And then there are accessories that you buy for the RV that are necessary, but not all that exciting (we're looking at you, sewer hose support).
An RV cover may not be terribly exciting. Its whole purpose is to cover up your baby, and to sit there, unnoticed, when you leave. But it's very, very important.
You need something like Camco RV covers or another cover for many reasons. Carver RV covers and other covers provide water protection – water damage can be devastating, especially if it goes unnoticed for an entire season or two because you've put your RV away for the winter! Calmark RV covers and others will also provide protection from damaging UV rays, which can deteriorate plastic, dry out rubber, latex, and caulking, and cause fiberglass to oxidize. The sun's rays can cause damage on the inside of your rig as well – the sun shining in windows will fade your furniture.
An RV cover will keep your rig clean as well, and will prevent dust, leaves, bird droppings, and other dirty things from landing on your rig. A good RV cover will save you a lot of money taking care of your RV.
A Goldline RV cover or another cover will keep bugs, rodents, and other pests out of your motorhome when you're not using it. Gold Coast RV covers and other covers keep the sun off of your vehicle, preventing UV degradation – the number one cause of loss of value.
Sunbrella RV Cover Materials
Sunbrella RV covers and other covers are generally made from polypropylene or polyester. Usually, the roof has a triple layer of material for extra protection. The fabric should be breathable so moisture doesn't collect inside, and should be treated with water or UV repellent. Higher-end custom RV covers fit more closely and have vents to prevent billowing. Some covers have zips to allow access to the door. Higher-quality covers are also lighter weight and easier to handle.
What to Consider When Buying a Tyvek RV Cover
When purchasing Tyvek RV covers or other covers, there are a few things to keep in mind:
Type – make sure you get a cover for your type of RV. Covers for campers are going to be very different from those for a motorhome or RV, and different Class RVs are going to require different covers
Size – a correctly sized Camco RV cover or another cover will fit snugly over your RV. Measure your RV first, then buy a cover that will fit. A cover that is too big will be loose and may let in debris, bugs, or small animals
Material – the material you pick for your calmark RV cover or another cover will depend on where you live and where your RV will be stored. Does it need to be meant for snow? Lots of rain? Dust? Wind?
How To Cover Your RV
Once you have an RV cover – how do you use it? Here are a few tips:
Before you start, clean your RV thoroughly. Any dirt, dust, or debris can get caught under the cover and can scratch your paint
Get a friend to help when you're ready to cover it. You'll be climbing on your rig, and it helps to have someone on the ground as well.
Take the cover out of the box and spread it flat. Unclip any hooks, open all zippers, and look at it before trying to put it on. Get an idea of where everything will go and how it will be fastened
If you are climbing on your roof to put your cover over it, be safe! Make sure you have good footing and that your RV can handle your weight on the roof
Make sure the cover is tightly secured so it doesn't come loose during strong winds or weather
Consider splurging on a more expensive fabric that will likely last longer and protect better. It may actually save you money in the long run!
Don't forget to cover the tires and wheels as well
It is definitely more fun to actually use your RV than it is to take the time to winterize, protect, and cover it at the end of the season. But taking that extra time to be sure your rig is clean and well-protected will ensure that it's around for many more years of traveling with you!
This post may contain affiliate links.