How Tos & Tips
Last updated on June 10th, 2023. Originally published on May 29th, 2015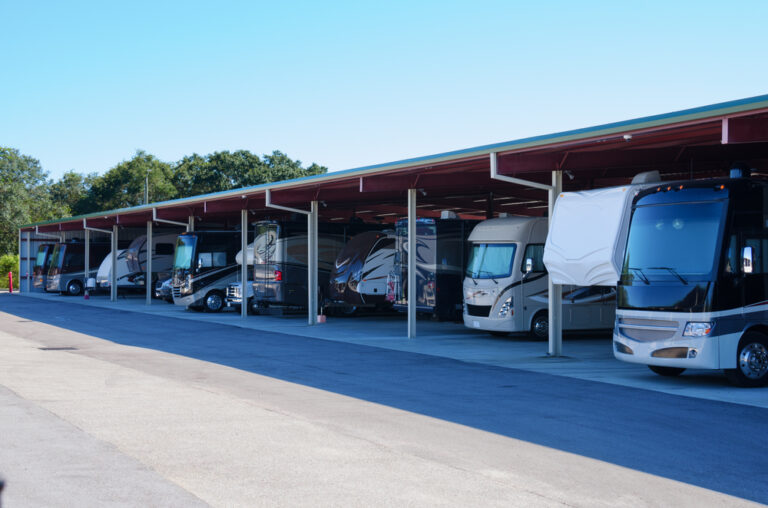 Just about everyone's RV has to go into storage sooner or later. At that point, rigs may become exposed to all sorts of elements causing damage while they're unattended. The simplest and most effective way to keep your RV safe is by using an RV trailer cover.
RVs stored in the open can face UV degradation, a process that begins by fading the paint and color of a trailer.
Similarly, exposed fiberglass oxidizes over time, making the RV's surface much duller. Without the paint acting as a protective exterior layer, sunlight and other elements are more likely to damage the important metal and plastic pieces that make up the RV's hull.
Reasons to Buy An RV Cover
Below are some of the many things RV covers can do to protect your RV.
Sun Protection
An RV that sits in the sun without protection is going to fade quickly. Often, sunlight causes decals to peel, and the lovely shine that your RV has when new will be lost pretty quickly.
Wind Protection
If you live in an especially windy area, and especially if you will be parking the RV where there aren't many buildings to block the wind, wind damage is possible. Typically this damage is limited to a vent cover or outdoor light fixture being broken. Both are simple to fix, but it's always better to avoid these problems if possible.
Protection Against Water
Most RV owners are well aware that even a small amount of water can cause big problems in an RV. It's a good idea to keep as much water off the top and sides of your rig as possible.
Obviously, a cover isn't the only solution to these problems. Some people choose to park their rigs under a specially built-structure to shade them from the sun, wind, and rain. Others save their paint and shine by ensuring the RV is waxed frequently. However, a cover is the best answer for many problems, and might be the right choice for you too.
Sap, Bird Droppings, and Other Hazards
Nobody wants to wash sap, bird droppings, and other stubborn sticky things off the top and sides of their rig. Unfortunately, that's just what many RV owners find themselves doing when spring rolls around.
A good RV cover can protect against all of these things, keeping your RV safe and sound when it's not in use!
As with most products, more expensive covers offer far more than cheaper counterparts. Deciding which cover to purchase is a game of trade-offs.
Here are some key factors to consider before making your purchase:
Size
Nearly all RV trailer covers prominently state what size RVs they fit on the packaging or in the product description. However, we recommend you measure the RV yourself before purchasing rather than relying on registration manuals.
How Many Layers?
Most RV covers are made of polypropylene fabric or polyester, and some have double or even triple layers for durability. When selecting RV covers, think about where you'll be keeping your RV when it's not in use. Some RV covers are best for dust and debris while others are made for extreme weather. If you'll be keeping your RV in a garage during the offseason, a cover made for dust may be enough. If you'll be keeping it outdoors in extreme weather like snow or rain, you may need an all-weather cover. You may also want to make sure you're selecting an RV cover that provides additional protection from the sun. If you're not sure which to purchase, you are likely safe with an all-weather RV cover.
Extra Protection
When reading up on the specs for an RV trailer cover, see if they include UV or water repellents. The latter is especially important in allowing water to evaporate, rather than seeping through the cover and causing mold or mildew.
Extra Features
Other common features include tie-down straps that wrap around the underside of an RV to secure the cover. Quality covers include vents to keep them from billowing in the wind and trapping air resistance that may eventually create tears. Some also feature zippered sections to allow access to the doors and compartments without removing the cover completely. This is convenient for loading the vehicle without going through the hassle of removing the cover, but it isn't a necessary part of a good cover.
Custom Size Covers
For a higher price, owners can order custom covers to fit the exact size of their RV. There are a few benefits to this option that may make the extra cost worth it for some buyers. Due to their tight fit, custom covers will be less affected by wind, and are generally made from stronger materials. These will require fewer or no tie-downs in comparison to the generic universal fits. Some covers even feature elasticized portions to help universal sizes fit specific trailers and RVs with more precision and less billowing.
Tire Covers
In addition to an RV cover, it may be worth investing in covers for your tires as well. These will protect the metal rims and rubber tires from element build-up. Even if your RV cover hangs low to cover the tires, individual tire covers ensure you don't need to have your wheels replaced too often, saving you money in the long run.
Price
Pricing for RV covers depends not only on the features included but also on the size. While covers for smaller trailers and campers may cost as low as $80, owners will generally have to pay upwards of $200 to purchase a cover for anything substantial in size.
Sites like Amazon provide many detailed reviews of their products, so you can read what previous buyers have to say about their effectiveness and value.
Some of the best fifth-wheel RV covers available include ADCO, CAMCO, Classic Accessories, Cover Craft, and Eevelle. RV covers can range quite a bit in pricing, due to the size and material. They range between $200 – $500.
How to cover your RV
Before you cover your RV, be sure to wash it first to get any debris and dirt off. If dirt gets trapped inside, it can cause scratches.
You're going to want a buddy to help when you cover your RV. If you're on the roof, it helps to have someone below on the ground. First, take the cover out and spread it on the ground so you can see how it should fit. Figure out where everything goes and how to fasten it on. Also, before you start, make sure you can safely climb onto your RV's roof if that's required, and that it will hold your weight. When you put the cover on, make sure it's tightly fastened or it can come loose during harsh weather. Be sure to cover your wheels and tires as well.
Go For Quality Name-Brand Covers
Although it's tempting to simplify the process by buying the first cheap option you stumble across, it's usually worth the extra cost to purchase a name-brand cover. Off-brand items offer lower prices and many of them advertise unrealistic warranties, but name-brand items have more incentive to provide longer-lasting covers to ensure their business continues to yield revenue.
Some of the major brand names for RV trailer covers include Camco, Eevelle, and Classic Accessories. These companies all offer various sizes and strengths, so you can pick from several options depending on what conditions you expect your trailer may go through with its cover.
ADCO RV Covers
Speaking of quality name-brand RV covers, here are some more specifics on one of the more popular brands – ADCO covers.
You can find ADCO covers for a variety of types of RVs including Class A and C models, travel trailers, 5th wheel trailers, and toy haulers. You can also find rooftop covers and both universal and custom ADCO RV covers.
An ADCO RV cover typically offers all climate and superior UV protection, plus an internal strap system that cinches at the top and bottom for a snug fit. This also minimizes impact from the wind. Having a close-fitting RV cover is important so that rodents and bugs cannot squeeze under the cover and damage your RV. ADCO RV covers typically offer a zipper entry door, so even if your RV is covered, you can still access the inside.
ADCO RV covers are available in several variations and models, including:
· SFS Aquashed – a cover made of a three-layer fabric, intended for storage use in moderate climates
·   Sunbrella Fabric – a custom RV cover-only option, this type of fabric is made from a woven acrylic and is resistant to cold cracking, which is ideal for colder temperatures
ADCO is also known for its ADCO Tyvek RV cover, which offers a three-layer cover system and is designed as an all-climate system. The Tyvek RV fabrics were created to block up to 99.8% of the sun's rays and 98% of dust particles. They're also resistant to solvents and acids found in bird droppings. The Tyvek RV top panel reflects sunlight, protecting your rig from harmful UV rays while also keeping it cooler inside. It has a water-resistant and breathable fabric that fights against mold and mildew, a weighted buckle toss-under that ensures quick and easy installation, and zipper side panels.
ADCO Tyvek RV covers range from $180 – $380, depending on the size of the RV and the cover. They are typically universal fit covers, so they can fit a variety of sizes and styles of RVs. When shopping for a universal fit RV cover, measure your RV from end to end at the longest point, making sure to include the spare tire, bumpers, and ladder. Don't include propane tanks, hitches, or rooftop accessories like air conditioners. If your RV size falls between the sizes available, choose the larger size.
Without the Tyvek fabric, an ADCO RV cover can range from $150 – $250, and all of their covers can be purchased online, through an authorized dealer, or in many camping stores. ADCO RV covers are also available as custom RV covers, made specifically for your motorhome. Prices can vary and an authorized dealer is required. You can find one here.
How To Cover Your RV
Once you have an RV cover – how do you use it? Here are a few tips:
Before you start, clean your RV thoroughly. Any dirt, dust, or debris can get caught under the cover and can scratch your paint
Get a friend to help when you're ready to cover it. You'll be climbing on your rig, and it helps to have someone on the ground as well.
Take the cover out of the box and spread it flat. Unclip any hooks, open all zippers, and look at it before trying to put it on. Get an idea of where everything will go and how it will be fastened
If you are climbing on your roof to put your cover over it, be safe! Make sure you have good footing and that your RV can handle your weight on the roof
Make sure the cover is tightly secured so it doesn't come loose during strong winds or weather
Consider splurging on a more expensive fabric that will likely last longer and protect better. It may actually save you money in the long run!
Don't forget to cover the tires and wheels as well
It is definitely more fun to actually use your RV than it is to take the time to winterize, protect, and cover it at the end of the season. But taking that extra time to be sure your rig is clean and well-protected will ensure that it's around for many more years of traveling with you!
Class A RV Covers
If you drive a Class A RV, you're going to need a large cover — one that's built for your rig's specific size and shape. Class A motorhome covers come in a wide variety of specific types and sizes and may be graded for a certain range of RV lengths, like 34-37 feet.
Here are a few well-ranked Class A RV covers to choose from.
ADCO
ADCO manufactures both universal and custom-fit covers for RVs. They use various fabrics that stand the rigors of the outdoors.
While all of their products are high-quality, we especially like the Designer series of covers for Class A motorhomes, which features a slipstream strapping system to ensure the cover is nice and tight. It also has a light-reflecting top panel to keep your rig doubly protected against UV rays and keep the interior from heating up. (Plus, it doesn't hurt that they look cool, too!)
Eevelle
A well-designed set of covers featuring endurance roof straps and heavier-duty side wall panel construction, Eevelle's S2 Expedition Class A motorhome covers are both breathable and protective. Entry points are accessible via zippered portals. Non-scratch zippers mean you don't have to worry about scratching your rig's finish when you're going in and out.
Eevelle also carries the Goldline series of Class A motorhome covers, the only RV covers on the market made from the super-durable 300D polyester material. They come in tan and gray and are available in sizes from 28 feet to 46 feet.
Best Class B RV Covers
Just because your RV is smaller doesn't mean it doesn't deserve the same kind of respect and protection the big guys get! Here are some options for Class B motorhome covers.
CarsCover
A Class B motorhome is, in many ways, closer to a car than it is to an RV. Its size and shape are much more like a street vehicle's than like a Class A rig.
CarsCover offers waterproof, weatherproof covers built for Class B motorhomes, high-top conversion vans, Sprinter vans, and other sleeper vans of up to 24 feet in length. A rear cinching system keeps the cover in place, and zippered panels allow you to easily access the van's doors if you need to get inside while it's in storage.
North East Harbor
A high-quality RV cover doesn't have to be expensive! North East Harbor makes a Class B motorhome cover that costs less than $150 (at the time of this writing). It offers all-weather protection and breathability as well as zippered access to your rig. This cover is built to fit rigs of up to 20 feet in length, 7 feet in width, and 8 feet in height — so if you've got a high-top conversion van, it might not be right for you.
These Class B RV covers are also great options if you're looking for protection for your campervan.
Best Class C RV Covers
Class C motorhomes really have it all: space, luxury, and a lower price point than their larger Class A brethren. However, with their unique shape, it's especially important that you purchase a cover specifically built for a Class C RV. Here are some of the best to choose from.
RV Masking
RV Masking offers an upgraded line of Class C covers that include six layers of fabric to help ensure your baby is safe and sound. These motorhome covers protect against rain, debris, UV rays, and more. The six air vents on either side prevent the cover from billowing and also keep moisture from developing against your RV's finish.
Rollable zippered doors make it easy to access the RV's interior and engine. Thick handles at the corners make installation a cinch. The product even comes with a 30-day money-back guarantee as well as a three-year replacement warranty, so you don't have to worry about what ifs.
An RV cover is a must-have accessory for when you're not traveling the country in your motorhome. It can help your rig last longer and even help you save money on maintenance over time. If you want to step into your RV after a long winter in storage and have it be in pristine condition, you can't overlook an RV cover!
RV Cover FAQs
Here are a few of your most frequently asked questions about RV covers — answered!
Are RV covers waterproof?
While the answer to this question technically depends on which product you buy, yes, high-quality RV covers are waterproof. In fact, that's one of their main attractions! Along with helping you prevent water damage inside your rig, RV covers also provide protection from UV rays, bird droppings, debris from trees and plants, dust, and other potentially messy substances.
Do RV covers cause mold?
This is a big question we hear often — because if there's mold or mildew build-up under your RV cover, it actually defeats the purpose of using an RV cover in the first place. (The point, after all, is to avoid damage!)
And the fact is, an RV cover can cause mold… but only if it's not well-ventilated or left unchecked for months and months on end. We recommend taking your RV cover off at least once a month or so, and also choosing a cover from a reliable manufacturer who builds in ventilation panels to help circumvent this problem. The covers listed in this post all feature breathable fabrics and ventilation solutions, but be sure to check the details on breathability for whatever cover you're interested in.
Do RV covers cause damage?
As mentioned above, when not used correctly, RV covers can cause damage — for instance, you could break roof components during the process of putting the cover on. But that's less a problem with the cover than a problem with the user! If you're patient in installing your RV cover, and ensure all excess parts (like, say, vent fans) are properly closed for storage, an RV cover shouldn't cause damage on its own.
Are RV covers for the roof only?
No! RV covers do protect your rig's roof, which is a serious part of your investment, to be sure. But they also guard the sides of your rig, and by virtue of protecting the exterior, they protect the interior — which, after all, is vulnerable to water damage as a direct result of exterior damages.
Metal RV Covers
If you're not planning to put a cover on your RV, you may want to park it under a metal cover for protection.
Also sometimes known as a metal RV carport, a metal RV cover is just as it sounds: a large metal structure that can cover and protect your RV. Metal RV covers are available in a variety of options, ensuring there is something for every motorhome and RVer.
Metal Cover Sizes
Typically, metal or steel RV covers are available already constructed in standard widths, ranging from 10' to 40' wide, and lengths ranging from 12 feet to 200 feet or even longer. If your RV won't fit well into a standard-sized metal RV cover kit, many manufacturers also offer customized RV covers that can be fabricated to your exact needs, specifications, and configurations.
You'll also want to make sure that the roof pitch covers your motorhome without letting water slide down on top of your RV, as well as make sure the height of the entire structure is tall enough for your rig. RV metal covers are also available in a variety of colors so you can coordinate the RV carport with your home, garage, or landscaping.
Metal Cover Styles
RV metal covers are also available in a variety of coverage options. This includes roof-only, 2-sided structures with a roof and metal on both sides. There are even options for three sides of paneling. The metal sides can come all the way down to the ground or just halfway depending on your preference.
RV metal covers can be an economical investment that will likely last longer than fabric RV covers. However, they do need to be installed, either by yourself or a professional. Installation can be an easy process and should come with detailed, illustrated instructions. If you aren't confident in your ability to install the metal RV cover, many manufacturers offer installation for a fee.
When shopping for metal RV covers, you'll want to make sure not only that the height, shape, and configuration work for your specific motorhome, but that the metal frame is durable. Many metal RV cover manufacturers offer a warranty as well, so you'll want to get more details on the warranty before you purchase. In fact, having an RV carport outside your home can even improve your home value!
Keeping your RV protected from the elements can help make sure your motorhome stays in great shape and lasts, so your RV is ready to hit the road whenever you are!
Choosing The Best RV Propane Tank Cover
Carrying fuel is a must as any RV enthusiast knows, but storing said fuel can be tricky. Propane, used for grills and heating elements within your RV, must be stored outside of your unit. As such, your tanks are exposed to the elements. Finding a proper RV propane tank cover will ensure that the tank remains clean and that no damage is done to it, which could be dangerous.
Propane Tank Covers
There are a couple types of propane tank covers on the market. Soft covers are usually made out of weatherproof and waterproof, durable fabrics. These covers slide onto the tank and have valves for ventilation.
Hard covers provide an extra layer of protection, to keep your tank intact on the road, where flying debris can be a real concern. Other hard covers are both functional and visually pleasing. They might make the tank blend in while still providing protection.
While propane tanks for grills come in standard sizes, you should also watch for any kind of custom sizing your setup might require.
Aesthetics are another reason you might look to cover your propane tank. And while it has no bearing on durability or safety, there are of course fun covers bearing sports logos or other designs, to purchase and amp up your RV. 
Propane Tank Safety
Safety is important when dealing with any kind of fuel. It's especially important when handling and storing fuel in your RV.
When searching for a propane tank cover, be sure to find a model mentioning ventilation. Although this is typical, covers that are not primarily used for propane might not include this feature. When contained fuel builds pressure and emits gases, those gases need a way to escape. Without proper ventilation, you could be looking at an explosion.
It's also important to note that while you might be able to cover your RV awning with a makeshift cover or use a DIY cover for your motorhome's spare tire, storing propane is for the experts. Look for a quality cover to ensure your safety.
This post contains affiliate links. RVshare may receive compensation if you make a purchase after clicking on a product link.