Travel Inspiration
June 26th, 2020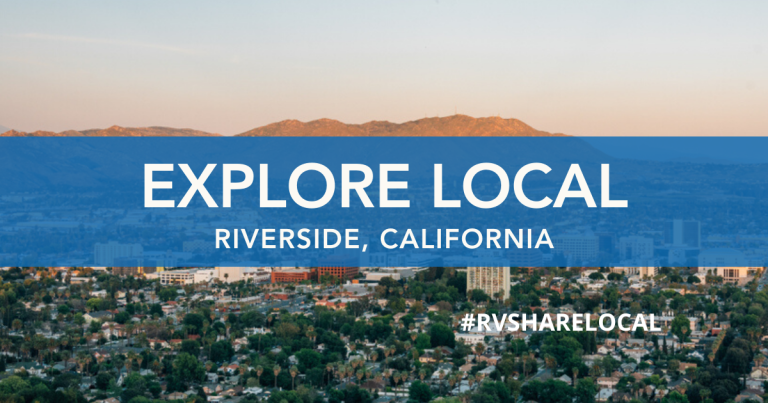 The birthplace of the California citrus industry. The location of one of the state's finest universities. Home of the Mission Inn, the very largest Mission Revival Style building in the country.
Riverside, California is known for a wide range of things… and it's also one of the very best places in the state to explore, whether you're just setting foot in town or you've called yourself a local for years. In this post, we'll walk you through some of the very best things to do, see, and eat in Riverside California.
Why We Love to Travel
So why do we love to travel in the first place? Getting to experience cultures that are different from our own or eating cuisine that's different than what we're used to are amazing ways to grow as individuals and learn about others. Seeing how other people live helps us keep an open mind and even gather inspiration to bring back into our daily lives.
Travel is also a great way to get away from the day-to-day. Breaking up our routines with a fun trip definitely recharges the batteries and helps prevent us from getting burnt out.
But again – you don't have to go far from home to get this perspective! Sometimes the best adventures are just around the corner.
Benefits of Traveling Locally
While the culture an hour away from your home might not be drastically different from what you're used to, you can still gain a deepened sense of appreciation for where you've laid your roots. Plus, traveling locally has a lot of benefits:
More cost-effective. Local travel is certainly a budget-friendly way to explore! Many activities and local parks are free or have a low cost of entry. For day trips, you can also pack your own meals to save.
Eco-friendly way to travel. Travel is hard on the environment, but putzing around your area is more sustainable than air travel.
Quick trips. Getting out locally means you can do it more often! Long weekend trips are a lot easier to take when the destination is a short drive away.
Easy to plan. Preparing your itinerary for a local getaway will likely save you some time and stress.
More convenient. Especially if you have little ones, sticking close to home may be much more convenient than far-off destinations. If you forget something, have an emergency, or need to cut the trip short, being close by definitely has its benefits.
Explore Local: Riverside, California
The way we see it, travel is about more than just heading to your favorite local resort town and experiencing things custom built for, well, tourists. If you want an authentic taste of an area's way of life, traveling local is the way to get it. That's why we've put together this post filled with local gems that Riverside natives know and love themselves. Whether you're simply playing tourist in your own backyard, getting your kids familiar with your stomping grounds, or just looking for some fun things to explore this weekend, here's the deets on our favorite things to do in Riverside.
State Parks in Riverside
Southern California is well-known for its wonderful, diverse landscape. Whether you're looking for a trip to the beach or a jaunt into the desert, there are plenty of amazing state and national parks in the Riverside, CA area to add to your itinerary.
Chino Hills State Park
Chino Hills State Park is well known for its idyllic scenes filled with wildflowers and wildlife. Tucked into the foothills of the Santa Ana Mountains, it's a great place for camping, hiking, bird-watching and more.
Doheny State Beach
Doheny State Beach may seem like a trip, but it's actually only an hour away from the heart of Riverside. If you're looking for some sand and surf, this is the spot!
Mount San Jacinto State Park
Mount San Jacinto State Park is located right in Riverside County, with its tallest, namesake peak standing sentinel over the cities below. Mount San Jacinto stands some 10,834 feet above sea level, so if you're looking for a hike that will really get you sweating, this is a great one! 
San Clemente State Beach
San Clemente State Beach holds the distinction of being the most popular beach in the entire state, so keep that in mind before you make the drive. Although it's sure to be crowded, the views will quickly make you understand why so many flock to its shores!
Silverwood Lake State Recreation Area
Silverwood Lake State Recreation Area is less than an hour's drive from Riverside, but you'll feel like you've stepped into a wholly different dimension. Its serene lakeside views and miles of hiking opportunities make it great for a quick getaway… even if that getaway only lasts for a few hours.
National Parks in California Near Riverside
San Bernardino National Forest
San Bernardino National Forest encompasses a whopping 823,816 acres, so it's safe to say you can find something wonderful to get into in this wilderness. There are dozens of scenic trails suited for day hiking within the forest boundaries, as well as several overnight-able trips. The PCT even runs through here!
Angeles National Forest
Angeles National Forest is, indeed, a place so beautiful you might well think it's filled with angles. At more than 655,000 acres, this wilderness would take you a lifetime to fully explore.
Sequoia National Park
Sequoia National Park is located a little less than five hours north of Riverside, outside of the town of Three Rivers. Its namesake trees are the largest in the world — big enough that you can walk through them! In other words, it's well worth making a trip.
Kings Canyon National Park
Kings Canyon National Park is directly adjacent to Sequoia National Park, and is perhaps best known for one of its many noble citizens: General Grant Tree, proclaimed by President Coolidge as "The Nation's Christmas Tree."
Joshua Tree National Park
Joshua Tree National Park spans more than 1,200 miles of southern California, and is home to its namesake trees — which, fun fact, are actually giant succulents! Considering it's only an hour and a half from downtown Riverside, it would be hard to call your experience of the town complete without a trip out to Joshua Tree.
Death Valley National Park
Death Valley National Park is a land of extremes: the hottest and driest place in the country, and also home to both the lowest and highest elevations in the continental U.S. It's a bit of a trek from Riverside, yes — but if you want to experience a whole different world within only a few hours' drive, Death Valley is the place to do it.
Best Hiking Trails
Whether or not you venture to one of the preserved wildernesses in the area, there are plenty of amazing strolls — and some more challenging climbs, as well — in this area. Here are some of the best hiking trails in Riverside.
Mount Rubidoux Trail
It may have "mount" in its name, but don't be fooled — Mount Rubidoux Trail is pretty darn doable! At less than three miles round trip and with only 400 feet of elevation gain, this hike offers a whole lot of payoff for relatively minor effort. Much of the trail is paved, making it a great option for those visiting with family or looking for a quick and relatively painless run. (For all these reasons, though, it's a popular destination — be sure to prepare for crowds!)
Sycamore Canyon Park Trail
Sycamore Canyon Wilderness Park is located just ten minutes from the heart of Riverside, and the Sycamore Canyon Park Trail is the perfect opportunity to get in some after-work meandering. Stretching just over four miles all told and seeing only 500 or so feet of elevation gain, this is a leisurely way to get some fresh air, exercise, and wide-open spaces. However, as with all southern California hiking excursions, be sure to bring plenty of water… and watch out for rattlesnakes!
Two Trees Trail
Box Springs Mountain Regional Park is home to this beloved local treasure, which carries hikers up a steep, but not insurmountable, set of hills. At less than three miles round trip and with almost 1,000 feet of elevation gain, Two Trees Trail is definitely a workout, but it's one whose views will make you forget how much you're sweating along the way.
Doty-Trust Park to Crestlawn Memorial Park
Want a hike that allows you to see two parks for the price of one? The Doty-Trust Park to Crestlawn Memorial Park trail is approximately five miles long if you take it round trip, and with more than 1,600 feet in elevation gain, it's firmly in the moderate-to-hard level. Visitors remark on the amazing views and wildflowers along the way.
Telegraph Canyon Trail via Rimcrest Entrance
We've already raved about Chino Hills State Park — and this trek is one reason why. Telegraph Canyon Trail via the Rimcrest Entrance runs a little more than six miles altogether and sees about 600 feet in elevation gain, making it approachable for beginners but satisfying for more experienced adventurers alike. Do be aware that it's also open to horseback riding, so you may have to share the trail with some hooved friends!
Best Restaurants in Riverside
All that hiking and exploring is sure to work up an appetite! Here are some of the very best restaurants in Riverside, California.
Mario's Place
Looking to make date night into an occasion? Mario's Place is often counted amongst the best Italian restaurants in Riverside — and the best Italian restaurants in southern California, period. With an impressive wine list and a menu featuring a variety of classic favorites, this is a great place to enjoy not just dinner, but a dining experience.
Sushi Asahi
It may be tucked into a strip mall and not have much of an online presence to speak of, but Sushi Asahi, located on Van Buren Boulevard, enjoys high ratings regardless. With a wide range of unlimited sushi rolls and other Japanese entrees, this is a no-frills location that will be sure to satisfy your sushi craving.
Tio's Tacos
A beloved local favorite since 1990, Tio's Tacos has been considered one of the best Mexican restaurants in Riverside for three full decades now. And although tacos might be a favorite, you can also choose from fajitas, burritos, and a wide range of other authentic, delicious dishes besides.
Oasis Vegetarian Cafe
For some of us, eating is about more than just flavor and energy: it's about making the planet a better place. And if you're looking to implement more vegetarian or vegan eating into your lifestyle, Oasis Vegetarian Cafe will convince you that it can be a very tasty endeavor, indeed! The menu includes a variety of items that will please carnivores as well as those on a plant-based diet. Give it a shot and see for yourself!
Salted Pig
In the mood for pub food with a bit of an elevated twist? The Salted Pig brings upscale flare to down-home eating, offering treats like bacon fat popcorn, dirty fries, tacos, burgers, and more alongside hand-crafted cocktails and an epic bottle and tap list. Enjoy!
Fun Things to Do in Riverside
You've enjoyed the outdoors. You've eaten. Now what? Lots, lots more! Here are some of the best things to do and places to explore in Riverside, no matter what you're in the mood for.
For Kids and Families
Got the whole family along for the adventure? Here are some of the top things to do in Riverside with kids.
Jurupa Mountains Discovery Center
Want to get the kids involved and interested in the great outdoors? Jurupa Mountains Discovery Center offers you the opportunity with its nine acres of botanical gardens, ten dinosaur sculptures, and more — many of which are absolutely free to visit.
Castle Park
What if it were carnival time… all the time? At Castle Park, it is! This amusement park is located just a short drive from the heart of Riverside and features dozens of rides, exciting games, shows, events, dining, and shopping. There's even an annual pass available for locals who visit often.
SoCal Mini Pigs
Yes, you read that right. A unique attraction just a short drive from Riverside, SoCal Mini Pigs is a pig breeding farm that offers tours and encounters. That's right, you and your kids have the opportunity to pet a mini pig, just as a quick afternoon getaway. How can you not?
At Night
You may feel confident about what to do in Riverside during the day… but what about after nightfall? Here are some great options to consider this weekend — or whenever.
Riverside Game Lab
Arcade Bars are all the rage lately, and if you're looking to get your game on during happy hour, Riverside Game Lab is the best place to head in the area. With arcade classics and a wide range of snacks and drinks to wash it all down, this is the perfect place to go as a couple or with a group of friends if the kids have a babysitter.
Van Buren Drive-In Theater
Think drive-in movie theaters are a thing of the past? Think again. Van Buren Drive-In Theater allows you and your sweetheart — or your whole family — to relive days you might not even be old enough to remember. And don't worry, you can definitely head on up to the snack bar to ensure you and your party are all set on refreshments! Psst — during the day, this location also serves as a swap meet, so be sure to pop by in the morning and browse the wares of over 300 vendors.
Cheap and Free Things to Do in Riverside
Want to get a taste of Riverside without spending an arm and a leg to do it? Here are some of our favorite cheap things to do in Riverside — and yes, some of them are absolutely free.
Riverside Art Walk
Held each month on the first Thursday from 6 p.m. to 9 p.m., Riverside Art Walk is a great way to get familiar with the many local galleries and boutiques in town, not to mention seeing some incredible artwork. Many locations also offer light refreshments and live entertainment, making this a lovely and totally free way to spend an evening.
UCR Botanical Gardens
Riverside's branch of the University of California hosts a sprawling botanical garden, with more than 40 acres of flora and tree life to wander through. Containing more than 3,500 plant species from across southern California and the world at large, the UCR Botanical Gardens are free to enter, although parking might cost you. This is also one of the most romantic things for couples to do in Riverside!
Spas in Riverside
Need some pampering? Here are the best day spas in Riverside to get you looking and feeling your very best.
Kelly's Spa at the Mission Inn
The Mission Inn is already so much of a Riverside institution, a visit is likely on your itinerary — and while you're there, you might as well get spoiled a bit, too. Luxurious skin and body care rituals are made that much more indulgent by the lush ambiance of Kelly's Spa, and healthy meals are offered as an accompaniment should you so choose.
The Lux Day Spa
If you're looking for a customized, top-of-the-line spa experience without necessarily paying very top dollar, The Lux Day Spa is the perfect place to turn. This oasis offers a wide range of relaxing and rejuvenating body treatments, from massage to scrubs to spray tanning.
Best Gyms & Yoga Studios
It's southern California, so it's no surprise that keeping fit is at the top of everyone's mind. Here are some of the very best gyms and yoga studios in Riverside.
Threshold Training Facility Riverside
If you're the type who goes to the gym for one reason, and one reason alone — results — then Threshold Training Facility is the place for you. This no-frills location has all the equipment you need to make your goals a reality… and that's the point, isn't it?
Reveille Yoga
Yoga, when done right, is all about waking up — hence the name of Reveille Yoga, one of the most highly-regarded studios in the area. With classes suited to all levels and friendly, encouraging teachers, this is a great place to stretch, grow, and awaken.
Day Trips in Riverside
Obviously, there's no shortage of things to do in Riverside. But there are plenty of amazing day trips in the area, too. Here are a few to consider.
Okay, okay — if you're a local, you might spend more time trying not to drive through Los Angeles than planning day trips. But the city is famous for a reason. If it's been a while since you've played tourist in your own backyard, give it a go. You might just remember why you came here in the first place!
With its slightly more laid-back vibe, San Diego is a great getaway from those who live in the LA suburbs.
Area National Parks
As mentioned above, this part of the country is rich with diversity, and a wide range of stunning national parks are within half a day's drive. Here are some of our comprehensive guides for day-trippable national parks near Riverside, California:
As a final reminder, some of these activities may need to wait until businesses fully reopen from coronavirus closures. However, there is still much to see and experience in Riverside that you can enjoy today! What are your favorite spots in Riverside? Send them our way to [email protected] or by tagging us on Instagram @rvshare and using the hashtag #rvsharelocal.