Travel Inspiration
May 18th, 2020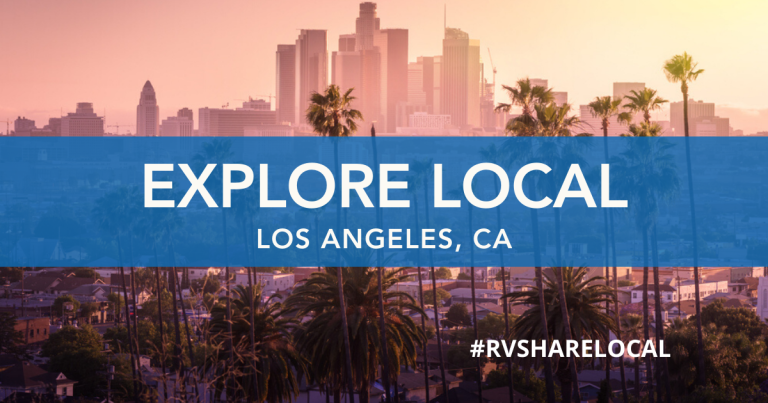 The City of Angels. L.A. The epicenter of entertainment. Beaches, bodies, brunch.
Los Angeles is well-known for so many things. And even if you're a long-time local, chances are you're missing out on some of its most exciting attributes.
Because it's so big and diverse, you could easily explore Los Angeles for a lifetime and still not see it all. In this post, we'll walk you through the best places to explore in Los Angeles, whether you've just moved there or have always called it home.
Why We Love to Travel
So why do we love to travel in the first place? Well, we've already said that a huge appeal is the new-ness a place has to offer. Getting to experience cultures that are different from our own or eating cuisine that is not what we're used to are amazing ways to grow as individuals and learn about others. Seeing how other people live helps us keep an open mind and even gather inspiration to bring back into our daily lives.
Travel is also a great way to get away from the day-to-day. Breaking up our routines with a fun trip definitely recharges the batteries and helps prevent us from getting burnt out.
But again – you don't have to go far from home to get this perspective!
Benefits of Traveling Locally
While the culture an hour away from your home might not be drastically different from what you're used to, you can still gain a deepened sense of appreciation for where you've laid your roots. Plus, traveling locally has a lot of benefits:
More cost-effective. Local travel is certainly a budget-friendly way to explore! Many activities and parks are free or have a low cost of entry. For day trips, you can also pack your own meals to save.
Eco-friendly way to travel. Travel is hard on the environment, but putzing around your area is more sustainable than air travel.
Quick trips. Getting out locally means you can do it more often! Long weekend trips are a lot easier to take when the destination is a short drive away.
Easy to plan. Preparing your itinerary for a local getaway will likely save you some time and stress.
More convenient. Especially if you have little ones, sticking close to home may be much more convenient than far-off destinations. If you forget something, have an emergency, or need to cut the trip short, being close by definitely has its benefits.
Explore Local: Los Angeles, California
There's so much more to Los Angeles than the Walk of Fame or Madame Tussauds (though, everyone should visit those classics!). This guide is perfect for those living in or near Los Angeles who want to get to know the city even more. If you're looking for fun things to do in Orlando, this is the guide for you!
*Note: Some of the suggestions may not be doable due to coronavirus closures, but keep this list handy for when things start opening back up more! Be sure to check individual pages for specific operation details.
The Best Parks and Hikes in LA
While there's more city than greenery in LA, there are some great spots to hike or spread out a picnic blanket.
The Hollywood Sign
Hiking the Hollywood Sign is one of the most iconic Los Angeles activities. But what you might not know is that there are a wide variety of ways to get there.
Which is actually pretty cool. Whether you need an easy romp or are after a more challenging undertaking, there's a trek to The Sign that fits your needs. Check out this page for full details on the available options.
Temescal Canyon
Temescal Canyon is a "hidden gem of a hike". Running 2.9 miles out and back and seeing less than a thousand feet of elevation gain, it's firmly in the "moderate" category and is doable for most people in decent shape… and offers some killer views in return for the effort.
Griffith Park
This sprawling property doesn't take very long to get to, no matter where in L.A. you are. And along with the Observatory, L.A. Zoo, and other attractions, it's also home to dozens of hiking trails of all varieties of intensity.
If you're looking for something rugged and challenging, try the Wisdom Tree, Cahuenga Peak and Mount Lee Summit Loop, which sees 1300 feet in elevation gain over its 4 miles, making for quite a workout. On the other hand, if you're looking for something easy and ambling, try the Ferndell to West Observatory Loop Trail, which ends at the Observatory itself… which you definitely need to check out!
Runyon Canyon Park
A 160-acre park encompassing the eastern end of the Santa Monica Mountains, Runyon Canyon is well known for the hike of the same name: a 2.7 mile out-and-back trail that sees a little more than 700 feet of elevation gain, leading to some amazing sweeping views of the city.
State Parks in Los Angeles
One of the most exciting things to do in Los Angeles is actually outside of the city itself. There are a variety of beautiful state and even national parks in close proximity to Los Angeles, chock full of hiking, biking, climbing, and other outdoor recreation opportunities.
This park is a great place for people looking for opportunities to take on boating, swimming, and other water-based activities.
Chino Hills is less than 40 miles from downtown LA, but its fields of flowers and bucolic landscape will make you feel like you've stepped into another world.
Crystal Cove features three miles of beaches and tide pools, a 1400-acre marine conservation area and underwater park, 400 acres of bluffs, and 2400 acres of canyons — so no matter what type of adventure you're after, you're sure to find it.
This park is tucked between Los Angeles and San Diego, making it a popular getaway for urban dwellers from either city.
Emma Wood is a popular destination for swimming, surfing, and walking along the sand. It's named after Emma Grubb Wood, who owned a sheep ranch rich in oil that once covered the property.
This beach is just northwest of Malibu. It features 1.5 miles of beachfront.
Malibu Creek is tucked away in the Santa Monica mountains just 25 miles from Los Angeles. Its miles of hiking trails take you past streams, through oak forests, and across rolling hills of tallgrass.
This park is located in Riverside County about two hours outside of Los Angeles. Its tallest peak — of the same name — stands 10,834 above sea level, making it a great destination for adventurers looking for a more serious hiking undertaking.
Red Rock Canyon covers about 27,000 acres and is only a couple hours from L.A. Its surreal, desert landscape will make visitors feel like they've been dropped onto another planet.
Our last featured state park holds the distinction of being the most popular beach in the entire state, so it's sure to be crowded. That said, the views will quickly make you understand why it carries that superlative.
Best Restaurants in Los Angeles
There's no shortage of fun things to do in Los Angeles… but let's be real, one of them is definitely dining. From Indian restaurants to good old American steak houses, here are some of the best restaurants and eateries in the City of Angels.
Ill Capriccio
Nestled in the hip neighborhood of Los Feliz, Ill Capriccio is a family-owned Italian restaurant serving up authentic, classic dishes from handcrafted spaghetti carbonara to chicken marsala and more. Be sure to save some room for the homemade bread that's served on the side!
The Alcove
If you're still looking for the perfect place for baked goods and mimosas,
The Alcove
is it. They're open for lunch and dinner, too!
El Coyote Cafe
This Mexican restaurant is great enough to earn a name for itself even without its interest history… but it has that, too. It's actually the last place Sharon Tate, Jay Sebring, Abigail Folger, and Wojciech Frykowski ate, on the night of August 8, 1969, before they were murdered by the Manson family! These days, we recommend visiting
El Coyote
for vintage charm and great enchiladas.
The Palm 
Sometimes, you really need a fancy, all-American meal — the kind of thing you need to get dressed up for.
The Palm
serves up steak, seafood, and diverse wines in a decidedly swanky environment. It's housed in a historic toy factory, which adds quirk and charm to the experience.
Anarkali Indian Restaurant
It can be hard to find a truly authentic Indian restaurant, even when you're in a mega-metropolis like Los Angeles. But Anarkali brings it. From samosas to curries to paneer vindaloo, you can find whatever you're craving for an affordable price.
Sugarfish
Great sushi can be difficult to come by but not in L.A. That said, Sugarfish is still a stand-out, offering fresh and authentic hand rolls, sashimi, and more.
Local Insider Tips From Alisha Ricardi:
Malibu Farm Cafe sits directly on top of the ocean, at the end of Malibu Pier – so if you're looking for oceanfront dining, you really can't do better than this. The casual cafe has outdoor seating and counter service; the menu is on the smaller and pricier side, but the healthy, local food is excellent and the view alone is worth it. Malibu Farm Restaurant, located at the base of the pier, has a much more extensive menu if you're looking for options.
When it comes to the search for a beautiful and eclectic Mexican restaurant in the Los Angeles area, you can't go wrong with Escuela Taqueria. By eclectic, that would be the shoes hanging from the ceiling and lobsters on the table. Who says eating healthy can't be fun too? Escuela Taqueria offers a variety of veggie and gluten-free options to keep you feeling good – and it's BYOB to boot!
Fun Things to Do in Los Angeles
You've eaten. You've hiked. What else are you going to do? There's certainly no shortage of diversions in L.A. Here are some of our favorite options.
Activities For Couples in LA
Hanging out in Los Angeles with your sweetheart? Here are some romantic options to check out.
Griffith Observatory
Honestly, the Griffith Observatory is a must-visit for anyone in LA. — but we can't deny how romantic it can be to go stargazing with the person who makes you starry-eyed. You can look through telescopes to check things out on your own terms, or enjoy the live shows and demonstrations that can help you get more context.
Downtown Arts District
One of the hottest neighborhoods in L.A., the Arts District extends from First Street on the north end to Violet Street on the south, and is bounded by Alameda Street and the Los Angeles River. Filled with cafes, shops — and, of course, galleries — it's a great place to meander aimlessly with your significant other.
Knott's Berry Farm
There's nothing quite like high-flying thrills with your love at your side, holding your hand the entire time. Knott's Berry Farm is a classic theme park boasting thrilling rides and delicious food in a quaint, old-school atmosphere. (You definitely want to try the fried chicken… but maybe not before you get on a coaster!)
Local Insider Tips From Alisha Ricardi:
This retrofitted hotel is one of the hottest places to see and be seen. It's an oasis of sorts, and it's even worth considering an overnight stay here. Whatever you decide, you can always hang out in their sleek, styled lounge. Have breakfast or lunch at Patio Cafe, dinner at River Rock, and catch a cocktail at the Pool Bar.
Activities For Kids in LA
Although the city may be known as an adult playground, there are plenty of things to do with kids in Los Angeles.
L.A. Zoo and Botanical Gardens
Home to more than 1,400 animals and many more plants, the L.A. Zoo and Botanical Gardens are a great place to help get the kids excited about nature… and also to dispel some energy!
Aquarium of the Pacific
If your family members are more inclined to get excited about underwater animals, don't miss a trip to the Aquarium of the Pacific. Its exhibits and events are designed to both educate and delight… and who wouldn't be delighted to get up close and personal with some penguins?
LA Nightlife
We seriously doubt you're going to run out of nightlife options in L.A. — but just in case, here are some things to add to your potential itinerary.
Library Bar L.A.
Situated in the heart of downtown L.A., the Library Bar is a classic institution. Its sophisticated atmosphere is the perfect environment in which to enjoy an equally sophisticated beverage, and if you'd like to go off-menu, the bartenders will handcraft something made to your specifications.
Street Food Cinema
Where better to see a film than L.A.? Street Food Cinema offers an al fresco take on the traditional cinema experience — and yes, your flick can be paired with some delicious eats, as well.
What To Do in LA On the Weekend
Kick back, relax, and enjoy these classic L.A. destinations this weekend.
The Last Bookstore
If you're anything like us, you can easily while away an entire afternoon meandering through a bookstore — and if you're going to do that in L.A., The Last Bookstore is the one you want. Airy and with multiple levels of wares to peruse, you'll find no shortage of tempting goodies, even if you're not much of a bookworm.
Little Tokyo
With the largest population of Japanese-American people in America, L.A.'s Little Tokyo district is a great place to get a bite to eat, wander through an Asian market, or simply just wander.
Spas in Los Angeles
After a long day of wandering the Los Angeles streets or hiking the area trails, a spa treatment might be just what you need. Here are some of the best spas in the area.
Larchmont Sanctuary Spa
Larchmont Sanctuary Spa is known for its signature treatments, monthly packages, and salt therapy, all of which takes place in a scenic and relaxing environment. They also offer a range of services specifically for cancer patients, like oncology facials and massages.
Wi Spa
When you're in a city like L.A., sometimes you want to be able to access whatever you want… whenever you want to. That's exactly why a place like Wi Spa exists; it's a 24-hour location that offers a full range of services literally whenever you need them, from acupressure to nail care and more.
Best Gyms & Yoga Studios in LA
If there were ever a city where you don't want to let your fitness routine go by the wayside, it's L.A. Fortunately (and unsurprisingly), there are a plethora of spaces devoted specifically to sweat and movement. Here are the best gyms and yoga studios in Los Angeles.
Golds Gym
Although this fitness center is now a nationwide franchise, it all started right here in Los Angeles… and it's where bodybuilders the likes of Arnold Schwarzenegger got their start. Golds Gym a great place to swing by for a quick workout, whether you're in L.A. or anywhere across the country where the chain has a location.
Muscle Beach
The famous outdoor gym at Muscle Beach in the greater Venice Beach area is the perfect workout spot if you're looking to show off… or a great place to wander and have a gaze at those who are brave enough to bare it all, if you're not.
Cyclebar
Indoor cycling has taken the world by storm, and L.A.'s Cyclebar puts some of the larger, better-known chains to shame. Unplug, connect, and rock your ride, all while getting one of the best workouts of your life in a thumping, clubby environment.
Modo Yoga LA
Need something a little bit slower paced — or just to feel grounded in the midst of all the general L.A. chaos? Modo Yoga L.A. offers more than 85 classes a week including everything from strenuous hot classes to toned-down yin practices. It's all about what you need in the moment.
Day Trips in Los Angeles
Even with a list of all the top things to do in Los Angeles, there are still plenty of places to see within a short drive, as well. Here are some great L.A. area day trips to take on.
Slab City and Salvation Mountain
Also known simply as "The Slabs", Slab City is a small community largely comprised of snowbirds who flock to the Sonoran Desert for the winter. It's about 170 miles southeast of L.A. proper in the California badlands. The site is totally off-grid and considered by some to be a de facto enclave of anarchy due to its lack of official incorporation or law enforcement.
The entrance to Slab City is marked by Salvation Mountain, a three-story hill festooned with Bible verses. The project was completed by Leonard Knight and took two decades in its entirety.
Palm Springs
Everybody who's anybody in L.A. — which is post Angelinos — has taken a weekend getaway to Palm Springs. This desert oasis is known for its party atmosphere, spas, and more, and makes for a decadent day trip.
National Parks in California Near Los Angeles
Visits to nearby National Parks make for great day-trips or long weekends away.
Sequoia National Park is approximately three and a half hours north of L.A. outside of the town of Three Rivers. Its namesake trees are the largest in the world — big enough that you can walk through them!
Kings Canyon National Parks is directly adjacent to

Sequoia

National Park, and is home to General Grant Tree, proclaimed by President Coolidge as "The Nation's Christmas Tree."
Joshua Tree National Park spans more than 1,200 miles of southern California, and is home to its namesake trees — which, fun fact, are actually giant succulents!
Death Valley National Park is a land of extremes: the hottest and driest place in the country, and also home to both the lowest and highest elevations in the continental U.S.
As a final reminder, some of these activities may need to wait until businesses fully reopen from coronavirus closures. However, there is still much to see and experience in Los Angeles that you can enjoy today! What are your favorite spots in Los Angeles? Send them our way to [email protected] or by tagging us on Instagram @rvshare and using the hashtag #rvsharelocal.