Choosing The Best RV Retractable Awning
RV Parts & Accessories
Last updated on August 18th, 2022. Originally published on September 22nd, 2015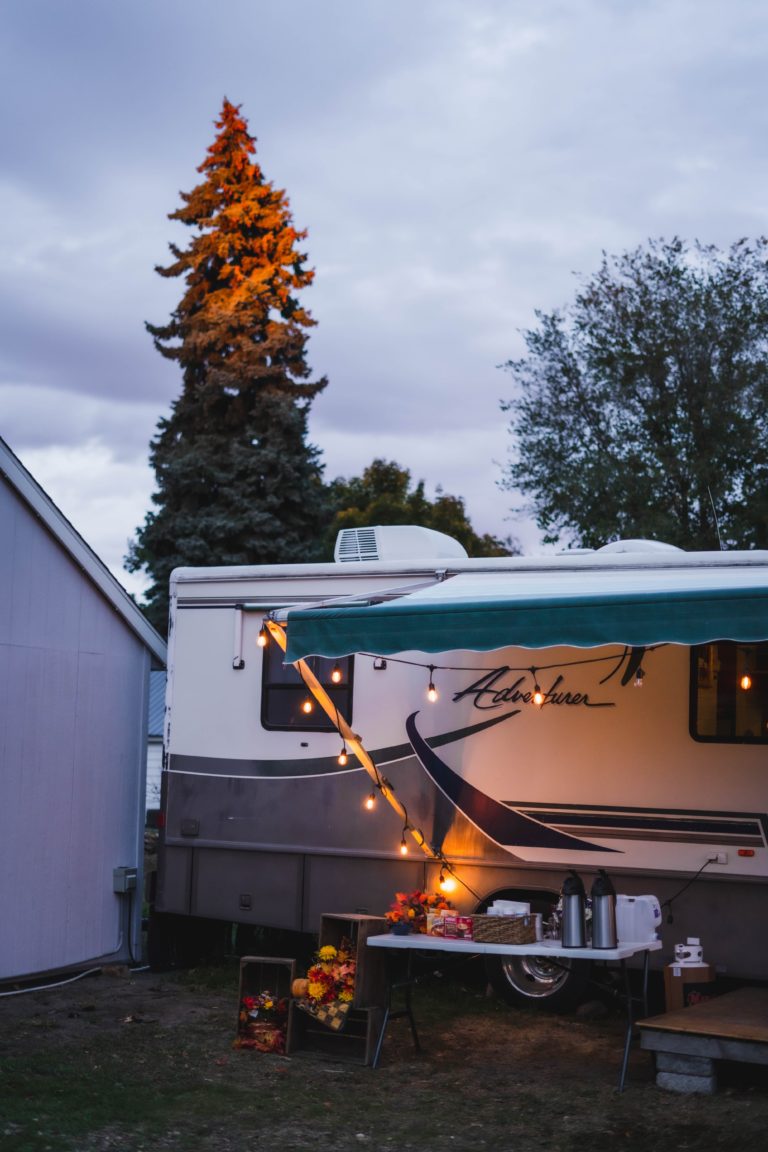 When you travel in your RV, there's no doubt that you want to do so in comfort and style. One of the best investments an RV owner can make is an RV retractable awning, especially if they enjoy camping their RV in one spot for longer periods at a time.
An RV retractable awning isn't just great for lounging under, as it also provides you and your family with protection from elements such as the harsh sun, UV rays, pelting rain, and more.
Today, we're going to teach you everything you need to know about choosing the perfect retractable RV awning!
The Difference Between Retractable RV Awnings and Standard Awnings
While both aim to protect its users from weather elements and provide a nice shady spot to relax under, there are some differences between a standard awning and an RV retractable awning. Standard awnings collapse and fold up into the RV, making them ideal for frequent travelers.
Retractable awnings, on the other hand, are made to be more of a permanent structure, making them perfect for those who park their RV at an RV park and live there for months at a time.
While this means they're less mobile, they are sturdier and are usually made from durable materials such as hard plastic or fiberglass. This makes them last longer, plus they're more resistant to extreme weather conditions, such as hail, snow, and intense heat.
How to Choose the Perfect RV Awning Size
When it comes to retractable RV awnings, it isn't one size fits all. Firstly, you'll want to measure the length of your RV, as it's recommended that your awning cover approximately one-third to one-half of your RV's length. Standard sizes go by meters, including 2 m, 3 m, 4 m, and 5 m.
You'll also want to consider the awning's slant (as they tend to slope downward) and ensure the placement of your desired awning won't block things such as doorways or windows.
If you have an RV awning in place already and are simply looking to replace this with a retractable version, then you can begin by measuring the dimensions of your existing awning. The best way to do this is by measuring the length of the awning's roller tube.
Different Materials for Retractable RV Awnings
There's a lot of variety when it comes to choosing your perfect retractable RV awning, especially when it comes to material. The most popular types of materials to choose from, include vinyl, acrylic, plastic, and fiberglass. The quality and durability of the materials varies by price and each one will require slightly different cleaning methods.
RV owners can also choose RV retractable awnings in various colors or patterns.
Where to Buy an RV Retractable Awning
If you're considering installing an RV retractable awning from scratch, or simply replacing your existing awning with one, then there are plenty of options available to you. You can purchase retractable awnings for great prices on websites such as Amazon, or by visiting your local RV awnings specialist. Other popular companies providing RV retractable awnings include Camping World, RV Awnings Online, and Dometic.
Now that you know everything about RV retractable awnings, you're sure to make a more informed decision when it comes time to install or upgrade your own. Retractable RV awnings are the ideal solution to protect you any your family from harsh weather conditions, as well as to give yourself a relaxing and secluded area to enjoy time together. Happy RVing!
Looking for more content?
Check out our How to Use a Camper Awning guide!
This post contains affiliate links. RVshare may receive compensation if you make a purchase after clicking on a product link.