The Best Travel Trailers Under 5000 lbs – See them all now
How Tos & Tips
June 12th, 2020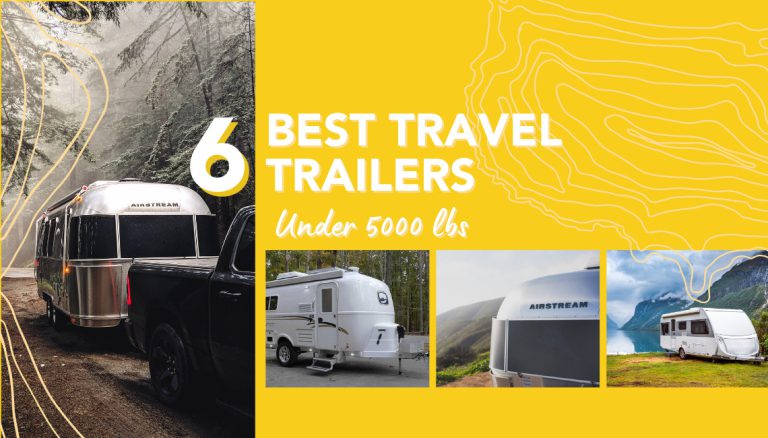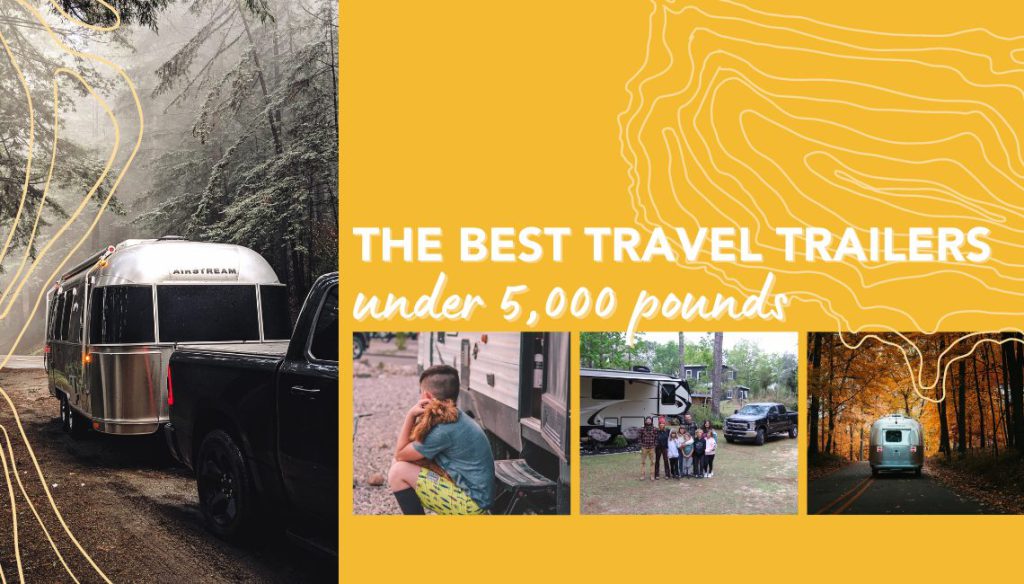 Travel Trailers Under 5,000 lbs
The bigger fifth wheels and long travel trailers out there are pretty awesome. That said, not many people already own a truck big enough to pull those enormous things. Not only that, the vast majority of people don't even really want to own a vehicle that big. They're expensive to maintain and repair, and they guzzle gas like nobody's business.
Fortunately, there are plenty of options for those who want to camp in comfort but don't want to own a big pickup. Therefore, finding a trailer that suits your needs without requiring the biggest truck on the lot to tow it should be totally doable.
The first step? Narrowing your options down based on weight. If you're wanting something reasonably spacious inside yet small enough to be pulled by an SUV, we recommend looking for travel trailers under 5,000 lbs. This weight class is a good middle ground, making it the perfect option for many people.
Travel Trailer Dry Weight vs GVWR
Before we dive any deeper into this topic, it is important that you know the difference between dry weight, cargo carrying capacity, and GVWR. Understanding what these terms mean will help ensure you pick a trailer that can be towed by your vehicle.
The term "dry weight" refers to the weight of a trailer (or other vehicle) when it is completely unloaded and without aftermarket upgrades. It's a nice weight to know, but it's important to keep in mind that your trailer will likely weigh much more than just the dry weight once you get it packed up for camping.
Cargo carrying capacity is the amount of weight a particular trailer can hold safely. You will want to know this weight and make absolutely sure that your cargo does not exceed this limit. Packing beyond this limit is dangerous and can lead to swaying, tire blowouts, and structural damage.
Finally, there is GVWR, or gross vehicle weight rating. This is the dry weight of your trailer plus the cargo carrying capacity, and is the maximum amount your trailer should ever weigh when fully loaded.
We recommend using this measurement as your guideline when deciding whether you can tow a particular trailer. Therefore, we will be using this weight as our threshold for this article, and every option listed further down on this page is a travel trailer under 5,000 lbs GVWR.
Pros of a Travel Trailer Under 5,000 lbs
As mentioned above, the biggest and most obvious benefit of owning campers under 5,000 lbs is the fact that they can be towed by smaller vehicles—no need to purchase and maintain a vehicle specifically for camping. Just find a nice SUV daily driver, and use it to tow your RV on weekends.
That said, some people wonder if there are other benefits to choosing lightweight travel trailers under 5,000 lbs. The answer? Absolutely!
Below are our favorite pros offered by travel trailers under 5,000 lbs.
Well-Designed
Because they have to fit so much in such a small space, the people who design smaller travel trailers tend to do a very good job of using every nook and cranny. This helps ensure you get the best bang for your buck and end up with a very livable space.
More Campsite Options
The smaller the rig, the more options you have in terms of campsites. Many national parks only offer very short sites, making it impossible for bigger rigs to squeeze in. Of course, finding places to park in any parking lots along your route will also be easier in a smaller rig.
Improved Gas Mileage
Towing a smaller trailer does not require as much fuel as towing an enormous fifth wheel or bumper pull would. This means you save some money that can instead be used on having more adventures.
Cost Savings
In addition to gas money, you may also save a few bucks when it comes to the purchase cost of your RV. In general, travel trailers under 5,000 pounds will be less expensive than the larger homes-on-wheels out there.
Best Travel Trailers Under 5,000 lbs.
Wondering which are the best lightweight travel trailers out there? With so many options, it can be hard to even begin to narrow it down. Lucky for you, we've done the homework and are happy to share our very favorites with you.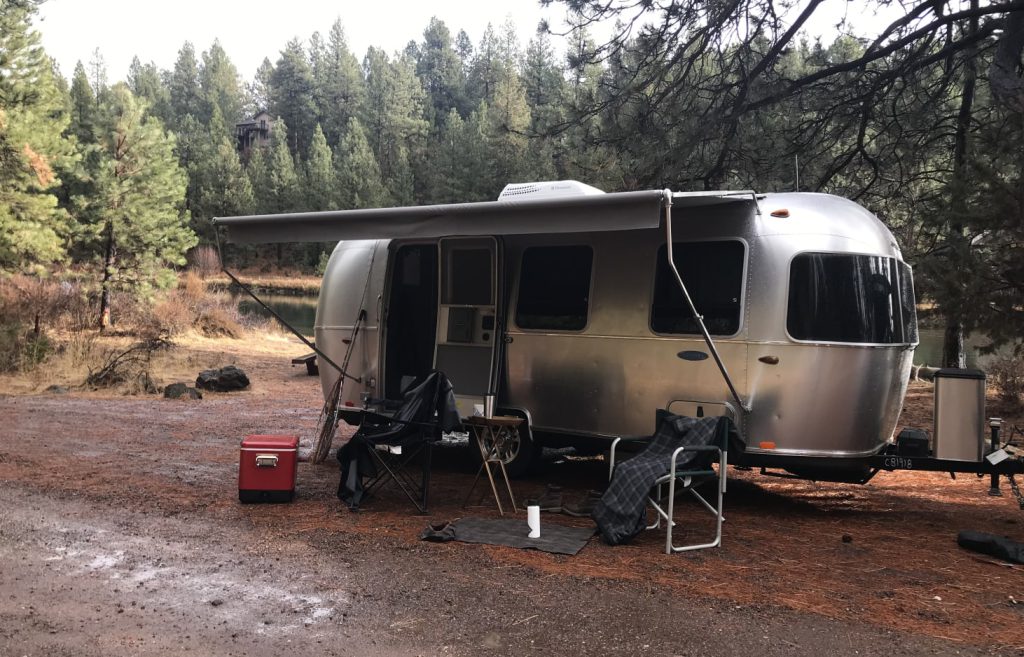 Airstream is one of our very favorite travel trailer companies. We love their unique retro look, as well as their amazing build quality. Therefore, it should come as no surprise that one of their trailers is on this list.
The Airstream Sport is an adorable little trailer that packs everything you need into a small package. A comfy bed, full bathroom, table, tiny kitchen with stove, fridge, sink, and even a closet all fit very nicely in this home-on-wheels.
Price: Starting at $56,400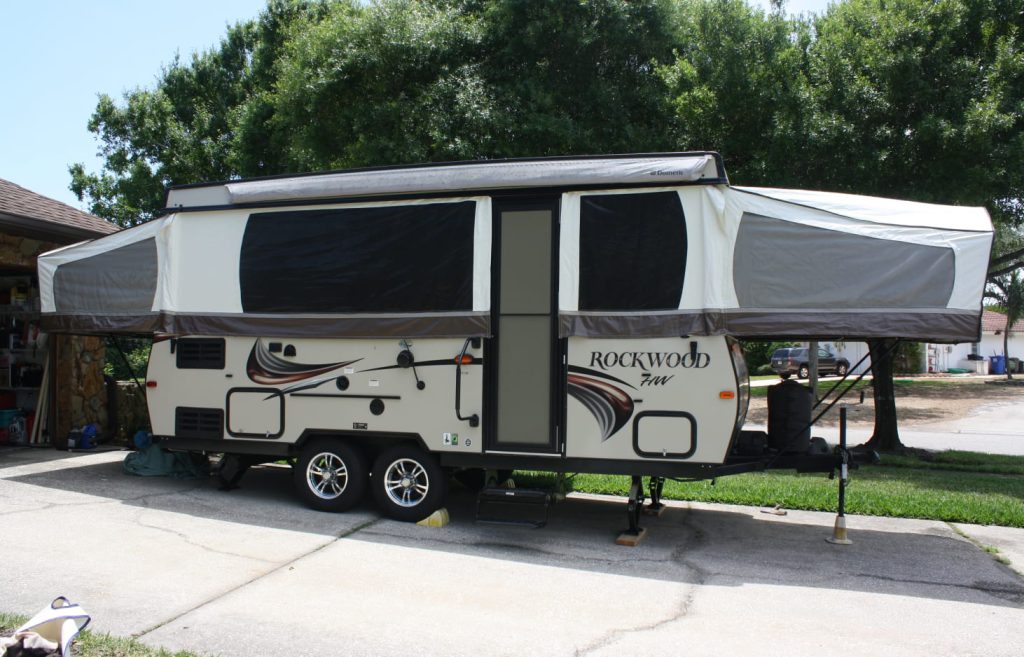 This deluxe high-wall tent trailer is the cream of the pop-up trailer crop. They just don't get any bigger or better than this.
The high side walls on this trailer help make the space feel more solid, and the slide-out where the dinette is really opens things up. The in-trailer bathroom is beyond convenient, and the full kitchen is just what you need to prepare awesome meals even while in the middle of the woods.
Of course, the fact that the entire thing folds down into a low-profile trailer for towing is the awesome cherry on top.
Price: Starting at $23,555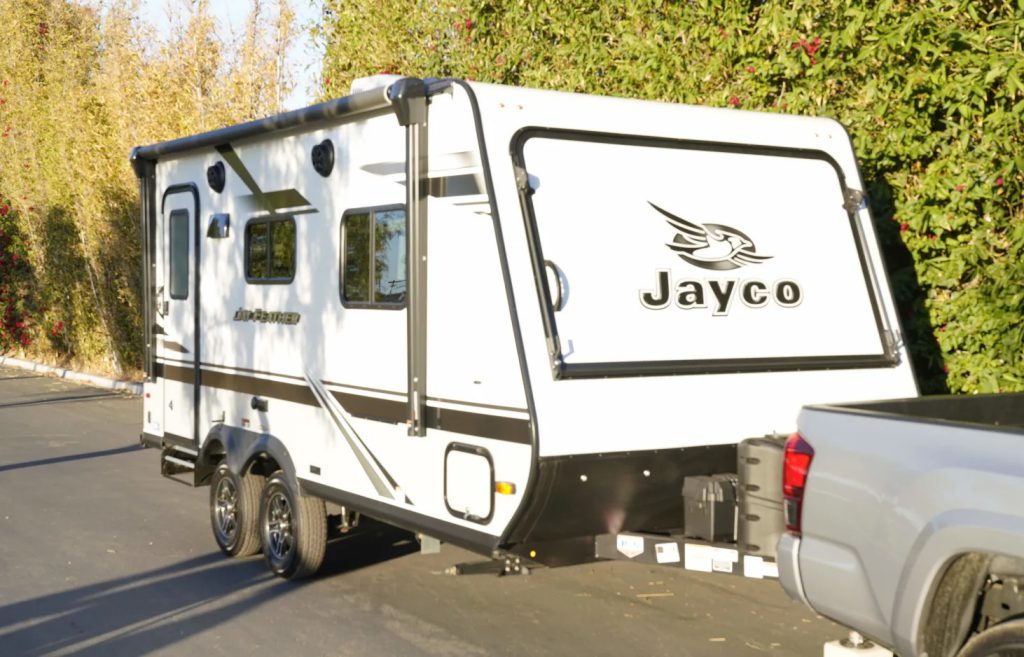 Want the amazing space offered by a pop-up, but prefer more hard walls? A hybrid camper might be just the thing. Luckily, Jayco makes an awesome hybrid that you have to see.
The Jayco Jay Feather comes in a variety of great floorplans. That said, we picked the X19H because the GVWR is under 5,000 lbs, it offers lots of sleeping space, and it includes a full bathroom with a shower, as well as a relatively large refrigerator, a 3-burner stove top, and a microwave in the kitchen area.
Price: Starting at $29,078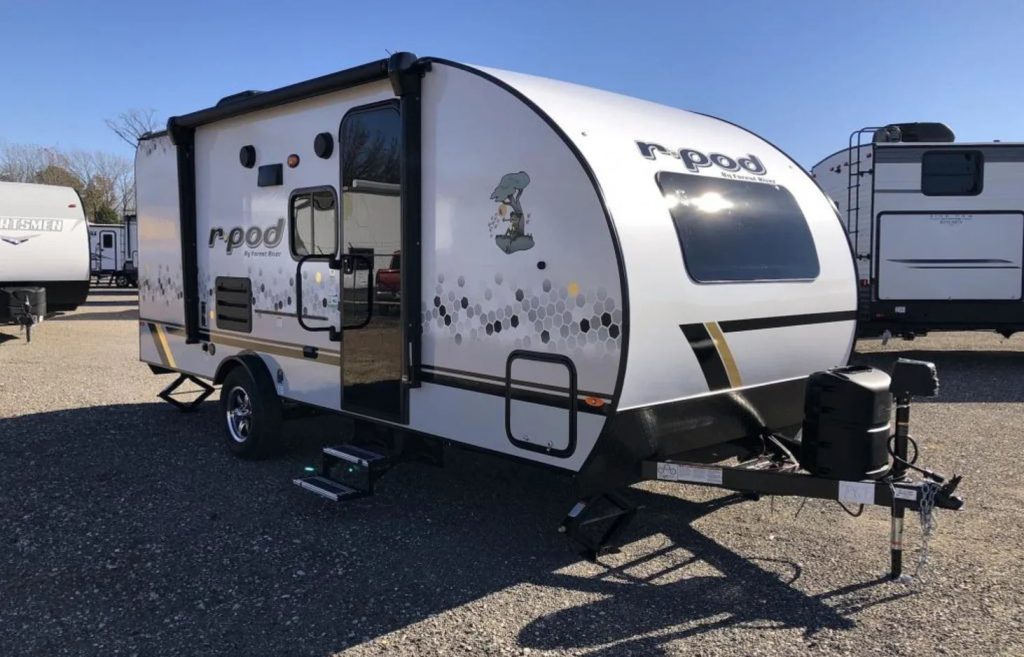 The R-Pod line of trailers is super cute. We love the exterior colors of these modern canned-ham-style trailers, and the floorplans are very usable, something we very much appreciate.
For this particular section, we've chosen to list the 193 model. This trailer features bunk beds for the kids and a super cool queen-size Murphy bed that folds into the wall to reveal a couch during the day. You'll also find a full bathroom in this rig, as well as a very functional kitchen and table.
Price: Starting at $28,011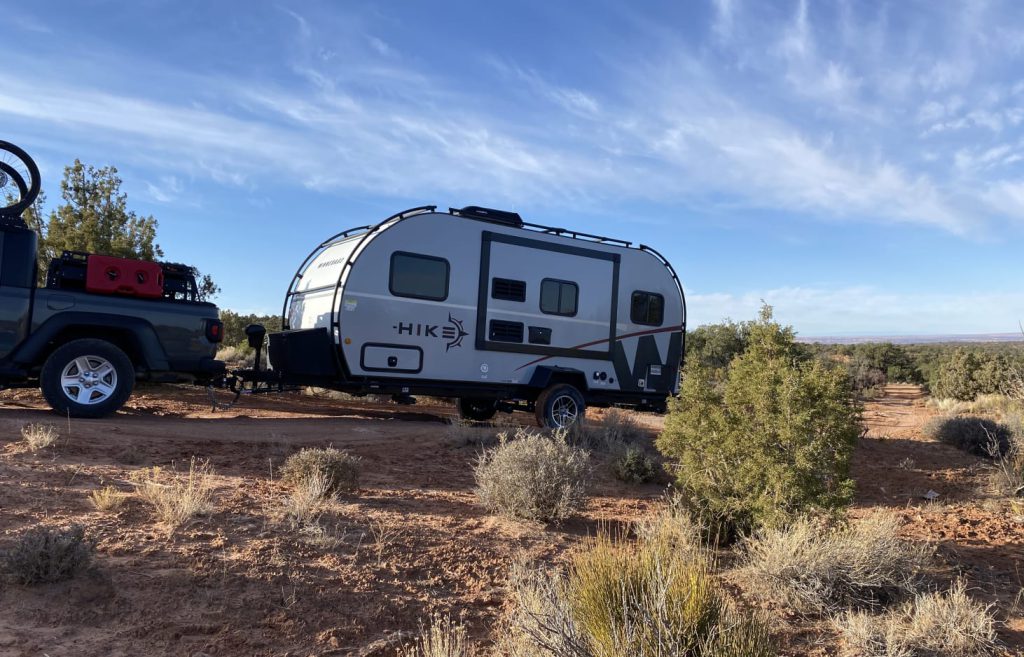 There's no denying the fact that Winnebago makes a good product. Unfortunately, not many people think of this particular company when shopping for travel trailers, and they should. Their trailers are just as good as their motorhomes and come in all sizes.
Today we are going to discuss the Winnebago Hike H171DB. This trailer is awesome in that it features an exoskeleton that works well for carrying kayaks and other sporting equipment wherever you roam. The inside has a lovely queen bed and a dinette that converts to a bed. You'll also find a bathroom with a shower and a well-equipped kitchen area.
Price: Starting at $34,254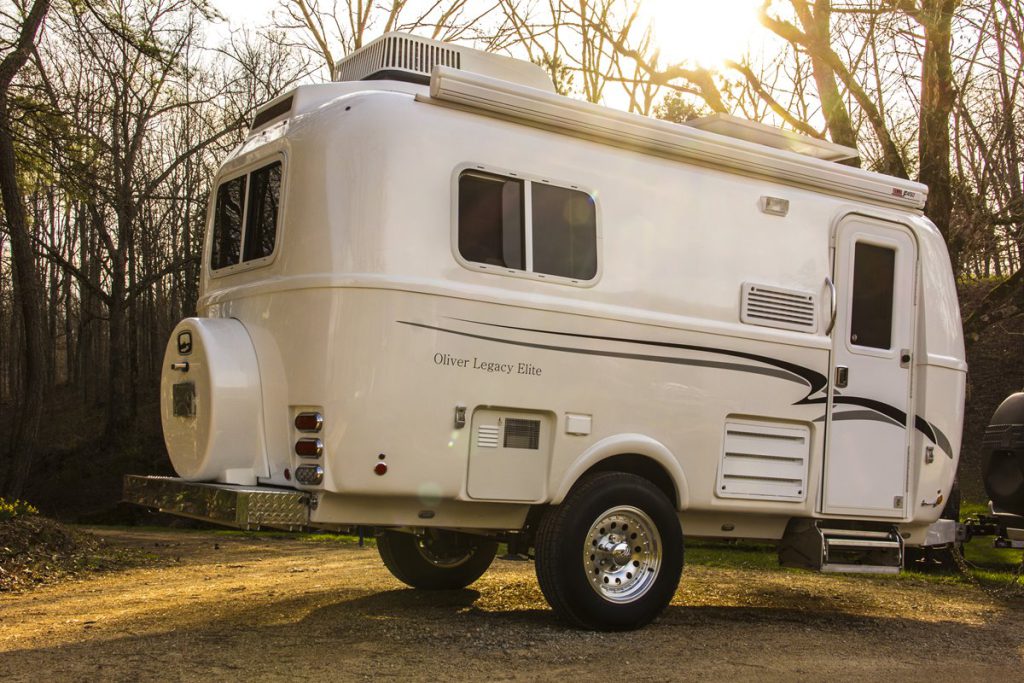 Last but not least, we must mention the Oliver Legacy Elite. This molded fiberglass trailer company may not be as well known as some of the others on this list due to the fact that they are relatively new to the market. However, the quality of their products will have them moving up that popularity ladder soon enough.
The Legacy Elite is an incredibly durable and well-thought-out trailer that we believe could be lived in full-time despite its tiny size. We love that this style of trailer rarely has issues with leaks, and find the shiny white exterior quite attractive. The large bathroom inside and the ability to sleep 3 people comfortably are also both major bonuses.
Price: Starting at $39,995
Best Travel Trailers Under 4,000 lbs.
There are dozens of awesome trailers on the market that weigh less than 4000 pounds. What does this mean for you? It means you might just be able to find a towable RV that your current vehicle can pull around, giving you the freedom to roam wherever you see fit.
Believe it or not, there are also travel trailers under 3,000 lbs. A trailer this small can be pulled by an SUV, meaning you might be able to use the vehicle you already drive to go camping.
Lucky for you, you've come to the right place. Below we've listed our favorite lightweight RV trailers under 4,000 lbs. This list will help you understand what are the easiest to tow travel trailers and which ones will serve you well for years to come.
Pros of a Lightweight Travel Trailer Under 4,000 Lbs
The first and most obvious benefit of a lightweight travel trailer is the ability to tow with an SUV. In fact, in some cases, you may even be able to tow some travel trailers under 2,500 lbs with a sedan.
As mentioned before, having this ability means you won't have to purchase a new vehicle just to go camping. Instead, your daily driver can become your camping vehicle.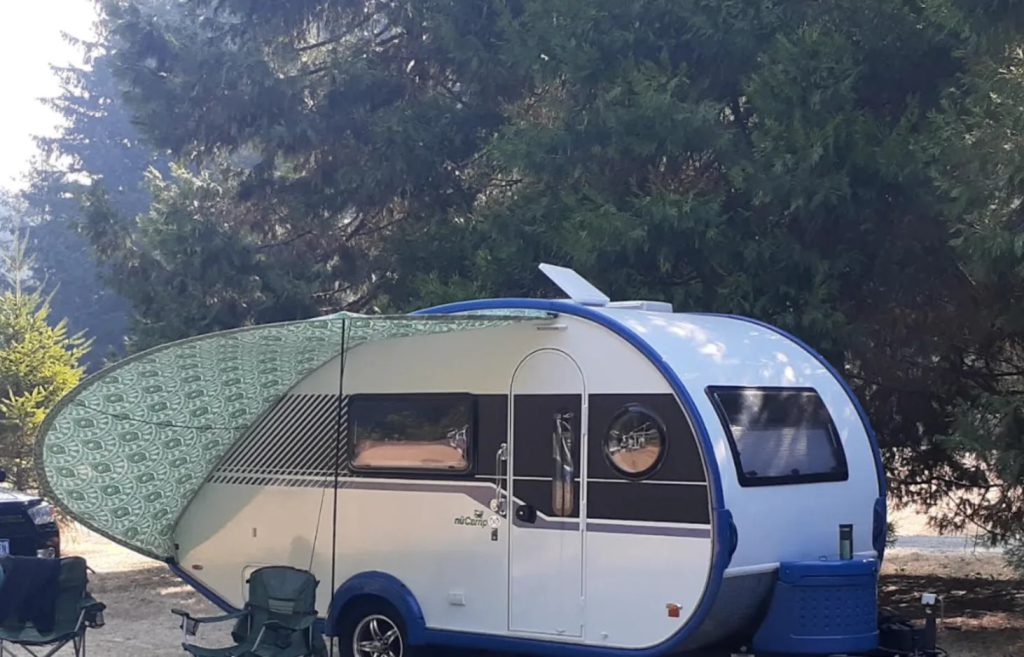 A unique camper, the nuCamp TAB 400 is very fun to look at, but even more fun to camp in. This is the biggest of the nuCamp teardrops but is still quite compact, easy to tow, and below that 4,000-lb mark, even when fully loaded.
This trailer can sleep three people, with two in the dedicated bed and one in the small converted dinette. It is both modern and comfortable, and the rounded edges throughout give the space a bubbly vibe. We especially love the curved window near the bed that is ideal for stargazing and wildlife viewing.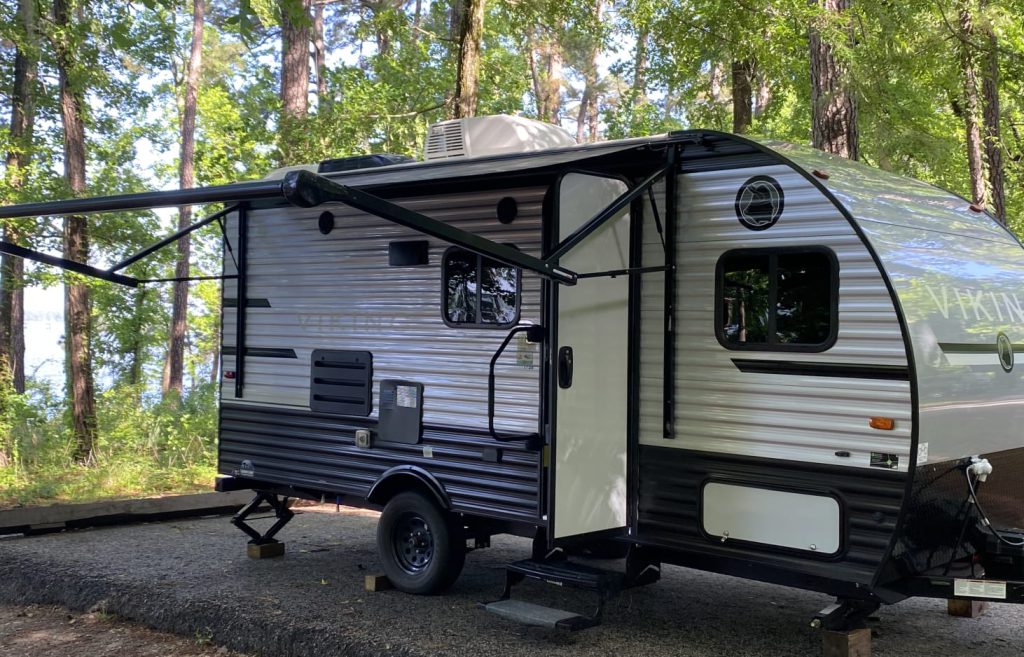 This is a classic little trailer that is perfect for those who are just jumping into the world of RVing. The price is right and it can easily be towed by a small SUV. Best of all, because this lightweight trailer has bunks, a family of up to 5 people can fit inside comfortably.
Other things we love about this trailer include the full indoor bathroom, power awning, outdoor shower, and the electric tongue brakes that help make towing the RV even safer.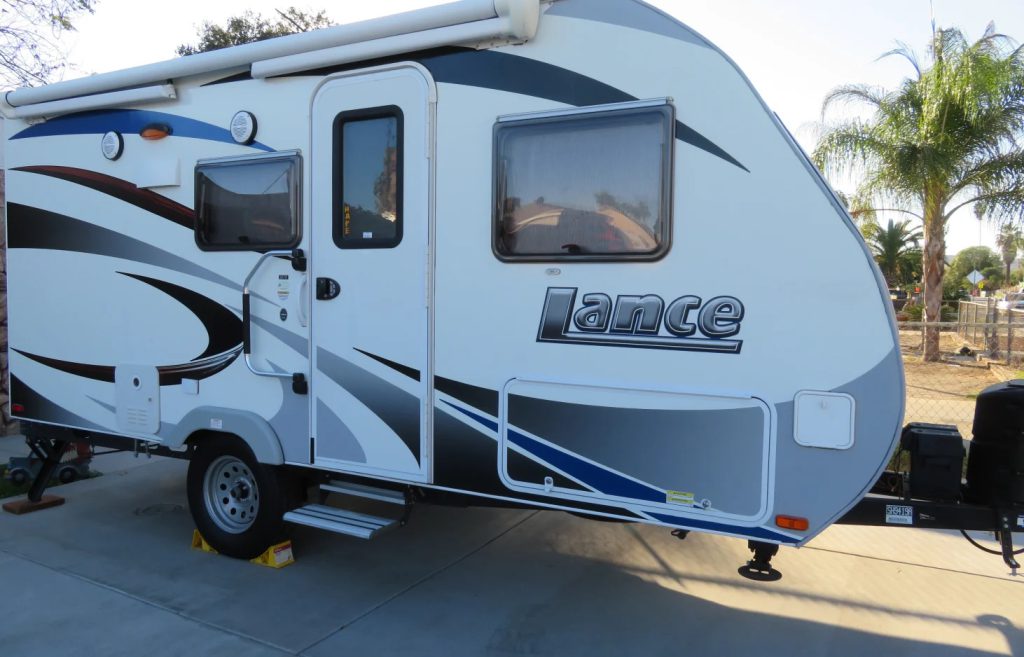 Lance is well known in the RV world for making a high quality product. While the company is best known for its beautiful and functional truck campers, they also have some pretty fantastic trailers, including this one.
The Lance 1575 is made with a lightweight aluminum frame that will last for years and years. Additionally, the Lite-Ply material that makes up the cabinets helps create lightweight cabinets that hold up well to regular use. Like the trailer above, this one also has a full indoor bathroom, and the kitchen is amazingly well-equipped and well-laid-out.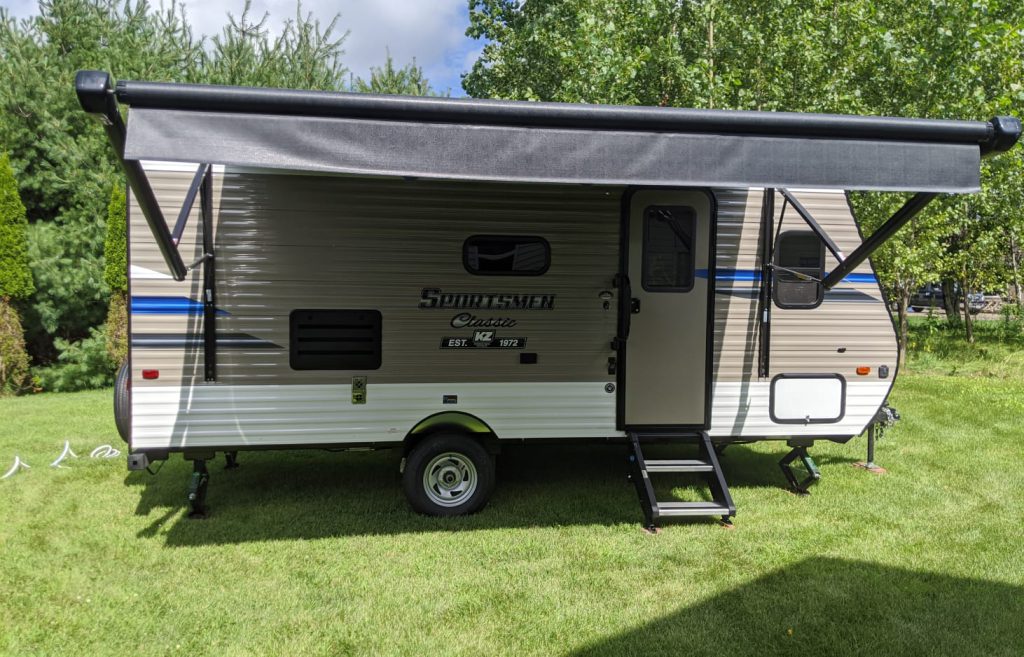 The KZ Sportsmen Classic is another affordable trailer that is great for those looking to try out the RV life. While it might not be much to look at, the simple little trailer is fully equipped and ready to take up to five people on the adventure of a lifetime.
We love that the dry weight of this rig is a mere 2,980 lbs, making it incredibly easy to haul around. We also appreciate the dining room slide that makes the space feel so much bigger. The bathroom is complete and indoors, meaning you can camp anywhere in comfort, and there's plenty of storage space for all of your camping gear to come along.
Rent this Sportsmen Classic today!
Yet another tiny camper with a bunk room, we really love the Winnebago Minnie Drop trailers. These adorable little lightweight trailers have a unique shape that makes them stand out from the rest. Additionally, because they are made by Winnebago, you can rest easy knowing you're getting an excellent product.
We adore that these trailers come in a wide variety of fun colors. On a more practical note, the NGX frame, aluminum floors, and plywood decking make for a long-lasting, weather-resistant home on wheels that is sure to last you for years to come.
Don't care for this particular floorplan? Check out the many others available. You're sure to find one that works for you.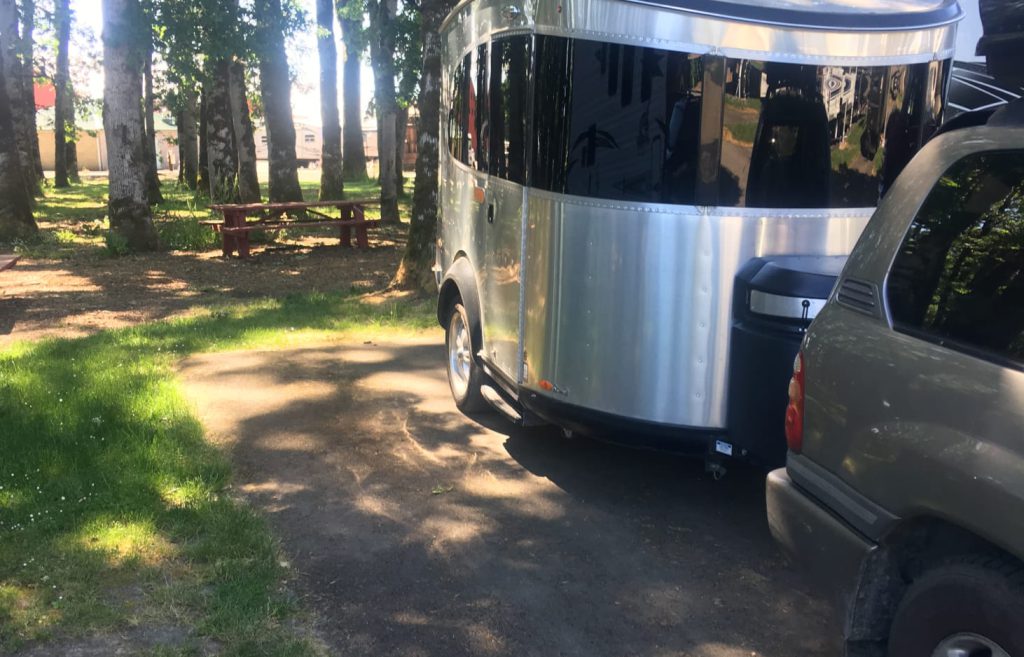 The Airstream Basecamp is one of the smallest the brand offers. The design of this lightweight trailer—like all other Airstreams—is incredibly well thought out, making it totally usable despite its small size. The panoramic window opens the interior up, making it feel much larger and bringing the outdoors inside.
Heat and A/C are an option for those who wish to have them, and the bike rack on the back is a perfect touch.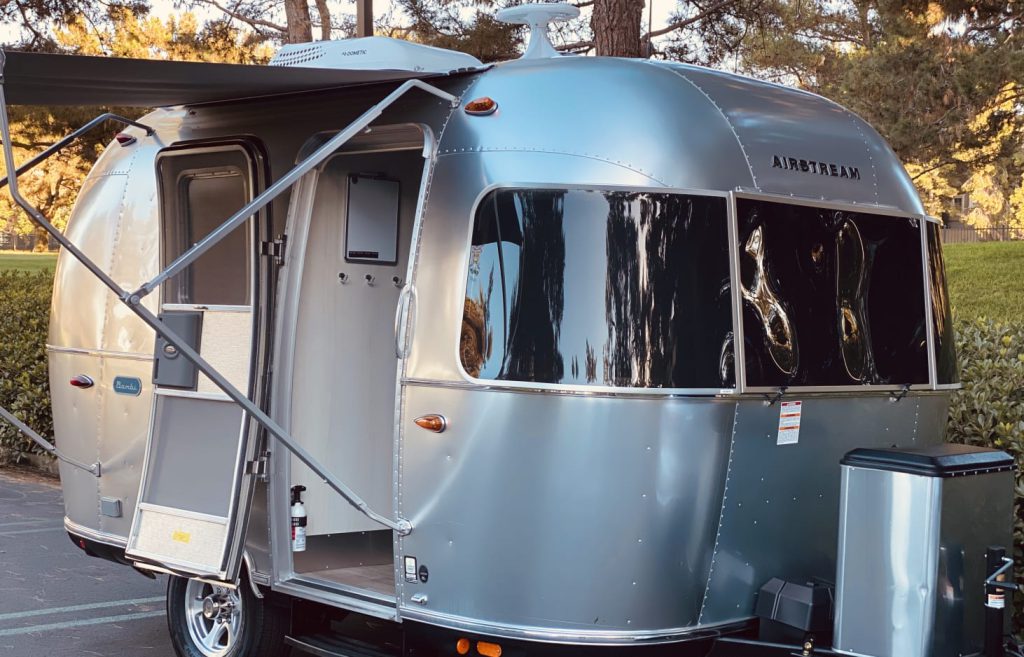 Another tiny Airstream that we absolutely love, the Airstream Bambi is a cute but functional little home on wheels that features enough sleeping space for up to 4 people. The 16RB is the smallest of the bunch and is ideal for those looking to tow with a small SUV.
This RV is, of course, well built and well thought out. We love that it has a tiny bathroom on board, as well as the two very separate sleeping areas despite its small size. Of course, the sleek and modern interior design is pretty fantastic as well.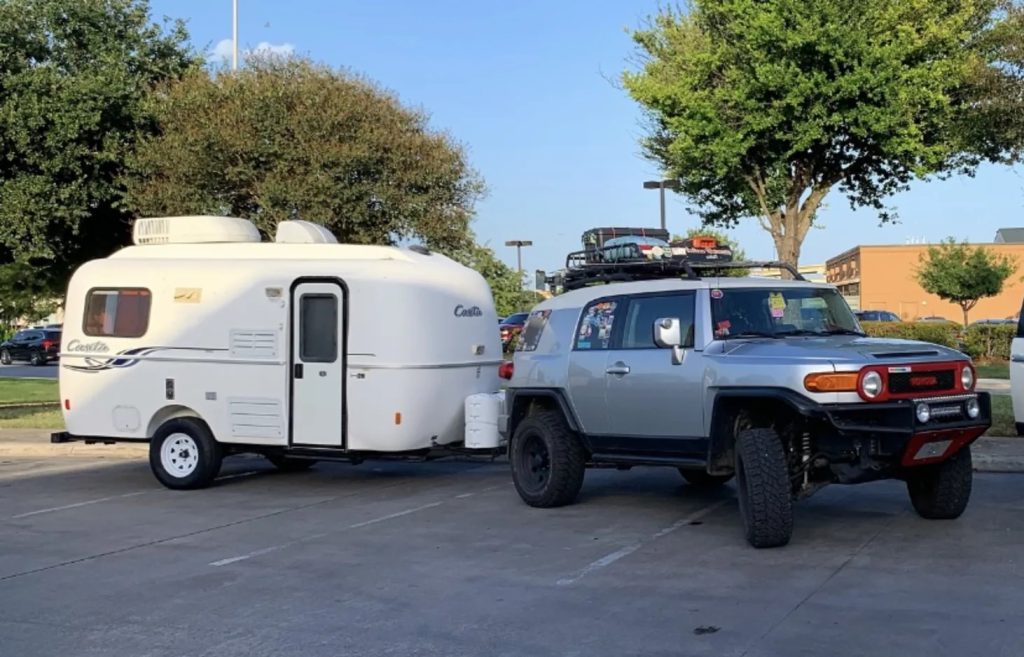 Casita campers have been around for a long time and there's a reason why. These fiberglass trailers are incredibly sturdy, giving their owners years of camping memories. They rarely leak, and the interiors of these RVs are very high quality.
We love that Casita travel trailers are all small and lightweight. However, our favorite of the bunch is the 17-foot Spirit Deluxe. This model has all the bells and whistles, including either a bathroom or bunks, depending on what you prefer.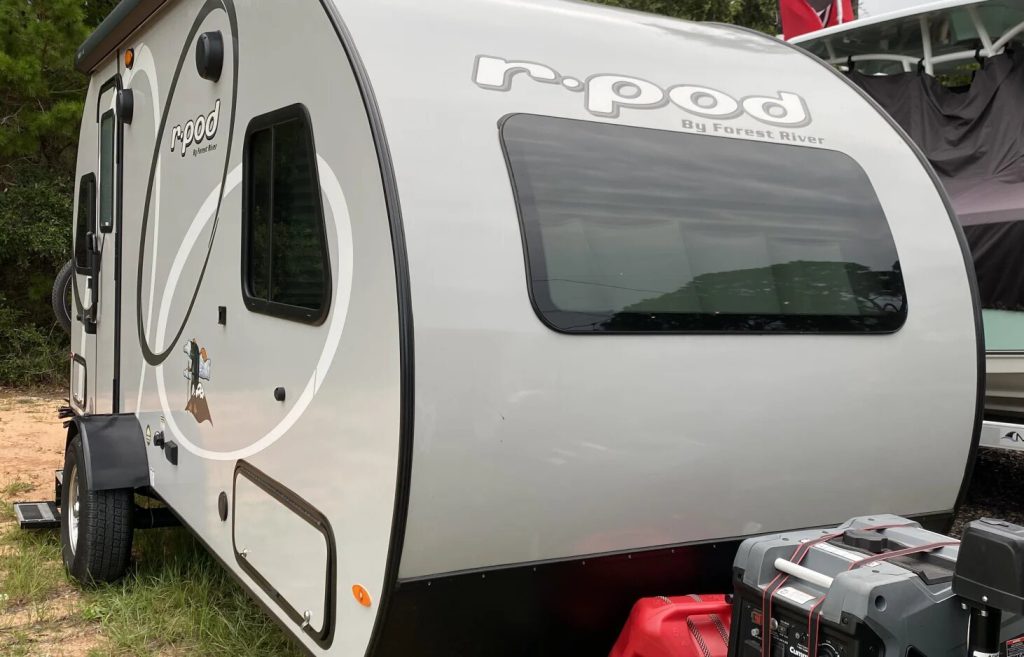 There is no denying the fact that R-Pods are incredibly adorable. They have a rounded shape that is aesthetically pleasing, and they sport fun exterior colors that we just love. These trailers offer modern amenities such as a central vacuum as well as important must-haves like an awning and large holding tanks.
The 189 model is our favorite. This one includes a separate living area with a couch and coffee table that is super comfy for lounging around. The bathroom is relatively large in this model, and the kitchen layout is nice.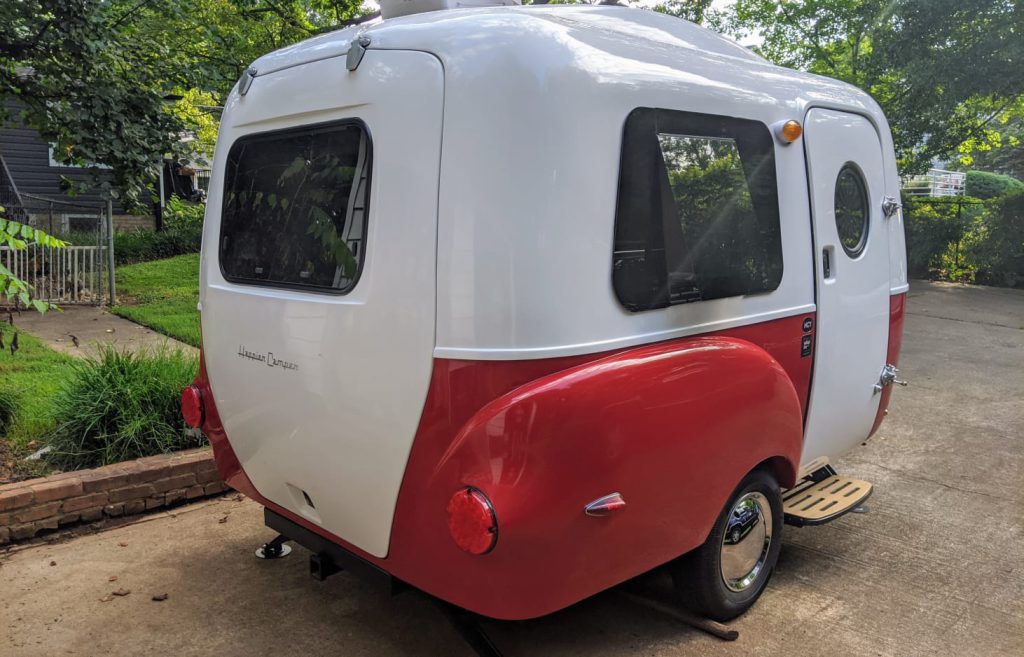 The teeny tiny Happier Camper trailers are the very definition of functionality and versatility. These trailers come in at just 13' long. Nevertheless, they can sleep an astounding 5 people. How is this done? With the super versatile "Adaptiv" modular furniture system.
Adaptiv is made up of various cubes which can be used to build a variety of different floor plans in your tiny living space. This can be done quickly and easily, so you can change things up based on the time of day.
Although the GVWR is 3,500, the dry weight is a mere 1,100 lbs, making it easy to stay well below 3,000 lbs, even with cargo. 
Best Lightweight Travel Trailers under 3,000 lbs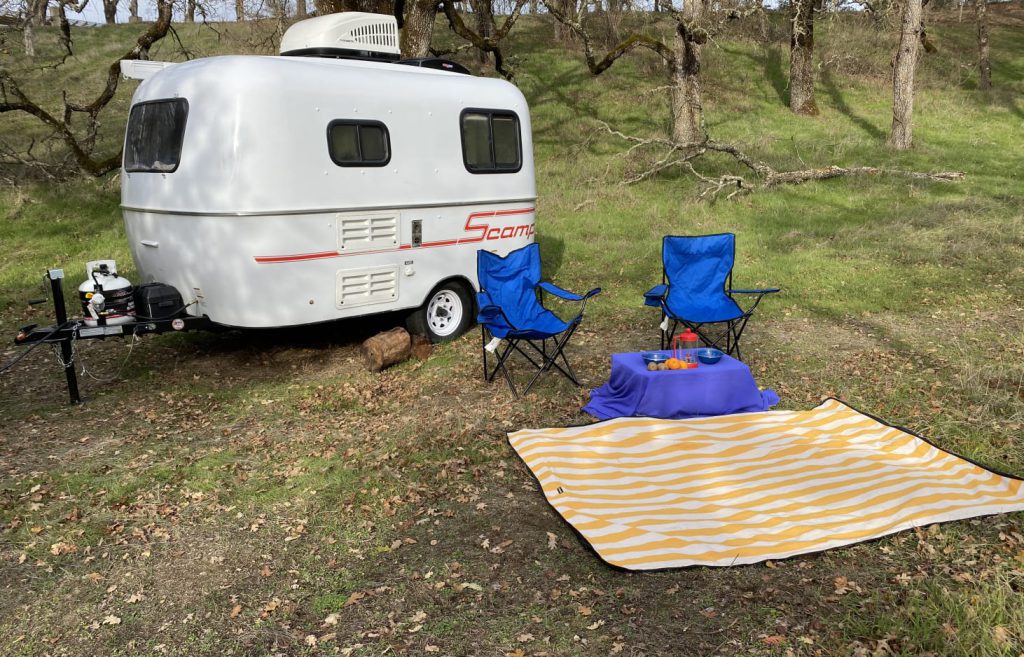 The 13' Scamp trailer is our #1 pick when it comes to travel trailers under 3,000lbs. The molded fiberglass model rarely leaks, a feature that is so rarely found in RVs.
We love that this trailer is aerodynamic. We also love that you have the option of extra sleeping space or a toilet in this tiny towable, meaning you can customize it to suit your needs. Lastly, we very much appreciate the option to add a furnace and an air conditioner, meaning you can stay comfortable year-round.
Price: Starting at $11,500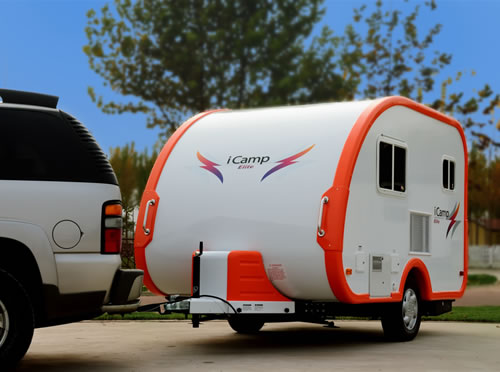 A super cute little trailer with a retro vibe on the interior, the ICamp Elite Camper is 14' long, just a bit longer than the Scamp. It can sleep up to 3 people and features a curved design to ensure every inch of possible space is used.
Features of this trailer include a combination heat pump and air conditioner unit, a toilet and shower, a cooktop, fridge, and sink, and plenty of interior storage. We love that all of this is automatically included in the base model, and that the trailer is so incredibly affordable.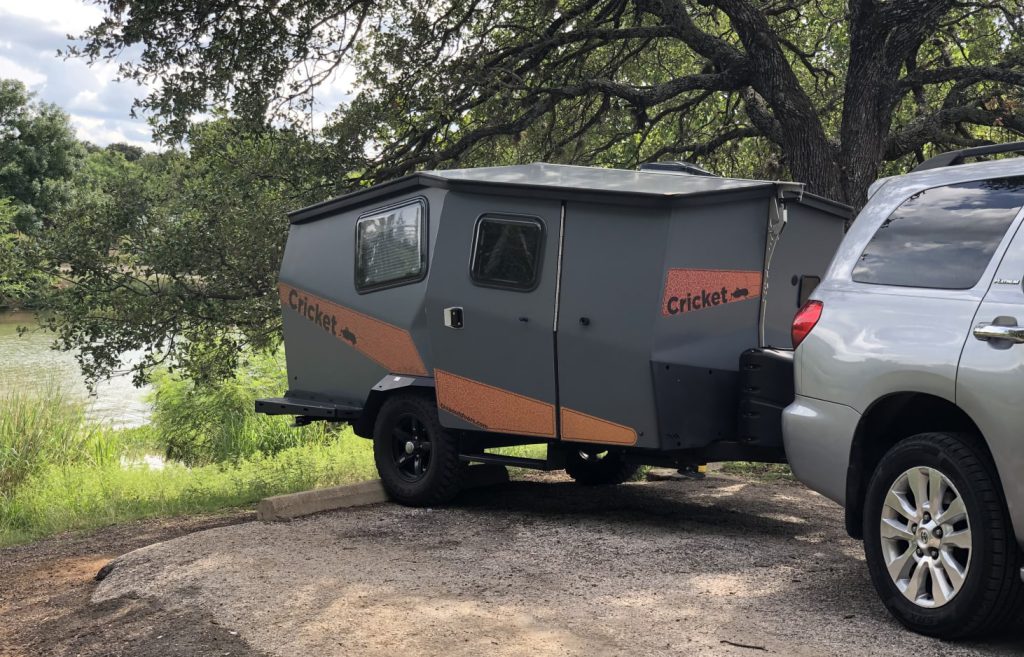 At 15' long, this trailer is the longest on our list today, and it's worth every inch of that extra length. To begin with, the odd looking modular exterior is interesting and unique, making it a great conversation starter. This unusual design is also surprisingly aerodynamic, and the pop-up roof allows for plenty of headroom, keeping the tall people in your life happy.
Inside, the space is simple yet 100% functional, with sleeping spaces for 2 people, lots of storage, a table, and a full kitchen. While this is plenty for many campers, some people do opt for certain add-ons such as a toilet, bunks for the kids, or an A/C unit.
Price: Starting at $34,983
A more traditional style of pop-up camper, this trailer pops up and then out on either side to create two large sleeping spaces housed in a canvas tent-like structure. Because of this feature, the trailer goes from being a mere 12' 11" while being towed to a full 17' 11" trailer when set up.
Thanks to those two large sleeping spaces on either end, along with the table that turns into a bed, 5 to 6 people can sleep in this trailer quite comfortably. The RV offers a decent amount of storage, an air conditioner, an outdoor grill attachment, and a small indoor cooking space.
Price: Starting at $7,999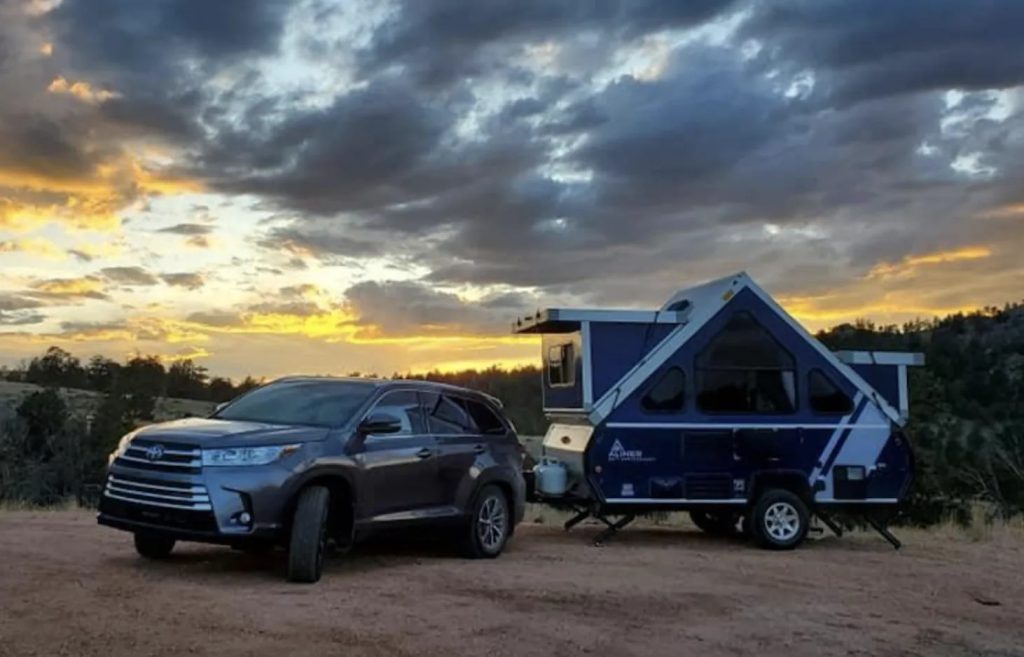 Aliner trailers have an unusual A-frame design that makes them stand out from the rest. When set up, these adorable trailers look like a tiny cottage with a peaked roof. However, closed down, the trailer has an incredibly low profile, making it easy to tow.
We chose to list the classic model because it seems to suit the needs of many. This particular model comes equipped with a dinette and sofa, and both convert to beds. There is also a small kitchen area with a fridge, stove, and sink.
There are many other floor plans offered by this company, and many of them fall under 3,000 GVWR, so if this particular setup isn't ideal, be sure to look into others.
Price: Starting at $19,900
Final Thoughts
Now that you know the most important things about lightweight travel trailers, as well as which travel trailers under 5,000 lbs are best, you're ready to start shopping for your dream mini-rig.
Want to try some options on for size before buying? Don't forget that you can rent a lightweight travel trailer on RVshare to get a feel for what works for you!