Top RVs Nearby
The Ultimate Tent Trailer Camping Guide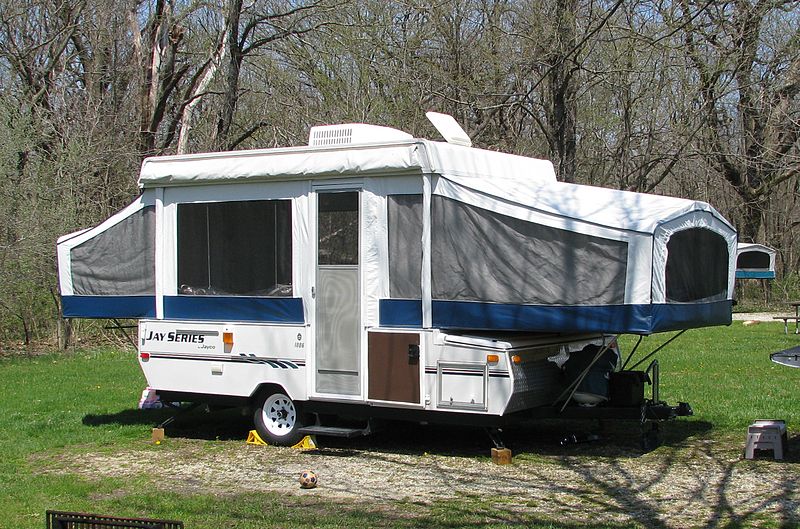 Tent trailers, also known as pop-up campers, are a common summer sight. Step into any campground or dispersed camping area, and you'll see pop-up campers dotting the landscape. They're one of our most popular rentals during the warmer months, and for good reason. They're convenient, lightweight, and let you bring the comforts of home into the great outdoors. We get a lot of questions about tent campers, so we've put together this guide to help you plan your next adventure.
Tent Trailer Camping - Not Quite a Tent, Not Quite a Travel Trailer
When you think of camping, you probably picture a tent and a small campfire billowing smoke. Now imagine this – you're still in a tent, surrounded by the sounds and smells of nature, but you're up off the ground and sleeping in a bed. That's the luxury of tent trailers. Consider tent trailers as a major upgrade from tents. Many of them have kitchens, bathrooms, and dining areas, in addition to a couple of beds. Their hard roofs (and sometimes hard sides) means that you're more comfortable in the rain than you would be in a tent. If you've never been tent trailer camping before, you should consider it for your next vacation.
Camping in a tent trailer has its advantages and disadvantages. One of the biggest benefits is that you'll have access to so many more campsites than you would in a motorhome or large travel trailer. Pop-up campers are lightweight and smaller, meaning you can tow them with car, SUV, or truck! That also means you can navigate into smaller campgrounds or places where big RVs aren't allowed. Check out sites like Reserve America for information on campgrounds in every state in the U.S. You can also visit the National Forest Campground Guide, which has info on camping in any of the country's national forests.
Most Popular Tent Trailer Manufacturers
Just like with motorized RVs, no two tent trailers will ever be the same. Manufacturers have been making ten trailers for decades, and today's models are the epitome of technology and function. There are tons of tent trailer makers out there, but some of the more popular brands are:
Jayco – Jay Series and the Jay Series Sport (A-frame style) models.
Forest River – Flagstaff and Rockwood campers.
Starcraft – Starflyer and Comet models.
Coachmen – Clipper and Viking campers.
Dutchmen – Aerolite, Coleman, and Kodiak models.
Livin' Lite – a wide selection of pop-up campers.
Aline - a popular manufacturer of A-frame campers.
What to Bring Tent Trailer Camping – The List of Essentials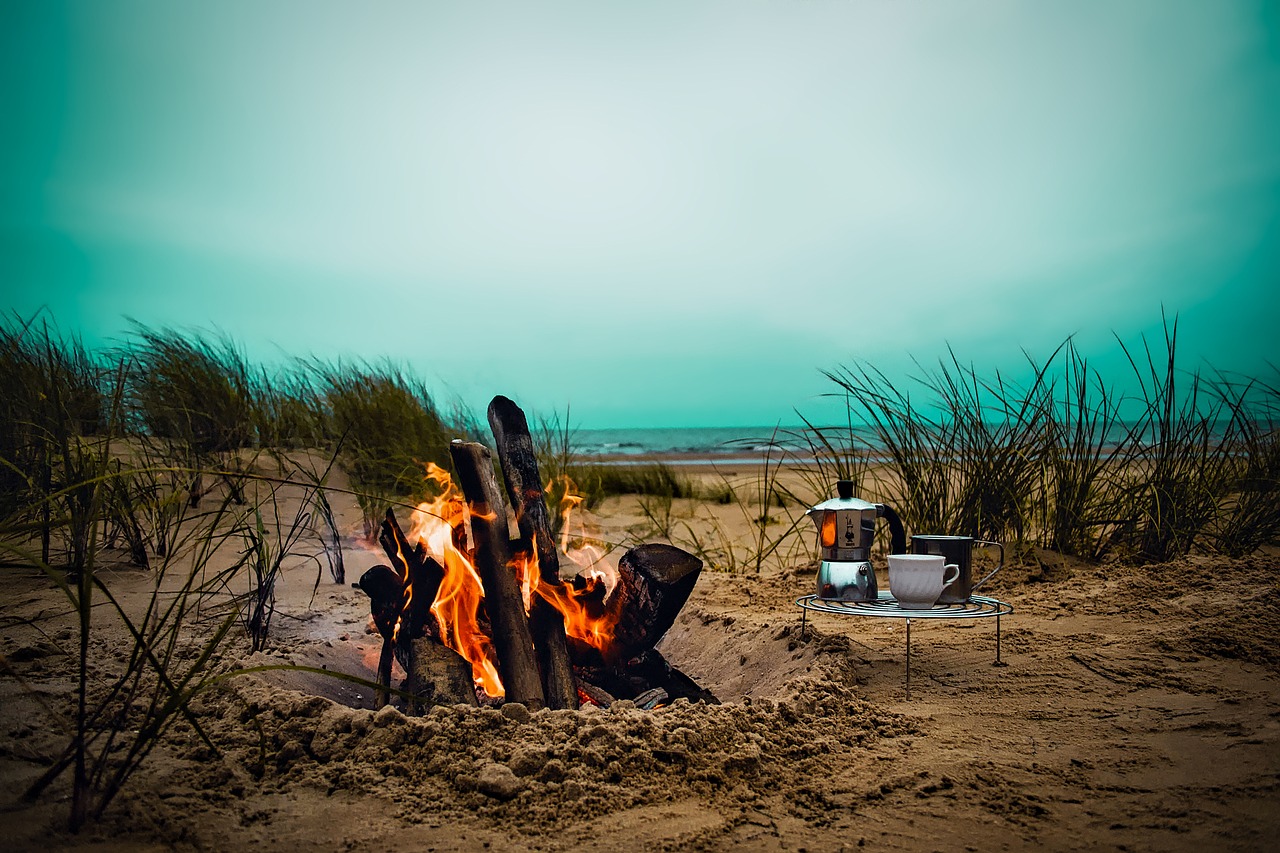 Tent trailer camping is the gray area between tent camping and staying in a travel trailer. As such, you'll be packing a little differently than you would for either. We've made a tent trailer checklist for camping:
pots, pans, cutlery, plates, bowls, cups, and a can opener. You'll also want to bring a few cook's knives, a spatula, a ladle, and other cookware. Think about what kinds of meals you'll be cooking on the road, then visualize what items you'll need to cook them.
Cleaning/Maintenance Supplies: Rags, trash bags, gloves, a bucket, a broom, and soaps and cleaning solutions. For maintenance and miscellaneous purposes, you'll want to pack a flashlight, extra batteries, some lighters, a few small cans of propane, water hoses for hookups, and duct tape.
Linens: pillows, sheets, comforters or bedspreads, towels of various sizes, and extra blankets for outside or cold nights. As for your clothes, you'll want to pack lots of different layers, like t-shirts, long sleeve shirts, sweaters, shorts, and pants. Be prepared for temperature changes! And don't forget a raincoat or a few ponchos.
Health Stuff: A first aid kit, bug spray, sun block, calamine lotion, Aspirin, and any medications your family needs.
The food you bring depends on how you plan on cooking and what your eating habits are. People tend to eat similar to the way they do at home when they're camping in an RV. If you're having trouble planning meals for the road, GoRVing has some great RV recipes.
The Best Tent Trailer Camping Hacks and Tips
Tent trailer camping is more comfortable than sleeping on the ground in a tent, but not as luxurious as camping in a motorhome. Here are a few tips to make sure your trip goes smoothly:
Always bring extra blankets and bedding! Tent campers aren't as insulated as travel trailers – it can get cold at night.
Don't forget to stake down your awning, even if there's currently no wind.
Use rocks or bricks to stabilize your wheels so the camper doesn't move around. You should also pack something to shim the camper and make it level.
Use paraffin wax to lubricate the bed rails, and they'll glide out smoothly!
You might want to bring along a plastic tarp – they're so versatile and will provide extra rain protection.
Plastic tote boxes are great for storing dry food. You can get some extra space and keep your food outside without attracting animals.
Keep a homeowner's toolkit and a small drill in your tent camper. These tools should be enough to fix minor issues.
Tent Trailer Camping in The Winter or The Rain
Winter camping isn't impossible, but it definitely poses a few challenges. Here are a few tips for camping in inclement weather:
The most important thing is always keeping everything warm and dry. That means wiping down your camper right after it rains, and taking extra precautions to prevent leaks. Keep a tube of caulking on hand.
Sleeping bags provide more insulation than blankets. Sleep in a sleeping bag, and layer on extra blankets and comforters.
Invest in solar blankets and bring several with you. You can use them to line the area under your mattress. Use solar blankets or Reflectix to cover your windows.
Bring along a small ceramic heater if you'll have access to electricity. If not, you can get a small propane heater instead.
As previously mentioned, plastic tarps are great for adding a second layer of rain protection above the camper.
Drain all the water out of your systems. You don't want to deal with burst plumbing. Bring along jugs of water for drinking and brushing your teeth.
The vinyl on the roof and plastic windows can get stiff in cold temperatures. It'll crack if you try to force it. You'll need to heat up the camper inside before you pack everything up, then slowly close everything to prevent cracking.
Always tell someone where you're going and when you plan to return.
Tent Trailer Camping With a Baby or Toddler
Camping with a baby or toddler is a great way to introduce nature into their lives and teach them how to adapt in the world. Of course, it's not all butterflies and rainbows; camping with a baby can be downright difficult at times. Here are some tips to help you stay sane:
Remember that babies have a harder time regulating their temperature – bring TONS of layers.
Don't go overboard with physical activities during the day. It'll leave both you and your child exhausted, and nobody likes a screaming toddler.
Bring along something to section off one of the bedding areas to use as a crib or playpen. A hide-away bed guard should do the trick.
Bring along a Pack and Play so baby can hang out outside with you while you're setting up the camp. Don't forget to bring a mosquito net to cover the playpen!
Pack a portable potty seat for toddlers. Small kids usually don't like using the portapotty that comes with the camper.
You can freeze baby food at home, then take it with you camping. It has the added bonus of acting like an ice pack and keeping other perishables cold!
A baby backpack is easier to pack than a stroller. It's also easier to use if you want to take a walk in the woods with the baby.
The Best Tent Trailer Camping Blogs
Popup campers have a huge following. You'll find plenty of blogs and forums on the internet. We've rounded up a few of the most popular ones:
Conclusion
Camping in a tent trailer can be a challenging, yet exciting experience. Not as small as a tent, not as big and heavy as a motorhome – tent campers sit comfortably in the middle. If you want to get into smaller campsites, or don't want the expense of camping in a large RV, the tent camper is a perfect choice. We hope this guide has helped you plan your next excursion! Check out our listings of tent campers for rent near you. Happy camping!