Top RVs Nearby
Get an RV Rental Class A for your Next Road Trip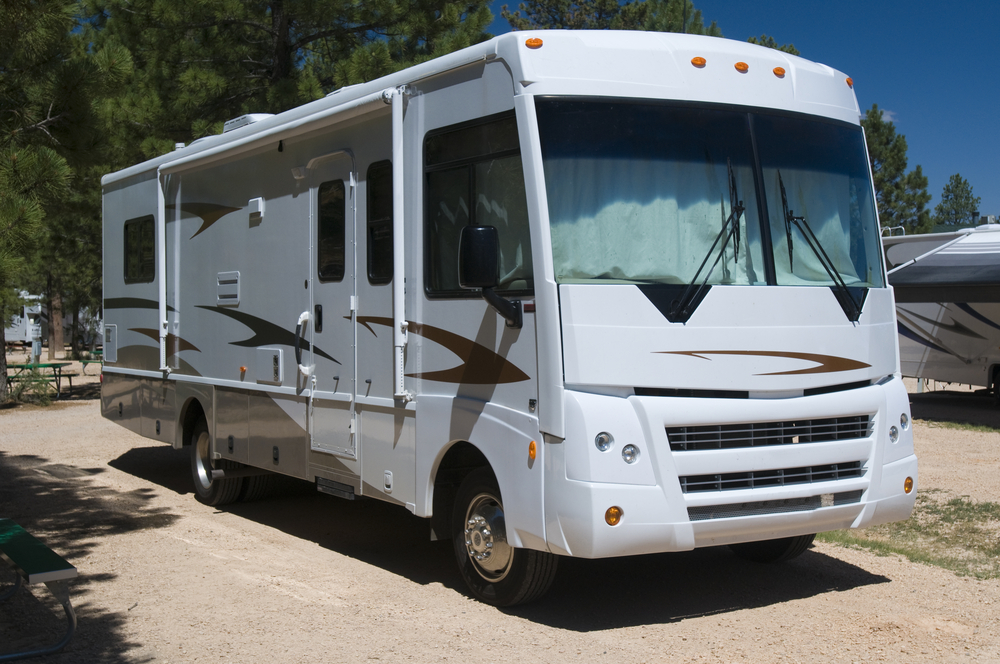 If you've ever wanted to venture across the country with ultimate freedom and flexibility, you've surely looked into RVing. It's one of the best ways to travel the country. But what if you don't want to sacrifice the comforts or space of a hotel room? Then a Class A bus RV rental may be the perfect solution for your family.
In this article, we're going to learn what a RV Class A is, what the rental prices are, where you can find the best Class A campers for rent by owner, and more.
Class A Bus Style RV Rental
Before we get into where you can find one and how much it'll cost you, let's talk about what exactly a Class A RV is and who should rent one. These massive units are built from the chassis of buses. They're built to be heavy duty and don't require a tow vehicle of course since they're motorized.
Being motorized, you can get a Class A in either diesel or regular gas as a rental. They typically have some of the worst fuel economies of any RV, only averaging around eight to ten miles per gallon. What they lack in fuel economy, however, they make up for in amenities.
Class A RVs come with plenty of storage space, both on the inside, and with compartments on the outside. With a Class A RV rental, you could sleep upwards up ten or more people in them. Some even accommodating 18 passengers!
Class A RVs come with multiple slide-out options for large families and even a separate master bedroom for couples who want a little more privacy. On top of that, there are many options that come with bunk beds as well. Class A units tend to feel more like small homes than vehicles.
The living spaces in Class A motorhomes are incredible. Bathrooms come with a shower, toilet, sink, and cabinets. There is a kitchen area with a full pantry, cabinets, burners to make your own meals, a microwave to heat up your meals, a sink, and even a refrigerator with a freezer.
They also have a dining area that can be used as a little office, or be folded up into an extra space to sleep. Class A RVs have large living areas with the cabins attached, so you can access anything in the vehicle, even while moving.
Luxury Class A RV Rental
Class A RVs aren't only the biggest units out there, they also come with luxury that no other RV Rental is able to compare to. Class A RVs come with the highest quality interior, from leather seats to backsplashes in the kitchen and bathroom, and even solid wooden floors.
Class A RVs have all sorts of technology that other RVs don't have. For example, besides the locks and windows, everything is electric, including, the slide outs. Some come with giant TVs, surround sound, seat warmers, push to start features, and digital thermostat.
If you love the space and luxuriousness that come with these, however, expect to be paying a pretty penny, as Class A luxury RV rental is typically the most expensive RV unit on the road.
Private Class A RV Rental
If you're wondering, "Where can I find Class A campers for rent near me?" you've come to the right place. RVshare is the world's largest peer-to-peer RV rental marketplace. We're your one stop shop for any Class A RV you need regardless of size, features, and price.
Our listings start at only $10 per night, with unique and high-quality RV rental options located throughout all 50 states. Using our platform is cake and can find yourself booking the perfect RV in as little as a few minutes.
First, enter your location and travel dates
Next, filter your results by RV class, price, the number of passengers, and more
Then, browse through hundreds of choices
Send the owner a quick email by clicking "Request to Book"
Last, meet the owner, get a quick demo, and you're off
Class A RV Rental Cost
With all the amazing features and amenities that come with Class A RVs, many aren't surprised to hear that they tend to be the most expensive RVs to rent or buy. If you're wondering how much is a Class A RV rental exactly, the answer is that it depends.
Many factors are weighed in when it comes to the price of a Class A rig. For example, are you looking for a rental that sleeps eight to ten, or do you need an RV rental that sleeps 12 or more? The size of the rig you need definitely affects pricing.
Other factors are what sort of amenities your family requires. Are you fine with cloth seats and basic appliances in the kitchen, or do you need leather and stainless steel? Class A RVs come with ample variations, so your nightly rate depends on what exactly you're looking for.
Besides differences in the features themselves, pricing also depends on how far you're going, how long you're renting, and more. If you plan on traveling across the country, maybe looking for a class A RV rental that comes with unlimited mileage is the way to go. If you know you're going to camp somewhere rural, perhaps finding a rental unit with unlimited generator use would be in the best interest of your family.
Some RV rentals come with both of those things, while others come with limited use for free and a price for more use. It all depends on what you need and what you find. Other things to keep in mind are taxes, security deposits, and other fees. On average, however, a Class A RV rental will cost you around $150 to $350 per night.
RV Rental Class A Conclusion
Renting a Class A RV is one of the greatest ways to travel because you've got the mobility of an RV, with the luxury of a hotel room. No wonder they're one of the most common RVs seen on the road. If you're ready to take your camping trips to the next level, browse through our platform to find the best RV you'll ever rent!