The Importance of Checking for Water Damage in Your RV
Uncategorized
June 14th, 2015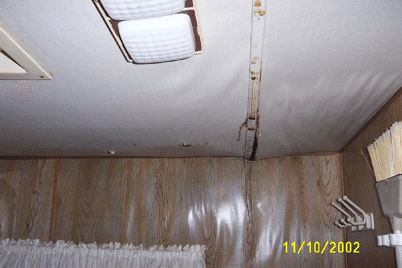 Checking for water damage each season will save you a ton of money. Check now, before it's too late!
One of the worst problems to plague an RV is water damage. Once an RV becomes damaged by water, the problem tends to spread and can led to thousands in repairs.
The scary thing about water damage in your RV, is that it may already be there without you even knowing about it! This is why it's so important for all RV owners to periodically check for any signs that could lead to water intrusion.
What to Look For
When looking for water damage in your RV, do a thorough inspection and be on the look out for any of the problems below.
Bubbling fiberglass on the exterior of your RV.
Wrinkled, or extremely discolored wallpaper – you should also look to see if your wallpaper is coming off in certain spots, or if the color is starting to fade.
A musty smell coming from the inside of your rig can be an indication of water damage. Remember, not all damage is visible, but sometimes you can smell it!
Rusted screws, nails, moldings, or rust-colored stains around or underneath your windows – this also includes inside the walls, if you can see into them.
Soft or discolored spots around wall penetrations and ceiling fans or vents.
Discolored spots on the ceiling or around the top of the walls.
Areas on your floor that feels spongy, especially  the areas near the floor vents.
If you detect any of these signs and catch a water damage problem early on, you will save yourself a ton of money on repairs. Keep in mind that because your RV is often in motion, the bumps and vibrations on the road can causes seals to open allowing condensation and rain water to slip through and damage your RV.
The best way to ensure that your RV is not suffering from water intrusion is to regularly check your RV for the signs. If you live in a relatively dry area that does not get a lot of rain or condensation, you should still check. If you're in an area with heavy rain, then you need to check a couple of times per season.
Thanks for reading and don't forget to comment and share below!