RV Parts & Accessories
January 19th, 2021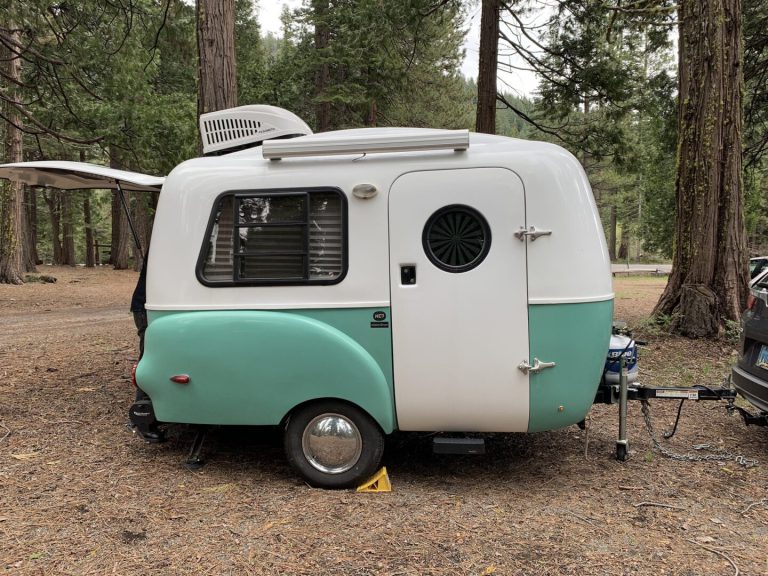 Choosing the Best Trailer Hitch Lock to Avoid Trailer Theft
There are a number of accessories that need to be purchased when you get a travel trailer. You'll need a sewer hose to dump your tanks, jack pads to put under the jacks, adapters so you can plug into whatever electrical system is thrown your way, and tools to fix the things that break. On top of all those practical things, you'll also want things like camping chairs, a fire pit, a grill, and recreational gear.
Yes, there are a lot of items to stock up on (and find storage for) when you finally take the plunge and purchase that trailer you've been drooling over. Most of these items are pretty obvious. Others become obvious during that first trip out. Still other items are never really obvious needs until it's too late.
One thing that falls into that third category is a trailer hitch lock.
Some RV owners skip the trailer hitch lock, thinking it's too much of a hassle or not worth the investment. Others don't even think of needing one, or may not even know such locks exist. The problem is, while using one of these locks might be a bit of extra hassle, and while purchasing one does cost a bit of money, not getting one could be one of the biggest mistakes of your life.
Read on to learn why you need a trailer hitch lock, what to look for when shopping for one, and which ones we think are the best of the best. 
Why You Need a Trailer Hitch Lock
Let's begin by discussing why you need a trailer hitch lock. Honestly, the reason for purchasing such a lock is pretty obvious. Anyone who owns and uses one of these things is trying to prevent trailer theft, something you definitely don't want to happen to you.
Don't think trailer theft is something you need to worry about? You might camp only in gated RV parks, and you might use the most secure storage lot in the area, but there is still a possibility that your trailer will be taken. Even if your neighbors are the nicest and most honest people in the world, outside people can find their way in. All anyone would have to do is hitch up to your rig and drive away.
For these reasons, it's well worth the tiny bit of extra time and money it takes to put a lock on your hitch.
What to Look For in a Trailer Hitch Lock
Once you realize that you do indeed need a trailer hitch lock, the next step is finding the right lock for you. There are a number of things to consider when shopping for a lock for your travel trailer, and knowing these things can help you narrow down your choices, making your shopping mission a smooth one.
Type
The first and most important thing to look for is the type of hitch lock you are buying. There are two main types of hitch locks, and both have different uses.
Type #1: Receiver Locks
A receiver lock is used when the trailer is hitched to a truck. It is used in place of the hitch pin and locks closed so nobody can unhitch the trailer without a key.
Type #2: Coupler Locks
Coupler locks are used when the trailer is unhitched. They fit snugly into the coupler of the trailer to keep anyone from hitching the trailer up to their own vehicle.
Size
Size is also an important factor. After all, you want the lock you purchase to fit the hitch you're using. For instance, if you have a class II hitch, you will need a ½-inch receiver lock. Meanwhile, those with higher class hitches will need the ⅝-inch lock.
When it comes to coupler locks, you'll want to ensure the lock you choose matches the size of the coupler and ball. Those with class I and II hitches use a 1¼-inch ball, and bigger hitches use a 2-inch ball.
Unique Keys
Obviously, you want your hitch lock to have a unique key, meaning the keys from other hitch locks won't be able to open it. Unfortunately, many lock companies will mass produce multiples of the same key, making it super easy for a thief to find a duplicate of your key and easily open your hitch lock. When shopping, look for manufacturers with unique keys so that this won't be a problem.
Price
Price is a factor to consider no matter what you're shopping for, and hitch locks are no exception. While you will want a good quality lock, there is a point where the added cost does not equal added security. Keep this in mind as you shop, and try to find a high quality lock that doesn't break the bank.
Added Features
Lastly, you will want to consider any added features a lock may offer. These can include things like..
Caps over the keyhole to keep dirt from getting in.
Matched key sets.
Corrosion-resistant materials.
…and more. 
The Best Trailer Hitch Locks
So what are the best trailer hitch locks on the market? Well, that depends on what you're looking for. We've compiled a list of our favorites in a few different categories so you can pick out the very best option for you.
Receiver Locks
If you need a lock to keep your trailer secure as you travel, the option below is for you.
Our Top Pick: Master Lock 2866DAT Trailer Hitch Lock
Easily the best receiver lock we've tried, the Master Lock 2866DAT is straightforward, making it incredibly easy to use. It also has a number of great features, including a rotating lock head, a snap cover to prevent dirt from getting into the lock, and a four-pin cylinder to help prevent lockpicking.
We also really appreciate that this lock can fit both ½-inch and ⅝-inch receivers, meaning you don't have to fret over whether you ordered the right size.
Coupler Locks
Need something to keep your trailer safe after parking? Consider one of the three options below!
Easiest to Use: Master Lock Universal Trailer Lock
We love the Master Lock Universal Trailer Lock for its ease of use. It's also great in that it's a bright color, something that will often deter the casual thief as soon as they see it.
This lock clamps down firmly, making it very difficult for the lock to be pried off. It's also easier to deal with in cold weather when hoop-style locks might be brittle and difficult to open and shut.
Most Affordable: Reese Towpower Tow 'N Store Lock Kit
If you need something decent but very affordable, the Reese Towpower Tow 'N Store Lock Kit might be just the thing. This kit actually includes a coupler lock, a receiver lock, and a brass lock for one low price!
The coupler lock is bright yellow—a good thing for reasons discussed above—and is relatively sturdy when compared to locks in the same price range. The receiver lock can fit a ½-inch or ⅝-inch receiver. Best of all, all of the locks in this set are keyed alike, meaning no searching for the right key for each lock.
Strongest: Trimax UMAX100 Trailer Lock
If you want the strongest product out there, turn to the Trimax UMAX100. Much of this awesome coupler lock is made using ballistic-grade nylon, meaning it can absorb hammer blows, and the locking chamber uses a 7-pin system, making lock-picking much more difficult or even impossible.
We love the durability of this product, and even find that the keys are more durable than other lock keys out there. If you're especially worried about security, this is the product for you.
As you can see, having a decent receiver hitch lock, as well as a good coupler hitch lock, is very important. In fact, these should be among the very first things you pick up after purchasing your travel trailer.
While no lock in the world will deter a determined thief for long, it certainly will create a roadblock, and using a lock in conjunction with cameras, lights, and other security measures should keep your rig safe and sound. This means more fun, memories, and camping adventures down the road, something every RV owner is sure to appreciate.
May contain affiliate links.