Landmarks
March 18th, 2021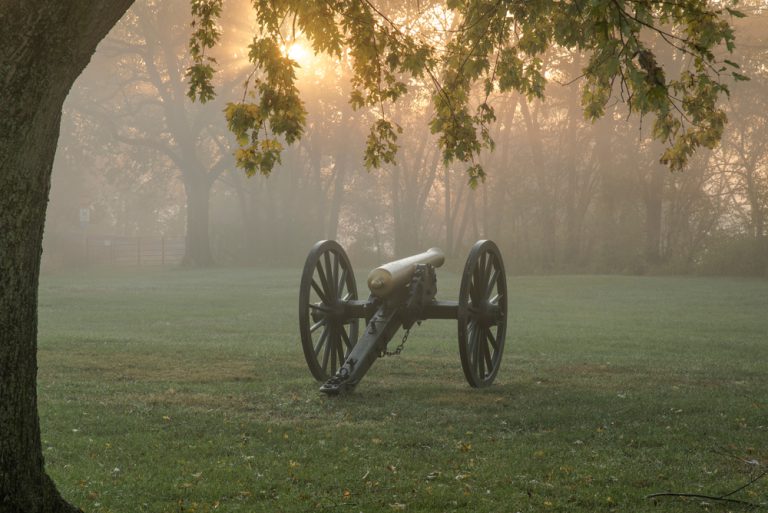 What is a Landmark?
Many different destinations can be considered landmarks, whether it's a tall mountain peak, a memorial sculpture, a historic building or a battlefield. But one thing they all have in common: they're not a place you can find anywhere else. They're tied intricately to the specific state or country you're visiting.
Unsurprisingly, given its critical role in U.S. history, Maryland is chock full of unmissable landmarks. Here's what you need to know to make sure you see 'em all.
What are Some Famous Landmarks in Maryland?
1. Deep Creek Lake
2. Fort Frederick
3. Monocacy Battlefield
4. Antietam National Battlefield
5. Washington Monument State Park
6. Fort McHenry National Monument
7. The Baltimore Museum of Art
8. The National Aquarium
9. Colonial Annapolis Historic District
10. Clara Barton House
Maryland Landmarks
From serene landscapes to some of the most historic buildings our nation knows, here are some Maryland landmarks not to be missed.
1. Deep Creek Lake
The largest inland body of water in all of Maryland, Deep Creek Lake offers more than 69 miles of shoreline along its 3,900 acres of water, and is a well-known and beloved destination for swimming, boating, fishing, and all sorts of other water-based activities, particularly during Maryland's warm summer months. The lake is preserved inside Deep Creek Lake State Park, whose grounds were actually once a logging and mining area. Today, however, they're a natural oasis, filled with hiking trails (turned snowshoeing, cross-country skiing, and snowmobiling trails come winter), as well as an aviary containing recuperating birds of prey.
Things to do near Deep Creek Lake: Tucked about as far into the northwestern corner of the state as possible, close to where West Virginia, Maryland and Pennsylvania all meet, Deep Creek Lake State Park is close to the town of McHenry as well as additional wilderness areas like Savage River State Forest, Swallow Falls State Park and others. Here are some nearby RVshare rentals to consider.
2. Fort Frederick
The frontier defensive fort for the state of Maryland during the time of the French and Indian War, Fort Frederick — which is today preserved inside Fort Frederick State Park — was originally constructed back in 1756 along the north shore of the Potomac River. Made of stone, this strong fort has survived centuries to tell the tale to visitors today of what that lifestyle was like so many years ago. Along with self-guided tours, the state park also offers regular events and reenactments, which can help bring the unique and critical U.S. history of this place to life for guests of all ages.
Things to do near Fort Frederick: Less than half an hour from the mid-sized city of Hagerstown, Fort Frederick is convenient to urban landscapes as well as other outdoor areas. For example, West Virginia's Sleepy Creek Wildlife Management Area is just across the border, and there are plenty of great RVshare rentals in the area, too.
3. Monocacy Battlefield
Known for the Battle of Monocacy, fought during the Civil War on July 9, 1864, Monocacy Battlefield is today an NPS-managed location that preserves and exhibits centuries' worth of history, not to mention plain old beauty. With more than 1,600 rolling acres of fields, historic buildings and more, this site is also brought to life by actors, reenactors and park rangers who fire cannons, offer guided tours, and provide informative yet fun lectures that'll make you feel like a historian yourself. There's also an auto tour for those who don't wish to get out of their vehicles, as well as walking trails for those who do want to stretch their legs.
Things to do near Monocacy Battlefield: Monocacy National Battlefield is located just south of the city of Frederick, Maryland, which offers several landmarks of its own to visit, such as the famed John Hanson Statue in front of the courthouse. It's also convenient to other outdoor areas such as Gambrill State Park, Cunningham Falls State Park and Patuxent River State Park. Here are some area RVshare rentals to consider.
4. Antietam National Battlefield
Another important Civil War landmark located west of Frederick, Antietam National Battlefield was the site of a particularly famous — or infamous — fight that took place in September of 1862. A shocking 23,000 soldiers were killed, injured, or missing after the 12-hour combat, which ended the efforts of the Confederate Army of Northern Virginia to invade the North and also led to Abraham Lincoln's preliminary issuance of the Emancipation Proclamation. Today, the battlefield offers both idyllic views and an incredible learning opportunity: information about the battle as well as other cultural and historical factors impacting this area and its people are on display throughout the grounds. Volunteer programs and opportunities are also available for those who wish to help maintain its one-of-a-kind artifacts or the park's general landscape.
Things to do near Antietam National Battlefield: Located close to where the Potomac River marks the border between Maryland and West Virginia, Antietam National battlefield is within an easy drive of many smaller communities that offer dining and shopping options, as well as state parks like Gathland and Greenbrier. Here are some nearby RVshare rentals to check out, too.
5. Washington Monument State Park
No, we're not talking about the one in Washington D.C. — and in fact, this one's actually the original! Preserving the first monument ever completed to our first U.S. president, Washington Monument State Park is a smaller park at just 104 acres, but it contains a very unique, one-of-a-kind piece of our history. The monument itself is a stone tower that was first erected back in 1827 by the citizens of the nearby city of Boonsboro. A park office and museum offer more context and information about both the monument and the man it stands for.
Things to do near Washington Monument State Park: For even more historical information, head to Boonsboro itself to check out the Boonsboro Museum of History — and if you need more outdoor time, check out the larger landscape of South Mountain State Park or Greenbrier State Park. Here are some RVshare rentals in the area to consider.
6. Fort McHenry National Monument
If there's one U.S. landmark in the state of Maryland everyone knows about, it's Baltimore's Fort McHenry National Monument. This fort, known for its victory during the War of 1812, inspired Francis Scott Key to pen the song many Americans know best: "The Star-Spangled Banner." Of course, the inception of our national anthem is just the beginning of the fascinating and important history contained in Fort McHenry's walls, and informative and friendly park rangers and historical reenactors bring the whole story to life for visitors of all ages. In fact, several programs specifically designed with kids and youth in mind combine education with entertainment in the best way.
Things to do near Fort McHenry National Monument: Baltimore is a thriving American metropole filled to the gills with fun things to see and do, including several more landmarks that we'll outline on this list. Meanwhile, check out these local RVshare rentals, as well as some of the best campgrounds in the area to stay in.
7. The Baltimore Museum of Art
While the U.S. has no shortage of excellent art museums, the Baltimore Museum of Art is considered one of the finest on a global level. Its unique collection, which spans the 19th century, modern, and contemporary periods, is internationally recognized for its value, and a variety of rotating exhibitions keep things fresh and interesting no matter how many times you visit. The museum is also known for the suite of events it hosts year round for families, adults and members, including artist talks, hands-on workshops and more. Many folks local to Baltimore decide to become members for ongoing access to its exclusive soirees.
Things to do near the Baltimore Museum of Art: Located just off the campus of Johns Hopkins University, the Baltimore Museum of Art is within walking distance of other must-see town attractions such as the Johns Hopkins Archeological Museum. We've got full details on things to see and do in Baltimore here, as well as local RVshare rentals to browse.
8. The National Aquarium
Home to a whopping 20,000 animals — many, but certainly not all of which, are finned — the National Aquarium has earned its reputation as one of the best animal sanctuaries of any kind in the United States, and is renowned as an aquatic conservatory the world over. Along with the regular exhibits that allow you and your family to dive deeper into the unique biology and ecology of our planet's fascinating, yet delicate, oceans, the Aquarium also hosts special one-on-one experiences, such as the opportunity to meet a dolphin, a private reptile encounter, and more.
Things to do near the National Aquarium: Located along the happening Inner Harbor neighborhood, pair your visit to the National Aquarium with a trip to the Civil War Museum… or find a quiet spot to enjoy a bite to eat on the waterfront. Here are more must-dos in Baltimore, as well as rental rigs and nearby campgrounds.
9. Colonial Annapolis Historic District
Not every city can boast an entire district that's made the cut to become a National Historic Landmark, but what can we say? Annapolis, as the capital city of such a historically important state, is different — and the Colonial Annapolis Historic District has been designated as such since 1965, and was updated to include an expanded portion of the town in 1984. One of the first planned cities in Colonial America, much of this part of town is laid out identically to how it was when the town plan was first developed in 1695 by Francis Nicholson. As you wander this area, you'll encounter enough landmarks and historic buildings that they easily could have populated this entire top 10 list by themselves, including the Maryland State House, St. Anne's Parish, and others.
Things to do near the Colonial Annapolis Historic District: Throughout the historic district and well beyond, Annopolis has plenty to offer hungry eyes, ears, and bellies. It's also close to natural areas like Sandy Point State Park, Wye Oak State Park and others, not to mention only a short drive to Washington, D.C. Here are some RVshare rentals in the area.
10. Clara Barton House
Just across the Potomac from Washington D.C., in the small town of Glen Echo, the Clara Barton House, otherwise known as the Clara Barton National Historic Site, served as the home for the famed founder of the Red Cross for the final 15 years of her life, and today stands tribute to her ongoing acts of service toward others. Along with exploring the house itself, visitors can also enjoy organized events led by passionate and informative rangers.
Things to do near the Clara Barton House: Tucked amongst the many smaller communities that make up the larger Washington, D.C. metro, the Clara Barton House is near many restaurants, shops, and other tourist attractions, not to mention beautiful green spaces like Langley Oaks Park just over the river. Here are some nearby RVshare rentals and campgrounds.
Planning an RV Trip to Maryland
Looking to create an unforgettable Maryland vacation so you can see all these landmarks and more? We've got your back every step of the way.
For starters, check out our fleet of Maryland RV rentals, as well as the top 10 campgrounds in the entire state. We've also written detailed guides to the best Maryland state parks as well as the populous and popular city of Baltimore.