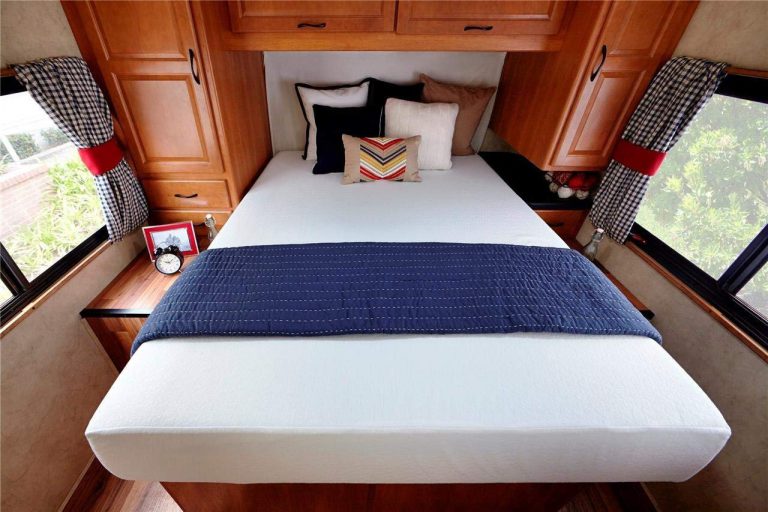 If you've had your RV for a while, or if you bought a used RV, you may be in the market for a new RV queen mattress. Your RV queen size mattress is an important decision. For one thing, it's going to be a good bit of money, and you want to make sure you get your money's worth. For another, you want to be comfortable. You're either going to be falling into it at night after a busy day exploring or adventuring…or you're going to be sleeping in it every night for an extended period of time because you live in your RV or take long trips. Whatever your lifestyle, at the end of the day, you're going to want a comfortable mattress.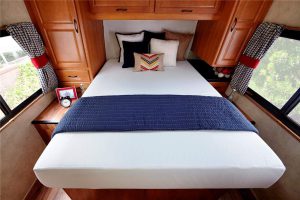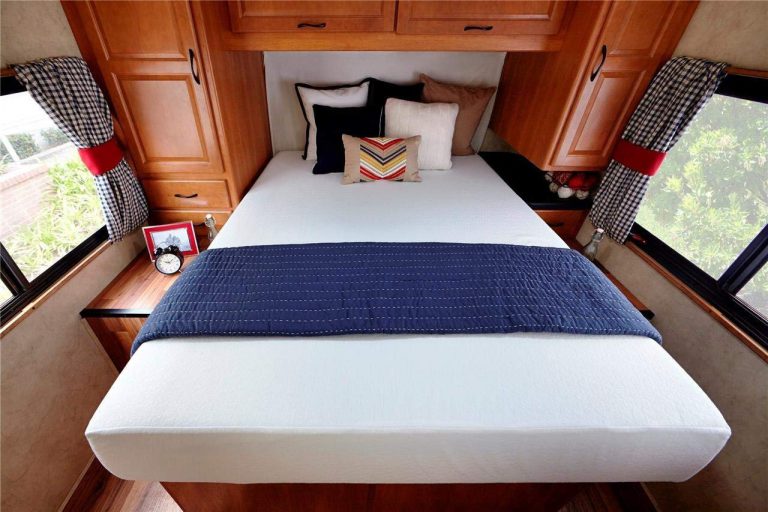 RV queen mattress dimensions
Unfortunately, you can't go out and simply replace your RV queen mattress with a regular queen bed. Wouldn't that be nice and easy? But no. A queen size RV mattress has different dimensions than a standard queen mattress. 
Standard queen mattresses

measure 60 by 80 inches. In an RV this size is called a regular queen, and is not very common.
Three-quarter queen mattresses

are 48 by 75 inches and are an option for RVs.
Short queen RV mattresses

are 60 by 75 inches and are the most popular size in RVs.
To be sure of which size you need, measure your current mattress or bed frame so you know what you're looking for when you're shopping. 
What to look for in a queen RV mattress
The first piece of advice from many people to those searching for a queen mattress for RV is to go for comfort. Whether you're using your RV queen short mattress only on weekend trips, or whether you live in your RV and sleep on your queen short RV mattress every night, comfort is key. Try out your RV mattress queen, or if you're custom-ordering, see what the return policy is if you don't like the RV short queen mattress you ordered. 
Breathable mattresses are also important – you don't want to overheat at night while you're sleeping! Memory foam can often help keep your mattress cool and give you a nice, comfortable night's sleep. 
Where to buy a short queen mattress for RV
Because these mattresses aren't standard sizes, you aren't likely to find them at a standard mattress store. You're going to have more luck finding your RV mattress at an RV outfitters or online. Places like Camping World stock the proper sizes of RV mattresses, and you can even find them in places like Amazon or possibly Overstock.com. 
When you do buy a queen mattress for RV, be sure to read reviews or talk to others who have purchased the same product. Ask them how they like it, see how they rate it, and get recommendations on good mattresses to purchase. While research is important, there's nothing like talking to someone who has experienced the mattress for themselves and can give you an honest review of it.
With a little digging and investigating, you're sure to find a queen mattress for RV that will give you many peaceful nights of sleep on your travels!
This post may contain affiliate links.