Bed
Last updated on May 5th, 2023. Originally published on September 17th, 2019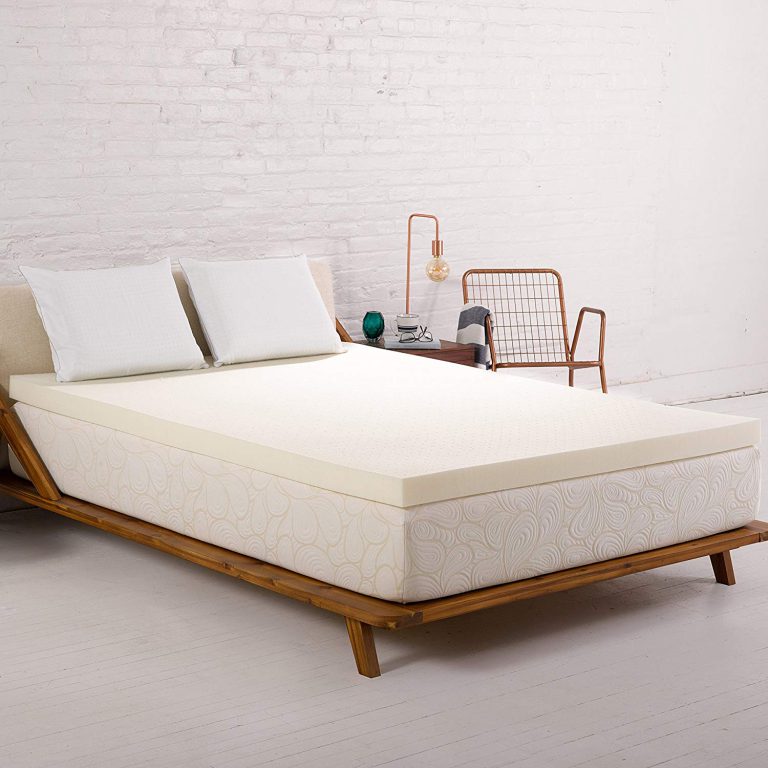 You may find yourself one day needing an RV mattress replacement. Let's face it, RVs aren't necessarily known for their stellar mattresses. The one that came with your RV may not be very good, and if you bought a used RV, it may already have plenty of wear and tear (and sagging…and lumping…). If you're looking for an RV mattress replacement, here are a few things to think about.
Do you really need to replace it?
The first thing to consider when thinking about an RV replacement mattress is whether you really need one. If your mattress isn't in terrible shape, but is just a little uncomfortable, you may be able to purchase a mattress topper, and sleep just as comfortably as you would with a new mattress. Look into memory foam mattress toppers, and if you really want to get fancy, consider a gel memory foam mattress topper. It has cooling technology, so if you tend to overheat when you sleep, this could be a great option.
A mattress topper is going to be considerably less expensive than a mattress, and you should be able to trim it easily to the size of your mattress, so before you buy an entirely new replacement mattress for RV, think about whether this might work for you.
What size do you need?
If a mattress topper won't solve your problems, the next thing to do is to determine what size mattress you need. Many RV mattress sizes are not the same as standard mattress sizes, so be sure you know what you need to buy. The safest bet is to measure your mattress yourself so you know exactly what you need. Here are the common RV mattress sizes:
Twin mattress: 39"x75"
Full mattress: 54"x75"
Queen mattress: standard (or regular) queen – 60"x80", three-quarter queen – 48"x75", short queen – 60"x75"
King mattress: 72"x80"It's also possible that you might need one of the common "truck mattress" sizes if your replacing a mattress for a bunk in your RV
You may also have a mattress that's an odd rectangle size, or a mattress with cut or rounded corners, in which case you may need to have a custom RV mattress made.
Types of replacement RV mattress
The next thing to think about when looking for a replacement mattress for RV is the type of mattress you want. There are many to choose from, but here are some of the most popular.
Foam mattress: These are the most common because they're inexpensive. Standard foam RV mattresses are usually between 5-6 inches in thickness. When you're looking at foam mattresses, you'll want to pay attention to the density of the foam, which ranges from 1-2 lbs per cubic foot. The higher the density, the more capable the mattress will be of handling body weight and the higher quality it will be. If eco-friendliness is important to you, you can also look for soy-based foam mattresses.
Memory foam RV mattress: These are a great option if you're going to be using your RV more often, or if you live in it. Prices for memory foam mattress are more expensive – from about $399-799. The thickness of memory foam mattresses is around 8", and usually the memory foam is layered on top of a high density urethane base. As with foam RV mattresses, you want to check the density – on memory foam mattresses it can be anywhere from 2.5-5.3 lbs. Again, the higher the density, the better the mattress quality. Memory foam mattresses can also come with removable covers that you can wash and return to the mattress. As with foam mattresses, memory foam mattresses can be soy-based or petroleum-based, and if you're interested in eco-friendly mattresses, you'll want to go with the soy.
Latex RV mattress: Latex mattresses are another good option for people who spend a lot of time using their RV. It's also one of the most eco-friendly RV mattresses available. They're usually between $599-999. They have a layer of latex over urethane foam. You'll want to know whether the latex being used is natural, synthetic, or a blend – with natural being the most desirable. Synthetic and blended mattresses tend to break down quicker. Latex is naturally hypo-allergenic, dust-mite resistant, and anti-bacterial. There are, however, people who suffer from latex allergies, and you'll want to make sure anyone using this bed does not have that issue.
RV air mattress: Air mattresses have come a long way since the leaky, easily popped camping mattresses! They're generally made of a thicker material that holds up much better. Some of them also come with two chambers, so two people sleeping on the same bed can adjust the firmness of their air mattress to suit each of them. The mattress has layers of urethane, memory foam, or latex on top of the air to provide more comfort, and less chance of popping. RV air mattresses can start at $1100 and go up from there. While they are much better quality than the air mattresses of yesteryear, they can still leak. There are generally better mattress options at lower price points than this option.
If you're looking for an RV replacement mattress, you'll want to do a little research ahead of time. Talk to people who have used these mattresses, or look at reviews online. But after a bit of effort, you should be able to find the perfect replacement RV mattress for your needs!
This post may contain affiliate links.