RV Owners
Last updated on February 23rd, 2023. Originally published on July 15th, 2015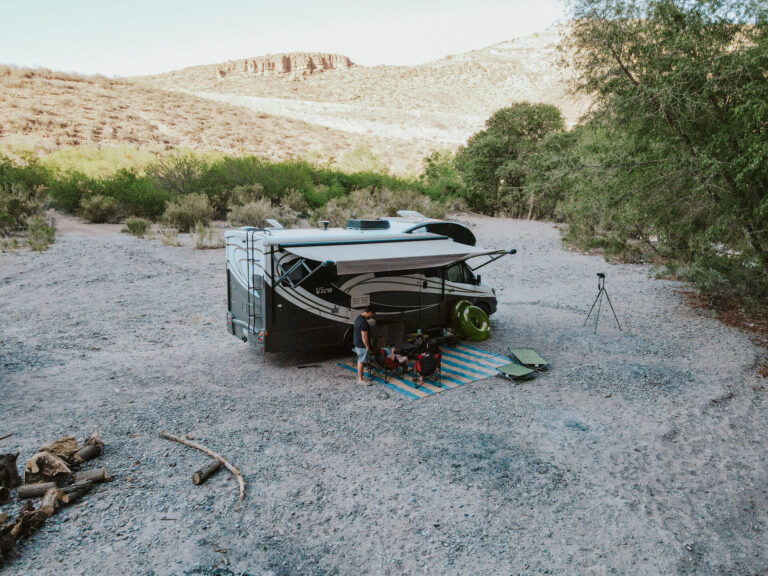 It's nowhere near as important as the engine, and you probably don't give it as much thought as, say, your RV's interior, but your RV awning is still a big part of what makes your RV home.
On a nice day, unrolling your awning creates a shaded, breezy respite from the hot sun. It turns the bare space around your parked rig into a welcoming patio area. It essentially creates an outdoor living room and doubles your RV's living space.
In a lot full of parked RVs, unrolled awnings create a front porch effect, where others are welcome to sit and chat for a while, and everyone is a friendly neighbor.
Like just about everything else on your RV though, your RV awning requires a little bit of ongoing care and maintenance to keep it functioning properly. None of them are major, but you will want to put some thought into how you treat this small but transformative part of your rig. Here are seven tips for regular RV awning maintenance.
1. To wash your RV awning, simply hose it off.
This will work for both acrylic and vinyl awnings. If there are still dirty spots after a good hose down, take care of them on a spot-by-spot basis with soap (there are special soaps made specifically for cleaning RV awnings) and a soft brush. And be gentle when you clean! Too much scrubbing will wear down the waterproof coating as well as the fabric beneath it.
2. If you've got your RV awning up in the rain, keep one corner lower than the others so the water will run off rather than collect.
Water weighs a lot, and too much collecting on your awning can put unnecessary strain on it. Your awning tube can bend under the weight of all of that water, or even worse: the whole awning can break off.
3. Wait for your RV awning to dry before rolling it up.
Just like putting away a wet tent, rolling up a wet RV awning can lead to mold — and all of the problems that go along with it (dry rot, a bad stink, and eventually ruined fabric). Fortunately, if the sun's out, the drying-out process should not take too long.
4. Limit your RV awning's exposure to UV rays.
This may seem counterintuitive — isn't it the awning's job to protect you from UV rays? But a lot of sun exposure can weaken the fabric and shorten the life of your awning. If you're away from your RV for the day, keep your awning rolled up. Additionally, you might consider investing in an aluminum awning cover to protect it when it's all rolled up.
5. Protect your RV awning from the wind with de-flapper clamps.
Not only will a couple of these clamps save your sanity by reducing that annoying wind-flapping noise, but they can keep strong gusts from ripping and tearing your awning.
6. Invest in an RV awning stabilizer kit.
Typically consisting of several spiral stakes and some tension ropes, these inexpensive kits are especially helpful if you've got your awning open in windy conditions. These parts will give your awning a bit more stability, especially if an unexpected gust blows by.
7. Use an awning lock after you've rolled it up.
Most awnings will lock into place once they're rolled up (so that they don't accidentally unroll on the road), but for an extra precaution, an RV awning lock or clamp can really keep it in place while you're barreling down the highway.
Keep Your Awning in Great Shape!
It's true that your awning isn't as integral to the functionality of your RV as some of its other components, but having your RV awning in good working condition can really contribute to your quality of life when you're on the road. Take good care of it, and you'll not only be rewarded with a great outdoor extension of your living space, but you won't have to spend your road trip money on a new awning. These seven tips should help your RV awning last for quite a while.