RV Owners
Last updated on April 24th, 2023. Originally published on May 3rd, 2015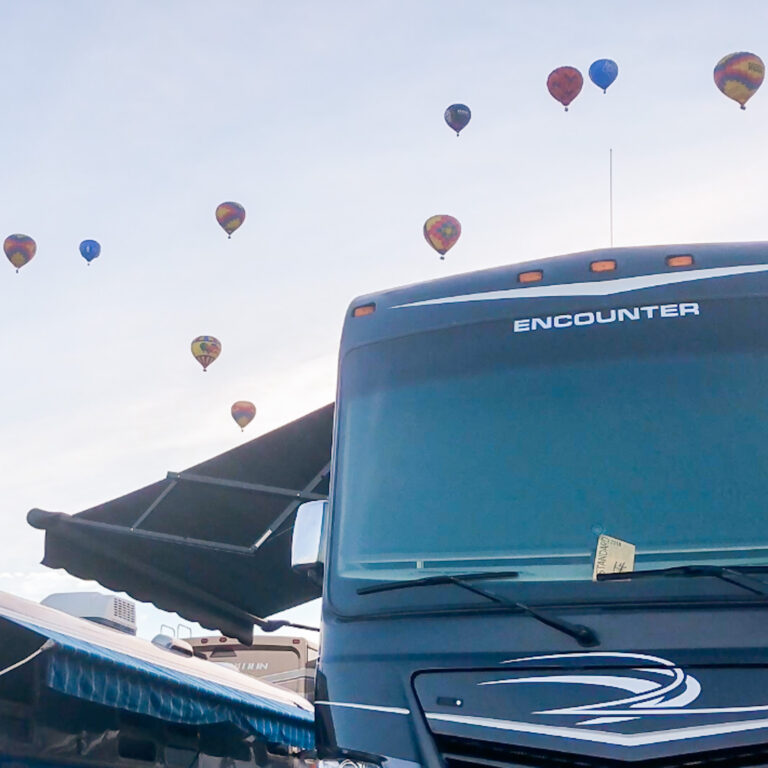 RV awnings serve several purposes, and are a great feature to have on your RV. Door and window awnings provide shade and protection from rain, while RV slide-topper awnings protect the roof from debris. RV patio awnings extend the amount of living area you can use.
Awnings usually provide several years of trouble-free operation with little maintenance.
Caring for and cleaning your awning
Understand the different types of fabrics used to make awnings for RVs. Vinyl and acrylic are the most commonly used fabrics.
Acrylic is breathable and allows air to circulate through it. This means that an acrylic awning will dry faster than a vinyl awning. Acrylics are not waterproof, but are water-repellant. Do not touch the underside when it's wet, or the water will seep through it. Hose off acrylic fabrics to prevent dirt from embedding itself into the fibers. Do not scrub acrylic.
Vinyl resists mildew growth. Mildew can grow on the dust and dirt that accumulates on it though. Never store vinyl when wet, especially in places with high humidity.
When opening a stored awning, inspect it for mildew or stains.
If mildew has grown on a vinyl awning, commercial cleaners usually remove it just fine.
The cleaning solution should be sprayed on both sides of the fabric, then let it sit for a few minutes so that the solution can work.
Thoroughly rinse both sides.
You may need to scrub stubborn stains.
Do not use a harsh abrasive on your awning fabric.
Always allow the awning to dry completely.
Inspect it for tears and repair any that you find. Check for a lag in the mounting screws, and inspect pivot holes, before putting your awning fabric back in place.
Spring tension can result in serious injury, so be careful when working with the awning rail.
Securing your RV awning
RV patio awnings should be set up in such a way that one end is lower than the other. This will let the water run off at the lower end, in case it rains.
Wind gusts can also rip awnings apart, so store the awning in a travel position when not being used. Your awning is more secure when attached to the RV awning brackets on the side of the RV, as opposed to the floor. Take care of your awning to prevent costly repairs.
Wind and your RV awning
RV awnings are considered an accessory by insurance companies and will probably not pay for any damage.
When your awning is open, secure it with an RV awning saver clamp. This reduces the whipping action that the fabric will be exposed to, due to wind.
The RV awning saver clamp does not guarantee a total reduction in the amount of whipping your awning will experience, but will prevent it from tearing the RV awning mounting rack.
The RV awning tie-down kit also allows your awning to withstand more wind than usual.
Secure your awning correctly before heading out on the road, to prevent it from ripping in the wind. The ratchet lever should remain as it does when rewinding the awning for storage.
The knob on the side arms should also be tightened in the stow position, to keep the arms from extending while you drive. Clips may also be present, to further lock it down on the framework. RV awning straps also keep the awning down, to prevent tearing while driving.
Quality RV awning fabrics are made from sunbrella. This acrylic is breathable and recommended for the outdoors. It dries quickly and has a high tolerance for UV rays. The finish on this fabric will fade over time.
RV power awnings extend and retract at the flip of a switch. Mounting a wind sensor on this will retract the awning, as soon as wind speeds exceed those recommended. Do not attach patio lights to an automatic retractable awning, as they would be crushed.
Do you have an awning on your RV? How do you keep it from getting damaged?