How Tos & Tips
September 22nd, 2019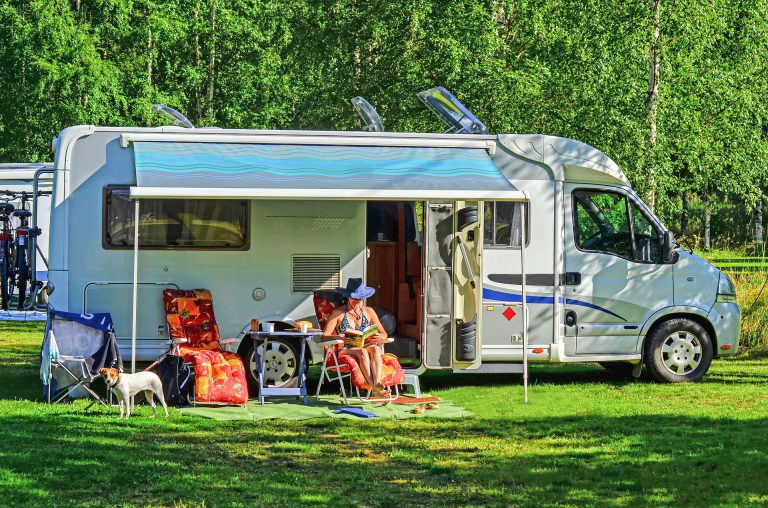 Nearly every RV on the market comes equipped with an awning. Your RV awning is a great tool, as it allows you to keep the sun off your rig and create a lovely shady area outdoors where you and your family can hang out.
That said, many people aren't sure how to use their motorhome or trailer awning properly, and some are so afraid of damaging the awning that they never even take advantage of it.
If you're unsure how to open a camper awning, or even if you'd just like more info on how to take care of this part of your RV, this is the article for you. Read on to learn all about how to use this feature correctly and improve all of your camping trips from here on out.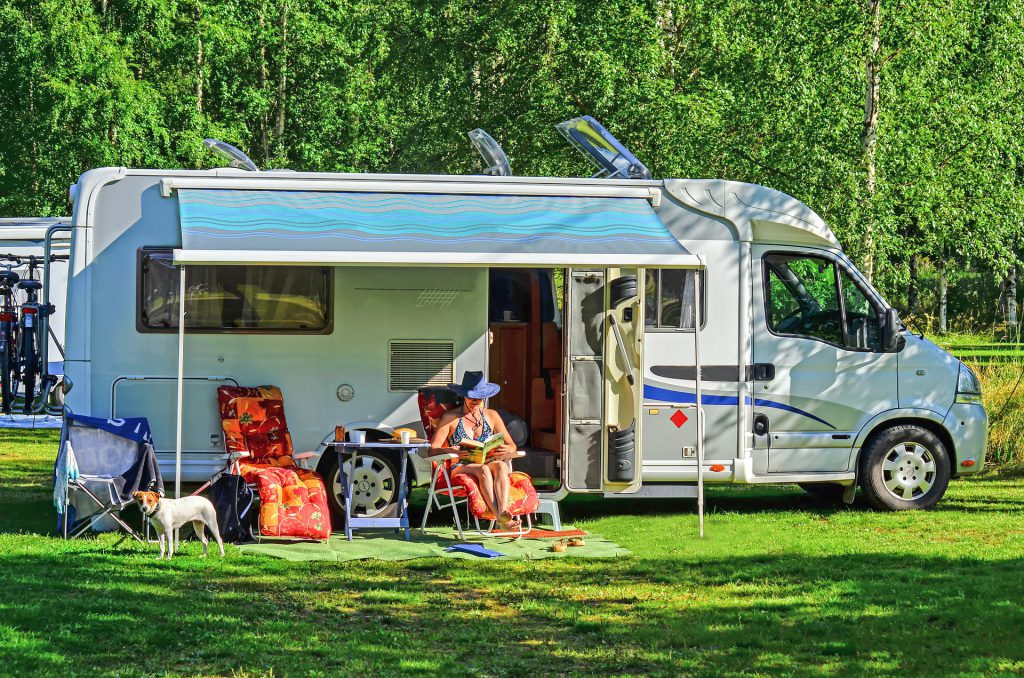 How to Open an RV Awning
Let's begin with the basics and discuss how to open an awning on an RV. If you have a typical manual awning, you might be a bit overwhelmed by the idea of getting your RV canopy all set up. However, with a tiny bit of practice, the whole process becomes quite easy.
Because explaining this process with words alone is a bit difficult, we recommend checking out this awesome page for instructions with pictures on how to set up your Dometic awning or one that is similar in style. This video can also be extremely helpful for learning how to set up an awning, and this one will help with learning how to close an RV awning.
Another type of awning is the pop-up camper awning (or bag awning). These awnings are almost always found on pop-up campers and are almost always added as an aftermarket feature.  Unlike the awnings mentioned above, these canopies have legs that hold them up, and are set up a bit differently. We recommend this video to learn how to set up this style of awning.
The final popular awning style is the electric RV awning. However, there isn't much to know about setting it up, as it requires only the push of a button.
The Pros and Cons of an Electric RV Awning
Obviously, an electric awning would be nice to have when it comes to ease of use. Additionally, many electric awnings offer a weather sensor feature, which will pull the awning in if it senses high winds and won't allow rain to collect on the top of the awning. That said, this type of awning does have some cons to go along with that ease of use.
Before deciding on an electric awning, we recommend considering the following:
It is possible for the motor to go out, making it very difficult to use the awning.
The weather sensor is often over-sensitive, pulling the awning in when you'd like it to stay out.
Many users find it difficult to adjust electric awnings to suit them.
RV Slide Out Awning Benefits
Another type of awning your RV may have is a slide out awning. If your RV doesn't have this kind of slide out topper, we highly recommend looking into getting one. Why? Well, we find that these little awnings are extremely beneficial for a number of reasons.
Here are the top three benefits of an RV slide out awning:
Catches debris, keeping it off the slide and thus preventing any from being pulled indoors when the slide comes in.
Keeps the bright sunlight off of the slide, helping regulate the temperature in your RV.
Protects the slide from rain, helping prevent the ever-so-common slide leaks that can cause so much damage.
Investing in an RV Awning Cover & Other Care Tips
Of course, you will want to take care of your RV awnings in order to ensure they serve you well for years to come. Fortunately, this is fairly easy to do, and with a bit of thinking ahead and common sense, you should be able to keep those canopies in good shape and get plenty of use out of them.
Some of the best RV awning care tips are as follows:
Invest in an RV awning cover. This little doodad goes over your RV awning when it is rolled up, helping protect it while it is in storage.
Always let your awning dry completely after a rainstorm. This prevents problems with mildew.
Clean your awning with Camco Awning Cleaner and a soft-bristled, long-handled brush every time you clean your RV.
Pull your awning in every time you leave the rig, and never leave it out during high winds or heavy rains.
Ready to get some good use out of your RV awning? Now that you know how to use the feature properly and take good care of it, you can do so confidently. Now, get out there, camp, and enjoy that shade!