RV Decor & Unusual RVs
May 10th, 2019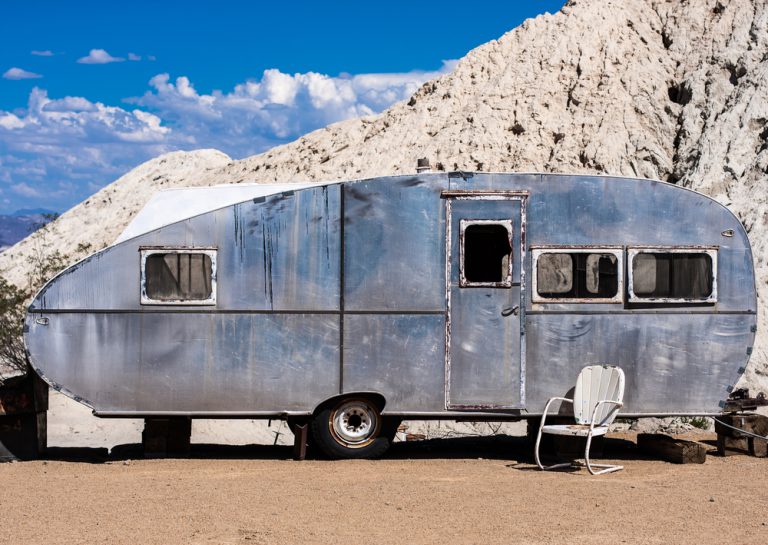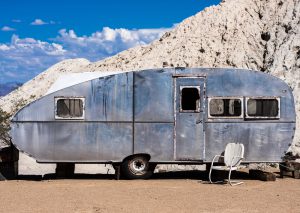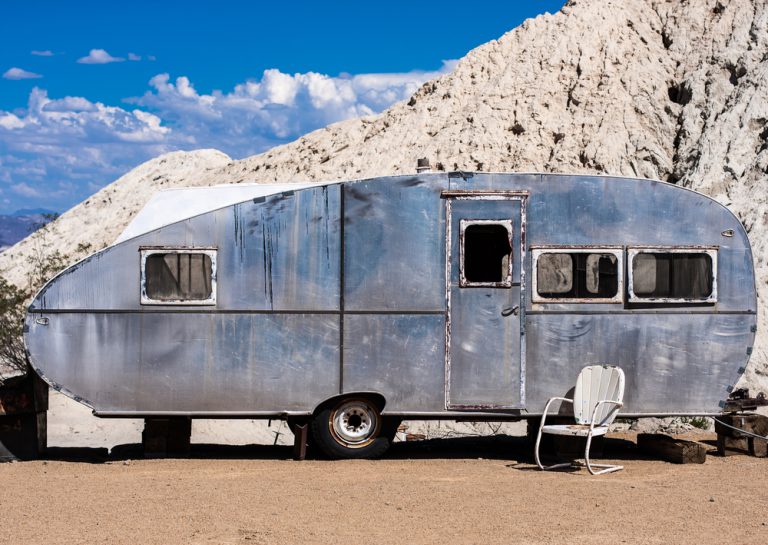 Obviously, the most important factor to consider when choosing an RV is how well it's designed for your specific camping use.
But let's be honest: style comes in as a close second! Driving around a chic-looking travel trailer or motorhome makes your trip that much better, and when it comes to being on trend, it's hard to beat retro campers.
Whether you choose an RV that's actually seen a few miles, or you opt instead for a newly-made rig that's designed with that retro look, here are a few retro motorhomes and travel trailers to consider for your next RV rental — or even purchase!
What Kind of Retro RV Do You Need?
In every camping scenario, the first question you should be asking yourself is: what kind of RV will suit my personal camping preferences and needs? From large, luxurious Class As to teeny-tiny sleeper vans, there are all sorts of different vehicle types out there, and which you choose will have a huge impact on the way your vacation feels on a day-to-day basis. Although many of the most popular vintage RVs are travel trailers (simply because the technology is older), there are also retro motorhomes to consider, like this Allegro Bay Class A model:
The thing is, a self-propelled motorhome has more parts to worry about, obviously; it includes an engine and all the other mechanical components that your car or truck do. That means it might be more difficult to maintain them to a road-ready state in the long term, which is another reason retro trailers are so much more popular. (Plus, certain campground and RV parks actually disallow RV models over a certain age, due to both cosmetic and safety issues… so be sure to check out the rules and regulations at your destination before you set out in a camper that might be turned away at the door!)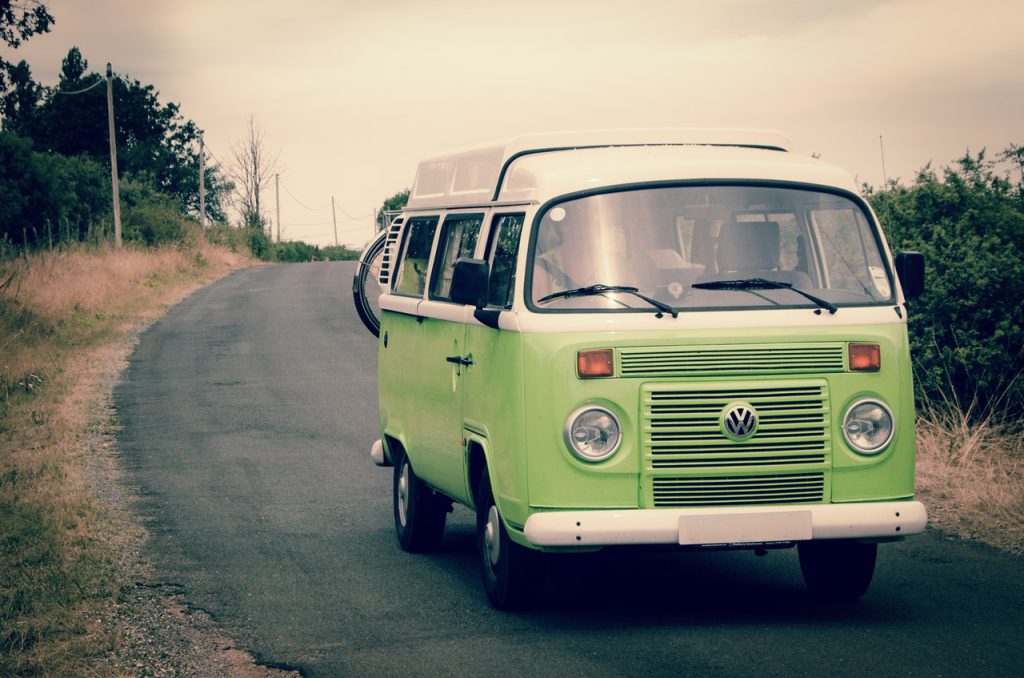 If you're willing to sacrifice a little bit of space in exchange for a whole lot of maneuverability — all while still retaining the creature comforts that brought you to the RVing lifestyle in the first place — a Class B RV or campervan might be right for you. Vintage Volkswagen vans and converted Westfalias are popular retro choices for this RV option, and can provide a cozy safe haven from which to enjoy even the wildest off-grid adventures.
Of course, included features and amenities will vary, especially since many of these special vehicles were hand-designed by their first owners. You may have to forego a full-size kitchen — or even an onboard toilet or shower — but when you're planning on spending most of your vacation in the great outdoors anyhow, you might not even miss 'em. And best of all, it has the motorhome simplicity of not requiring a tow vehicle… and since they're generally built into standard van chassis, you'll likely feel comfortable driving it even if you're a total RVing beginner.
Retro Travel Trailers
Alright, now for the most common of the vintage RV options: retro trailers. From classic retro Airstream rigs to newer models made to look like they came straight out of the 60s, here are some options to consider.
First, let's talk about Airstreams. As one of the original brands of travel trailers in the world, these iconic silver bullets have a long history and a cult following — and for good reason. They're hand-crafted and the fixtures inside are custom installed and chosen specifically for each trailer's individual footprint, making them some of the highest-quality RVs available on the market.
Because of their sturdy construction, it's totally typical to see Airstreams from the 60s and 70s on the road today, still trekking along just about as good as new. The interiors are both stylish and functional, with newer models including all the luxury extras you'd expect in a larger modern trailer or motorhome.
Because of their reliability and design, Airstreams are actually commonly chosen to repurpose into food trucks, mobile salons, and other businesses on wheels. But they also make cozy havens for everyday campers, offering a spot to cook a meal, take a load off, and get a great night's sleep in between your adventures.
For even more information on Airstreams, from their longstanding history to all the hype surrounding them and why you might want to rent one and experience it for yourself, check out this RVshare post. And if you're an Airstream owner (or an aspiring one), don't forget about Alumapalooza, the annual event that draws thousands of these silver beauties into the same place at once!
Small Retro Campers
Although Airstreams are an amazing choice, there are plenty of other vintage — and vintage-looking — campers available. Of course, RVs have gotten bigger as time has gone on longer, which means old or vintage-design campers do tend to be smaller than some of the modern options. You're probably not going to find a retro fifth wheel!
But what these rigs may lack in space, they more than make up for with charm. For instance, check out this cute little number, with pastel-colored fixtures and a lightweight profile that makes it easy to tow behind even smaller vehicles.
If you're willing to go really small, you can check out retro teardrop campers, which generally include little more than a bed and maybe an exterior kitchen in the back. Teardrop campers are a great solution for those who want to upgrade from tent camping, but don't plan on spending very much of their precious vacation time inside. It's got everything you need to enjoy a comfortable vacation, with none of the fancy extras that add weight and length to your overall RV profile. Plus, depending on the specific model you choose, you may be able to tow it behind a mid-size SUV, or even a sedan!
No matter what size trailer works best for you, it's important to keep in mind that you may be using an actual vintage model that was created in the 1960s or 70s… or you may be able to find modern campers that are designed with an old-school feel in mind. Each have their own plusses and minuses.
For instance, if authenticity matters to you, finding the real deal will be a bigger priority. But as cool as it is to experience a camping trip in a storied rig, it's also just a fact of life that old things, well, deteriorate. Choosing a newer model that has all the old-school charm of real-deal vintage trailer can combine the best of both worlds, giving you access to that memory-lane feeling without requiring you to worry about old, creaky parts or water leaks. Ultimately, the choice is yours… and you'll likely be able to find either version of your retro dream camper through the peer-to-peer market at RVshare!
Want to Rent an Old School Trailer?
Whether you're curious about the Airstream experience or you're just jonesing a camping trip that makes you feel like you're traveling in space as well as time, if you're hoping to rent an old school travel trailer or motorhome, you need to check out the peer-to-peer market available here at RVshare. Because if there's one thing the by-owner rental market offers that the big box stores tend not to, it's variety and character!
Don't get us wrong; it makes sense. From the perspective of a big business, creating a consistent experience is the name of the game. That's why when you head to the nationwide RV rental franchises, you're likely to see just a couple of RV models available on their rental floor — most of which are going to be brand-new Class A and Class C RVs, which are well-kept, but maybe a little bit boring.
RVshare owners, on the other hand, aren't regulated by some corporate board doling out judgments regarding which types of rigs are the easiest and most economical to stock. You'll be choosing from motorhomes and travel trailers privately owned by travelers just like you, meaning the Airstream or retro teardrop trailer of your dreams is well within reach.
And, of course, you'll benefit from RVshare's unique suite of benefits, no matter what kind of rig you rent through our service. With an easy-to-use and secure platform, you never have to worry about the safety of your sensitive information — and best of all, you'll be putting money right back into the hands of the camping community.
Happy travels, no matter what kind of RV you find yourself in… or how far down memory lane it brings you!
This post may contain affiliate links.